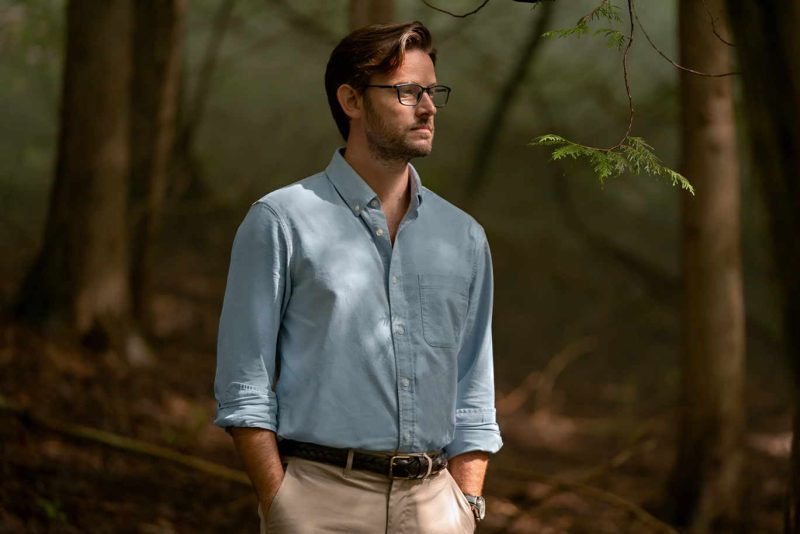 Photo Credit: ©2022 Hallmark Media/Photographer: Iden Ford
Let's be honest, Hallmark (be it series or movies) are life, especially when one is as good asThe Way Home, a family drama following the lives of three generations of women who are brought together after more than 20 years apart and slowly work on finding their footing as a family. Kat Landry (Chyler Leigh), her 15-year-old daughter Alice (Sadie Laflamme-Snow), and Kat's estranged mother Del (Andie MacDowell) are all strong, willful and independent. More than 20 years prior, life-changing events created a chasm in their family that time has yet to repair. Kat and Del still aren't on speaking terms. Alice has never met her grandmother and is unaware of the reasons for their fractured family. When the three generations come together under one roof for the first time in more than two decades, a surprising discovery unexpectedly sets the trio on a path toward healing and helps them find their way back to each other.
But of course there needs to be a love interest, right? And that would be Evan Williams, who plays Elliot Augustine, Kat's good friend from high school who now teaches science at former school. And about this, I can say no more: you'll just have to watch the series —  the first ten-episode season of which premiered on Hallmark Channel on Sunday, January 15th — to find out more.
But in case you're going 'Who's that boy?' here is Evan in a nutshell. The Calgary native has appeared in films like Save the Last Dance II, Grey Gardens, starring Drew Barrymore, Blonde, for Netflix, the story of the inner conflicts of Marilyn Monroe, The Escape Room, and he will be seen next as Jack in the independent film, 1 Million Followers. He has also appeared on popular series like DeGrassi: The Next Generation, MTV's Awkward, and in the period drama, Versailles.
He's also a pretty great guy in that he truly loves to give back. He has rolled up his sleeves to work with refugees – most recently in Calais, France when he was filming Versailles – and is working with BuildOn to help the people of Nepal rebuild following their deadly earthquake.
So now, it's time to get to know this Hallmark hero. So without further ado.
What was it like working on The Way Home? What were some of your favorite moments, scenes to film, etc.?
The Way Home was a pleasure from the start to finish to work on, for a number of reasons. First of all, I'm a Canadian, so I got to go back to the town that I went to theater school in and reconnect with friends and family that I hadn't seen in a long time.
I hadn't really been back in 13 years, so it really was "the way home" for me. And then once I got to set, and got to meet the incredible cast that we worked with, and the whole team that were making the show come alive… I was thrilled because nobody wasn't cashed in. It was one of those rare occurrences where everybody felt a personal connection to this story and felt like they wanted to go the extra mile.
And I think it's because so many people just went a little bit extra that the show has a particular shine to it. And there's been a lovely synchronicity about so many things coming together that one couldn't have expected. For example, the way that our young cast matches so beautifully our older cast. In casting, they're going to do their best, but the way that it all works out and the way that certain personality traits crossover, those are just "chef's kiss", beautiful things that show us that we are on the right path.
How did you first hear about the role and what about it interested you the most?
I heard about the role while I was at a family cottage on a lake, I was in vacation mode and it took a couple repeat messages to get me to actually check out the material. But, once I did, I was thrilled by the complexity of the storytelling, especially given that it's a Hallmark project – that it was something that was entirely unexpected.
I could tell that the role of Elliot would be juicy for me to dig into. I loved the idea of having to inhabit different archetypes depending on who he's dealing with, specifically in the Landry family. I also relish the opportunity to play a nerd, like, to play an outsider, somebody who doesn't get the girl and is always sort-of playing catch up, but has a heart of gold.
Something in me really resonated with that, and I immediately felt for the guy. I wanted the chance to defend him and put some spine behind those glasses.
Photo Credit: ©2023 Hallmark Media/Photographer: Michael Tompkins
 Are you anything like Elliott? How much of you have you put into the character?
I think in acting, what we do is take whatever small percentage is existing inside of us. That is the seed of the character. Then you dial it up to 100 and use your imagination to fill the rest.
And so I think definitely Elliot has a base inside me, but I'd say it's a little aspirational. I think that I'm still learning how to be as constant and as selfless and as present as Elliot is. At the same time as I am investigating how I can be more like that. I'm also trying to bring to my performance of Elliot a question of the opposite, like, where are you in all this? How do you love yourself and where do you want to go and what do you owe yourself? That's a really juicy kind of a crossroads. Those are the crossroads where an actor can meet a character, where things get really interesting internally, and one can only hope that some of that is going to make it onto the screen.
If you could time travel to any time, when would that be and why?
Answer: I always find this question very difficult because there are so many repercussions to any time travel. I would say that it would be fun to travel back to the late sixties and go to some of those amazing concerts, but I don't know if I would accidentally bump shoulders with somebody and they would stumble into the next person and something tiny would set off a chain of events. And then when I tried to go back to my own time, I unwittingly realized that I had torn a hole in the entire space time continuum and it was all my fault – just in order to catch a good concert. So it's a tough question.
Photo Credit: ©2023 Hallmark Media/Photographer: Michael Tompkins
What would you say to fans to encourage them to watch the series, if they're not already watching?
I would say The Way Home is entirely unlike any other show that has ever been on Hallmark, and is unlike any show you've ever seen.
At the same time, there are beautiful things about it that will appeal to all generations within a family and it's so beautifully positioned to be able to be enjoyed together. There are so many instances where we've gotten feedback from people saying, "I watch this with my daughter, and me and my sons do this every Sunday," or "my husband didn't think he was going to like it, but now he's hooked and we had no idea we were going to love this so much". So I would say the people have the final say and the feedback across the board has been glowing.
So any expectations people have about the show, even if they've seen it up till now, I would say prepare to have those expectations challenged and get ready to get your feet wet because the pond goes deeper than anybody knows.
What can you tease for the rest of the season without giving away spoilers, of course.
I would say, as the story widens and deepens, there is the opportunity for healing at the heart level and also more and more mystery to unravel. But it's the type of show where every answer you get is replaced by two more questions. And so it's a rabbit hole, the show, and it just gets more and more intriguing and rewarding and exciting as it goes on.
Working with Andie McDowell must have been a trip. Did she have any advice that you found to be super impactful? What was it?
Working with Andie McDowell was such a dream because she's, first of all, a legend. But also, in addition to being so knowledgeable and having such great presence, she also is so self-deprecating and just vibrant. It's impossible not to be soaking up knowledge when you're working with her. She was always lovely to me from start to finish, and we actually became friends, and I really cherished that friendship.
I remember one point while we were shooting, about halfway through, she said to me – and kind of pulled me aside and said – don't forget that Elliot has got a hunk in there somewhere. It may be deep down in there, but don't forget. That was really nice to hear because I'm working to try to give Elliot all of these different layers and colors, so to hear that vote of confidence, and also a nice affirmative note as well, I think that helped me.
You've done a plethora of different work from Awkward, to Blonde. What do you find that people recognize you most from? How do you feel about it?
One of the cool things about being an actor is that different performances land with different people and different types of people.
It's really been interesting throughout my career to see which types of audiences vibe with which characters. There's a lot of people in Europe who really loved my portrayal of Chevalier in Versailles, and I had an absolute blast doing that. And then at the same time, I was also shooting a show called Awkward for MTV, in the States, and that had a much younger demographic – so they were attracted to something completely different. I can tell with The Way Home, it's a whole new sort of cross section. And same with Blonde.
There's just different triggers and different hooks that people really get invested in. What's beautiful to me is that it can be such a varied job, and I can find something to really dig my teeth into with all these different types of characters. The most gratifying thing I ever hear is when somebody says, I had no idea that was you. I watched this and I watched that, and I had no idea it was you. Any time I hear that, I feel like I'm doing my job. I love to just dive into a character and see if I can figure out all the little nooks and crannies. I do it with a nerd passion, and if it resonates with the audience, that's just the icing on the cake.
What, to you, is the greatest luxury in life and why?
I would say that definitely the greatest luxury in life is nature. The fact that we get to exist on this jewel in the vacuum of space that has a thin film around it, inside which, everything that we need to survive is conveniently here. We're surrounded by all of these other beautiful expressions of nature, the flora and fauna and each other, and the fact that we can go outside and breathe the air that isn't toxic. If you really think about it, so much of the expanse of space that we have so far yet mapped, life is impossible. Everything wants to kill you, and yet, for whatever reason, in this blessed envelope around the globe, life cannot be stopped.
The earth is thriving, and nature is, to me, a beautiful, magical miracle. Every day that I wake up and realize it and take the actual moment to be present with it, I just feel so completely blessed. I think that is our most often overlooked, but also most valuable, luxury.
Subscribe to discover the best kept secrets in your city