Know anybody with a rebellious streak? Noctex is a sustainable, locally-manufactured fashion and beauty brand that primarily uses deadstock textiles to create grunge and alternative clothing that's just as good for the planet as it is for your wardrobe. In addition to hosting its own designs, Noctex has curated a platform for other high-quality, independent brands that sell footwear, accessories, and even skincare and fragrance. Always seeking to expand, Noctex's newly added beauty section focuses on featuring vegan, independent beauty brands that aren't traditionally found at large makeup retailers. Originating as a handmade and vintage shop, owner Negin Izad created Noctex at just 18 years old while attending university for fashion design. Izad took issue with the fast fashion industry that dominates much of the clothing space and wanted to create an alternative. Unlike most ethical and sustainable fashion labels that focus on natural, neutral aesthetics, Noctex is created to be just as (if not more) stylish than the average fast fashion brand, proving that sustainable clothing doesn't have to be boring. Ethics are at the core of Noctex, with the brand achieving proper compensation for its workers while maintaining an accessible price point. Noctex works locally in Vancouver and Los Angeles, where their second headquarters resides, which cuts down on emissions produced. Each piece is designed with longevity in mind, both in terms of fabric quality and design. Noctex garments can be styled in multiple ways, are androgynous, and are designed to be worn over multiple fashion seasons, unlike other designers.
CreatedByJJ is a Miami-based brand founded by JJ Hammond. JJ's digital gallery is created to sell her provocative and nostalgic art pieces. Her "Memory Lane" collection contains sculptural works made out of childhood toys like troll dolls, action figures, and model cars, prompting the viewer to look back on their childhood, remember how they behaved as children, and hold that memory close. One of the artist's signature collections, "Speed Limit Sign", takes on a different tone, relying on bold strokes inspired by thermal paint to evoke sexuality, intimacy, and how quickly they are moving through life. In a world where everything seems to move in a hurry and never stop, JJ shows the importance of looking back, which is evident in her art. Though JJ has a wealth of artwork, her two most popular collections are her "Memory Lane" and "Speed Limit Sign" collections. These coveted works are sold in a variety of shapes, sizes, and colors each varying in price. As a result, everyone can find a piece where they will be able to feel a personal connection. . JJ's inspiration stems from her years spent living in different environments from Singapore, Jakarta, Hong Kong, San Diego, and Miami, where she now resides. JJ curated a love of art during this time and eventually began selling art during Art Basel and to collectors in Beverly Hills in 2021. Despite utilizing different mediums in her art, JJ's work is always exploring the human connection and memory, with each piece open to individual interpretation and questions. Your tasteful aunt or nephew who just moved into his first apartment would appreciate a piece.
Beep boop. Say hello to the Orba 2 by Artiphon, a handheld musical instrument that functions as a synthesizer, looper, and MIDI controller. With no musical knowledge required, Orba 2 is incredibly simple (and fun) to use, making it great for anybody interested in music or quirky gadgets. Play on the satisfying ceramic-like surface that reacts to nine different "musical gestures," such as Shake, Tilt, and Spin. Each motion alters the sound accordingly, creating a playful and organic musical experience that anyone from your child to your uncle could enjoy. Its built-in speaker and headphone jack make it ultra-portable for creativity on the go. Record loops straight to the device using the Drum, Bass, Chord, and Lead modes to create full songs up to 128 bars (around 3-5 minutes!). Artiphon effectively improved on the award-winning Orba, which landed a coveted spot on TIME's best inventions of 2015. The Orba 2 boasts a higher memory capacity, a brand-new sound engine, and a new Orba app that allows the user to play the sounds of real instruments or record and import samples of their own found sounds. New sounds created by Artiphon & artists of all genres are frequently added to the app for endless musical discovery. Play on your lunch break, on the subway to work, in between zoom calls, or even at the park.
Say cheese to the HUE HD Pro camera! A lively take on the web camera, this Full HD 1080p camera comes in four colors (blue, black, red, and green) and boasts a whimsical design guaranteed to brighten up your workspace. While the wide-angle lens makes the HUE HD Pro camera excellent for presentations and group calls, it has far more creative potential. The camera comes with software that is perfect for editing images, recording video, stop motion animation, and capturing timelapse. Unlike other webcams, the HUE HD Pro includes a microphone, removing the need to buy another tool that takes up valuable desk space. This makes recording videos requiring audio seamless. And thanks to the flexible arm, the camera can be used for more than just video calls. The HUE HD Pro strives to be a useful tool not just for professionals, but for the whole family! Kids and teens will be able to use the camera to create stop-motion animation or viral dance videos, while young adults can use it to easily stream on platforms like YouTube, Discord, or Twitch. You can also easily give online instructional classes, lectures, live tutorials, and everything in between. The weighted base and long neck ensure that the camera won't move (unless you want it to), while the LED lights allow others to see you clearly in any setting. Lockdown requirements made the HUE HD Pro camera beloved by teachers around the world for its functionality and reliability, as well as having the added STEM.org Authenticated™ Trustmark, which lets its users know that it is a reliable educational tool. For the cherry on top, HUE also offers a two-year warranty
Meet HUE Animation Studio, the cutest STEM.org Authenticated™ product that provides kids with everything they need to create their own stop-motion films. With the provided kit, kids will be able to flex their creative muscles, bringing LEGO®, action figures, and anything else they can think of to life! If your little one is interested in art, cartoons, or technology, then HUE Animation Studio is the perfect union between creativity and technology, both invaluable skills to possess. The hands-on approach that is required for creating stop motion will prompt children to think about ways to tell their stories or create their subjects. They can sculpt a superhero out of clay, recreate their favorite pet, or even use their own toys. It's up to them to decide! While creating their movie, children must use HUE Animation Studio's technology to capture images, teaching them the ability to comfortably switch between different mediums. Kids will simply think they're playing games, but are actually learning creative and computer skills! Another positive attribute of HUE Animation Studio is its suitability for children of all ages and families. Older siblings or parents can help children make short films by assisting with building, reading the manuals, and navigating the computer program, creating a bonding experience.
Where do you put your valuables when going for a swim? As seen on SharkTank, AquaVault is a portable safe that locks onto lounge chairs to secure your valuables. Chances are you've seen their safes at many of the hotels, theme parks, waterparks, and cruise ships around the world. The inventors, Jonathan Kinas, Robert Peck, and Avin Samtani, decided to create a portable charger the size of a credit card that fits in your wallet. They realized that countless people had portable chargers but were leaving them at home. The reason being is that nobody likes carrying around a device that's heavy, cumbersome, and built like a brick. The ChargeCard has the look and feel of a credit card while only weighing 2.2 ounces. It's so thin and tiny that it fits in the credit card slot of your wallet. Bonus points? The charging cables are built-in. The ChargeCard can charge both iPhone and Android devices as each charger comes with multiple charging cables in the box. You can go anywhere in the world and never worry about running out of battery. It can even be incorporated into the everyday routine at the gym, on a bike ride, at the grocery store, or on the golf course. The driving force behind AquaVault's innovative products is the perpetual desire to challenge the norms and disrupt industries. Over the years, AquaVault has been featured on billboards in Times Square and countless other outlets like Forbes, Entrepreneur, CNBC, Fox, and Good Morning America, to name a few. Following the overwhelming success of their flagship invention, AquaVault is changing the way we experience the most important chapters of our life no matter where we are.
You've heard of farm-to-table, but what about farm-to-skin? Veg Out Organics is a unique clean skincare and beauty brand that's perfect for those who want to add more luxury to their skincare regimen and are curious about CBD/CBG skincare. Starting as a passion project to teach their four girls about organic farming, Brad and Katie Wynne are determined to use organic ingredients in every single product. You can be sure that all of the ingredients found in their formulas are of the highest quality, even using USDA-certified organic hemp extracts grown on their own organic farm in Virginia Beach. Veg Out Organics' blog explains some of the benefits of CBD, writing, "CBD is really just a very potent antioxidant that can reduce inflammation, neutralize free radical damage and regulate oil production." What does this mean for your skin? Simply put, CBD can help treat acne, calm skin conditions like eczema, psoriasis, and rosacea, and help hydrate and balance your skin. Because CBD oil is so gentle, it works for all skin types, including sensitive ones. Boasting a wide array of products from Chill Mode Massage & Body Oil, Vitamin C+ Serum, to High Gloss Lip Balm, the brand is also vegan, non-toxic, and includes the benefits of CBD in every product. Their Magnesium Body Lotion combines skin-softening superheroes like shea and mango butter with soothing mineral magnesium and full spectrum CBD designed to relax and soothe tired muscles. Perfect after a long day at work or play, Veg Out Organics is now available both online and at Neiman Marcus, giving everyone a chance to enjoy skincare that blooms.
We're all wearing athleisure these days, so why not make it fashionable? SKCreations, LLC is a rapidly rising fashion label seen in NYFW that takes bold, vibrant prints, and combines them with the functionality of athleisure wear to create timeless, practical pieces that rise above the typical sea of neutrals. Even if you aren't on the comfy clothes wave just yet, don't let the term "athleisure" scare you off! SKCreations LLC's designs are surprisingly versatile and can be worn for a dressy or casual look (or if you just want to be the most fashionable one in your spin class.) Born and raised in Washington DC, SKCreations LLC's founder, Sharon A. Keyser, was taught to sew by her great-grandmother, who kickstarted her love of designing clothing. As a woman-owned, minority business, diversity is of the utmost importance. Keyser is frequently inspired by her travels to countries in Asia, Africa, Europe, and more, which is evident in her creations, even offering a collection inspired by Africa's textile designs. SKCreations LLC also carries jackets, dresses, tops, sneakers, and accessories, so you're guaranteed to find at least one thing for anyone who likes to stand out from the crowd. Though the brand ultimately caters to women, they do carry some items suitable for men, such as bomber jackets in both women's and men's sizing, and unisex hats and socks. There is also a tech section for laptop sleeves that come in the same bold prints as the clothing, so your laptop can be as fashionable as you are.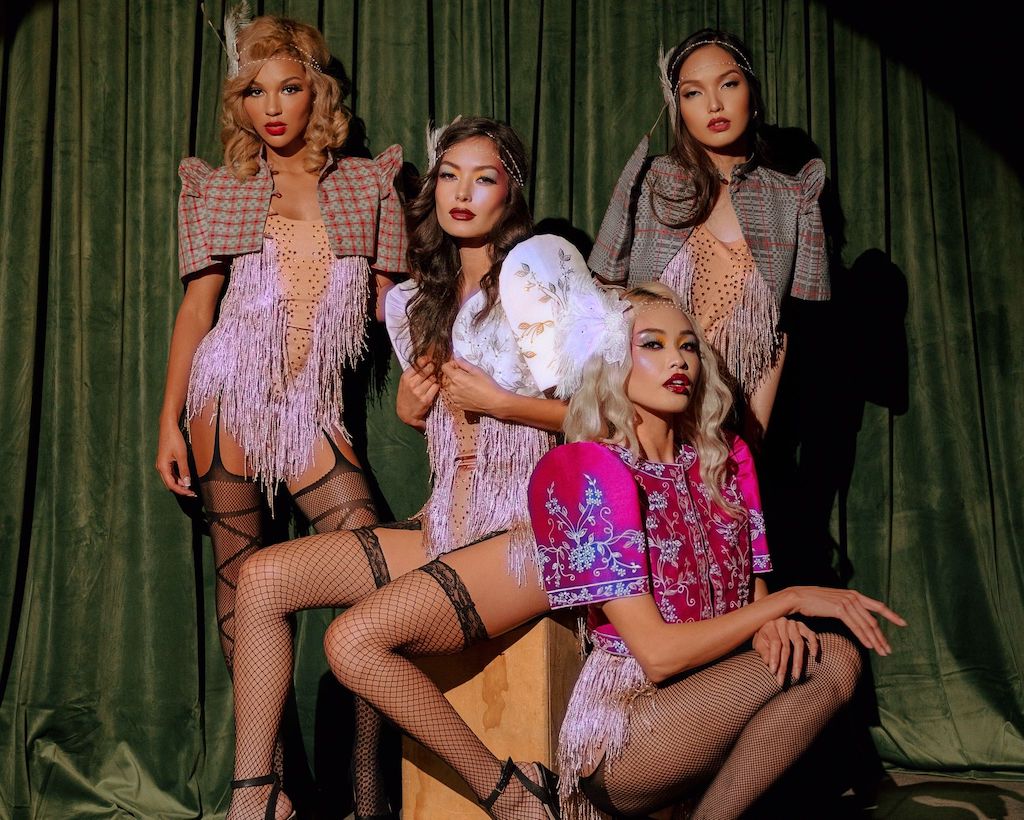 Traditional wear is beautiful, but can often be too formal to wear in day-to-day settings. Emerging fashion label, The Mestizo LA, aims to address this dilemma by creating new designs that combine modern Western fashion with multi-culturally-inspired, traditional Filipino-Spanish regalia. Common motifs in their designs include traditional Filipino embroidery, chic color palettes, and textured satin and cocoon silk, giving a polished allure to classic dress. The Mestizo LA was founded by two mestizos of multicultural roots, Gabe Gonzales and Robert Kolosso They wanted to celebrate the rich cultural heritage that defines one's identities which formed the brand's core of "celebrating what makes us different, strengthens the bond that ties us all together because we are all part of something bigger than ourselves." The Mestizo LA comes across as fresh, yet familiar. The brand's aesthetic is inspired by multiple cultures and promotes self-representation, whichever way one may choose to do so, and carries both men's and women's pieces. The Mestizo offers "limitless" customization options that allows the client to choose everything from the fabric, color, size, and embellishments. If you see anything on the website that catches your eye but want to put your own unique twist on, all you have to do is message The Mestizo LA for personalization options! This makes it the perfect option for those who want to get matching sets with their friends or family or something bespoke for your next special event. Strictly an online brand, for the time being, The Mestizo LA has grown exponentially since its launch in 2021 and plans to open a physical location in Los Angeles sometime in 2023.
Ideal for anyone who relies on networking (which is all of us), OVOU is a smart business card that utilizes NFC and QR technology to easily share your information with professional and personal circuits. By simply tapping the OVOU card on your contact's smartphone, they can easily view and save your number, email, and social media accounts. Rather than thinking of this as a business card, think of OVOU as an everyday tool to keep in your wallet, like a credit card or ID. Put it in your wallet once and you always have easy access to personalized lead generation. The beauty of OVOU is that it helps to streamline new relationships and strengthen your network with a simple tap, evolving the way in which we communicate with the people around us. With OVOU as your co-pilot, you no longer have to worry about flappy paper cards. Employers also have the opportunity to set up profiles for their employees, guaranteeing that the correct information is being shared with clients, as well as customizing the OVOU card to display your company's logo. Unlike other alternatives, OVOU has a professional, sleek UI that doesn't look like a typical social media profile and lends a good first impression to new contacts. OVOU was recently given the NVBC award for the most innovative startup in BC, Canada, in 2022, which comes as no surprise when considering how cumbersome it is to carry a stack of business cards everywhere. Better still, OVOU saves paper and is revolutionizing the way we build community against digital landscapes.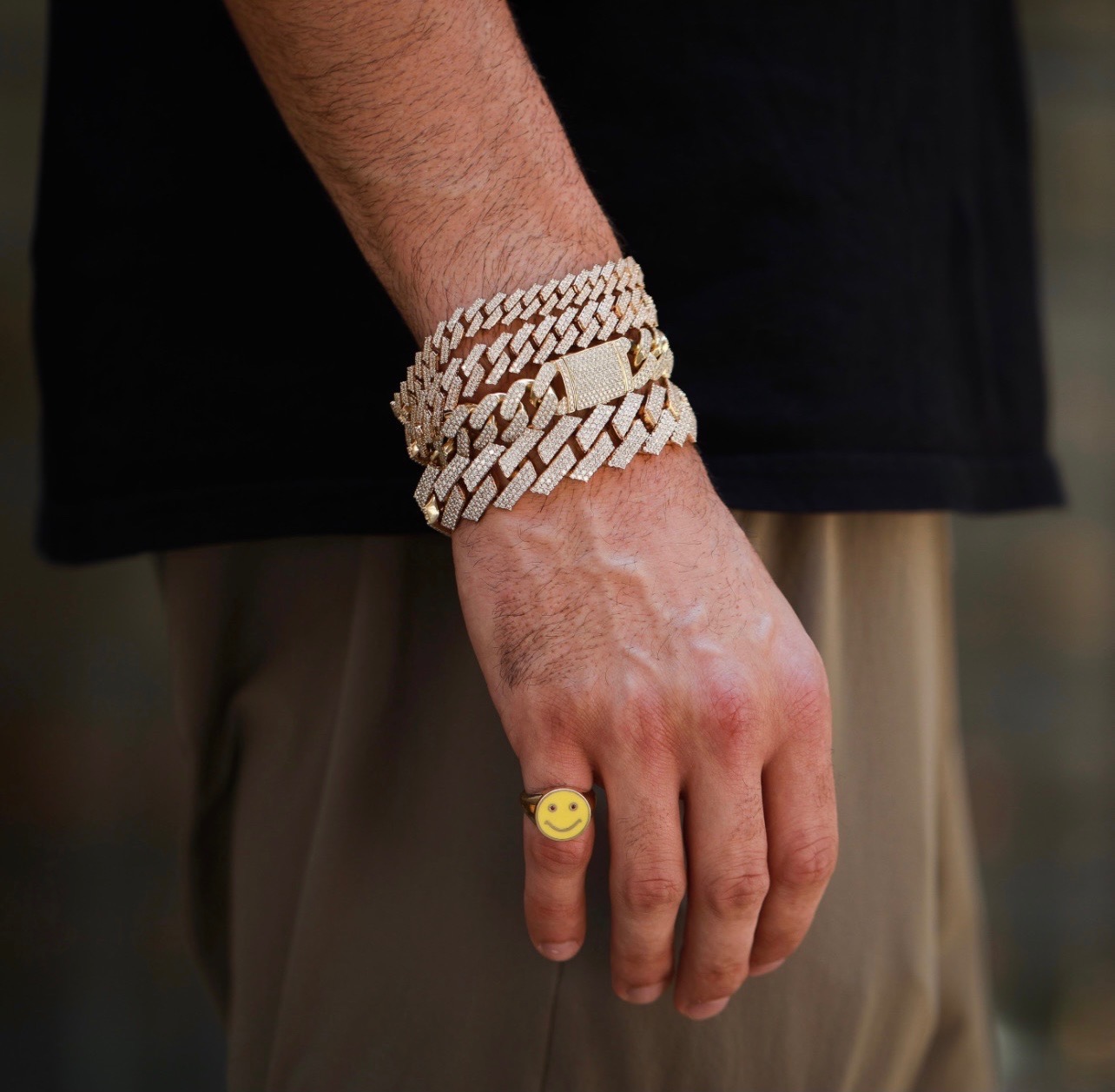 Established in 2019 and based out of Los Angeles, @By.Barnett is a boutique purveyor of wearable art driven by transparency and authenticity. The company was founded by Erin Barnett, a Texas native who studied at the Gemological Institute of America (GIA). Barnett's certification from GIA significantly elevates the standards you'll find with By.Barnett's bespoke pieces, which undoubtedly sparkle even in the dark. By.Barnett's studio and showroom is by appointment only, affording consumers a tailored experience and the opportunity to interact with the pieces first-hand. Barnett's designs are a direct reflection of the clients he has worked with in the past, a living portfolio that develops with each visit. Part of By Barnett's success rides on the ability to craft meaningful creations that speak to the client, marking a pivotal moment in their life with a real showstopper. Beyond delectable eye candy, the studio prides itself on the peerless quality that guarantees maximum clarity in its sourcing and styling. The jewelry business can be a deceptive industry to navigate, and Barnett seeks to illuminate this portion of the process in each stage of conception. In a world of shimmering stones, it takes a special pair of eyes to locate the true diamonds, and By.Barnett's expertise remains a cut above the rest. By.Barnett is currently excited to offer various Christmas specials. If you're looking for your next piece of jewelry, you can reach them at their Instagram @by.barnett- or by texting 310-993-9499.
Perfect for anyone looking to get into natural skincare or who craves simplicity in their routine, this is Paradise and Maple: a no-frills, clean skincare brand focused on delivering natural and effective products to people of all ages and all skin types, including targeted formulas. They aim to make the start of your skincare journey as simple, clean, and rewarding as possible. One all-star product, the Illuminating Primer, serves both as a hydrating primer and fine-line mitigator, doubling as an intro for beginning skincare gurus and a space-saver expert looking to condense their collection. The best-selling Detox Nightwear Cream uses skincare heroes like squalane and peony flower extract to brighten and refresh tired skin before bed, making it an excellent stocking stuffer for your busy mom or sister-in-law. Unlike other skincare brands, Paradise and Maple is fully vegan, formulated without talc, silicones, parabens, or sulfates. Paradise and Maple's thoughtfully formulated skincare combinations promise to soften dry skin, exfoliate away any texture problems, and awaken the senses. Each product has a unique scent handcrafted with its unique blends of natural botanicals, such as lavender, rose, peony, and arabica. Eager to expand, the brand is in the process of adding even more goodies. Paradise and Maple plans on going beyond skincare, adding a beauty and wellness section to their repertoire. Currently, the brand is in the process of adding natural makeup products and plans on launching their new collection very soon. Be sure to be on the lookout in the future for new product drops!
Handmade by artisan Cynthia Kay Schmidt in Colorado, Earth Song Jewelry is an eco-friendly jewelry brand all about reflecting the beauty and intricacies of mother nature in its design. Boasting rich jewel tones that harmonize with sterling silver and copper, these pieces are guaranteed to suit all skin tones. Not only does the brand take inspiration from nature, but Schmidt dedicates a portion of her profits to helping heal nature as well. Schmidt donates 10% to Conservation Colorado and is certified by 1% for the Planet as a meaningful contributor to environmental efforts. Earth Song Jewelry is carbon neutral, uses 100% recycled packaging for its products, is sustainable, and uses quality materials for its jewelry. The materials are hypoallergenic, nickel and phthalate free, won't irritate skin and uses ethically sourced stones. Because of the brand's affordable price, you can easily purchase multiple matching pieces to create the perfect curated jewelry set for your loved one, regardless of gender. In addition to the plethora of more feminine options on the brand's website, Earth Song Jewelry offers a men's and unisex section with more masculine jewelry pieces. Unsure of what to get your special someone? Earth Song Jewelry has dedicated gift guides for everyone on your shopping list, including moms, sisters, girlfriends, husbands, and even the host or hostess of your holiday parties, making it simple to pick something out. The custom Morse Code necklaces and bracelets made with Austrian Swarvoski Crystals are a thoughtful and sentimental option if you want your loved one to keep a special message close.
Written in partnership with Ascend
Subscribe to discover the best kept secrets in your city