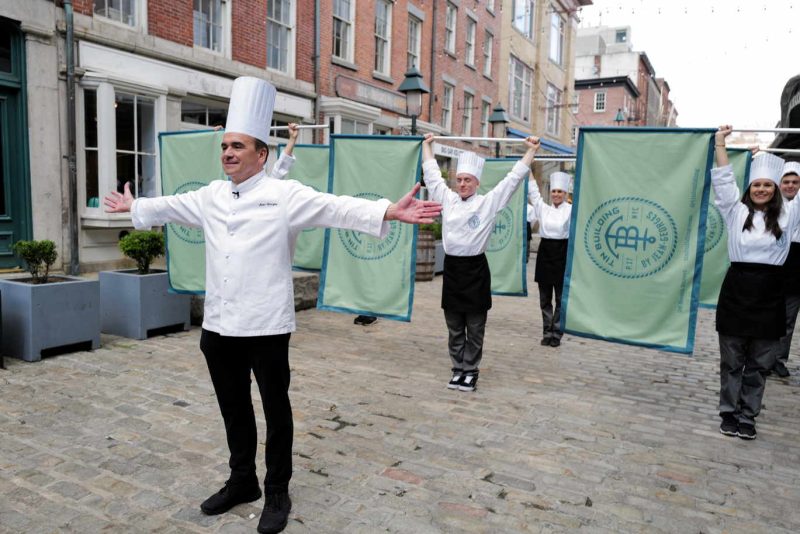 Photo Credit: BFA
On Wednesday, September 28th, Chef Jean-Georges Vongerichten and The Howard Hughes Corporation marked the official grand opening of the Tin Building by Jean-Georges at the Seaport.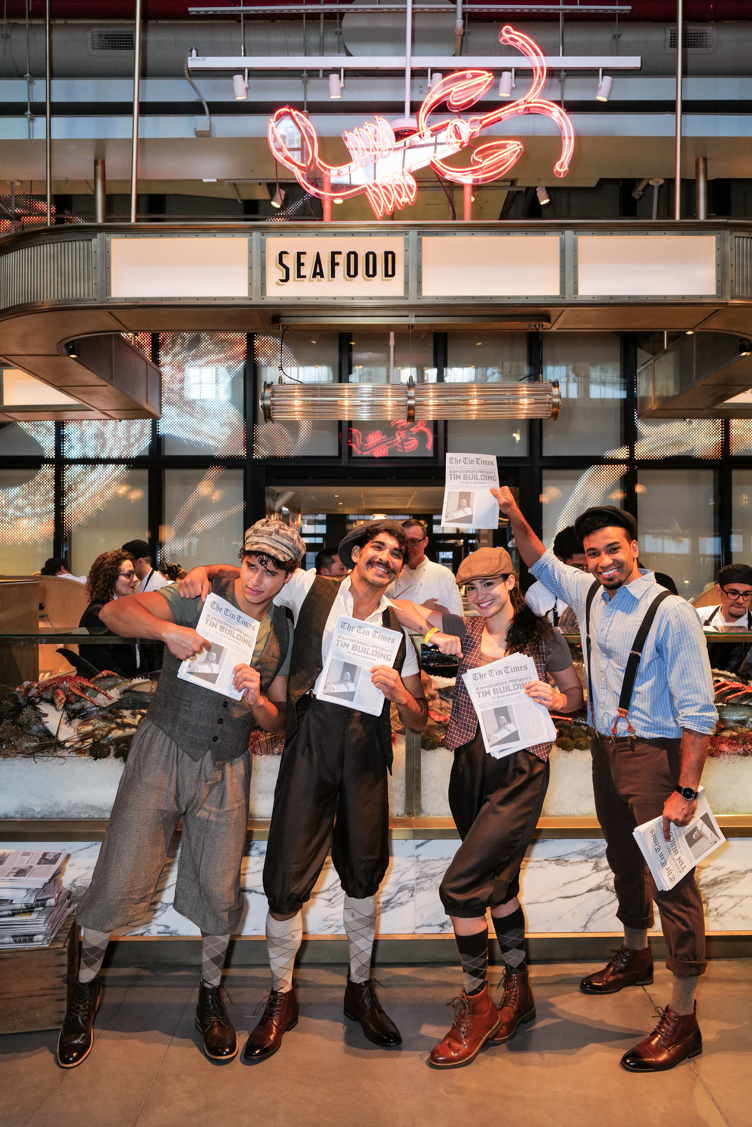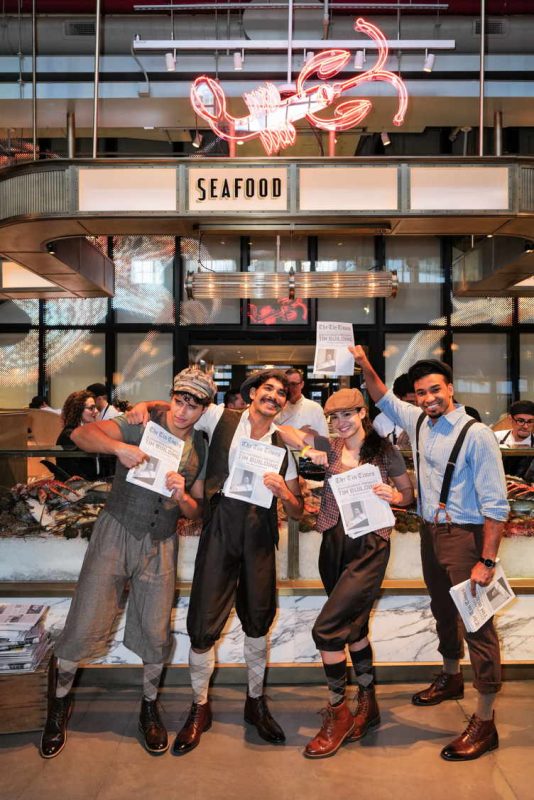 Photo Credit: BFA
After Jean-Georges and David O'Reilly (Howard Hughes' CEO) rang the closing bell at the New York Stock Exchange, a procession of more than 50 chefs in chef's whites carrying a giant fish sculpture paraded down the Seaport's cobblestone streets to the Tin Building at Pier 17.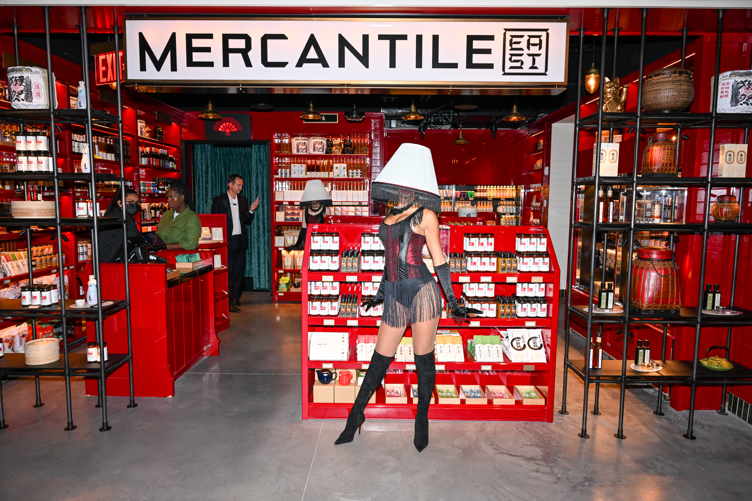 Photo Credit: BFA
Vongerichten (our Haute Living ambassador) greeted the parade of chefs and cut a green ribbon, which he accompanied with remarks about the opening alongside O'Reilly and Melissa Román Burch (COO of the New York City Economic Development Corporation).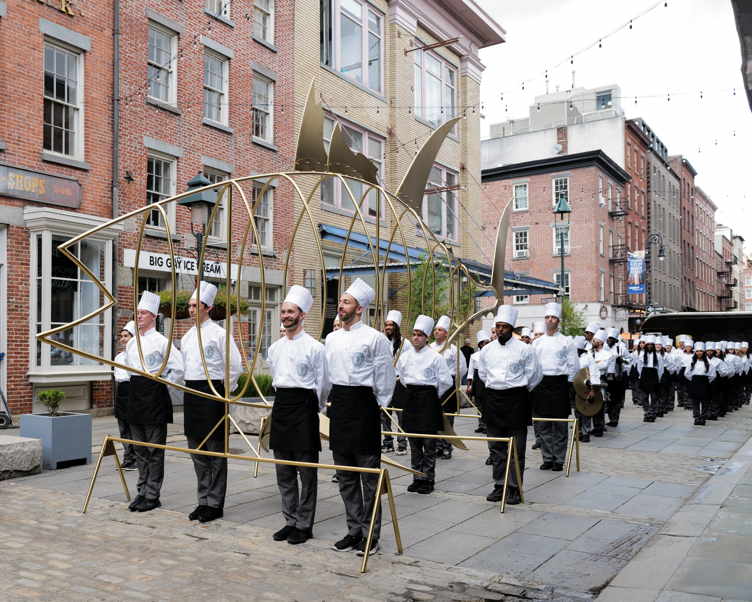 Photo Credit: BFA
Over 1,200 attendees including some of the culinary world's elite and influential New Yorker's gathered to celebrate. Notable guests included: Brooke Shields, Martha Stewart, Vanessa Williams, Laura Kim, Questlove, Babyface, Dorinda Medley, Luann de Lesseps, Carol Radziwill, Carla Hall, Sophia Sumner, Melba Wilson, Katya Tolstova, Hunt Slonem, Fern Mallis, Gillian Miniter, Nicole Miller, Carol Alt, Anne Burrell, Grace DeNiro, Famke Janssen, Rosanna Scotto, Boomer Esiason, Elvis Duran, Geoffrey Zakarian, Julia Haart and Ubah Hassan.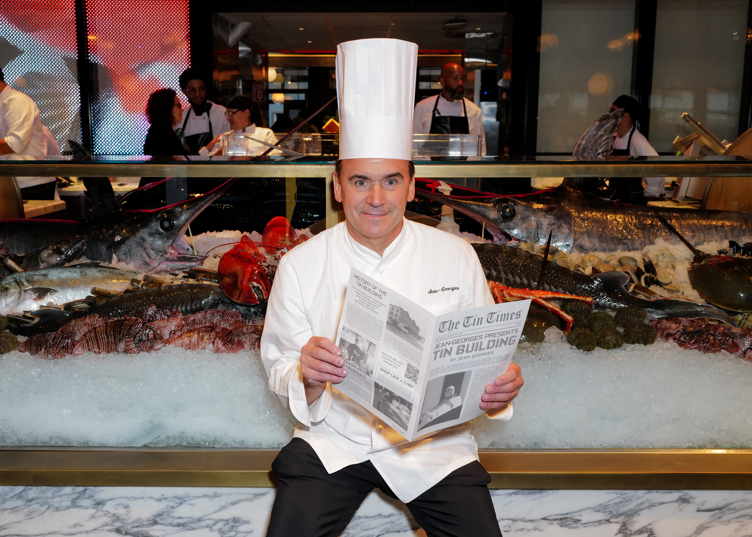 Photo Credit: BFA
Guests walked into an immersive experience like no other upon entering the newly reimagined building. Entertainment and performances throughout the 53,000 square-foot marketplace included an opening scene as newsies greeted guests upon arrival with Tin Building newspapers, an array of chefs on stilts soaring to new heights throughout the Central Market, a Shamisen violinist at Shikku sushi bar, and Japanese artists featured inside the speakeasy style restaurant House of The Red Pearl. Music by DJ Coleman entertained guests as they strolled through each of the six full-service restaurant concepts and six fast-casual counters, giving guests a taste of each restaurant. A "Marie Antoinette-style" baked goods and dessert bar nestled inside the Tasting Studio served the final dishes of the evening. The event was produced by Colin Cowie Lifestyle.
Photo Credit: Nicole Franzen
The grand opening of the Tin Building by Jean-Georges marked the significance of this historic Seaport building reimagined as a sprawling marketplace and global culinary destination for all New Yorkers, locals and visitors alike. An important part of New York City's history, the Seaport is an iconic waterfront destination and a community anchor for Lower Manhattan. The reopening also marks a major milestone in the revitalization of the Seaport and Lower Manhattan following the 10-year anniversary of Hurricane Sandy. The new Tin Building honors the rich history of the Seaport and Jean-Georges' global influences, and features two levels of one-of-a-kind restaurants, bars, and retail shops, including the Central Market at the heart of the building—which offers an array of locally sourced seafood, meats, cheeses, fresh produce and specialty items, all personally curated by Chef Jean-Georges.
Photo Credit: Nicole Franzen
The Tin Building brings over 700 new jobs to New York City and will provide a much-needed economic boost to the Lower Manhattan community. The marketplace emphasizes sustainability by utilizing best-in-class, environmentally friendly packaging for all retail goods throughout the building and a state-of-the-art commissary kitchen that will allow for a more sustainable use of resources between restaurants and retail.
Photo Credit: Nicole Franzen
The Tin Building by Jean-Georges is an exciting new 53,000-square-foot culinary destination located at Pier 17 at the Seaport on the former site of the Fulton Fish Market. Inspired by New York City's history as a bustling commercial and maritime hub, the Tin Building marketplace has been meticulously reconstructed and transformed into a multi-sensory culinary journey of global food & beverage experiences. In partnership with The Howard Hughes Corporation®, the Tin Building by Jean-Georges features six new full-service restaurant concepts, six fast-casual counters, as well as bars focused on wine, craft cocktails and craft beers—all anchored by a central marketplace featuring a locally sourced, curated selection of seafood, meats, cheese, produce, plus three specialty retail markets. The building features interiors designed by acclaimed design studio Roman and Williams and lighting by L'Observatoire International.
Photo Credit: Nicole Franzen
The Tin Building is located in Pier 17 at 96 South St, New York, NY 10038
Tin Building
Photo Credit: Nicole Franzen
Tin Building
Photo Credit: Nicole Franzen
Tin Building
Photo Credit: Nicole Franzen
Photo Credit: Nicole Franzen
Photo Credit: Nicole Franzen
Tin Building
Seeds & Weeds
Photo Credit: Nicole Franzen
Tin Building
Mercantile West
Photo Credit: Nicole Franzen
Tin Building
House of the Red Pearl
Photo Credit: Nicole Franzen
Tin Building
Frenchman's Dough
Photo Credit: Nicole Franzen
Photo Credit: Nicole Franzen
Subscribe to discover the best kept secrets in your city