Photo Credit: MYPARADISEPHOTO.COM
TYRESE GIBSON IS STARTING HIS NEXT CHAPTER IN A NEW PLACE — BUT HE'LL ALWAYS HAVE HIS FAST & FURIOUS FAMILY.
BY LAURA SCHREFFLER
PHOTOGRAPHY MYPARADISEPHOTO.COM
SHOT ON LOCATION AT THE SHORE CLUB RESORT, TURKS + CAICOS
Photo Credit: MYPARADISEPHOTO.COM
When I speak to Tyrese Gibson for the first time in 2020, pre-pandemic, he is — quite appropriately — in his car. He is not driving fast or furiously, but he is another F word: frustrated. The man is lost.
"I didn't even know this part of California existed!" he declares. "I don't even know where we are right now. I have literally never been here, and I grew up in L.A. It's ridiculous!"
Given that Gibson has been traveling to unfamiliar places for the past 17 years (not counting 2020, because one's home cannot be considered unfamiliar by any stretch of the imagination), getting lost in the Valley shouldn't faze him. And it doesn't, for long. Since signing on to play fast-talking former convict Roman Pearce in 2003's 2 Fast 2 Furious, the Watts native has traveled to Miami, Rio de Janeiro, the Canary Islands, Glasgow, Tokyo, Rome, Dubai, Abu Dhabi, Iceland, Havana and Edinburgh. In the upcoming 10th film, F9: The Fast Saga — his sixth in the franchise — those exotic filming locations have expanded to include London; Tbilisi, Georgia; and Krabi, Ko Pha-ngan and Phuket, Thailand.
But it isn't just a change of scenery that has the now 42-year-old actor ready and willing to return for more films. "We've been doing this for so long, it's hard to think, 'How could this possibly feel brand-new again?' And yet every Fast & Furious feels brand-new. Let me put it this way: If you ever got married, your marriage would feel a lot like The Fast & the Furious."
Variety is the spice of life, or so it's been said, and that's especially true for Gibson. "I imagine being on a soundstage at Warner Brothers with the same parking spot for 15 years. If that were me, I'd be like a hamster ramming my head into the damn wall," he says.
There's certainly been a lot of change within the Universal Pictures franchise since producer Neal H. Moritz and director Rob Cohen turned a short Vibe magazine article about the undercover street racing circuit in New York City into the box office juggernaut it is today. To date, the Fast & Furious films have grossed $5.31 billion at the worldwide box office. Yet not all of those changes have been good. The franchise's star, Paul Walker, was killed in a 2013 car accident, and longtime director Justin Lin left to pursue other projects that same year. The cast was also blindsided when Dwayne Johnson and Jason Statham were given their own spin-off — 2019's Fast & Furious Presents: Hobbs & Shaw — which initially pushed F9's release by a full year (which, in hindsight, doesn't seem all that bad, considering that the film has now been pushed more than three times — currently the release date is June 25 — in a bid to make sure it had a proper theater release).
Photo Credit: MYPARADISEPHOTO.COM
Gibson was very vocal in his displeasure about Johnson's decision to prioritize the spin-off over F9, but finally having the Fast & Furious family's "Phil Jackson," Justin Lin, back made the perceived slight more bearable. And with a global pandemic happening, well, he had to let some sleeping dogs lie. (He shared back in December that he and Johnson have since "peaced up.")
"We were trying to wrap our heads around this new energy," he says now. "But with [Justin back], there was a reassurance, a comfortability, a confidence that set in for all of us. I don't believe that any other director could have come back to the Fast & Furious after all of the controversy with the spin-off and make sense of it. He not only figured out a way to shoot a movie but a way to make us fired up, focused, energized, engaged and ready to forge ahead. He's literally the Phil Jackson, the f—ing Mr. Miyagi, the sensei. He's the real, true driver of this franchise."
Lin, according to Gibson, is steering the franchise in a brilliant new direction. Picking up where 2017's The Fate of the Furious left off, Dominic Toretto (Vin Diesel) and his family face a new, deadlier enemy that's uncomfortably close to home — Dominic's younger brother, Jakob (franchise newcomer John Cena), who is working with their old enemy, Cipher (Charlize Theron).
And although Dom — who temporarily joined forces with Cipher in the previous film — has since reunited with his friends, he and Roman are still having problems in F9. "They've got me going at Vin. Roman and Dominic Toretto are going at it in this movie, and you have not seen that dynamic ever before," Gibson says.
The sparring, interestingly, was Diesel's idea, but Gibson was fully on board, especially because in F9, fans will be seeing a whole new side of Roman. "We said, 'We have to figure out a way to hit the reset button with Roman.' The question was, 'When are we going to see Roman getting serious and intense about something?' There was a conversation we had about needing to see Roman more serious, more dramatic, more intense, about how to back away from that level of energy that he usually brings. We decided to play up the straight drama this time. That's the direction we decided to go in, so Roman has changed in this movie."
In addition to seeing Roman's sensitive side, fans are going to meet a slew of new faces in F9, including characters played by Cardi B. and Cena. The latter in particular had some big shoes to fill: Johnson's size fourteens. "Being a wrestler stepping into the wake of the Rock, who also happens to be a wrestler heavily associated with these films, I'm sure he felt a level of anxiety, like, 'How do I bring my own thing, my own energy, my own acting chops to this franchise?'" Gibson says. "Through the comfortability that we created for him on set, he was able to carve out his own niche and his vibe, and he overdelivered."
Photo Credit: MYPARADISEPHOTO.COM
That comfort is a key component of what makes the Fast & Furious machine work. This crew truly is a family — which newcomers don't always realize until they're part of it. "The Rock, Nathalie Emmanuel, Charlize Theron, they will all tell you that the lunches, the dinners, the energy, the private moments, the celebrations, it's nonstop. Now, if you didn't know what we know about the family, you'd be like, 'This can't be real. All of this love and energy is all fake, it's all Hollywood.' But then it doesn't stop, and you realize, 'This is real.' John Cena walked away and was like, 'Yo! Holy shit! This is a vibe!'"
They went above and beyond for this film — partly, it seems, to fill the hole the Rock had left, and partly because of Lin's reemergence. One night in particular stands out, Gibson recalls, when Diesel, Lin and Michelle Rodriguez all celebrated birthdays during filming. "There were like 20 people sitting around at this long dinner table, and everyone's standing up giving speeches about how we feel about each other. Everything was beautiful," he says.
To be a part of the Fast crew is to be a family in every sense of the word. They stay in touch as much as possible — during the height of Covid via a nonstop texting stream. To this day, they still do everything they can to honor Walker's memory on each shoot and are all close to his family. In fact, Gibson tells me he was on the phone with Walker's daughter, Meadow, as recently as the day before our interview. And the entire Walker clan made its way to the London set during the filming of F9. "When you get to the set and you see Paul's daughter there, and his brother Cody, too, it gives you a level of reassurance to proceed, of knowing you're on the right path," Gibson says. "It gives you all the confidence in the world."
It seems that Universal has the same confidence in the franchise, given that this film was pushed back several times to accommodate a theater release. "We might have the only movie coming out this year that's not going to theaters and then directly to a streaming platform," Gibson says. "It's really interesting to carry that torch. I'm proud of that, and proud that the studio has this confidence that F9 is going to inspire a lot of people to go back to theaters — the hundreds of millions of people that got vaccinated, including me."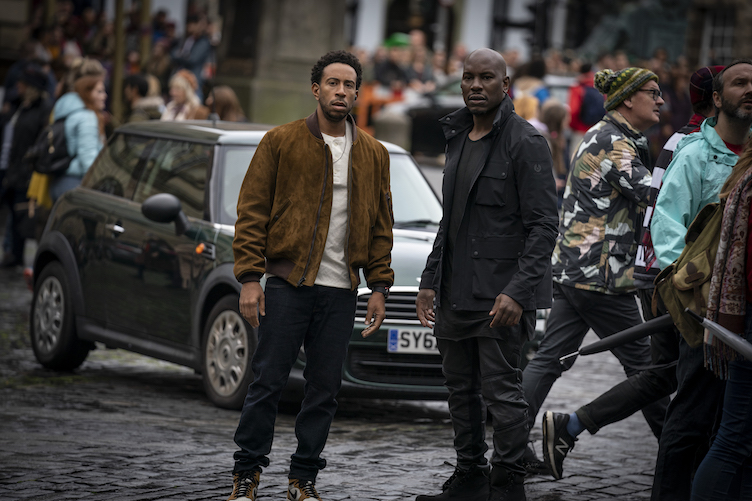 Photo Credit: Universal Pictures
LIFE HAS CHANGED FOR GIBSON a lot in the last year. In the span of 12 months, he got divorced, started dating again and is preparing to make one of the biggest moves of his life: he's officially leaving L.A.
It wasn't an easy decision. He was born and raised in Watts, after all. He raised his kids in his Woodland Hills house. He was settled into family life with social worker Samantha Lee Schwalenberg, his now ex-wife, for the past four years. He has so many memories there that extend to his career, his Fast & Furious path, his history, that sometimes he wonders if it's the right thing to do. But it's time to move on.
"I just put my house in L.A. on the market, and I think I'm having seller's remorse," he admits during our second discussion — exactly 13 months after the first — in May via Zoom. "I was born and raised in L.A. But I'm in Atlanta; I'm here, it's real. I've been living here for four years [while working on the Furious films], and I've been struggling with [traveling] cross-country and going back and forth, and I finally just said, 'Yes, put the house up for sale.' I'm at a place where I'm like, 'You know what? It's time.' But now I'm getting phone calls like, 'Does the house come with the [teppanyaki grills from Benihana] or are you taking them with you? Does the house come with [its gigantic statue of Transformers autobot] Bumblebee?' Every time somebody asks me a question about what comes with the house, I don't want to sell it. I've had so many legendary moments at that house over the last few years. John Singleton, Michael Bay, all of the directors from Fast & Furious, Vin Diesel [have all come through]. There are just so many moments. And the crazy thing is, I thought I was going to put it on the market and feel good about it, and I don't feel good. But I have to let it go."
His Atlanta abode is great, but it doesn't have the history or the joie de vivre of his five-bedroom mansion (with its own waterfall, no less) in the San Fernando Valley. In L.A., it was a nonstop party — one that his neighbors would never call him out on, because they would be right there with him. But the well-heeled residents of Buckhead are less likely to enjoy his shenanigans. "I'm living in a neighborhood where [people] are not okay with me bringing the party life to this city," he says. "I mean, my neighbors party with me in L.A. All of these cars taking over all of the streets, we're going big, the shrimp is flying, fire hat tricks; they don't call the police on me. It's going to take me a long time to get folks here used to the parties that I do, and I don't think they're interested in getting used to it over here. If I felt like it was a continuation of the parties and Benihanas and just all the magic, it would be different."
When I wonder if he's really sure about leaving the City of Angels, he swears he is, noting, "I think the biggest deciding factor for me was my daughter [Shayla, from his first marriage to Norma Mitchell] is a teenager now, and she's just so independent and self-sufficient, and kind of the days of Daddy being there every day, every step of the way [are gone]. 'Dad, I'm going to a friend's house. Dad, I'm going to a pool party. Relax.' Even that's kind of encouraged me to make this move."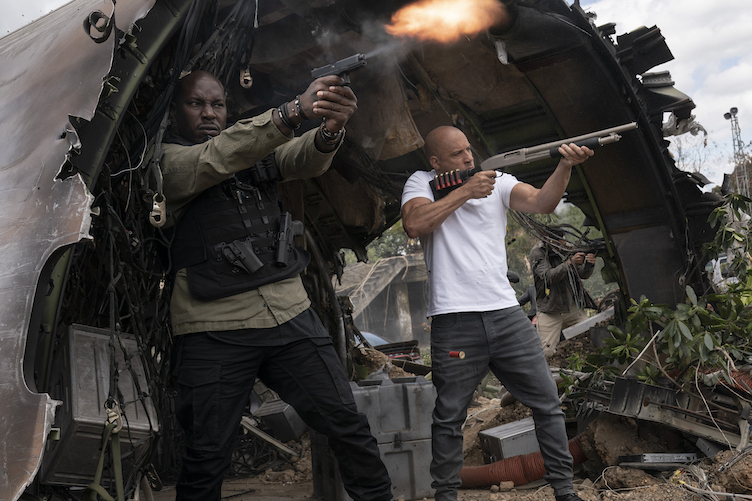 Photo Credit: Universal Pictures
And it's been nice, being able to raise his two daughters in a beautiful home — and being able to be a hands-on dad, especially while promoting a film as big as F9. Typically he'd be stuck in a plethora of junkets and interviews, sipping water around a hotel's round table. Here, he can do everything from his office, by Zoom. "There is a luxury to this," he admits. "You know, I've been in the business for over 20 years now — even though I feel like I'm 17 years old — and it's crazy to be able to say you've got 20 interviews and you don't have to leave the house. I get to take bathroom breaks, I get to go kiss and check up on my 2-year-old [Soraya, his daughter with Schwalenberg]. It almost makes me want to build a movie studio in my backyard, like, 'Well, let's just keep this shit going! Does anybody want to bring that camera crew over here? Let's rock this thing from the backyard. Let's go.'"
Although he seems to have the work-life balance thing all figured out, not to mention the pandemic career, Gibson acknowledges that he hasn't had it easy. His personal life has suffered, after all. A year ago, he was double-dating with his wife and Idris Elba; now, he's divorced. It's certainly a different life than the one he was living.
"It's been crazy, trying to figure out a way to live in this new world," he confesses. "It's hard to accept it, but it's a brand-new reality. Parenting is different, promoting movies is different, movie sets are different, TV shows are different. Cohabitating with costars and directors, that's different. Everything is different."
But make no mistake: different does not necessarily mean bad, and even though he's hell-bent on giving up his place in L.A., he is not saying sayonara to his Hollywood career. His aforementioned 20-year résumé includes the Fast & Furious films, the Transformers franchise, two New York Times best-selling books, a comic book, eight successful albums and forays into screenwriting, modeling and DJing. Coming up, he has several films in the bag, including Sony's Spider-Man spin-off; Morbius, costarring Jared Leto, part of a three-picture deal he made with the studio; the thriller Rogue Hostage, alongside John Malkovich; and the action film Dangerous, with Mel Gibson and his homie (and current houseguest, who pops into our Zoom chat to say hi) Scott Eastwood.
The difference is that now he has more time to focus on things outside the Hollywood sphere. "I'm definitely a serial entrepreneur," he says. "I'm going to be announcing a lot of amazing things in the coming months, a lot of opportunities that have presented themselves. And I'm not competing with anybody. I'm just saying, there's a little slice of this pecan pie [here in Atlanta], and I'm in on it."
Some of those ventures include Voltron Studios, which he likens to Universal Hollywood — a movie studio with soundstages, production offices, hotels, restaurants and retail. And coronavirus be damned, he's heading to both the Middle East and China to take the necessary meetings that might result in collateral. Dreams don't come cheap, after all, and he just needs one other person who believes in them as strongly as he does to make his a reality.
Photo Credit: MYPARADISEPHOTO.COM
He has more vision boards than he can count, and an actual video he's produced that lays out exactly what Voltron looks like. He's prepared. "That's the main focus of my life," he says. "I'm a dreamer, but I dream with my eyes open. I want to become the things I see. My desire is to be a fully functioning, successful entrepreneur who is running a business that's affecting and shifting our world. Obviously, I still want to act, but that's not why I lose sleep at night."
He tosses and turns because his ideas are so big, they're literally ready to pop out of his head. But then, he's always been a dreamer. It's how he's managed to not only come so far, but when his life hit a snag, pick himself up again.
"When I was in South Central L.A. living in the ghetto and I was homeless at a certain point, I just wanted to know what it was like to have over $100 in my pocket at one time," he says. "What it was like to get on airplane, to leave L.A. and go to a different state or a different country. I've been able to do all of these different things. I've gotten to live a life with penthouse suites, mansions, Hollywood parties; I've gotten to go to the Grammy Awards and work with some of the biggest movie stars in the world. But who I am at my heart is a little Black boy from the inner city who woke up one day and decided that there had to be better things out there than I was born into and had to live in throughout my childhood. I'm not perfect — I'm just grateful."
And the truth is, he'll carry that gratefulness with him no matter where he is.
Photo Credit: MYPARADISEPHOTO.COM