Known as the "Franchise King," Robert Zarco has cemented his name as an internationally recognized expert in franchise law. Zarco Einhorn Salkowski & Brito, P.A., founded by Zarco over 25 years ago, has become a household name and guarantees any client who partners with the firm the best results―something Zarco accredits to his zealous representation of clients including his ability to handle trial cases ferociously and with great confidence in his knowledge of the law.
"I have earned the right to be confident based on the extraordinary amount of work that I have done in my career at many different levels," Zarco says. And it's true. Zarco's extensive resumé is almost unparalleled to any other lawyer in the industry. With a degree in economics from Harvard University and a former financial analyst for General Motors in New York, while pursuing an MBA at Pace University before attending law school, his knack and understanding of finance, accounting and financial analysis economics serve as an added bonus for clients.
Photo Credit: Guilherme Molento
"My clients have free benefit of my accounting and finance background. My education and skill on the subject matter enhances my ability to give legal advice," Zarco notes. "Few lawyers understand that when you give legal advice, there is a corresponding business consequence. Likewise, I tell my clients whenever [they] make a business decision, they need to understand there is a corresponding legal consequence to it."
Any other firm will rarely take on franchise cases on contingency, and yet Zarco does so. It is in the handling of these cases, through Zarco's honest and transparent legal advice, that allow him to offer the "keys to the courthouse" to clients. This is another demonstration of the quality of service Zarco Einhorn Salkowski & Brito, P.A. offers.
Photo Credit: Guilherme Molento
A question Zarco gets often is "what is next?" The answer, according to Zarco, is both simple and complex in nature."Everything." Zarco says.
With no plans of stopping any time soon, Zarco said he hopes to remain as happy and passionate about the law as he is now while continuing to serve clients diligently and successfully. As a man of vision, he is always striving for perfection and setting goals that push him to be the best version of himself each and every day. He credits his passion and love for his profession as the driving forces behind his success.
Most recently, the firm expanded to a sprawling, 26,000-square-foot office inside One Biscayne Tower. The grand opening of the office took place early in November, inviting highly renowned lawyers, businessmen and politicians as Zarco Einhorn Salkowski & Brito,P.A celebrated its 25th anniversary.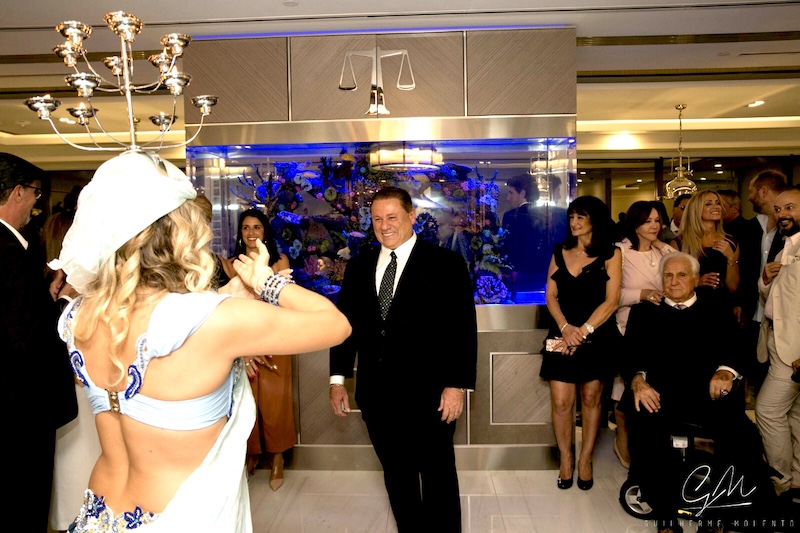 Photo Credit: Guilherme Molento
The lavish opening was unlike any other law firm event. A variety of deliciously crafted food items were available to fit almost any craving. From churrasco and plantain mash to Southern-style fried chicken, sushi and a charcuterie spread, guests were able to indulge in mouthwatering cuisine and desserts catered by Chef David Cuisine and Event Design. The event featured esteemed singer Dawn Marie Basham and pianist Giovanni Fazzio, who have previously performed at events for President Donald J. Trump and family, and violinist Frank Lima. Notable attendees like Don Shula and Mary Anne Shula, Senator René Garcia, Nat Moore, Judge Ed Newman, Judge Michael Hanzman, Judge Ronald Dresnick and Judge Alan Fine were among the 350 guests that attended.
Ahead of the opening, Zarco takes us on a tour of the sprawling office. The walls are covered with breathtaking works of art, from paintings to sculptures from all over the world―and every lawyer at the firm is as enamored with each piece as Zarco is himself. "Did you see the new eagle that just came in?" Zarco joyfully asked those around him as he walked through the halls.
Photo Credit: Guilherme Molento
There is nothing typical about the new offices of Zarco Einhorn Salkowski & Brito, P.A. To say it has become the talk of the building would be an understatement. As we made our way to the 34th floor of One Biscayne Tower to meet Zarco for our interview, a man in the elevator could not help but comment on the firm's strikingly beautiful office.
Zarco is the mastermind and visionary behind the office's stunning décor and finishes, with an excellent team of designers who helped execute his vision to perfection.
The modern office is designed to reignite the already-existing excitement into the law firm, but at a whole new level. It features a 1,000-gallon aquarium, locker rooms with showers, high-end lounges, a personal trainer and nutritionist provided at the expense of Zarco and unobstructed views of the bay. Zarco chose to go the exact opposite of recent office trends and increased the sizes of all offices for the firm's partners and associates
Photo Credit: Guilherme Molento
"These employees spend the greater bulk of their life here. I wanted to promote happiness and a happy environment. I feel we have achieved just that. [Clients and colleagues] look forward to being here; frequently I have to actually take it upon myself to ask employees to leave because they don't leave, and many say it's because the office looks nicer than their home," Zarco says.
Contrary to the beliefs of opposing lawyers, Zarco is anything but arrogant―although he is quick to point out the difference between being arrogant and being tough.
"I am tough. I know how to represent my client zealously, which is my legal obligation. I am firm in my position. I am an aggressive trial lawyer, but I reason intelligently, and I'm not a pushover. I am extraordinarily confident, and people have mistaken that for arrogance," Zarco notes.
Although they represent over 500 different franchised brands in over 20 countries and 40 states, Zarco Einhorn Salkowski & Brito, P.A. offer services that extend far beyond franchise law. The firm serves as a "one-stop shop" for clients who need advice or legal representation in different legal realms. The emphasis is always the same: providing high-quality, full-service access to all clients.
As the year comes to an end, Zarco reflects on the landmark decision he won in 1992 that made him who he is today.
"I left my prior law firm as a result of not agreeing with their philosophy and management style," Zarco says. "I believe in long-term relationships with my clients, and price gouging is not the way to do business. As a result, my clients know from the minute they come in how much [our service] is going to cost them." After an incredible evening celebration that lasted until midnight, Zarco and his team were back at work the next morning doing what they do best- Practice Law!
Subscribe to discover the best kept secrets in your city