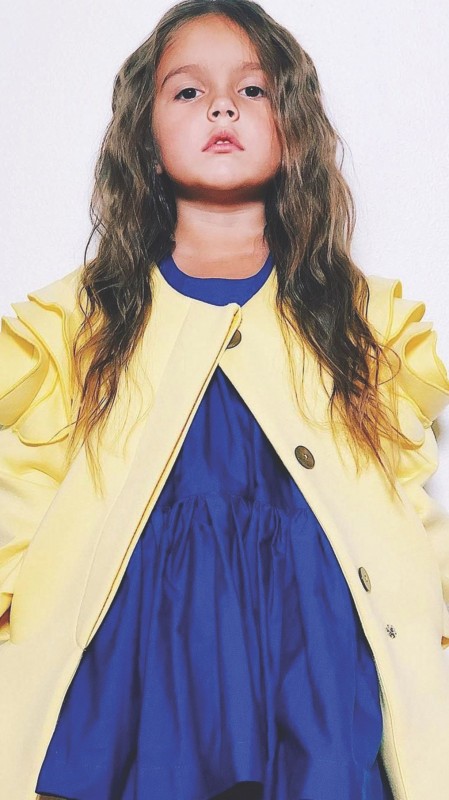 Photo Credit: The Cream Agency
Five-year-old Taylen Biggs has captivated the hearts of the fashion world with her trendsetting style and red-carpet confidence. Not only has she walked countless runway shows including Miami Fashion Week, Miami Swim Week and New York Fashion Week, she's also sat front row rubbing elbows with some of the hottest celebrities at the moment, oozing her own personal style and stealing the show. After all, there's a reason publications like US Weekly have referred to her as fashion queen Anna Wintour's "mini-me." It's safe to say that Taylen has had a whirlwind of a year thus far and is not stopping anytime soon. Tot Living by Haute Living caught up with the stylish 5-year-old star when she had some downtime from gracing the red carpets in New York City and chatted with her and her mother, Angelica Calad, to get insight on some of her top industry secrets.
Photo Credit: The Cream Agency
TL: Who are some of your fashion icons?

TB: Cardi B, Beyoncé, Janelle Monáe and Jeremy Scott.
TL: How would you describe your style?

TB: Joyful and colorful with a bit of spunk and sass!
TL: Favorite fashion brands?

TB: Moschino, Caroline Bosmans, Gucci Kids and Stella McCartney Kids are some favorites. Smaller designers like Australian children's brand Kadime, Mini Rodini and Airfish are also some top choices.
TL: Best part of New York Fashion Week?

AC: Going all out for Fashion Week—whether sitting front row or taking the runway herself, she loves to shine along!
TL: How do you get ready for your red-carpet debuts?
TB: Mom = Hair + Stylist + Glam, and then a good look in the mirror!
TL: What's been your favorite fashion event to attend so far?
AC: The VMAs—Taylen loves fashion and music, so for her it was the perfect event.
TL: What celebrity would you love to meet that you haven't already met?
AC: Kendall Jenner is one of the celebrities she's been looking out for. Hopefully soon!
Photo Credit: The Cream Agency