The signature fundraising event of Gabrielle's Angel Foundation, the Angel Ball, stands out as one of the highlights of the New York social season. This star-studded event, is known boasting an audience of over 1,000 high-net-worth supporters, celebrities, influencers, executives and philanthropists at the annual celebration of life, music, and our quest for a cure.
With amazing live entertainment and celebrity participants, the event honors those outstanding individuals who have made significant humanitarian and philanthropic contributions in support of cancer research. This remarkable event is also known for its incredible presentation, including beautiful decor and florals. This year luxury event production company, Birch Event Design along with Creative Director Josh Spiegel, is taking over those reigns for the second year in a row.
We caught up Spiegel to get a sneak peak of what we can expect from this year's Angel Ball happening on Monday, October 22.
What was the inspiration behind the decor and florals for the Angel Ball?
The Angel Ball is always inspired by color. This year, since there are close to 80 tables in the room, we decided to bring a lot of drama to the table cloth. We went with this really amazing print that feels very modern and has tons of color in it. It's all hues of deep navy, plum, burgundy, fuchsia and pops of gold – it's really beautiful for Cipriani Wall Street. In the centerpieces, we pulled out the colors from the linen but stayed more to the organization's branding which is red, burgundy and fuchsia with touches of purple.
What is your favorite part about working with the Angel Ball?
The people are amazing, their cause and vision are amazing, and Denise Rich is amazing – just amazing. She is an incredible philanthropist and she does really beautiful work. Being a part of this with her and the foundation is a real honor.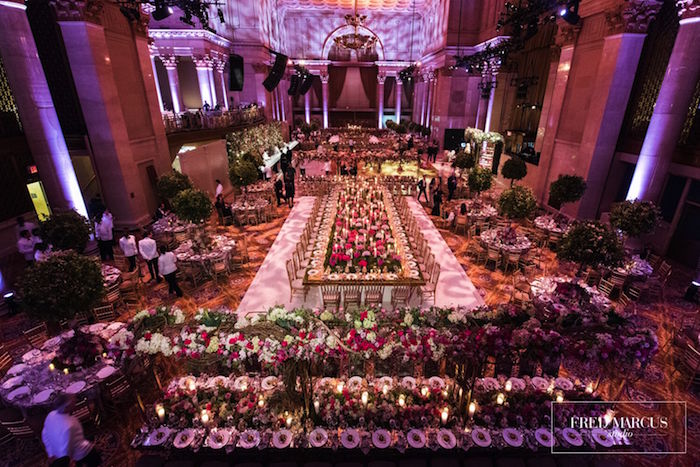 Photo Credit: Fred Marcus Studio
How do you differentiate last year's decor from this years? 

Last year, we went 'city chic' with blacks, silvers and pops of color. This year we really wanted to go vibrant and modern. We drew inspiration from art: we brought in a print that we felt was very painted. Our design was derived from that.
What does working with Gabrielle's Angel Foundation mean to your team?

It has been incredibly humbling to put our efforts into something that is so beautiful, inside-and-out, and to know that our hard work is supporting such a tremendous effort. Experiencing the Angel Ball itself – when you are in the room and you get an understanding of the number of people that have been helped, the amount of money that they have raised, and most of all, the progress they have made in finding a cure – you can't help but be amazed by the power of their vision.
Photo Credit: Courtesy of Birch Event Design
How is producing an event like this different from producing a wedding? Or a different type of event? 
With a bride and groom or any guest of honor, we feed directly off what we get from the individuals. We sit and chat and laugh, and that's how we go about gathering our first bits of inspiration. Because we aren't dealing with individuals, we really have to take the time to get grounded in the cause and the people who are being helped. And we go from there…
What production elements excite you the most for an event like this? 
This year, we're excited about the back wall behind the stage. Most galas don't pay too much attention to it but it truly is a focal point that deserves attention and respect. The entire night, supporters are watching and paying close attention to the speakers who have prepared tirelessly. We really want to provide the speakers with a beautiful backdrop. And a little secret: we "spruce up" the bathroom with a whimsical touch which serves as a bit of a delightful surprise.
Photo Credit: Courtesy of Birch Event Design
Click here to read our full recap of the 2018 Angel Ball.
Subscribe to discover the best kept secrets in your city