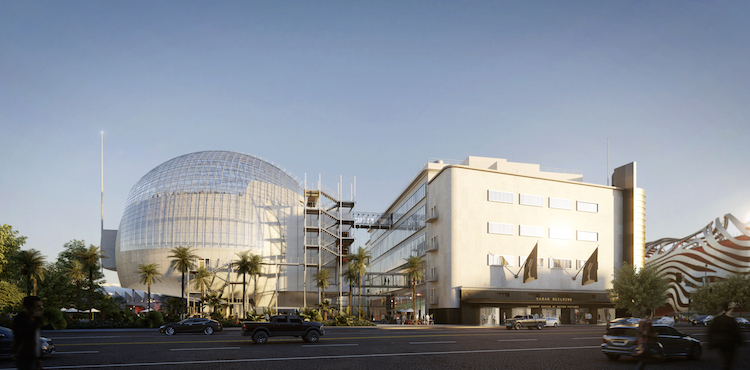 Photo Credit: Renzo Piano Building Workshop/©A.M.P.A.S./ Image from L'Autre Image
Much talk has been made of Hollywood's Academy Museum of Motion Pictures and expectations are high to say the least, given its ties to the same institution that brings us the Oscars each year. But so far the museum is more than just living up to the hype. With the project now forging ahead, having recently gone vertical at its location on Wilshire and Fairfax, the latest estimated date of completion is mid-2019. Let's take a look at some of the most over-the-top details expected from the Academy Museum, a project that's been unprecedented in almost every single way.
Unparalleled Design
Photo Credit: ©Renzo Piano Building Workshop/©A.M.P.A.S./Image from L'Autre Image
Designed by Pritzker Prize-winning architect Renzo Piano, the 300,000-square-foot Academy Museum will comprise two main structures, The Saban Building and a head-turning, 130-foot-tall glass and concrete orb which is sure to be the museum's focal point. Once finished, the Sphere Building will encompass the 1,000-seat David Geffen Theater and the Dolby Family Terrace, with the latter affording spectacular views of the Hollywood Hills. In addition to 50,000 square feet dedicated to exhibition galleries, the facility will include the 288-seat Ted Mann Theater, project spaces, an outdoor piazza, an interactive education studio, a restaurant and a museum shop.
The permanent exhibition will be installed on the second and third floors, intended to take visitors on a journey through cinematic history. Beyond the core installation, temporary exhibitions in the future will make use of the many items related to motion picture technology, costume design, production design, makeup and hairstyling, promotional materials and awards that are already in the collections of the Academy and the Academy Museum.
Sky-High Budget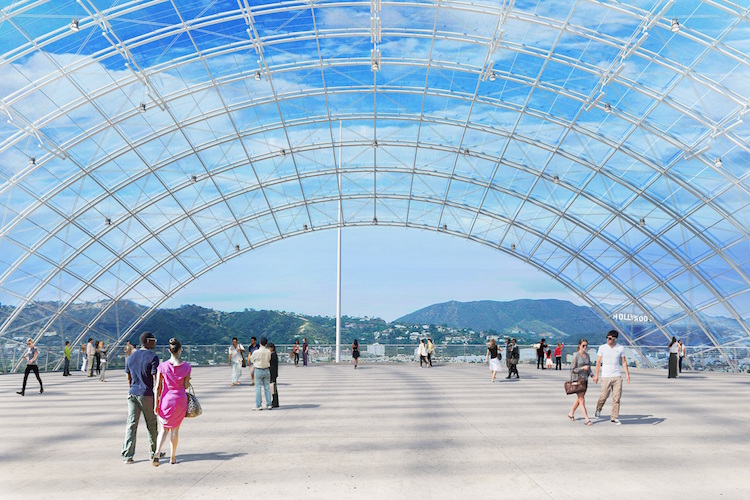 Photo Credit: ©Renzo Piano Building Workshop/©A.M.P.A.S.
The Academy Museum budget was originally circulated to be $250 million with the facility substantially completed by the end of 2017. The public has seen that deadline pushed back a number of times, with the latest deadline now cautiously set for mid-2019. The completion date isn't the only thing, however, that the construction has blown past. Since the project first broke ground in March 2016 the budget has reportedly risen to nearly $400 million.
To offset the museum's staggering price tag, an ambitious fundraising campaign was launched in 2012, headed by chair Bob Iger and co-chairs Annette Bening and Tom Hanks. The campaign chairs must be good at their jobs — as of last October, the museum had managed to raise more than $300 million, or nearly 80 percent, of its $388 million campaign goal.
High-Profile Board Of Trustees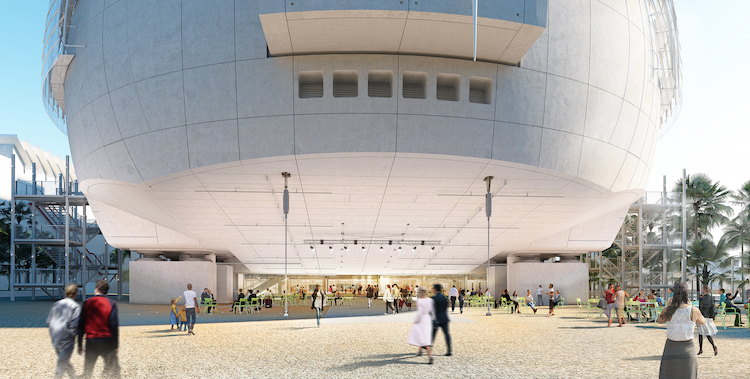 Photo Credit: ©Renzo Piano Building Workshop/©A.M.P.A.S.
The Academy Museum's formation of its full board of trustees was only just recently completed and announced. And it was worth the wait. The roster reads like a who's who of industry heavyweights, with NBCUniversal Vice Chairman Ron Meyer serving as chair over the board.
The rest of his board includes five-time Oscar-nominated actor Tom Hanks; fashion designer Diane von Furstenberg; producers Emma Thomas, Kathleen Kennedy and Kimberly Steward; cinematographer and director John Bailey; Paramount Pictures CEO Jim Gianopulos; Academy of Motion Pictures CEO Dawn Hudson; Netflix Chief Content Officer Ted Sarandos; Dolby President Kevin Yeaman; East West Bank CEO Dominic Ng and others.
Star-Studded Donor List
Photo Credit: ©Renzo Piano Building Workshop/©A.M.P.A.S.
With contributions totaling into the hundreds of millions, the list of individuals, families and entities who have made gifts to the museum's cause is long. Donors to the museum's growing collection include Jim Henson Company and the Henson Family, Mattel, Inc., Pixar Animation Studios, the Shirley Temple Black Foundation, Universal Studios, Ron Howard and Anjelica Huston, to name just a very few.
Others have made monetary gifts in sums that ensure they'll have spaces named after them: producer Jeffrey Katzenberg (The Marilyn and Jeffrey Katzenberg Gallery), director Steven Spielberg (The Spielberg Family Gallery), The Walt Disney Company (The Walt Disney Company Piazza), Dolby Laboratories/Family of Ray Dolby (The Dolby Family Terrace) and The David Geffen Foundation (The David Geffen Theater). And with a landmark gift of $50 million, philanthropists Cheryl and Haim Saban have funded one of the campus' two main buildings in whole. Formerly the May Company Building, a designated Los Angeles Historic-Cultural Monument, it will now be called The Saban Building.
A Massive Collection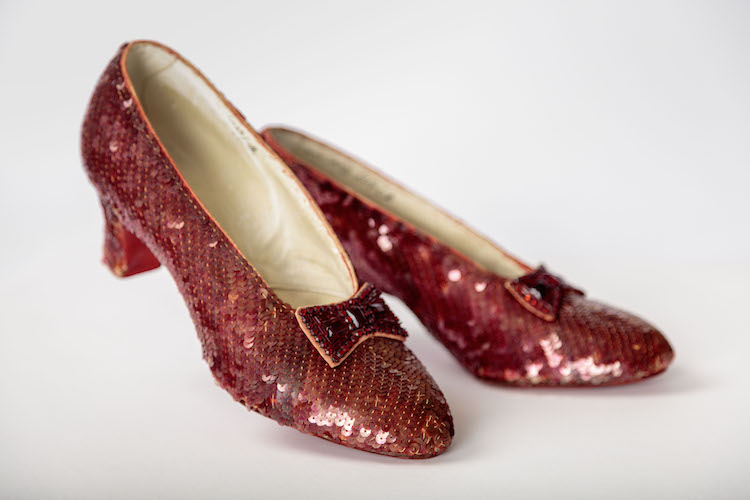 Photo Credit: Joshua White, JWPictures/©A.M.P.A.S.
The museum has been collecting items of value since 2008 and says it's now amassed more than 60,000 pieces of "production art" with the list growing every day. Highlights include the only surviving full-sized shark model from the film Jaws, a pair of ruby slippers from The Wizard of Oz, the doors to Rick's Café Américain from Casablanca, Shirley Temple's tap shoes, the original Steadicam first used by inventor Garrett Brown, a spaceship model from 2001: A Space Odyssey, and so many others.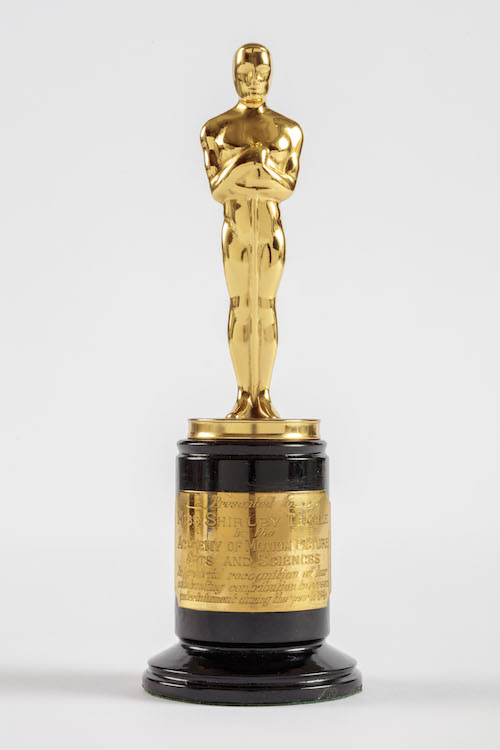 Photo Credit: Joshua White, JWPictures/©A.M.P.A.S.
Additional items the Academy Museum is in possession of include the Academy's collection of more than 12 million photographs, 190,000 film and video assets, 80,000 screenplays, 50,000 posters, and 20,000 production and costume design drawings. Within this are more than 1,600 special collections of Hollywood legends like Cary Grant, Katharine Hepburn, Alfred Hitchcock, and John Huston, containing items such as production files, personal correspondence, manuscripts, scrapbooks and storyboards, among other effects.