Photo Credit: Glamsquad
New York's favorite on-demand beauty service has just opened up its virtual shop in San Francisco. Allow me to introduce you to Glamsquad! Think of it like Uber, but for hair and makeup. Download the app and book a blowout or smoky eye application. At a specified time, an expertly trained professional will arrive at your doorstep ready to turn your limp locks into tremendous tresses. It's hair and makeup, anytime, anywhere.
Photo Credit: Glamsquad
Glamsquad debuted as an instant success in 2014 but was slow to expand. "We didn't do what some brands do, which is to spread wide. We went deep in existing markets," Glamsqud's CEO Amy Shecter told Haute Living at a launch party last week. "We have two customers. We have our beauty professionals who are our customer and our clients who are our customers. We had to understand how to acquire new customers, and how to build our workforce effectively, to manage supply and demand so that we could grow confidently."
After developing a strong following in New York, Glamsquad expanded to Los Angeles, Miami, Washington D.C. and Boston. Now comes San Francisco and Glamsquad will arrive in six more cities soon. One of the people who helped Glamsquad with its growth trajectory is local venture capitalist Shelly Kapoor Collins. Founder of the Shatter Fund, Kapoor Collins invests in female-driven companies that she believes in.
Photo Credit: Glamsquad
Kapoor Collins was a Glamsquad client, and once she got to know the brand, she knew she wanted to connect with their team. "I told them, 'I'm here in the Bay Area, and I'd like to advise you guys and help you scale," Kapoor Collins remembered at the event. "We launched them in D.C. at the White House correspondence dinner a few years ago, and now we're launching them in San Francisco." She loves Glamsquad because she's never had a bad experience.
The beauty professionals Glamsquad works with undergo a rigorous audition process—only 6% who try out make the cut. This ensures that the client receives a quality experience. Both Kapoor Collins and Shecter are confident that the service will be well-received in Bay Area circles. Besides La Mienne, there is little to no competition in the on-demand beauty market. Plus, it's a service that people crave.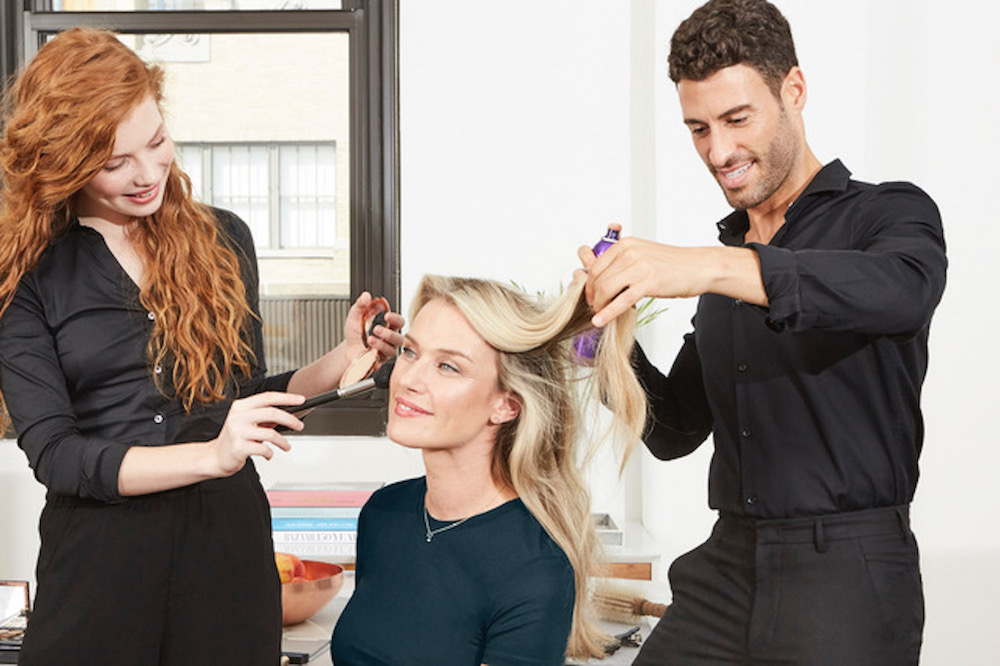 Photo Credit: Glamsquad
"Through technology, we've lost the ability to connect with people, but people are craving human touch," Schecter says. "Glamsquad is connected beauty, so our niche in the market is going to be more and more important because we offer an experience in the third space, which is a space in their home that we create together that isn't surrounded by the chaos of their home. It's a quiet moment where we very quickly expedite hair and makeup. The client gets a moment to pause and relax, and enjoy the actual interface of being touched."