Photo Credit: Courtesy of The Ritz-Carlton
This summer, every Friday and Saturday from July 6 through August 25, 2018, hotel guests and locals are invited to the Ritz-Carlton Downtown Los Angeles for 'Summer Supper + a Show'. The evening starts with modern Asian-fusion bites in celebrity chef Wolfgang Puck's chic lounge & eatery WP24 Restaurant located twenty-four floors above the downtown skyline.
The pre-set, two-course menu features a choice of appetizer such as Maine Lobster Spring Rolls with ginger and 10 spice honey, Steamed Bao Buns with slow cooked pork belly and sweet bean garlic glaze, and Hamachi Tartare with toasted coconut, Thai basil, cilantro and Kaffir lime, followed by a choice of entrée including Indian Spiced Assam Prawns with curry leaves, garlic, cardamom and yogurt, Stir Fried Prime Beef Filet with Chinese eggplant, Thai basil, red chilies and crispy spinach or Alaskan Halibut with baby artichokes, tomatoes, asparagus, ginger and basil. After enjoying incredible views of the city, guests will head two floors up for dessert and a movie on the hotel's 26th floor terrace.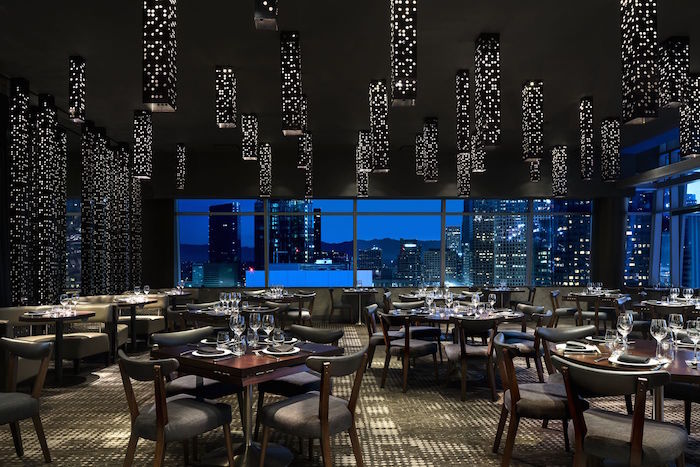 Photo Credit: Courtesy of The Ritz-Carlton
The show package is priced at $75 per person and reservations are required and can be made through the WP24 hostess at (213) 743-8824. Price includes a two-course menu enjoyed within WP24 Restaurant, reserved movie seat on the rooftop deck for the evening screening, and unlimited visits to the Dessert Bar filled with self-serve delights to snack on during the show.
WP24 Supper + Show dinner seating begins at 6 p.m. Movie seating begins at 7:30 p.m. Showtime begins between 8 – 8:15 p.m.
The summer schedule is as follows:
July 6 and July 7 – Dirty Dancing
July 13 and July 14 – Top Gun
July 20 and July 21 – Jumanji (1995)
July 27 and July 28 – 50 First Dates
August 3 and August 4 – Moonrise Kingdom
August 10 and August 11 – Mamma Mia!
August 17 and August 18 – Grease
August 24 and August 25 – Notting Hill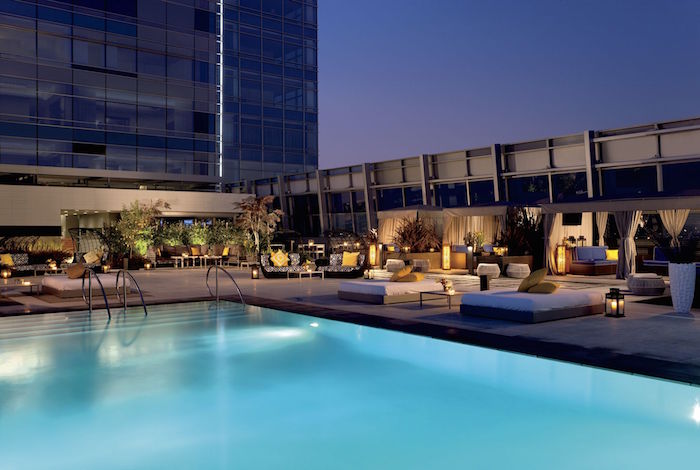 Photo Credit: Courtesy of The Ritz-Carlton