The Dalmore Master Blender Richard Paterson has been blending premium scotch whiskey for decades. And his social media presence on YouTube and other outlets has made him one of the most watched man in the spirits world. He has been nicknamed "The Nose" for his skill at tasting and is widely considered an expert in scotch education, often throwing a poorly poured spirit, no matter the cost, on the ground.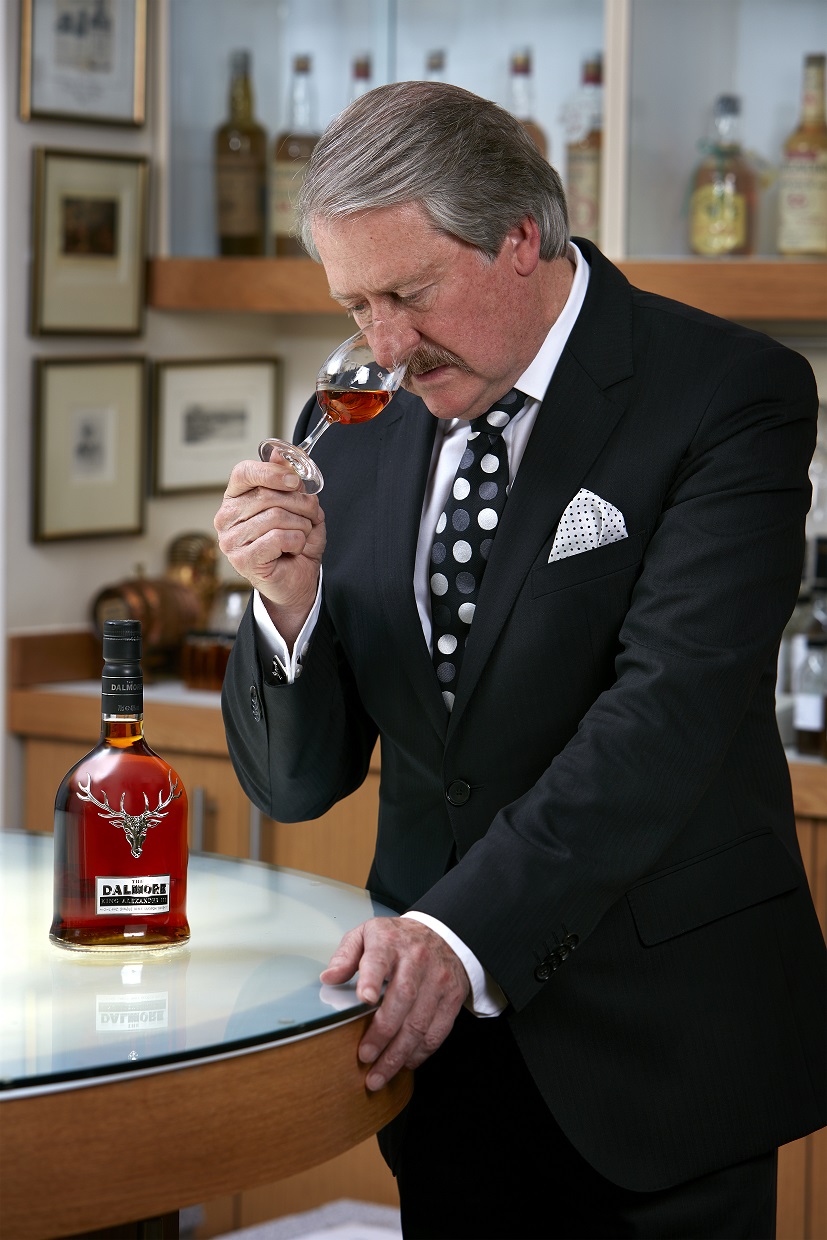 Photo Credit: The Dalmore
"I like to think that although I present as a showman, it's not really a show – it's actually 100% passion. As long as it's remembered in the right way, and people walk away learning something for the first time, I'll be happy," he once said.
Time Magazine reported that he once took a $2.5 million dollar insurance policy out on his nose just to protect his most precious olfactory sense. That's in the past, though. Paterson is much more excited about The Dalmore 45 than anything these days. The revered Scotland-based Dalmore Distillery has released a special edition single malt Scotch whisky that Paterson describes as "flawless perfection." It is housed in decanters designed by artisans at French crystal house Baccarat.
Each bottle of Dalmore 45 is adorned with The Dalmore's iconic 12 point Royal Stag emblem produced by Royal Warrant Holders Hamilton & Inches and fetches $12,500 at premium retailers. There are only 500 decanters released this year, but you don't have to be a VIP to grab one.
Paterson explains, "500 decanters were released this year, but there will be additional decanters released for 2019. None of our stock is reserved for VIPs as they are all available for sale."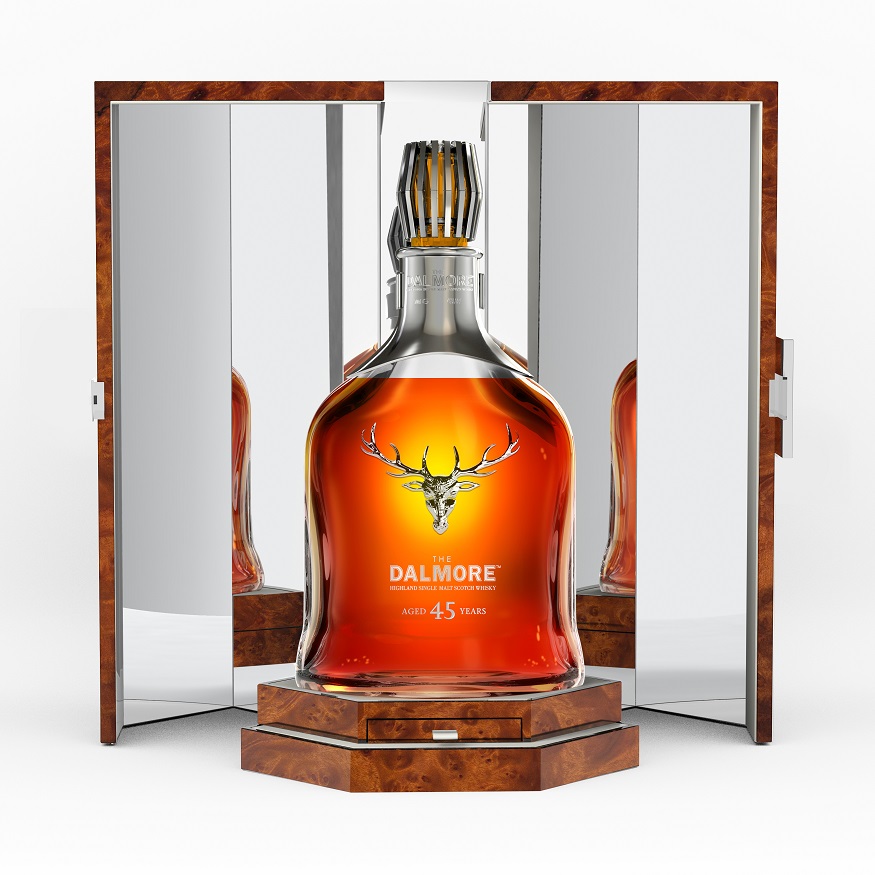 Photo Credit: The Dalmore
The price is in part because of the bottling and also because of the wood used to age the spirit.
"The Dalmore has personal relationships with many fine bodegas and wineries and as a result, we have access to some of their best casks. This includes The Dalmore's long-standing relationship with the Gonzalez Byass bodega in Spain. They supply special casks which are exclusive to our use. Their casks contribute to making our blends rich and complex in flavor so The Dalmore can continue to be the definitive single malt."
The spirit has purposefully retained at 40% ABV and hints to flavors of dark chocolate, rich cocoa nibs, red berries and soft licorice. Those with a more refined palate will appreciate hints of roasted almond cake and Sanguinello blood oranges.
Photo Credit: The Dalmore
The Dalmore has invested in one of the most expansive and exclusive wood barrel programs in the industry, lending to a flavor profile that has become their signature.
"We have a distinguished series of limited release whiskies that represent the essence of The Dalmore: carefully curated casks of character, a liquid of legendary depth. The Dalmore 45 is no exception—aged in American white oak ex-bourbon casks and Port Colheita Pipes from 1961 and 1963, this expression in not only unique but also abundant with indulgent and lively flavors. It has been an honor to dedicate my life's work to creating such exquisite single malt whiskies. The Dalmore 45 is a fine addition to the portfolio."
Richard Paterson shares his thoughts on the future of the female lead in the whiskey industry, aging, and what makes The Dalmore 45 so special in this exclusive interview.
The 45 Year sits in the Graham's Port Colheita pipes for five years. We source them from W & J Graham, which has been producing some of the finest Port wines for almost two hundred years. We enjoy working with them because they are as dedicated to their wines as we are to our whiskies. Graham's retains its own team of seven coopers which is led by Master Cooper Sr. Emílio Oliveira who has over 50 years of experience. Their expertise in the art of cooperage is fundamental to the production of the best Aged Tawny Port. The Cellar Master personally guarantees the ideal conditions for aging in the Graham's 1890 Lodge.
Photo Credit: The Dalmore
What characteristic does that kind of aging bring to the spirit?
The Graham's Port Colheita pipes contribute to the complexity of flavor. The Dalmore 45 boasts exquisite flavors of red berries, soft licorice, crushed hazelnuts, dark chocolate and Manuka honey. This is all followed by the sweet flavors of sticky toffee pudding, Bramley apples and juicy dates to finish. And when you nose it, there's a tantalizing selection of aromas including molasses, toffee, Sanguinello blood oranges, almonds and Java cake.
How challenging was the creation of Dalmore 45?
I've spent extensive time studying whisky and learning its characteristics. By personally selecting the very finest American white oak ex-bourbon casks and Port Colheita Pipes from 1961 and 1963, I have been able to create a truly unique expression which is indulgent and smooth with a vibrant and lively flavor profile. It takes time, dedication and passion to create an expression like The Dalmore 45 and age has gracefully matured this distinguished spirit to make it one of The Dalmore's greatest aged spirits. This is a very special whisky, which I would describe as flawless perfection.
Photo Credit: The Dalmore
There are a lot of women making waves in the industry. How do you see the industry changing?
As I have been in whisky industry for over 50 years, I am happy that the industry continues to evolve and expand. At The Dalmore, our priority is to offer our unique spirit and continue to pioneer maturation and curate exquisite casks so we can continue to be the apex of the whisky category. We welcome anyone that wants to be a part of our team, as were are noted as one of the world's best distillers.
What is your favorite scotch and food pairing?
I enjoy pairing with foods that are present in the underlying flavor notes of the whisky. For many of our whiskies, including our latest release, the Dalmore 45, I always say to share among loved ones at a dinner party. When dessert rolls around, serve everyone a coffee and a nice creme brûlée. This will really prepare the palette for the flavors present in the whisky such as coffee, blood oranges and juicy dates.
How do you recommend people drink Dalmore 45?
I always recommend drinking whisky neat as it allows you to experience the true flavor of the liquid. Adding ice dilutes and "shocks" the whisky, as I like to say. Though some may believe that it opens the whisky up, the flavor very much depends on how you taste the whisky. In order to really understand the complexity of the Dalmore 45, it must be nosed with great consideration, then tasted, held in the mouth and at the back of the tongue for a few seconds before it goes down.