Photo Credit: Zanni/Getty Images for Montblanc
Last night, Montblanc celebrated the launch of its Le Petit Prince collection at a celestial gala held at the One World Trade Center Observatory, where guests including brand ambassador Hugh Jackman (wearing Montblanc's 1858 Geosphere timepiece) enjoyed the iconic building's sweeping views of New York City.
This occasion was toasted by industry influencers and notables during cocktails and a seated dinner. Attendees at the star-studded affair included fellow brand ambassador Charlotte Casiraghi, as well as Rita Ora, model Lucky Blue Smith, Milla Jovovich and Chloe Sevigny.
Photo Credit: Zanni/Getty Images for Montblanc
With Montblanc's heritage deeply rooted in tradition and the art of the written word, there is a natural partnership between the Maison and the story of the little prince, the most famous work of French aristocrat, writer, poet, and pioneering aviator Antoine de Saint-Exupéry.  During the dinner, Jackman and Casiraghi read an excerpt from St. Exupery's iconic book.
The Meisterstück Le Petit Prince Classique Ballpoint Pen is made of deep blue precious resin and is inspired by the dark blue universe sky. It pays homage to the book in a variety of ways. The cap, milled with a fox face pattern, reveals a sentence from the Le Petit Prince book and is crowned with the iconic emblem. The central ring of the three platinum-coated rings features the Montblanc brand name and the clip is embellished with a yellow lacquered star.
Photo Credit: Zanni/Getty Images for Montblanc
Montblanc Meisterstuck Le Petit Prince Event 1
Paul W. S. Anderson and Milla Jovovich
Photo Credit: Sean Zanni/Getty Images for Montblanc
Montblanc Meisterstuck Le Petit Prince Event 2
Model Lucky Blue Smith
Photo Credit: Sean Zanni/Getty Images for Montblanc
Montblanc Meisterstuck Le Petit Prince Event 3
Diego Bonita
Photo Credit: Sean Zanni/Getty Images for Montblanc
Montblanc Meisterstuck Le Petit Prince Event 4
Milla Jovovich
Photo Credit: Sean Zanni/Getty Images for Montblanc
Montblanc Meisterstuck Le Petit Prince Event 5
Charlotte Casiraghi
Photo Credit: Sean Zanni/Getty Images for Montblanc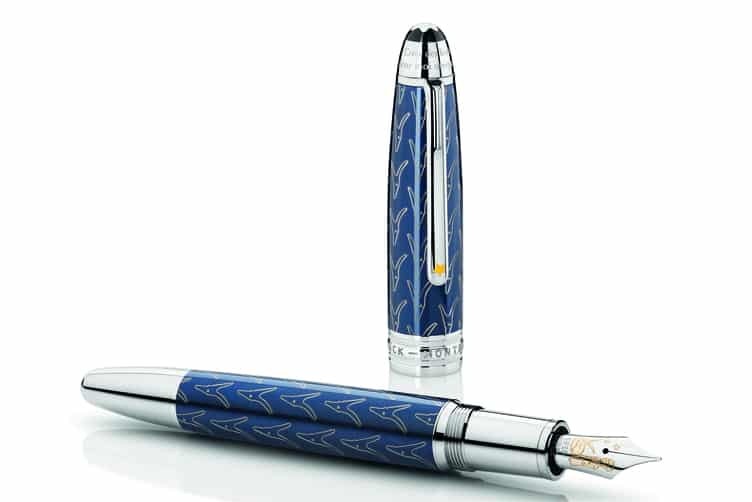 Montblanc Meisterstuck Le Petit Prince Event 6
Montblanc Meisterstuck Le Petit Prince