Boston's culinary scene just keeps getting better. We are proud to say we have the only female Grand Chef in North America (thanks to Barbara Lynch), who joins an elite group of just a handful of chefs in North America and top chefs worldwide who have been awarded the title of Grand Chef like Daniel Boulud and Thomas Keller.
On April 5, James Beard Award-winning Chefs Daniel Boulud and Barbara Lynch will come together to celebrate their talent with an intimate evening of food and wine at Bar Boulud.
The evening will feature a five-course wine-pairing menu with 50 percent of the proceeds benefiting ment'or, a nonprofit organization that inspires culinary and gastronomy excellence in young professionals through educational opportunities. Tickets are $400 per person with wine pairings and includes tax and gratuity. Here's a sneak peek inside the evening's menu:
---
Canapés 
grissini with lardo and lomo
spring pea pomponette with sage and bacon
oyster with sea cress and meyer lemon coulis
lobster tartlet with black truffles
beet meringue with salmon rillettes
Tuna Niçoise
tomato gelée, potatoes, haricots verts, olives, saffron aioli
Pan Roasted Grenouille
green garlic mousse, lemon, capers, shallot crème fraîche 
Lotte et Homard
pancetta wrapped monkfish, lobster, carrots, sauce civet
Agneau aux Morilles
lamb loin, morel royale, spring peas, herb jus
Cocoa Pod "Itakuja"
green cardamom infused dark chocolate, passion fruit, Brazilian coffee
---
We caught up with Daniel Boulud recently to discuss his cooking style, Boston's culinary scene and his latest involvement with a fast-casual restaurant concept featuring a robotic kitchen.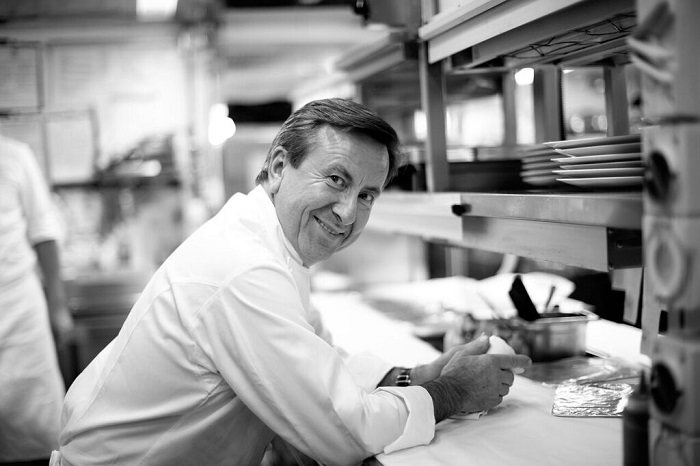 Photo Credit: Daniel Boulud
Why did you decide to open a restaurant in Boston?
My relationship with Boston started a long time ago as my daughter went to Tufts University. I've also been involved in local charitable efforts for many years, such as with the Spinazzola Foundation. Bar Boulud Boston came out of an existing relationship we had with the Mandarin Oriental in London, where we have our second location of Bar Boulud. The Mandarin Boston approached us about opening another Bar Boulud and we felt it was a great fit for the market. For us, we wanted to bring a French bistro with an American brasserie feel, so we pay homage to the array of local seafood that Boston is known for and infuse the menu with classic French dishes.
Tell us about your cooking style and what makes Bar Boulud stand out.
I'm French by training but I've now been living in America longer than I lived in France, though I go back to Lyon several times a year. My style of cooking is rooted in classic, traditional, regional French technique and our menus at Bar Boulud reflect that but are redefined with a focus on seasonality, approachability and authenticity. We offer a lot of vegetables and seafood on our menus because there's a practicality of being so close to the coast and ports of Boston.
Photo Credit: Daniel Boulud
How would you describe the culinary scene in Boston?
The legacy of world class American chefs in Boston is impressive. Boston is thriving with great culinary talent and has always been very vibrant and successful with ambitious chefs. They combine a certain casualness with excellence, like my friend Barbara Lynch with whom I'm doing a special dinner, Ken Oringer, Lydia Shire, Tiffani Faison, the legendary Jasper White and Gordon Hamersley. We actually have many chefs from Boston working in my restaurants in New York now!
I've been coming here since the mid-1980s, when I'd cook with Julia Child in her home. I've always had a lot of fun going to Boston to meet all the great chefs of the city.
Do you have any plans for future growth in Boston?
Nothing right now in terms of new restaurants, but I am personally involved in a fast-casual restaurant concept called Spyce, which was started by four MIT graduates and is opening soon in downtown Boston. Look out for it in the spring!