BY: LAURA SCHREFFLER
PHOTOGRAPHY: MICHAEL SCHWARTZ
STYLING: JOSEPH EPISCOPO
GROOMING: BENJAMIN THIGPEN
SHOT ON LOCATION AT 357 W. 17TH ST., NY, NY
Playing larger-than-life fashion icon Gianni Versace isn't a role Édgar Ramírez will soon to forget: the 20 pounds he put on for the part in Ryan Murphy's The Assassination of Gianni Versace: American Crime Story are a constant reminder.
"I had to gain weight, so I somehow kept the character with me all the time. I had to live with that weight for seven months. Every time I touched my belly or had heartburn, it reminded me of the show. Every time I couldn't fit into my pants or was on a photo shoot and couldn't fit into sample sizes, I was reminded that I was playing Gianni," he confides ruefully.
It's the night before the second season premiere of FX's true-crime anthology, a highly anticipated follow-up to 2016's much-feted, award-winning The People v. O.J. Simpson. The 40-year-old actor is in New York to promote the nine-episode series, an exploration of Versace's murder that is based on Maureen Orth's best-seller Vulgar Favors: Andrew Cunanan, Gianni Versace, and the Largest Failed Manhunt in U.S. History. Despite having a nasty cold—which hit him "like a truck" during Golden Globes week—and still toting around some of that extra, custom-designed Versace baggage, his passion for the project is palpable.
"What Versace did—the impact that he had on the history of fashion and culture—is undeniable. He basically changed fashion by marrying sexuality and glamour on an unparalleled scale. Right now, we live—for better or worse—in a time that was shaped by Gianni Versace. The culture of bling, the exacerbation of fame, the picture between cinema and fashion, and fame and celebrity is something Gianni helped to create," he enthuses.
Sadly, the Italian-born designer's death became as infamous as his life had been. He was shot and killed in cold blood on July 15, 1997, on the steps of his Miami Beach mansion after returning from a walk on Ocean Drive. He was the fifth victim of serial killer  who committed suicide just eight days later.
Ramírez—like most of the world—was fascinated by the glittering Gianni Versace, but it was the chance to work with American Crime Story's equally mesmerizing producer and creator that drew him to the role. "I want to be part of stories that are not only dramatically gripping—that grab you and don't let go—but that also touch upon important subjects. This is the case for most of Ryan Murphy's work—his stories are interesting, but also socially and culturally relevant," he notes, before admitting, "The first thing that drew me to the project was Ryan. I've been a huge admirer of Ryan Murphy for a long, long time."
That said, he still didn't accept the role right away. In Hollywood, Ryan Murphy need only snap his fingers and say "Jump!" before any number of A-list stars would squeak "How high?" But not Ramírez. He wanted to be sure of the project before he signed on the dotted line, and bold as brass, told Murphy to "come back to [him] with another script."
When we applaud his chutzpah, the actor is quick to set the record straight and maintain that he is not a diva. "I loved the script immediately, but just based on one episode, it was very difficult for me to understand how the character was going to be a force, and not just a presence," he explains. "That was very important. I needed to read other episodes to be able to understand where the character was going. It's not about the size of a character, it's about how much of a force a character is within a story. I knew that the writers were going to be spectacular, but I wanted to understand the direction of the whole story. Ryan gave me my process and my space, so I said yes."
He has another reason for being hesitant: He's been burned before—and it only happened once—but he's loath to let it happen again. "People can have the best intentions—and I can say I've always worked with well-intentioned people—but so many things can happen in a production. Things change, and then all you're left with is promises when you've already taken on a project. For me, it's very important to take responsibility of my choices," he notes, before describing his most disappointing cinematic experience, in what was one of his first major roles.
"I was lucky that it happened early in my career, which made it actually painless in a way, because I learned that I have to do projects for the right reasons," Ramírez says. "I wasn't sure about the script and was more fascinated by the people I was going to work with, the scope of the project and the charisma of the director—who turned out to be a much better producer than a director and a writer. I was enchanted by his promises and how he pitched the movie to me. But it didn't end up that way on the page, and I was already committed; [the character wound up being ] difficult for me to play."
His starring turn in The Assassination of Gianni Versace is a role that he takes full ownership of. "What I said to Ryan is, 'I have to be responsible for my choice, so that if I sign on regardless of what happens, I'm not going to blame anyone—you or the producers,'" he recalls, noting, "It's not about having things my way, because that's boring. I love to be surprised by material, but walking into the unknown I need to be sure that I'm being responsible for that leap. I need certain conditions to be met for me to open up to the adventure."
Clearly, Murphy, along with the cast and crew, more than satisfied his requirements, giving Ramírez one of the top overall experiences of his career. "This is one of the best roles I've ever had the chance to play. I couldn't be happier, and I have only great things to say about this experience," he says, adding that he's not only formed a life-long friendship with Murphy, but with co-stars Penélope Cruz, who plays Gianni's sister, Donatella; Ricky Martin, as his longtime lover, Antonio D'Amico; and Darren Criss, as the killer Cunanan.
He formed a familial bond with Cruz in particular, whom he first met while filming the series in December and refers to as "a very good friend," though the cast as a whole truly seemed to form a life-long bond. "It doesn't happen very often, but we all became very close. It was one of those experiences where you know that everyone will be in each other's life after this project," Ramírez vows.
Their closeness was especially opportune given the sensitive subject matter. "It was a lucky strike that really helped the process, because this was a very intense shoot, and we had very [dramatic] scenes," he maintains. "The family relationships within the Versace clan were volatile, and we had to have a lot of trust in each other. We had to really abandon ourselves to each other to really get to the core of the scene."
Photo Credit: Pari Dukovic/FX
The fiery Versace family hasn't been particularly impressed with Murphy's project, which, again, ais based on a nonfiction work. They released a statement in January asserting that they "neither authorized nor had any involvement whatsoever" in the series, and that it "should only be considered as a work of fiction." A follow-up declaration was equally dismissive, announcing that the "Orth book itself is full of gossip and speculation" and was an "effort to create a sensational story" with "secondhand hearsay that is full of contradictions."
Needless to say, Ramírez did not get in touch with any members of the Versace family—not his brother, Santo, niece, Allegra, nephew, Daniel, nor Donatella (who reportedly sent friend Penélope Cruz a bouquet of flowers wishing her luck)—while researching the role. Instead, he did his research by reading old interviews, and also managed to find friends of the late designer who were willing to talk and provided much-needed, personal insight into his life. "For particular reasons, we weren't allowed to [approach the family], but I also knew it would be fruitless, and I didn't want to do that. They weren't open. The Versaces went through one of the most horrible tragedies in contemporary history, and it happened in the public eye. I knew this was going to be hard for them, so I didn't want to reach out to them," he admits.
That said, he is interested in hearing their thoughts after they've actually seen the series, which debuted on January 17: "I'm very curious to see what their reaction will be when the cat is finally out of the bag, and they see what we did, and that we did it with the utmost respect and compassion. It is not sensational. Our show is based on a nonfiction book by a highly respected female writer, and we stand by her reporting."
After playing Gianni Versace, however, Ramírez very keenly feels the family's grief. "In order to understand the massive loss that this man's disappearance was, we really had to understand his creative process and how much love he had for art, for life, his family," he notes. "In the most Italian of ways, he had such a hunger for life. He had such curiosity. He was such a disruptor, such a nonconformist. He tried to change the world in the best way he could. After having portrayed his life, it hurts more to know that he's no longer with us."
However, Ramírez did not have to shake off his sadness at the end of every day. Instead, he embraced the true essence of Gianni Versace. "I didn't really need to get rid of the character every time I walked off set, because he was fun," he admits. "It was nice to be him. It was nice to be that force."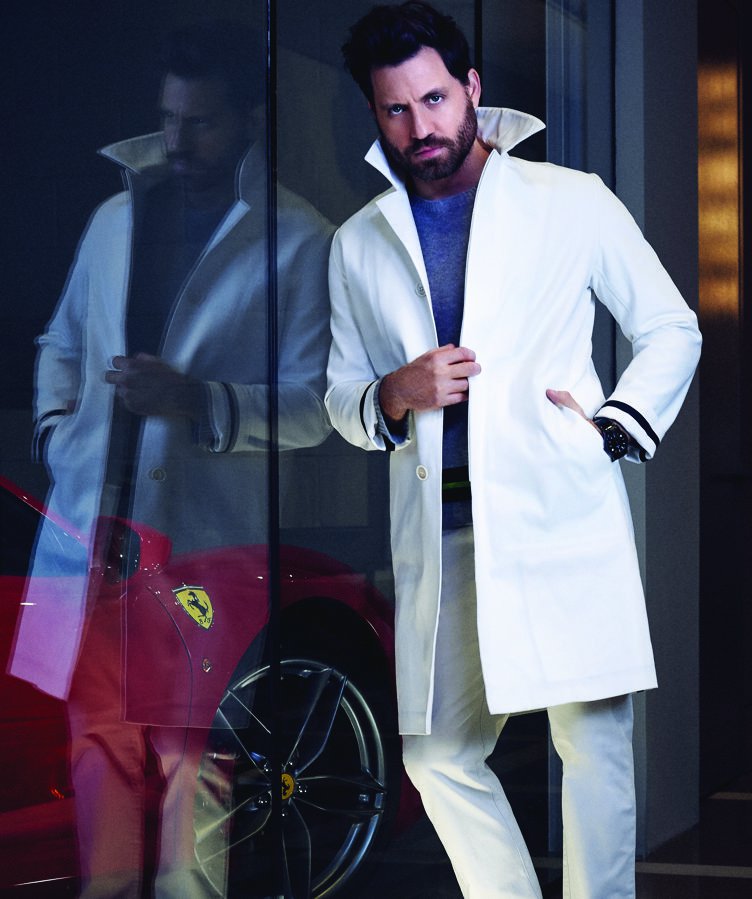 CARPE DIEM
Ramírez has always stood up for what he believes in, and does this even more so now that he has the world as his stage. "I have the opportunity to help others by the virtue of what I do," he notes. "I have a great platform to give a voice to people who are underrepresented or don't have a voice. I think that's a part of my responsibility."
He does this most frequently through HeForShe, a solidarity campaign for the advancement of women initiated by UN Women. The movement's goal is to achieve equality by encouraging men and boys to become agents of change and to act against the inequalities that women face worldwide.
"[As a result of the campaign], I think that women have felt supported and more men have their backs. Men have felt encouraged to also join forces in trying to reach a more gender-equal world, which is the goal of the movement. Gender equality is a liberation movement for each and every person that has felt the burden of a gender stereotype, or like they've had to fit into an uncomfortable mold or felt the pain of discrimination," he declares.
And no, he's never been personally discriminated against, never had resistance or doubt in accepting a job, and that's the point. Things shouldn't always be easy, and if they are, you fight for others, in his opinion.
"[Discrimination] has never personally happened to me, but it's been very close to me—my mom, my sister, my niece, my female friends. Not even when I decided to become an actor did I feel it. To have had the privilege to decide my life and what I am, that obliges you to help other people to have the same privileges," he says.
Growing up in San Cristóbal, Táchira, Venezuela as the son of Soday Arellano, an attorney, and Filiberto Ramírez, a military officer, Ramírez was allowed to do as he pleased. His sister, Nataly, was not as fortunate. "I never felt that I needed to do something else, because my father's expectations were different. I felt very supported at home. But my sister was not. For example, she wanted to become a pilot. She really knows how to drive a car. She wanted to become a race [car driver] and pursue that passion, but my father wouldn't let her. I had the privilege to choose and decide my life, clearly," he says. "My sister, cousins and friends didn't have that choice. I had more opportunities to decide my life based on my gender. I was never criticized by my dad when I decided to become an actor. He said, 'Okay, I guess you know what you're doing,' but I don't know if it would have been the same thing if my sister had wanted to be that." Incidentally, there are no hard feelings today in his household. "We are, as a family, trying to build opportunities for the next generation so they don't feel the burden of a gender stereotype," he says.
Ramírez, who is also a Goodwill Ambassador of the United Nations Children's Fund (UNICEF) and supports Amnesty International, has always stood up for what he believes in. "I've always been an outspoken person since I was a kid," he reveals. "I didn't always know what I wanted to do, but if I wanted something, I was determined to get it."
He had the freedom to try his hand at a variety of careers until he found one that fit. After graduating from Venezuela's Universidad Católica Andrés Bello with a degree in mass communication and a minor in audiovisual communication with the intention of pursuing international relations, he tried a stint as a political journalist before working as executive director of Dale al Voto, a Venezuelan foundation similar to Rock the Vote. He also worked in promotions at one point before deciding to become an actor.
His first role of note was in the Venevisión soap opera Cosita Rica. His first major motion picture was Tony Scott's 2005 film, Domino, and first blockbuster the 2007 action flick The Bourne Ultimatum. He has appeared in a plethora of films with big-name directors since his early days as an actor, including Steven Soderbergh's Che; Kathryn Bigelow's Zero Dark Thirty; and David O. Russell's Joy. Other projects include Vantage Point; the 2015 Point Break reboot; Hands of Stone; The Girl on the Train; and, more recently, Gold and Bright.
He just wrapped Pablo Trapero's thriller The Quietude with The Artist's Bérénice Bejo in Argentina and will reunite with Robert De Niro for the third time in a top-secret project. Although he can't talk about the film, he has plenty to say about De Niro, his co-star in Joy and Hands of Stone.
"I've only done two films with Bob, but it feels like six because of the intensity of the films, but also because of the
intensity of our relationship," he shares. "I've been lucky to become very close to Bob, and he's an important part of my life, not only professionally but also personally. We try to hang out as much as we can. He's a great listener and a huge source of inspiration. He's one of the most polite people I've ever met. He treats everyone equally, honestly. That's very inspiring, especially in this day and age."
At the end of the day, Ramírez is just looking for things that make him happy. "I'm in New York City right now, and I'm playing one of the most important parts that I've ever done and working with some of the greatest talents I've ever had the opportunity to work with," he notes. "I just spent an amazing New Year's Eve with my family. My father almost died this past year, but he made it [to the holidays] with us. I'm at a great moment in my life. It's as good as it gets. Is it perfect? No, nothing's perfect, but that's part of the challenge. You're always trying to make things a little bit better. Sometimes you nail it, sometimes you don't, but you wait for the next day to make it better. I take things one day at a time."
He references the destruction of his homeland, and the constitutional-crisis protests that swept Venezuela in 2017. "I come from a country that was destroyed by bigotry," Ramírez says. "My country has been basically morally erased. Almost more than three million people have left the country. However, every time I walk through Buenos Aires [in Argentina], I see young people from my country that have fled there just happy that they're alive, that they have a new slate in front of them. And that is beautiful. It gives me hope."
We ask if he thinks his innate optimism—his hopefulness—has helped him navigate through life—the belief that if you want things to be wonderful, they will be. He mulls this over, and he agrees. "I think so. I always try to see the glass as half full and not half empty. I mean, there are days when I just see emptiness, sure—it's not a constant thing—but most of the time, I have to believe that things can improve. Bad things, evil things just tend to be a little bit louder."
But it's in his personality to focus on the good, to live in the moment. He asserts that he's happy with his path: "I'm very lucky. I also work very hard. I have great people around me, and I try to surround myself with people who have the same attitude. I'm at a very interesting moment [in my life]. But you know, if you had asked me 10 years ago, I would have said the same thing. I'm very open to what the day awaits."
Subscribe to discover the best kept secrets in your city