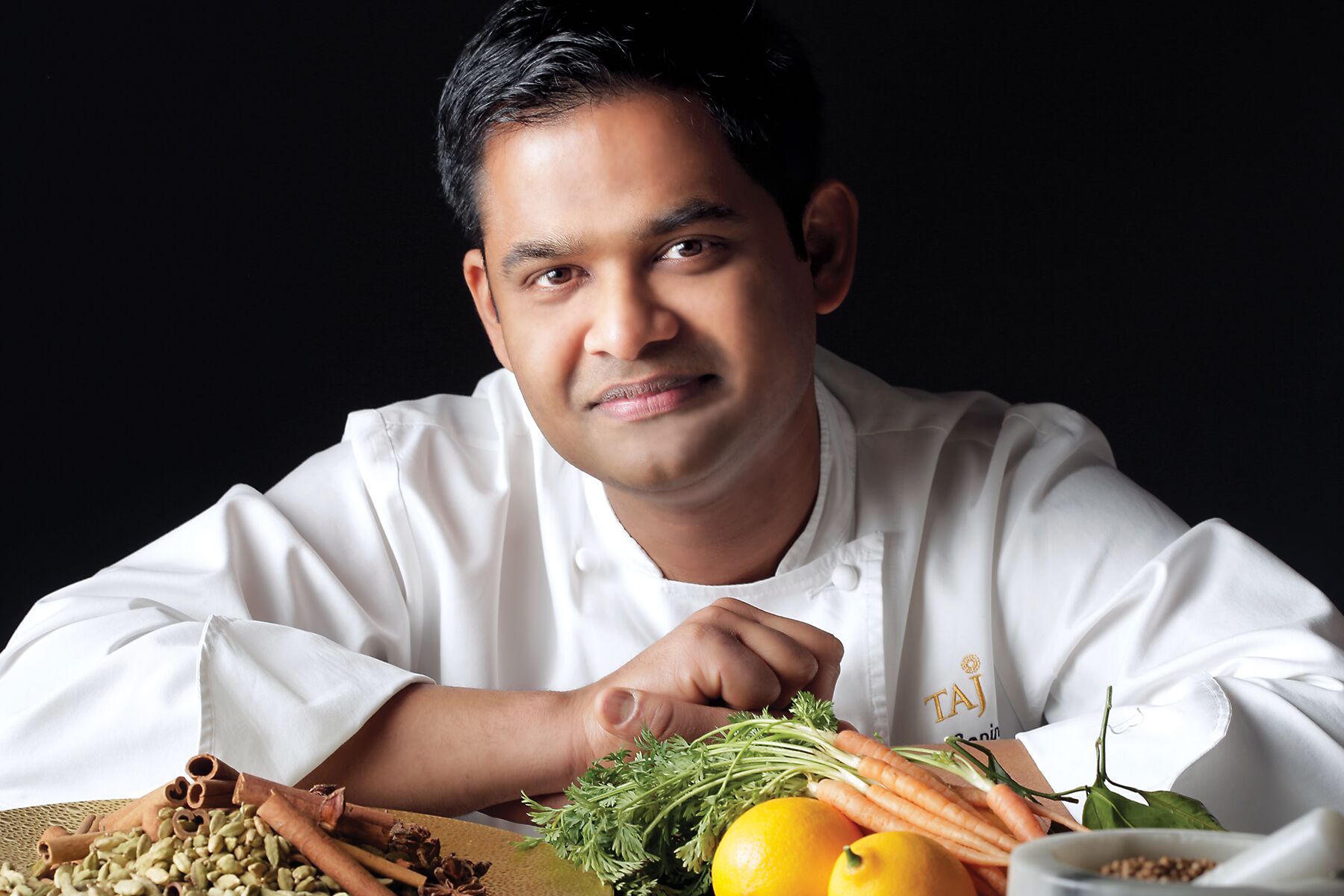 At Campton Place, chef Srijith Gopinathan serves Michelin-starred California-Indian cuisine. While most people are familiar with Tex-Mex or Cal-Italian, Gopinathan's unique mixture of California sensibility and seasonality with Indian ingredients and techniques, is lesser known. But it shouldn't be. Gopinathan's food is delicious, creative, and a direct reflection of his Southern Indian heritage.
His spice route tasting menu is filled with delightful surprises, from a perfectly-cooked lobster tail with coastal curry to a rich guinea hen-filled naan bun. It's upscale fancy food served in a traditional white-table cloth setting, but there's nothing stuffy about it. Gopinathan's mastery of flavors and his ability to entertain the diner is unlike any other restaurant in the city. To get a better sense of what goes through the chef's mind we reached out to find out what he does on a normal day. Here, in his own words, is Gopinathan's daily routine.
6:00 a.m. Woke up and checked for any calls from restaurant employees and colleagues…back to sleep with no emergencies!
7:00 a.m. Time to wake up for real, and spend time with my son, Arnav, as I only get to see him for an hour during week days.
8:00 a.m. Pour myself a cup of chai and check out our little vegetable garden in my back yard. I bring Arnav to school at 8:30 a.m., before returning home to watch Inside Politics by John King on CNN.
9:30 a.m. Bit of stretching and a decent run from 6th Avenue in Golden Gate Park to Spreckels Lake and back.
11:00 a.m. Check my weight…oh god. Shower and head to Kamei on Clement Street, looking for the plates I need for two new dishes at the restaurant.
11:30 a.m. Arrive at the restaurant, and check who is on the reservation book for the day. I do a quality check of all the produce that's come in for the day's service. I ask the breakfast cook for my usual bowl of bircher muesli…told him this batch was a bit generous on honey…he knew!
12:00 p.m. All hands on deck for lunch service.
2:00 p.m. Time for some experimentation, I test out some plating ideas for a new dessert. Tasted the new kiwi sorbet we've been making with Brokaw Farm kiwis–delicious. I order another 25 pounds of kiwi for tomorrow. I place orders for 50 pounds of Meyer lemons, and plan to pick them up from the Ferry Building tomorrow along with some winter savory herbs and chocolate mint from the Marin Root Farm.
4:00 p.m. I check out the yuba which came in yesterday, and plan a yuba, savoy cabbage, and roasted turnip dish. Contemplating if I should use aniseeds or winter savory herbs in it…what is the garnish? Does it need a textural element? Chivas, my sous chef is next to me, nodding his head and completing the black cod fillet he is working with.
4:30 p.m. Dinner quality/quantity check for dining room. Testing the black cod with a 15% brine…a little salty, we decide to change the marinade.
5:00 p.m. Oops—missed the evening line up. One of my resolutions is to be in for every line up.
5:30 p.m.  Make myself another chai. No sugar, but I see some hot cookies coming straight out of the over in pastry kitchen. I pick one up and head in to my office for a quick chai time.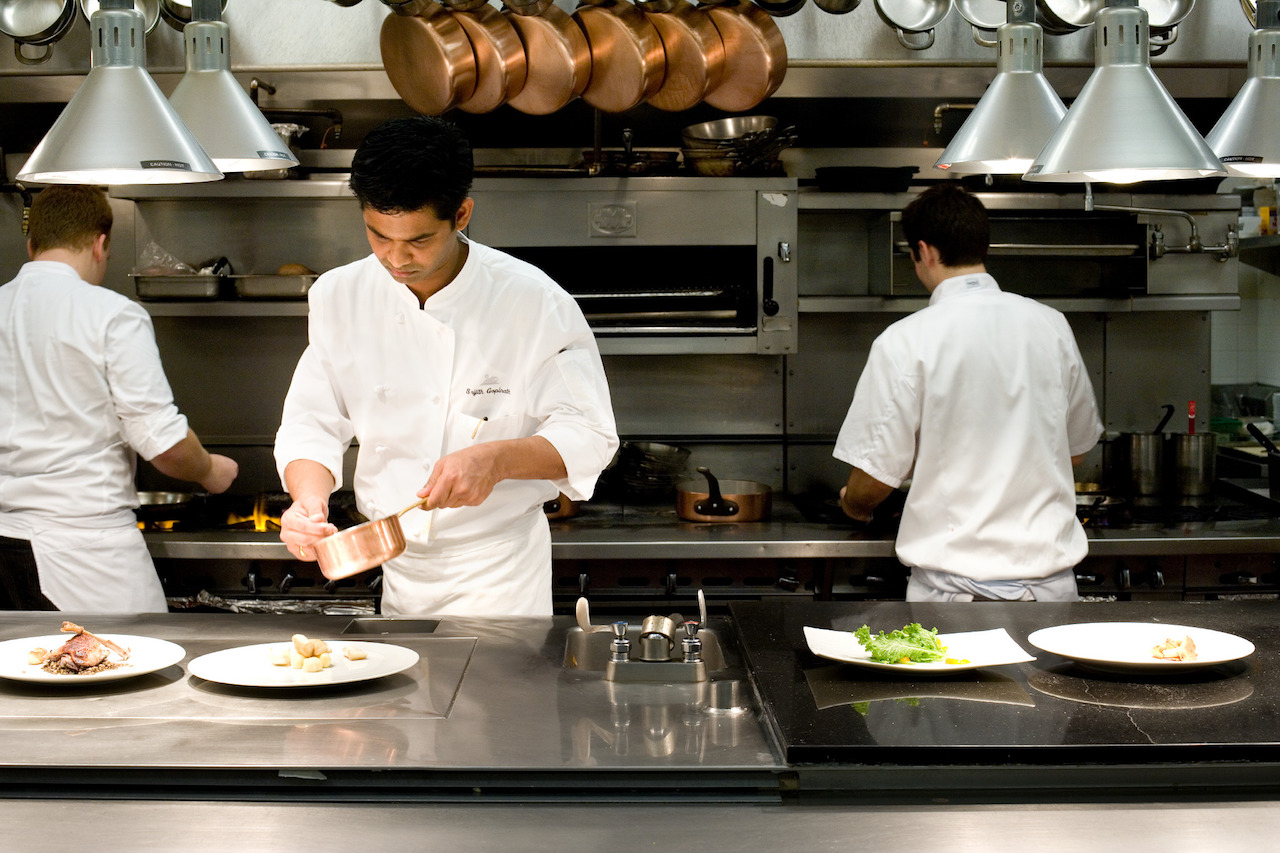 6:00 p.m. Dinner service.
10:00 p.m. Several mignardises (a bite-sized dessert) and birthday cakes are going out of our pastry kitchen tonight. Our pastry chef, Francis, made two new mignardises: sunchoke skin wafer with sunchoke ganache and baby pumpkin cheesecake with a saffron glaze on a florentine crisp…superb and great colors!
11:00 p.m. Kitchen wrap-up with the team and time to head home.
11:20 p.m. Make myself another cup of chai, and notice someone (my wife for sure) has opened a bottle of Billecart Salmon Brut Rreserve from our little kitchen fridge—one of my favorite champagnes. Unfortunately it looks like that went inside a glass jug along with orange juice I can see on the kitchen table. Guess that was the most unfortunate little bottle of champagne ever bottled since 1818! A mimosa in the afternoon…Alas! I spend some time reading a cook book–Hertog Jan–which is a super read. I write down a few vegetarian recipe ideas–one with yuba and a mushroom dish. I write down an idea for a seaweed naan bun recipe that I plan to try tomorrow. I call my Mom in Trivandrum, India – it's 1:20 p.m. local time—before finally heading to bed.