Photo Credit: Romain Maurice
THE RISE
Twenty-one years ago, Drew Rosenhaus graced the cover of the iconic Sports Illustrated magazine—the cover line reading "The Most Hated Man in Pro Football." At just 22 years old, Rosenhaus managed to become the youngest registered agent in the industry. Everyone took notice.
Whether the attention was positive in admiration of the young entrepreneur's early success or envious criticism for his aggressive tactics, Rosenhaus was making a name for himself in a big way. Obviously, Sports Illustrated wanted to be the first to tell his story—and this would be the first of many spotlight moments in the coming years as he rapidly rose to fame and success.
With a background revolving around a deep-rooted passion for sports, particularly football, Rosenhaus started hanging out with professional football players from a young age when his father used to invite them over to his house in North Miami. Being exposed to such talent in an intimate environment gave Rosenhaus the ability to get to know and to relate to the athletes on a personal level—life off the field. Therefore, when he pursued his career after graduating from the University of Miami, and then Duke University School of Law, he had an immediate network of athletes that would cement the growth of his business: Rosenhaus Sports. With his younger brother Jason still at the University of Miami, the pair used their access to the players to grow friendships, build trust and eventually sign the athletes to their agency.
But it wasn't as easy as it might seem from an onlooker's perspective. As any agent breaking into the industry, Rosenhaus faced many challenges, particularly due to his young age. "There were a lot of ups and downs. I was a young man in the business, and I was definitely a guy that the competition didn't take seriously early on," Rosenhaus says. And so he had to adapt to the environment in order to get ahead. "I was a very aggressive negotiator back then because I had to be taken seriously."
In the very same Sports Illustrated cover article that drew so much envy from Rosenhaus' competitors, he revealed why he may have been considered the most hated man in pro football at the time: "I am a ruthless warrior. I am a hit man. I will move in for the kill and use everything within my power to succeed for my clients."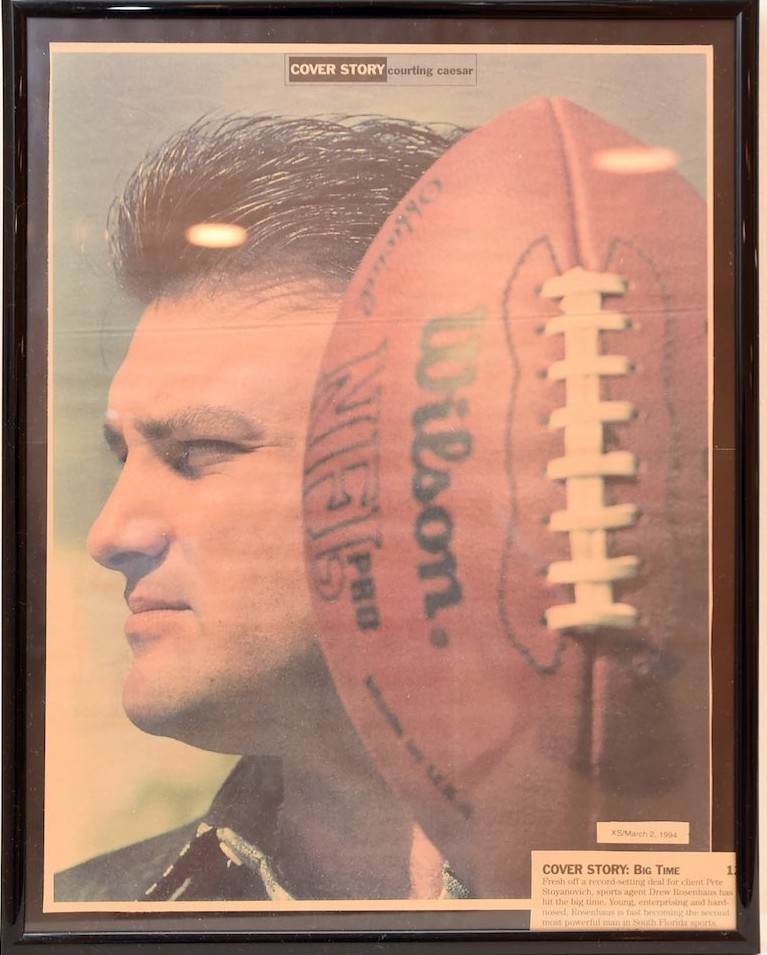 Photo Credit: Romain Maurice
Being the only sports agent to ever be photographed on the prestigious publication's cover—and quite possibly the last—brought much distinction to Rosenhaus during his rise as an agent. "It was a huge honor and very unique. But of course with fame comes a lot of detractors—a lot of jealous people trying to use the interest in me against me," Rosenhaus says.
But Rosenhaus' unique relationship with his clients differentiated him from the competition. "The agent business used to be much different," he explains. "Usually, a client-agent relationship used to consist of the agent getting you through your contract and then checking in once in a while. But when I entered the scene, it was totally different. Now, you had a guy that was omnipresent—I spent an enormous amount of time with each one of my clients, both professionally and socially." His father's tendency to invite the players over to their private home was a tradition that Rosenhaus maintained on his own throughout his career. "I'd like to think that in many respects my entering the scene and operating business this way helped change things so that agents worked harder than ever before to do much more for their players," he notes.
To say that Drew Rosenhaus goes above and beyond for his athletes is an understatement. The man devotes his entire life to each one of his clients. It's evident from his record-high total of more than $2 billion of negotiated contracts under his esteemed reputation. But even more so than that, Rosenhaus is the guy you call when you're in trouble—or if you need advice—or if you just want to hang out. No matter what the situation is, he will be there.
And that, in itself, is what the agent credits as his key to success. Success to him did not come from being an aggressive negotiator—although it did help. Rather, it's the unique agent-client relationship he brings forward that can be attributed to all of his accomplishments, and what makes the top talent in the sports industry want to sign with him. "When you care about your clients, you work hard—you always put them first, and you produce for them," he explains. "And for me, it's more than getting big contacts; it's being their friend and talking to them about life after football, helping them deal with their injuries, helping them with their families and personal lives. With every player I represent, I genuinely consider them a part of my family."
Photo Credit: Romain Maurice
THE NEXT CHAPTER
When speaking to Drew Rosenhaus about his fame, success and journey, he likes to consider two different phases in his life. Phase One—the beginning—starting out as the young, ruthless warrior that you read about in Sports Illustrated and saw portrayed in the iconic film Jerry Maguire—which is actually based off him, and he even made a cameo in the movie. But he's currently in Phase Two—where he's made it.
"Early in my career I was a very aggressive negotiator. I was a guy that didn't have many relationships with NFL executives and didn't really understand the art of the deal. And after negotiating billions of contracts, now it is a very different style," he explains. "Because of the respect that I have—some would call it power—after 30 years, the deals are different. I don't have to butt heads with the teams like I used to. It is a much smoother process to get fair contracts and a much easier negotiation, because now I am so established, and I am someone that the teams and executives respect—when I say that this is what a player deserves, it comes with a great deal of credibility." While he notes that he was once the young warrior who had to close the deals through noise and aggression, now it is more based on "wisdom and credibility."
One of Rosenhaus' favorite aspects of his life and his job is being located in Miami. He credits much of his success to his location, as well. He remarks, "Growing up in Miami was an underrated part of my success. Being able to grow up so ingrained in the sports industry, and being surrounded by so much talent in the nearby vicinity, gave me a huge advantage."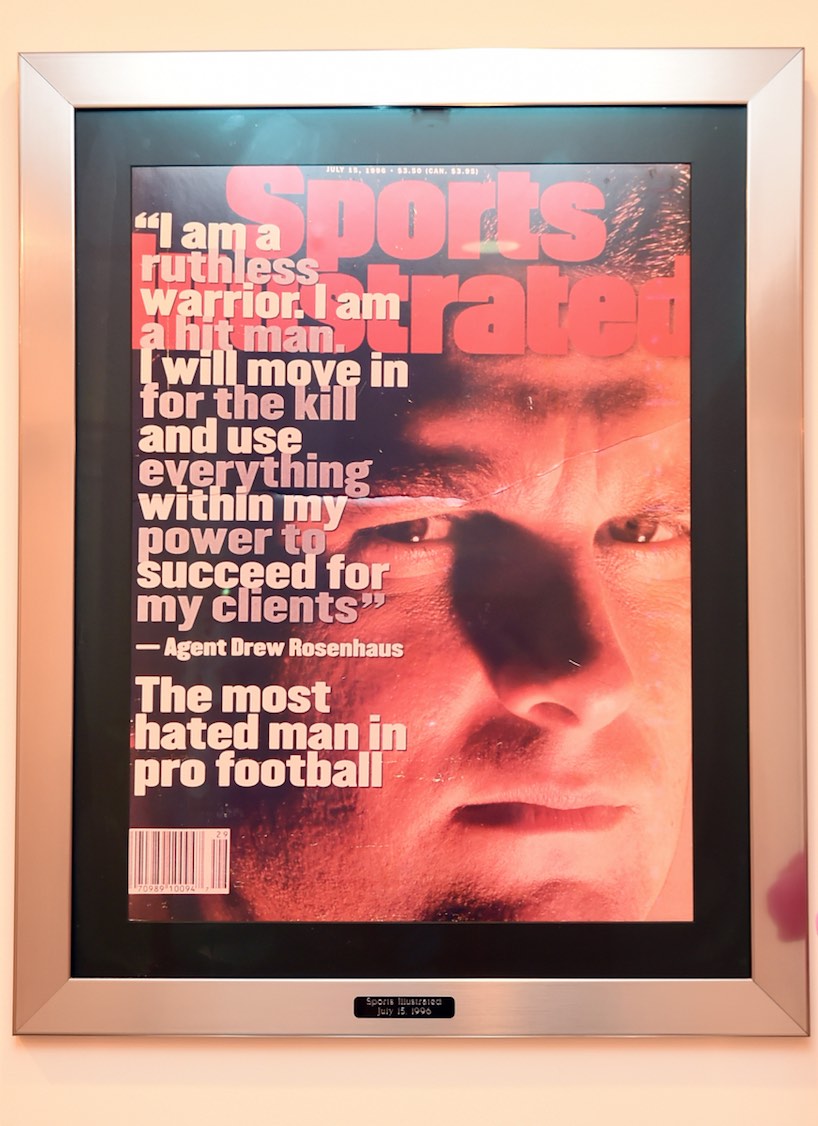 Photo Credit: Romain Maurice
This is a big part of why it's crucial to Rosenhaus to give back to the community. Encouraging the growth of young athletes in Miami who may not have access to sports equipment or areas to learn and play, Rosenhaus spearheads multiple philanthropic endeavors throughout South Florida through his Drew Rosenhaus Youth Football and Fittness Camp that give these kids access to sports.
Another part of Phase 2 is integrating the two loves of his life into one—sports and his family—by bringing his wife and daughter along with him to all of the games and to visit clients. "This is an exciting new chapter of my development as an agent," Rosenhaus shares. "The ability to balance my work and also be a good husband and father is extremely important to me. It's amazing that my wife and daughter love football and love my clients just as much as I do. And hopefully, there will be future children and I'll continue to bring them up in this capacity." And thus, it all comes full circle back to where it began.
Does this mean that the sports agent is finally ready to slow down? Absolutely not. "As with anyone who has done a job well for a long time, you really have to love what you do. And I do—I enjoy every part of the process—helping the guys with the draft, negotiating their contracts, preparing for their season with training and then offseason. I enjoy the games, spending time with them, seeing them succeed. Nothing has changed for me as a kid who just wanted to be friendly with the guys—I've just grown up and done the same thing," he explains. "I've done it for 30 years, and I hope to do it for another 30. I have no interest in going anywhere anytime soon." And as Rosenhaus enters this new phase of his life, we look forward to see what he brings next—with undoubtedly the same conviction, wisdom, resilience and passion that we've witnessed throughout his entire life. Stay tuned.•
Photo Credit: Romain Maurice
Subscribe to discover the best kept secrets in your city