Long and lean muscles are all the craze right now so we've gone ahead and checked out the best spots in the city to achieve that much desired frame through Pilates. From mat classes, to reformer machines, to towers- we've covered all the bases and are ensuring you get the most bang for your buck.
So check out the list below, you won't be left disappointed.
This pilates class is unlike any other out there so we mean it when we say get ready to sweat. We spoke with Director of Pilates Jenn Seracuse to get the low down on their pilates offerings which include class variations of their FlexPilates signature class such as FlexPilates, Arms & Abs, Butt & Legs, Prental, Foundations, and an advanced class.
"FlexPilates is a 55min form focused and intense, total body workout which takes place on our signature FLEXformer. We've combined what we believe to be the two most effective pieces of Pilates equipment, the Reformer and the Chair, into one streamlined machine. The design makes transitioning from one exercise to the next quick and seamless, maximizing overall workout time, which adds to the intensity.  
Because of our strong commitment to form, it's always our goal to give more than just a 'hard' workout but to make sure clients are working in a way that is not only safe but also most effective. You can expect lots of hands on corrections and attention to detail. This is truly something I believe sets us apart. There's no hiding in the back at FLEX. Clients can expect results that go beyond just a toned, long and lean physique, but also an increase in strength and stamina and also may notice better performance in other workouts."
Locations: 47 W 14th St, New York, NY 10011 & 650 Broadway, New York, NY 10012
---
Plank Pilates is a boutique pilates studio located in the Lower East Side of Manhattan, that offers both group classes (5 people) and private instruction.
At this studio there are two types of classes offered with subclasses within each type, first is Plank 360 which includes Cardio and Plank Tone It™ classes that incorporate elements of cardiovascular training and classical Pilates. The second type are the tower classes (beginning, intermediate, and advanced) which involve mats, resistance springs, and bars to elongate and tone the entire body in this challenging Pilates workout.
I opted for the advanced tower group class and they were not lying when advertising it as advanced. As a frequent exerciser I thought I could come into the class and just "go with the flow" but there are fundamentals of pilates that are more difficult than meets the eye. Knowing when and how to contract certain muscle groups are essential to making sure you are getting the most out of your workout. The hands on corrections were plentiful and more than appreciated. I definitely would recommend this class to anyone looking for an effective, low impact workout.
Location: 187 Chrystie St, New York, NY 10002
---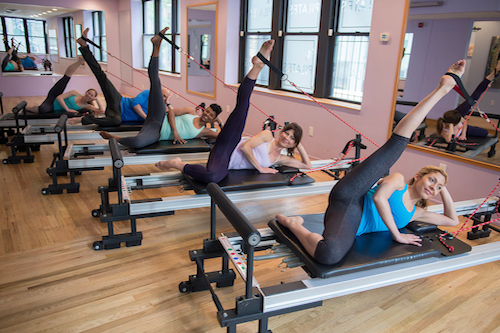 If convenience isn't enough to sell you, then the chill atmosphere and tough workout will have you booking your next class before even leaving the studio. This midtown located studio offers equipment-based Pilates classes, plus hybrid workouts with spin, yoga & barre. Don't let the relaxed vibe of the room fool you, this workout is no joke.
The hybrid classes turn up the heat of a normal pilates or reformer based class. Plyometric jump intervals are an amazing cardio burst that still keeps the workout relatively low impact. This workout isn't just strictly on the machine either, planks and free weights are incorporated into the routine, keeping you on your toes, literally and figuratively.
Locations: 265 Madison Ave, 2nd Floor, New York, NY 10016
Subscribe to discover the best kept secrets in your city