Face masks are all the rage right now and with such an oversaturated market how are you expected to know which mask is the right one for you? Different people experience different issues when it comes to their skin, making it difficult to find a one stop shop solution. Luckily for you we did the research for you and found some great options for every price point.
Check out below to learn about the best masks to achieve younger, fresher, and softer skin.
Dr. Kenneth Mark's Exfoliating & Hydrating Mask
Dr. Kenneth Mark is one of the most accomplished and respected Dermatologists in the United States and has twice been voted one of the "Best Doctors" in America by his peers- so it's really no wonder why he is on the top of our list. This particular product will exfoliate and hydrate to soothe and smooth the skin, revealing a much desired glowing complexion achieving younger looking skin the effective way. Smooth and airy in texture, this mask is composed of a unique combination of Alpha Hydroxy Acids (AHA), Peptides, Jojoba and Calendula oils and Hyaluronic Acid.
---
Valmont 'Essence of Bees' Masque Majestueux
With the 'Essence of Bees' collection, Valmont combines honey, propolis and royal jelly directly from the beehive into an ultra-luxurious patented formula. Honey is a powerful moisturizer and skin repairer while propolis is coveted for its purifying properties and royal jelly, the most precious of the hive's products, aids inflammation.
This luscious cream mask provides the skin with long-term rejuvenation and replenishment. Its changing texture melts onto the skin for an ultimate nourishing and regenerating experience. With essence of bees complex, DNA and RNA liposome, Masque Majestueux creates a rare sensory experience and infuses the skin with precious ingredients from the hive.
---
Clarins Extra-Firming Mask

Clarins Extra-Firming Mask is the first relaxing anti-aging mask from Clarins which helps visibly smooth stress lines and wrinkles, restore firmness, and revive radiance—for younger-looking skin in just 10 minutes. The soothing cream-gel texture, mauve color and relaxing, aromatic plant extracts soothe the senses for an amazing feeling of overall well-being.
---
Yllo Turmeric Face Scrub & Mask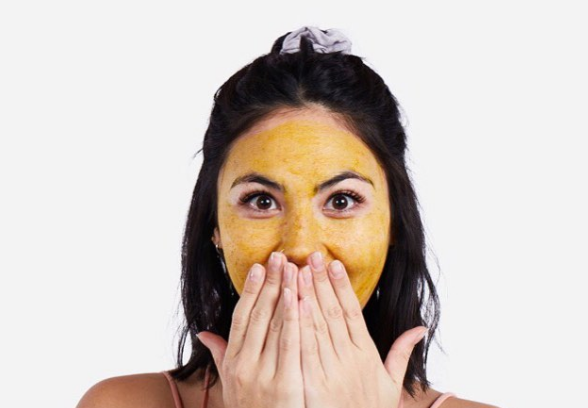 Photo Credit: yllobeauty Instagram
Inspired by Indian traditions that naturally heal and nourish skin in transparent and holistic ways, YLLO seeks to solve complicated problems in a natural, cruelty free, and vegan way. Turmeric reduces blemishes and redness, lightens facial hair, fades scarring, and evens out skin tone. Instant benefits include teddy soft skin, a fresh glow, even tone, and oil control. The best part is that 10% of profits are donated to charities working to end child marriage around the globe. Pro tip: mix and apply the scrub with gloves or a brush to avoid staining freshly painted nails.
---
Murad Hydro-Glow Aqua Peel
The ultimate secret to youthful skin? Hydration. That's the secret behind the Hydro-Glow Aqua Peel, which comes as a package containing four individual masks. The treatment works on the skin's outer layer to reveal radiant, healthy skin and infuse a 400% boost in hydration for a youthful glow that will leave your skin soft for days to come.
The first step in this dual-phase system is the Retexturizing Swab, originally used in Dr. Murad's medical practice, exfoliates skin with glycolic and lactic acids, revealing smoother and brighter skin. Second, the Moisture Infusion Mask delivers hyaluronic acid to replenish skin, visibly minimize lines and wrinkles, and seal in moisture.
---
Peter Thomas Roth's Mask-A-Holic Kit
Why settle for one mask when you can get a taste of an entire line? Peter Thomas Roth's Mask-A-Holic Kit includes the following:
Cucumber Gel Mask: This ultra-gentle gel helps soothe, hydrate, and detox dry skin. This is excellent for helping to calm and soothe the skin's appearance after sun exposure, peels, waxing, facials, and extractions.
Irish Moor Mud Purifying Black Mask: Purifying, decongesting and hydrating mask with odorless Irish Moor Mud helps draw out dirt, oil and impurities as it infuses skin with moisture, vitamins, essential minerals and potent anti-oxidant benefits.
24K Gold Mask Pure Luxury Lift & Firm Mask: This luxurious anti-aging solution is infused with Pure 24K Gold and Colloidal Gold to help lift, firm, calm, and brighten skin while promoting a healthy and much desired glow.
Pumpkin Enzyme Mask: Perfect for the fall season, this powerful and multi-purposeful mask helps address the appearance of a dull, aging and congested complexion in three ways: by exfoliating with Pumpkin Enzyme, peeling with Alpha Hydroxy Acid and polishing with Aluminum Oxide Crystals.
24K Gold Pure Luxury Lift & Firm Hydra-Gel Eye Patches: While this may not be a mask, these anti0aging eye contour gel patches are a perfect complement to your mask routine. The patches are infused with pure 24K Gold and Colloidal Gold to help lift and firm the appearance of the delicate eye area in just 10 minutes.
---
Dear by Renée's Pomegranate Hydrating Mask
Great for any age or skin type, Dear by Renée's Pomegranate Hydrating Mask provides hydration for post procedure, air travel, mature, hormonal, dry, sensitive, and allergenic skin. Daily use will dramatically help with visibly hydrated and relaxed skin.
---
This total toxin eliminator is a great tool to add to your skincare arsenal. The detoxifying mud sheet mask works to purify your skin without leaving any pore-clogging debris behind. This mask works to minimize skin impurities while maximizing your glow all without creating an ounce of mess.
Subscribe to discover the best kept secrets in your city