If you're a fan of watermelon, August 3rd is a big day for you! It's the day the melon that does double duty as both a fruit and vegetable gets its spot in the summer sun.  And since watermelon is 92% water and just 7% sugar, it makes for the perfect addition to recipes – both sweet and savory – and in cocktails, too.  If you're ready to set your slice to the side and indulge in some creative ways to enjoy watermelon, head to these NYC hot spots.
Ai Fiori, Watermelon Garibaldi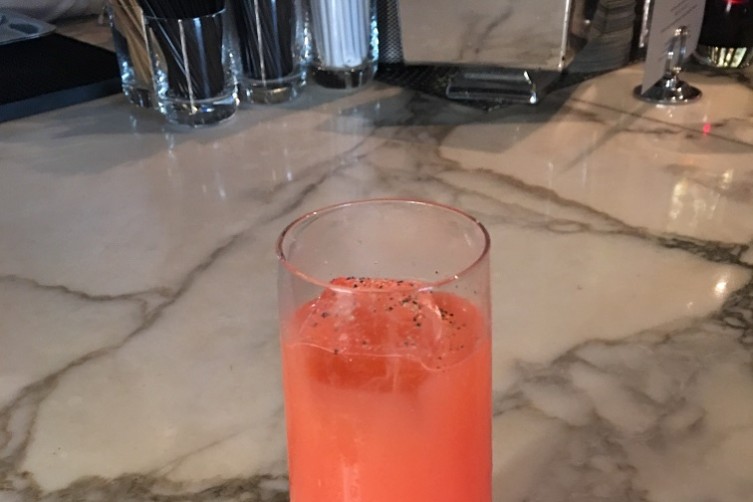 The  Summer Garibaldi at Michael White's Ai Fiori is a fruitier take on a simple Italian classic aperitivo style drink. TheOG is just Campari and OJ. This version takes it up a level with the addition of  fresh watermelon juice and a dash of black pepper tincture to add just the right amount of refreshing fruit and spice. This is a perfect bittersweet starter for a large meal or a great midday crusher.
---
Miss Lily's serves up some killer drinks (with happy hour specials!) including a great "Watamelon" cocktail. The refreshing cocktail made with fresh watermelon juice, mint and lime is served with different alcohols at their two locations, so depending on where you are you can either have melon mixed with Soju  in Soho  or  rum in the East Village, where Lily's is also home to an extensive Rum Bar. Here the watermelon is scooped out and filled with Starr African Rum and where an Rum Bar offering over 150 varieties of Caribbean rum, the cocktail is mixed with Starr African Rum and served in a scooped-out watermelon that serves up to five.
---
Ocean Prime is known for having some of the most dramatic cocktails in the city. Their Watermelon Elyx is  no different. Each of the 14 OCEAN PRIME locations came together via friendly competition to create this cocktail that's made using the luxury vodka Absolut Elyx. The winner was the perfect-for-summer Watermelon Elyx. This fruity cocktail combines the flavors of fresh watermelon puree with Absolut Elyx, Uncle Val's Gin, basil simple syrup, along with a few dashes of Hella Ginger Bitters  – made with both dried and crystallized ginger and lots of real lemon peel – for a unique and vibrant drink.
---
Think of this summer salad at Hotel Chantelle as a rediscovered caprese. The tomatoes are present ant accounted for, but so are thick slices of fresh red watermelon. Instead of mozzarella and basil, the chefs here sub in crumbled feta and mint for a tangy and vibrant stacked salad that brings together all the flavors of summer in one dish.
---
Mixologists at The Skylark aren't taking any chances. Their Watermelon Mule is chilled using spiked watermelon juice cubes, so this drink will only get more flavorful as you sip it. Ginger beer is the standard  when it comes to mules. Here it is mixed with Tito's, lime, agave and freshly muddled watermelon.
---
The perfect marriage of sweet and savor, the watermelon fries at Yerba Buena are the perfect pre-dinner snack. Watermelon sticks are lightly breaded and quickly fried to crispy perfection and served alongside a habanero tomato sauce and chili aioli. It's a dish you'll think you can replicate at home because it seems that simple, but technique is everything with a dish like this.
---
It was a short lived treat that we are hoping dessert demi-god Dominique Ansel brings back to his eponymous sweet shop Dominique Ansel Kitchen. The "What-a-Melon Soft Serve" debuted on a Saturday in June and brought NYC to it's watermelon-loving knees. If you thought the cronut line was long…. The  dessert was made with a slice of ripe watermelon decorated wtih with little chocolate "seeds." It was then filled to order with watermelon soft serve. The last slice was served on July 4 but here's hoping he surprises us on August 3.
---
Of course you can DIY a watermelon keg at home, but if you aren't feeling your inner Martha Stewart, head to the Beach at the Dream Hotel instead. There, they are filling their melons with a watermelon margarita made with Herradura Blanco, habanero syrup, simple syrup, fresh lime, and muddled watermelon.
---
If you're with a group, this upgraded punch bowl cocktail is for you. Out goes the bowl and in comes the hollowed out watermelon. At Brooklyn's Extra Fancy one is filled with Seagram's Watermelon Vodka, Kronstad Aquavit, fresh lime juice, pineapple juice and Luxardo Maraschino.
---
Fresh cucumber juice is mixed with watermelon juice and vodka to create a cocktail worthy of the view atop the recently-opened Rooftop at 1 Hotel in Brooklyn.
---
Ngam, Watermelon Slaw
Photo Credit: NgamNgam and chef/owner Hong Thaimee put a Thai spin on watermelon by adding toasted chili, mint, peanuts, tamarind dressing and tomato to a salad that is anchored by thick slabs watermelon and cucumber.
Save
Save
Save
Save
Save
Subscribe to discover the best kept secrets in your city