Photo Credit: kudla/Shutterstock.com
Are you a rockstar? A glamor puss? A party person? Here is the ultimate Los Angeles hotel pool guide for every personality.
Photo Credit: Petit Ermitage/Facebook
THE DREAMER: Petit Ermitage
Lose yourself in the damask-rose scented water of the Petit Ermitage pool, a rooftop escape in West Hollywood that's available to hotel guests (and hotel guests only). Lose yourself in the 360-degree views of Hollywood, the heated saltwater—chosen as such for its therapeutic effects—and the garden oasis that shrouds you in secrecy.
Social Media: Facebook: @petitermitage, Instagram:@petitermitage, Twitter: @Petit_Ermitage
Address: 8822 Cynthia St, West Hollywood, CA 90069
Phone Number: (310) 854-1114
Photo Credit: SLS Beverly Hills
THE TREND SETTER: Altitude at the SLS Beverly Hills
It's chic to hang out at this too-cool-for-school rooftop pool, which offers a seductive environment of glamour and comfort. The well-dressed ladies that frequent this particular pool often choose to book a cabana, where they'll not only enjoy the stellar views of Hollywood and Beverly Hills, but dine in haute style with gourmet cocktails and nibbles by Chef José Andrés. On weekends from 2pm-6pm, Altitude transforms into a poolside lounge with DJs spinning open format music. FYI: You'll know it's them because they'll arrive late, swish their hair and leave early.
Social Media: Facebook: @SLSBeverlyHills, Instagram: @slsbeverlyhills, Twitter: @SLSBeverlyHills
Address: 465 S La Cienega Blvd, Los Angeles, CA 90048
Phone Number: (310) 247-0400
Photo Credit: The Peninsula Beverly Hills
THE LADY: Peninsula Beverly Hills 
The Peninsula Beverly Hills' 60-foot outdoor rooftop pool and Jacuzzi is an idyllic spot for well-heeled ladies who lunch and Beverly Hills housewives to relax and cool down in style. She'll rent one of the 12 private poolside cabanas fitted with cordless telephones, flat-screen TVs, fans, heaters, safes and iPod docks and order up signature cocktails, refreshing juices or smoothies and light fare from the Naturally Peninsula menu (of which many of the herbs, fruits and vegetables used are actually grown on site in The Peninsula's rooftop garden).
Social Media: Facebook: @PeninsulaBH, Instagram: @peninsulaBH, Twitter: @PeninsulaBH
Address: 9882 S Santa Monica Blvd, Beverly Hills, CA 90212
Phone Number: (310) 551-2888
Photo Credit: The Dorchester Collection
THE MOVIE STAR: Beverly Hills Hotel
Everyone who was (and is) anyone in Hollywood has hung out at the storied Pink Palace's pool. Marilyn Monroe, the Rat Pack, John Wayne, Henry Fonda… you name it, has lounged poolside. In 1956, the hotel's pool and cabana club were even backdrops for Gregory Peck and Lauren Bacall in Designing Women. Nowadays, the true haute monde of Hollywood still enjoy that vintage feeling in a modern way, with complimentary refreshments like frozen peanut butter cups, mini cones of soft serve ice cream and mojito pops; gratis Evian mists and complimentary sunglass cleaning. Should you go seriously VIP and get a cabana, you'll be treated to a fruit bowl, complimentary wifi, bottled water, a 46" LCD television with Blu-ray DVD player and privacy curtains to help create your own private escape.
Social Media: Facebook: @Beverlyhillshotel, Instagram: @bevhillshotel, Twitter: @BevHillsHotel
Address: 9641 Sunset Blvd, Beverly Hills, CA 90210
Phone Number: (310) 276-2251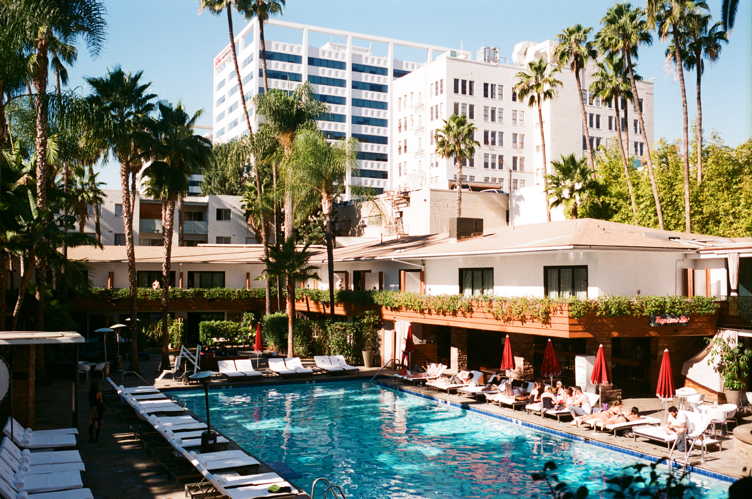 Photo Credit: Hollywood Roosevelt
THE DAY DRINKER: Hollywood Roosevelt
The Hollywood Roosevelt's Tropicana pool is one with pedigree. In addition to its one-of-a-kind underwater mural, hand-painted by artist David Hockney in 1989 (it was his last pool mural and is valued at $1million); it was here that Marilyn Monroe posed on the diving board of the hotel's swimming pool for her first-ever ad; and was the setting for films such as Sunset, Beverly Hills Cop II, Catch Me If You Can, Curb Your Enthusiasm, I Love Lucy, Almost Famous, and more. Thanks to its Tropicana Bar and location (it's right in the heart of Hollywood), this is one packed pool any true brunch-and-bubbles loving Angeleno is going to be hard-pressed to pass up.
Social Media: Facebook: @TheHollywoodRoosevelt, Instagram: @thehollywoodroosevelt, Twitter: @hwood_roosevelt
Address: 7000 Hollywood Blvd, Los Angeles, CA 90028
Phone Number: (323) 856-1970
Photo Credit: The Beverly Hilton
THE TOURIST: The Aqua Star Pool at The Beverly Hilton 
Who doesn't want to hang out at the scene of The Golden Globes, and, in particular, HBO's blow-out Golden Globes bash? The Aqua Star Pool at The Beverly Hilton definitely has some personalized celebrity moments, and we certainly don't blame any true Hollywood enthusiast for wanting a dip in the place where Angelina Jolie, after winning Best Performance by an Actress for Gia at the 1999 Golden Globe Awards, took a post-swim in the pool while wearing her Globes gown.
Social Media: Facebook @https://www.facebook.com/The-Beverly-Hilton-Hotel-Los-Angeles, Instagram: @BeverlyHilton and Twitter: @beverlyhilton 
Address: 9876 Wilshire Blvd, Beverly Hills, CA 90210
Photo Credit: Morgans Hotel Group
THE UP-CLOSE-AND-PERSONAL PARTIER: Mondrian West Hollywood
This pool could be quiet and relaxing—there's no doubt as to its beauty thanks to a lushly landscaped area with fragrant flowers, blooming vines, enormous trees and comfortable teak and wicker furniture—but don't let its beauty fool you… the Mondrian is a party spot. This pool is packed on any given weekend with sleek, tanned, hard bodies pressed up against one another, sipping champagne and grooving to tunes. Shades are optional, given that you don't need to check someone out so much as press up against them.
Social Media: Facebook: @Mondrian, Instagram: @mondrianhotels, Twitter: @MondrianLA
Address: 8440 Sunset Blvd, West Hollywood, CA 90069
Phone Number: (323) 650-8999
Photo Credit: The Standard Downtown
THE RAVER: The Standard DTLA
The Standard DTL has fully earned its reputation as a playground in the sky. This rooftop pool is a favorite party spot thanks to its awesome views of the downtown skyline and mountains beyond, heated swimming pool, red AstroTurf deck, dance floor, nightly DJs, bar, outdoor fireplace, waterbed pods, sculptured topiary and its classic German Biergarten. Make sure you like to rave, because that's happening.
Social Media: Facebook: @TheStandardDowntownLA, Instagram:N/A , Twitter: @standarddtla
Address: 550 S Flower St, Los Angeles, CA 90071
Phone Number: (213) 892-8080