A Real Estate Mogul Chooses Bridgehampton
Real estate mogul R. Donahue ("Don") Peebles is founder, chairman, and chief executive officer of the Peebles Corporation, a multibillion-dollar concern specializing in luxury condos, hotels, and commercial properties. Peebles is the former chairman of  the Greater Miami Convention and Visitors Bureau, and also served as chairman of the Congressional Black Caucus Foundation from 2015–2017. He is a frequent guest host and commentator on Fox, CNN, and CNBC.
How long have you been going to the Hamptons?
I have been a summer visitor to the Hamptons for over 30 years. I began coming out in the summer of 1986 and stayed at the Montauk Yacht Club. As time progressed and my income increased, I began renting homes for the summer. In 2006, we purchased our current home.
Which of the Hamptons did you choose to buy a home in and why?
Bridgehampton, because of the architecture of the home and the size of the grounds. We also wanted to be close to Sag Harbor; we dock our boat at the Yacht Club there. Our home is on the northern side of Bridgehampton, making Sag Harbor a nice, long brisk walk or short bike ride or drive. Most important is the fact that my daughter, an equestrian rider, has her barn within 10 minutes of our home. We are also a short drive to the Hampton Classic, where we watch our daughter Chloe compete.
How have your Hamptons experiences informed your business?
I have met many people my company now does business with for the first time socially or at horse shows out here. They have gone on to become significant and long-term business relationships.
What events do you hope to attend in the Hamptons this summer?
The Hampton Classic Horse Show; Independence Day fireworks from my boat with friends in Sag Harbor, Shelter Island, and Montauk; Art for Life—Hamptons; the Holiday House Hamptons White Party supporting Breast Cancer Research; the Lung Cancer Research Foundation's Annual Strides for Life (East Hampton); and lots and lots of family time.
A perfect day in the Hamptons would include…
A day with my wife, daughter, and son, with close friends on our boat in the bay, and my daughter and her friends playing on water toys.
How do you think the Hamptons will change in the next five years?
It's my hope that the towns and the counties can control the traffic so it's easier for younger people to enjoy this beautiful place. I am concerned that the crowded roads in the summer and ever-evolving airport curfews and restrictions will discourage people from spending their summers here.
A Celebrity Philanthropist Working Tirelessly for East End Charities
Jean Shafiroff, author of  Successful Philanthropy: How to Make a Life by What You Give, is  one of the Hamptons' (and New York City's) most active and successful philanthropists. She has helped pave the way for a new era in philanthropy, one that encourages individuals to give gifts of time and knowledge as well as financial contributions. 
How long have you been going to the Hamptons and why did you choose to live in Southampton?
My husband and I started going to the Hamptons a little over 20 years ago. Shortly after spending a fantastic summer on the East End, we decided to buy a home in Southampton. All of the towns in the Hamptons are beautiful, but since we had a large number of friends in Southampton, we decided to purchase there.
How did you become involved with philanthropy in the Hamptons?
After we bought a home in Southampton, I joined the board of the Southampton Bath and
Tennis Club's Charitable Foundation, where I remain very active. I later became involved with the Southampton Hospital and chaired their Annual Summer Party in 2010, 2011, and 2013, where we raised a total of $5.3 million. In 2012, I became active with the Southampton Animal Shelter, becoming an honorary board member. I have chaired the Shelter's Annual Gala for five years, enabling them to raise millions of dollars. This year I will be honored by the Shelter along with Sony Schotland.  My other involvement with philanthropic groups in the Hamptons includes both chairing and being honored by The Ellen Hermanson Foundation, as well as by the American Heart Association at their Hamptons Heart Ball. This year I co-chaired the Heart Ball on June 10.
Why did you choose the causes you support?
I am drawn to causes I believe in, where I can make a difference. There is no question that good health care is vitally important to all Americans, and recognizing that Southampton Hospital was critically important to the community, I decided to become involved. Then, as an animal lover, I was drawn to the Southampton Animal Shelter and the work it does. In the Hamptons, my focus has been improving health care for all those living in the community and then care of unwanted animals.
What do you feel are the most pressing charitable needs in the Hamptons now?
Health care is always vital, so supporting Southampton Hospital is important to me and my family. As is animal welfare, which is why I support Southampton Animal Shelter and ARF— there are hundreds of homeless animals in the Hamptons that need attention and help. I also think the Parrish Art Museum can always use support, so we do always what we can for them. We try to support as many good causes as possible since there are so many in need.
Is it easier to get people to participate in charity events in the Hamptons, most of which take place on weekends, than in New York?
I would not say that it is easier. People gravitate to charities where they believe there is a fit, and if they believe in a cause they will feel more compelled to participate.
How many events do you attend on weekends?
Several. For me, it is important to show support for  different charities, not just the ones I am involved with. It is a great privilege to be able to support so many causes.
What are your favorite Hamptons spots to get away from it all?
Home and then the exquisite beaches. The Hamptons have some of the most beautiful beaches in the world.
Generous Benefactors for HAMPTONS Causes
Chuck Scarborough, the highly regarded NBC television journalist, and Ellen Ward Scarborough, an antiques dealer (Ellen Ward Scarborough Antiques is in Stamford, CT), are renowned for their generosity and extensive contributions to Hamptons and New York  philanthropies. 
How long have you been going to the Hamptons?
Chuck has been going to the Hamptons since he was introduced to its charming hamlets, pristine beaches, and cultural delights 36 years ago. I joined him when we began dating 23 years ago.
What charity and cultural events will you be involved with this summer?
We are hosting the annual Southampton Association fund-raiser in June. It is a wonderful organization devoted to preserving the unique architectural and cultural heritage of the village, a task that has never been more important. The welfare of animals is also high on our list of priorities. I serve on the boards of the Southampton Animal Shelter Foundation (SASF) and Gimme Shelter Animal Rescue. SASF, the municipal shelter for 22 towns, was on the brink of closing several years ago until Susan Allen and a small group of dedicated women stepped in to save it. Gimme Shelter, founded and lovingly run by Michelle Neufeld Montak, rescues animals from death row in high-kill shelters. We also support the Evelyn Alexander Wildlife Rescue Center, which does heroic work under the direction of Ginnie Fratti and was instrumental in stopping the Department of Environmental Conservation from killing all the mute swans statewide. The Southampton Hospital Foundation is important to us, although for the first time in many years, Chuck will not be emceeing the Hospital's Summer Party because of a close friend's wedding in Sweden. This vital community asset has made remarkable strides over the past two decades, thanks to the generosity of our neighbors and the superb leadership of Bob Chaloner.
How many events are you asked to each weekend and how many do you go to?
Aside from the charities listed above and the occasional dinner or cocktail party, we try to preserve as much time as possible for ourselves, close friends, and family—not that we are awash in invitations, mind you.
Favorite secret spot in the Hamptons?
Munn Point. It is an unexpected oasis of tranquility in the heart of the hustle and bustle of Southampton. Pull out of the traffic on Meadow Lane along the sliver of land that separates the Atlantic Ocean from Shinnecock Bay and step onto the long boardwalk traversing the wetlands on the bay's south shore. As you stroll toward the water, the chaotic energy and attendant noise of the Southampton summer fade away. A plover might flit by. Egrets stand like statues eyeing the reeds. Ospreys attend their young in a towering nest. Crabs scuttle into their holes. The bay's waters lap gently at the shore as mute swans cruise slowly by. Are you feeling thoroughly relaxed and at peace with the world yet?
Favorite beach:
Cryder, primarily because of its easy proximity. We love taking the dogs for long walks along the shore.
Favorite restaurant:
Silver's, hands-down. Chef-proprietor Garrett Wellins is a magician in the kitchen and a delightful host.
Advocating for a Cure
Audrey Butvay Gruss is founder and chairwoman of the Hope for Depression Research Foundation. She and her husband, financier Martin Gruss, have long been important players on the East End charity circuit and are active in New York City and Palm Beach philanthropies. 
How long have you been going to the Hamptons?  
Over 35 years.
Why did you choose to live in Southampton? 
I previously lived in East Hampton, which is very beautiful, but Southampton is closer to New York and easier if I commute only for weekends. It is a beautiful community with a small-town feeling.
What charity/cultural events will you be involved with this summer?
I will attend Southampton Hospital's 59th Annual Summer Party, and any and all art shows that occur in the various Hamptons. Also, I will be hosting Hope for Depression Research Foundation's second annual Walk of Hope + 5K Run to Defeat Depression on Saturday, August 5.
How has the Hamptons community benefited your charity, the Hope for Depression Research Foundation? 
We held our first Hope for Depression Research Foundation Walk of Hope last summer (July 2016) and had an enormous community response, both from retail sponsors and friends and acquaintances who supported it, so we will be doing it again this August.
How many events are you asked to each weekend?
Southampton is so philanthropic that there are numerous charity events every weekend plus private social events. On the weekends, we like to stay at home one evening and go out the other.
Favorite secret spot in the Hamptons? 
Our own apple orchard, for apple picking in the fall.
Favorite beach: Coopers Beach.
Favorite restaurant: Sant Ambroeus.
POWER COUPLE IN SAGAPONACK
Prior to founding the William Macklowe Company, Billy Macklowe was a partner in Macklowe Properties. His wife, Julie, a philanthropist and investor, is founder of vbeauté, a Swiss botanicals skin care line. They are one of the most stylish couples on the East End. 
How long have you been going to the Hamptons?
My whole life. When I was growing up, I lived on a sailboat. My parents bought a small sailboat the year prior to my birth and that (and subsequent boats over the ensuing years) was our home. We kept the boat in Three Mile Harbor and that served as our base. Prior to settling in Sagaponack, we had two homes in East Hampton.
Why do you live in Sagaponack?
For us, Sagaponack is the most beautiful Hampton, as it has the largest amount of open space.  The vistas, air, light, and sunsets are unrivaled.
How are the Hamptons important to your respective businesses?
The Hamptons uniquely blend the worlds of commerce, culture, and fashion in a way that no other community does, and this provides for the ability to relax and be connected at the same time, whether one is at a beach, playing golf, or riding a wave. In a pinch, you are only 35 minutes or two hours from the city.
What do you predict for Hamptons real estate in the next two to three years?
Values should continue to firm and hold steady, as the sales market seems to be gravitating away from land to teardowns.
Julie, are there any plans for Hamptons activations for vbeauté?
There are exciting plans ahead that will be announced soon, so stay tuned for fall!
Favorite secret spot in the Hamptons? 
We cannot divulge that! A hint would be that it involves beach and water.
Favorite beach: Peter's Pond.
Favorite restaurant:
It's a toss-up between Nick & Toni's and Topping Rose. Definitely Town Line BBQ for our daughter, Zoe.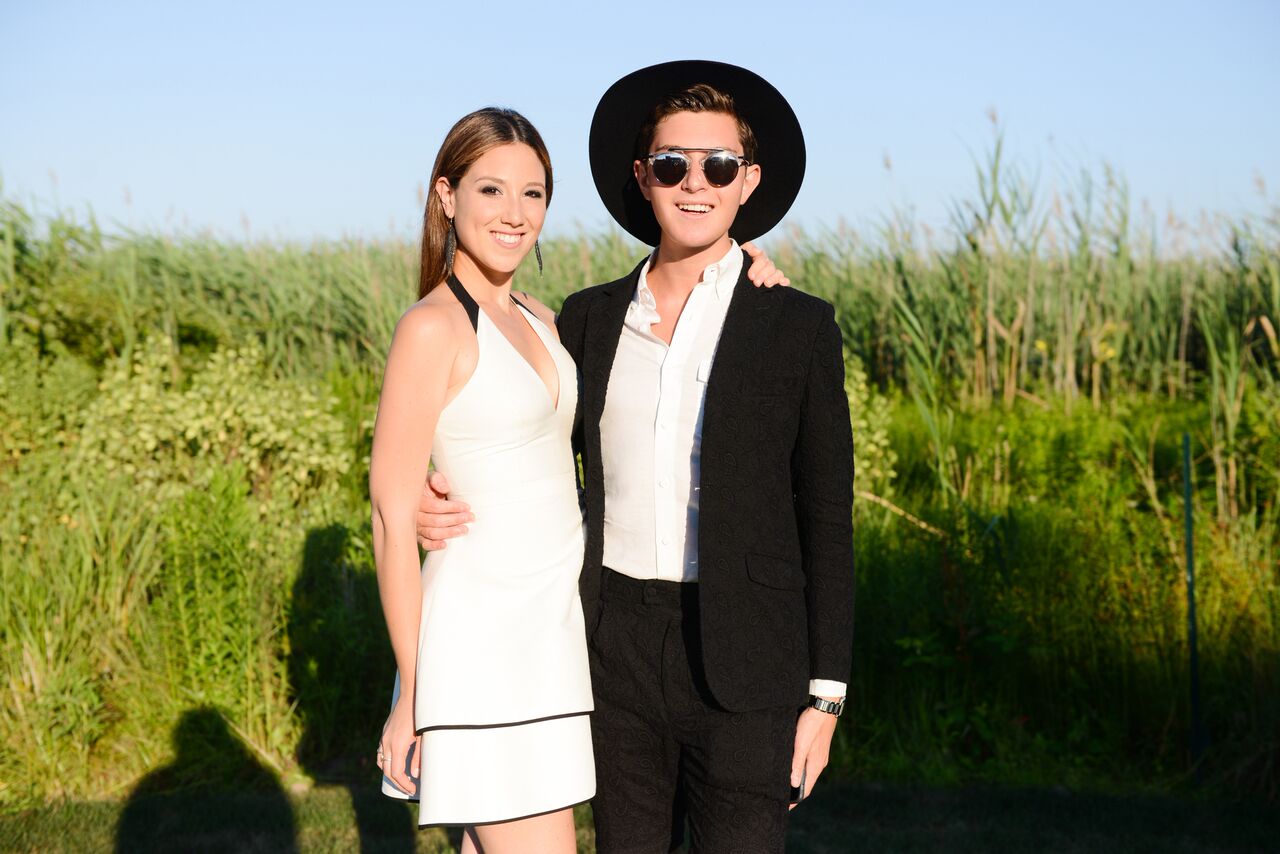 Next-Gen Philanthropy
Siblings Toby and Larry Milstein, scions of the Milstein real estate empire, are in the vanguard of a new generation of Hamptons and New York philanthropists. 
How long have you been going to the Hamptons?
Our family has been renting in various parts of the Hamptons for several years, but last summer was our first season in our new home in Bridgehampton.
So is Bridgehampton now your favorite Hampton? 
Yes, we may be biased, but we believe Bridgehampton is the best. You have Pierre's, Candy Kitchen, the original SoulCycle Barn, Mecox Beach, and Southampton and East Hampton on either side.
Do you think your generation will embrace the Hamptons?
Yes, we are definitely seeing millennials flock out east. The Hamptons are the perfect setting to unwind in and meet new and interesting people you might not otherwise have a chance to meet in the city. Whether surfing in Montauk, sipping rosé at Wölffer, or honoring an important cause, our generation is embracing both the fun and the fulfilling aspects that the Hamptons have to offer. For evidence, look no further than the packed (LIRR) Cannonball train out east on Fridays.
Why are the Hamptons important to your business pursuits and philanthropy?
The Hamptons are first and foremost a home for us. However, the area has a high concentration of influencers and resources that can be channeled for meaningful causes. The goal with our philanthropic leadership is to inspire fellow millennials to embrace the intersection of having fun and giving back.
What cultural and philanthropic events will you be going to in the Hamptons this summer?
We're planning a few fun events this summer. We will be serving as the junior co-chairs for the Hope for Depression Research Foundation's Walk of Hope + 5K Run to Defeat Depression, as well as supporting the Parrish Art Museum's Midsummer Party, the Watermill Center Summer Benefit, the Hamptons Tea Dance, and many other great events.
Favorite secret spot in the Hamptons:
The pie stand at Fairview Farm! Really, what is in that peach and blueberry pie?! Also for more adventurous types, there's a trapeze school in Bridgehampton, which is pretty incredible.
Favorite beach:
Not exactly your traditional beach, but we love Sunset Beach on Shelter Island. We celebrated Toby's birthday with pitchers of frosé (frozen rosé) and an afternoon dip in the sea.
Favorite restaurant: The Surf Lodge. There is nothing better than sharing a tower of chicken fingers, lobster rolls, and French fries with friends as the sun sets over Montauk.
Wildlife Activist
Actress and former model Beth Ostrosky Stern is an animal-rights activist deeply involved with improving the welfare of both domesticated animals and wildlife on the East End. She is married to Howard Stern, the television and radio personality.
How long have you been going to the Hamptons?
Howard and I have been together for 17 years, and after a month of dating, we spent a weekend in Shelter Island. We fell in love that weekend and also fell in love with the Hamptons! We've been coming out ever since.
Why did you choose to live in Southampton?
Honestly? Because it's closer than East Hampton or Amagansett, where we had our first rentals. We also spent some time in Southampton and fell in love with the town and its restaurants.
What charity/cultural events will you be involved with this summer and why?
Each year I go to the Evelyn Alexander Wildlife Rescue Center's Get Wild event.
Howard and I love to support them. I am also a trained transporter of hurt wildlife for the center. They save so many lives!
I'll never forget the day I got the call from the center telling me that a gull I rescued, who was trapped in fishing wire, was rehabilitated after a month and ready for release. Howard and I picked him up and brought him back to where I rescued him. We released him and watched him soar over the ocean. It was magical.
How many events are you asked to each weekend?
We get asked to attend so many events, but our time in our home is so precious to us. I do like to put on a pretty summer dress and have a glass of wine at cocktail events, so I can be back in time for dinner with Howard.
Favorite secret spot in the Hamptons:
The beach dunes. To watch deer frolic in them is the most magical thing to witness!
Favorite beach: Southampton.
Favorite restaurant: Red Bar, Southampton.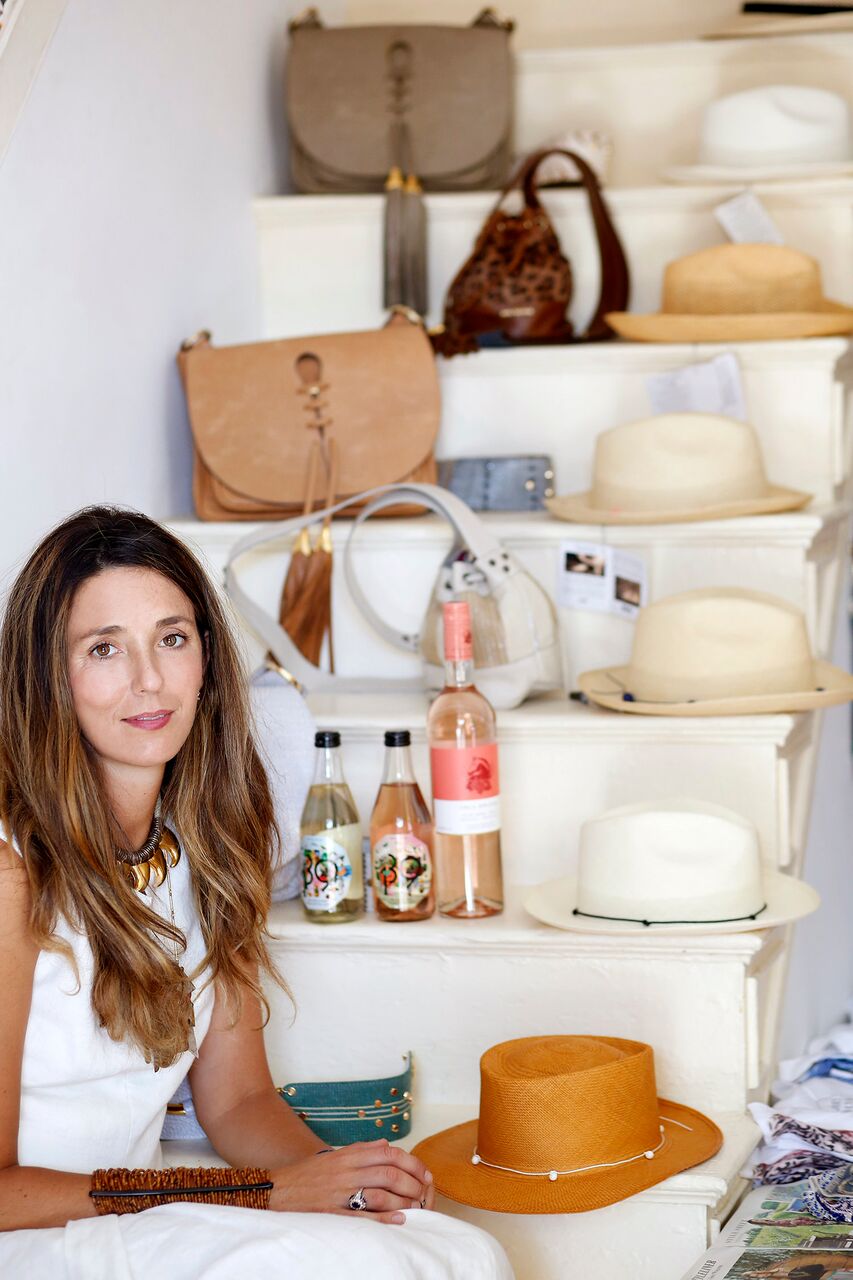 East End Tastemaker
Fashion designer Joey Wolffer (joeywolffer.com, formerly The Styleliner) is also a winemaker and co-owner of the Wölffer Estate Vineyard in Sagaponack and the Wolffer Estate restaurants in Sag Harbor and Amagansett.
How long has your family been in the Hamptons?
Nearly 40 years. My mother and father moved our family out east when my father, Christian, was first getting underway with the winery. I grew up with two very dynamic parents who loved to host and entertain. The kitchen was always full of guests and we were exposed to a lot of colorful personalities.
Which is your favorite Hampton?
Sag Harbor! It is the perfect location for my growing family, and it's a year-round community. I am close to the office and my store, so I can easily pop home for lunch with my daughter, Nell.
How has Hamptons style contributed to your design point of view? 
While I love a good globe-trot and pulling new ideas from various cultures, the main source of my inspiration stems from growing up in the Hamptons, where it was very carefree and very bohemian.
What Hampton charity/cultural events will you be involved with this summer? 
I'm really excited to be on the board of the Parrish Art Museum and working with them again, as well as Madoo Conservancy—they have a beautiful garden conservatory on the site of a former artist's residence. We always support their Much Ado About Madoo benefit. And I love CMEE (the Children's Museum of the East End).
How many events are you asked to each weekend? 
Well, there are so many great events and fund-raisers in the Hamptons and in the city, where we have an apartment. I wish I could go to all of them, but juggling multiple businesses and raising a young daughter means that I get pulled in many directions. I wish I could go to everything!
Where are your clothes available in the Hamptons?
The Styleliner clothes are available at my new year-round store in Sag Harbor. I also just opened a pop-up in Culver City, California, with Platform! And we have a shop in Nantucket!
What's new for summer 2017 from Wölffer winery? 
We are so excited that our newly remodeled Tasting Room is now open, just in time for the summer season with a new bar, more seating, and stellar views of the vineyard. We also just opened a new restaurant, Wölffer Kitchen Amagansett, with an entire menu focused on local, fresh, seasonal, and ultimately rosé-inspired food
Favorite secret spot in the Hamptons:
Serene Greene, a farm stand that sells everything from locally grown berries to seafood, along with specialty goods like fresh mozzarella from Red Horse Market in East Hampton, which is one of my go-to spots!
Favorite beach: Sagaponack's Gibson Beach. It tends to be less crowded than other nearby beaches, and it's the perfect place for my family to unwind.
Favorite restaurant: Wölffer Kitchen in Sag Harbor. The Caesar salad there is amazing and pairs perfectly with a glass of Summer in a Bottle Rosé.
Fashion and Family Time
Veronica Miele Beard and Veronica Swanson Beard are sisters-in-law behind the eponymous brand, Veronica Beard (popular with Hamptons style mavens, among them Gwyneth Paltrow), known for its modern take on classic American sportswear. Another well-known member of the family on the East End is Peter Beard, the Montauk-based photographer and artist. 
How long have you been going to the Hamptons?
Wow, since 1996. We had a share. Years later, we bought and rebuilt a little cottage by the bay and have since had five kids!
What Hampton charity/cultural events will you be involved with this summer?
The Beard family has supported Good+ for a long time, and Jessica Seinfeld is a true inspiration—she is the best mom, wife, and friend. Also, attending a Peter Beard exhibit or an afternoon exploring on his cliff. The kids love driving out to Montauk to visit Uncle Peter. They have grown up with this ritual.
How many events are you asked to each weekend and how many do you  go to?
We are invited to a lot of events, and we try to support friends as much as we can.
How has Hamptons style—easy summer glamour—contributed to your design point of view? 
The beauty of the Hamptons is that you can be casual or glamourous or both at the same time! I love wearing a sequined jacket with distressed jeans, or a little dress with bare feet on the beach. Anything goes, and people bring it!
Where are your clothes available in the Hamptons?
Veronica Beard is sold at Intermix, Tenet, Lifestyle, and Kirna Zabête.
Favorite secret spot in the Hamptons:
The bench on the bay side of Road D, off Meadow Lane, in Southampton. We've spent many an afternoon on that bench.
Favorite beach: Road D beach, in Southampton. The street is open to public parking, and the beach is quiet and gorgeous. At night, with a permit, you can drive your jeep on the beach, which is our favorite thing to do, and build a campfire.
Favorite restaurant: I can't decide, but we often find ourselves at Sant Ambroeus in Southampton!