Bermuda, June 26, Monday 
To the disappointment of fans, sponsors, team members, shore staffs and family, Oracle Team USA did not repeat the greatest comeback in sports history on Monday as they did in San Francisco in 2013 and was unable to defend it's title at the 35th America's Cup in Bermuda. Emirates Team New Zealand claimed the America's Cup, the oldest trophy in international sport by 7-1 lead.
Oracle skipper Jimmy Spithill sincerely congratulated Team New Zealand for their speed and a near-flawless sailing, adding, "You guys have been a class above everyone and we take our hats off to you." Team founder Larry Ellison gave a gracious talk to the team after the hard fought defeat, saying, "I am very proud to be a part of this team. We gave it everything. When you compete against the very best in the world, you aren't going to win every time. We did it in Valencia in 2010 and in San Francisco in 2013. But this was New Zealand's time and we congratulate them for a great win."
I was invited to watch Monday's race at Oracle Team base with the Family and Friends. There were about 150 wives, children, parents, siblings and close friends of the team members with hopes of the team pulling off today's Match Point. I witnessed the big cheers and good wishes at the dock-out sent off, the nerve wrecking 25 minutes everyone huddled around the TVs watching the Race 9 until the return of the team after the race with lots of hugs and some tears. I also stayed to watch the Oracle Team USA boat got hosed down, lifted to shore, disassembled and stored away in Oracle's two giant airplane hanger size facilities, with a great sadness not knowing whether I will ever again seeing Oracle Team USA competing in America's Cup in the future. There is no indication yet whether Larry Ellison will continue the team, nor Jimmy Spithill was sure about his future.
For now everyone is trying to sink in and see what went wrong that cost Team Oracle the Cup. One of the speculations was the new cycle grinding innovation that Team New Zealand have installed in their boat. This extraordinary development was a "secrect weapon" under the wrap only unveiled last month. The system operates foils to bring faster flying speed to the boat.
Team New Zealand helmsman, 26 year old Peter Burling was blown away by bringing the America's Cup back home to New Zealand, saying, "To be able to win this event at such a young age is an unreal feeling. However, I am just a tiny part of a massive team and it's incredible to be able to reward the hard work of those hundreds of people who have supported us, not only here in Bermuda but back home in New Zealand as well."
Skipper Glenn Ashby said, "What happened in 2013 was a brutal experience for our team. To be able to come back 4 years later to pull off an unbelievable victory has really redeemed that situation for New Zealand and it feels like justice has prevailed." The team had a debrief after losing the cup to Team Oracle from 8-1 to 8-9 and came up with 20 points that they needed to change, new technology and younger sailors were among the changes. The changes are now proven to be successful. I was most impressed by Peter Burling, he was as serene and relaxed as at a Sunday picnic while flying the Team New Zealand boat at high speed against Team Oracle when every second counts. I bet millions watching America's Cup on TV wished they had a amazing son like him. I sure did.
Team Oracle base for family and friends.
Image courtesy of Olivia Hsu Decker
Bermuda Yacht Club
Image courtesy of Olivia Hsu Decker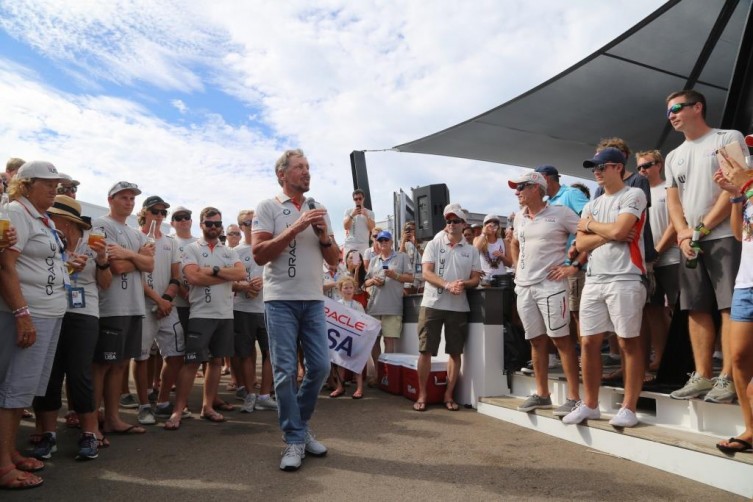 Larry Ellison addressed Team Oracle fans after the race.
Image courtesy of Olivia Hsu Decker
The America's Cup Village stage featured daily entertainment.
Image courtesy of Olivia Hsu Decker
The 50 feet tall wing was removed and stored, there is a second wing as spare.
Image courtesy of Olivia Hsu Decker
Oracle family applauded Team New Zealand.
Image courtesy of Olivia Hsu Decker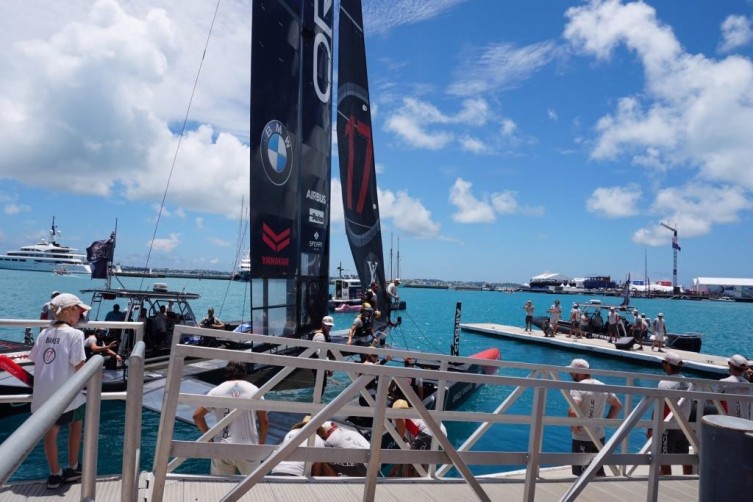 Oracle Boat at dock-out going to race 9.
Image courtesy of Olivia Hsu Decker
I bid farewell to Oracle Team USA boat.
Image courtesy of Olivia Hsu Decker
Larry Ellison thanked skipper Jimmy Spithill
26/06/2017 - Bermuda (BDA) - 35th America's Cup 2017 - 35th America's Cup Match Presented by Louis Vuitton - © ACEA 2017 / Photo Ricardo Pinto
Subscribe to discover the best kept secrets in your city