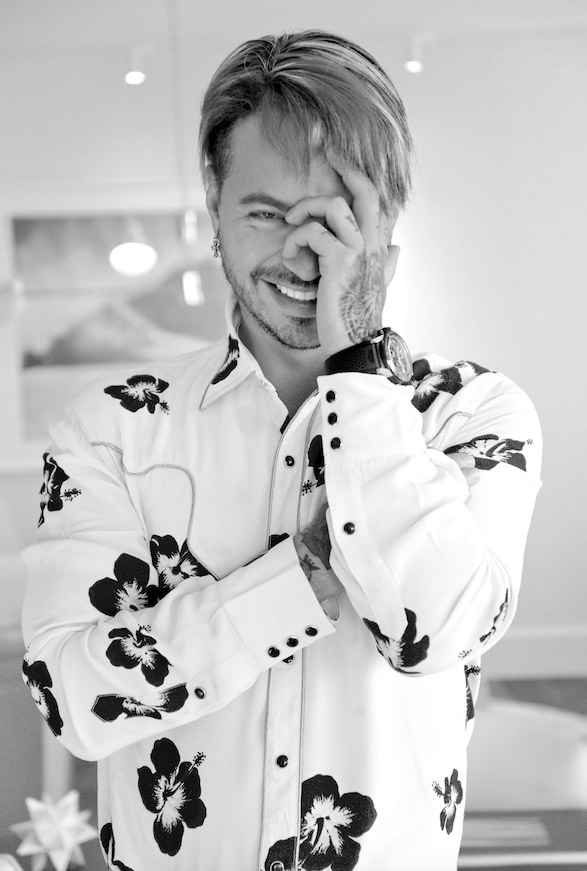 Interview by Violet Camacho
Contributing Editor Paige Mastrandrea
Shot on location at W South Beach E-WOW Suites
Photography by Navid, Grooming by Stacey Mossop
Few artists take such a decisive road to stardom as J Balvin. Or maybe not, as it was never stardom that fueled his path to success, but rather his deep passion for the music itself. Born as José Álvaro Osorio Balvin in Medellín, Colombia, his interest in music grew while listening to rap, champeta, bachata and reggae, as well as watching music videos. These were the seeds that would eventually evolve into his style, opening the road to success.
In 2009 he signed on with EMI Colombia and released his first single. "Ella Me Cautivó," which hit No. 35 on the U.S. tropical chart. It brought to the world that unique urban-fusion sound that would become J Balvin's hallmark. In 2010 he released Real and went on to contribute to the soundtrack of El Negocio, a movie by Tim Bulot. One of the songs, "En Lo Oscuro," even made it to No. 1 on Colombia's music charts.
His success made him one of the fastest-rising stars in the music industry and the most promising Latin-America artist in recent history. His talent didn't go unrecognized as he won the Billboard Latin Music Award for New Artist of the Year, Latin Rhythm Song of the Year and Latin Rhythm Songs Artist of the Year. At Premio Lo Nuestro he even won all the Urban categories on his name: Urban Artist of the Year, Urban Album of the Year, Urban Song of the Year and Urban Collaboration of the Year. With "Ay Vamos" he also secured his first Grammy in 2015, followed in 2016 by one for his fourth studio album Energía. If that wasn't enough, he also made the Guinness Book of World Records title for the longest stay at No. 1 on the U.S. Hot Latin Song chart by a single artist with his hit song "Ginza."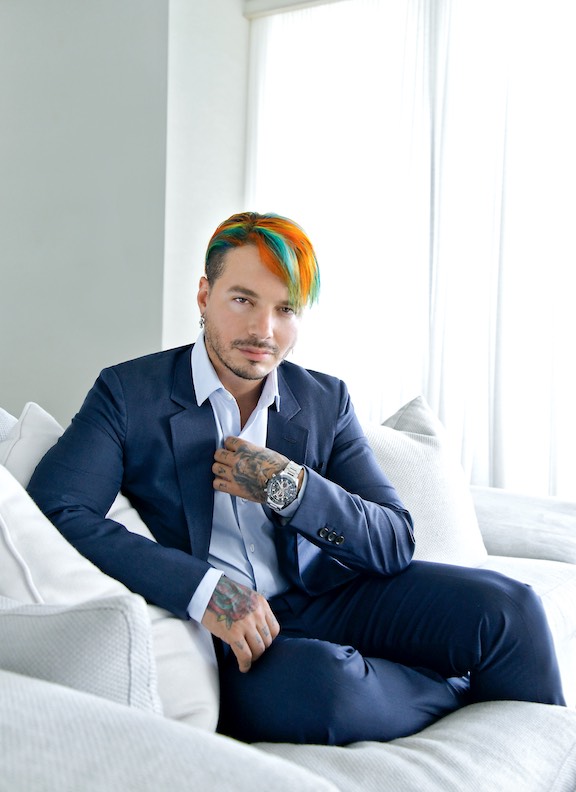 As successful as J Balvin is as a solo artist, his talent and energy can also take many collaborations to the next level. He teamed up with Robin Thicke for the Colombian version of the hit single "Blurred Lines" in 2013, while later on joining Julión Álvarez on Juan Gabriel's single "La Frontera." Other successful collaborations include Sofia Carson's charting debut single "Love is the Name" and Alejandro Sanz's "Cuando Seas Grande" together with Gloria Trevi and Los Tigres del Norte. For his album Energía he also worked with Bull Nene, Daddy Yankee, Fuego, Yandel and Juanes, many of them dominating the Latin Album charts.
Despite taking the music world by storm, when Haute Living's Violet Camacho sat down with him for an exclusive interview while he was in town for the Give to Colombia gala, she found a modest, down-to-earth artist, with a deep-rooted passion for music and his home country, Colombia.
What are you working on now?
I'm super-focused on making my current music three times more successful than the previous year. I'm looking to shatter those barriers that limit Latin music, and I think we are accomplishing that with a new, broader vision of my music.
Tell us about your journey as a singer and performer. How did you get to where you are today? 
I obviously work really hard. But I also have the capacity to dream really big and have the discipline to materialize those dreams.
What was it like to pick up and move to the U.S. at a young age? It must've been a big cultural shock moving to Oklahoma. What challenges did you face?
I moved to Oklahoma to learn English when I was 16 years old from Colombia for six months, then I moved to New York. It was a very positive move, and maybe back then I didn't see it so positively, but I do now. I believe that we are a result of our past. Had I not had that experience, I wouldn't have forged ahead the way I have to attain my dreams.
Who is your biggest inspiration? 
There are many, but I will begin with Daddy Yankee, who excels at another genre of music and Pharrell Williams, who I've worked with and admire—not as much in music, but what [Pharrell] translates in terms of lifestyle, culture, fashion, accessories, etc.
What is your most memorable moment? 
That's a hard question to answer, as there are important moments in your personal life, as well as in your professional. I think that my first Grammy was the most memorable. It was the culmination of my biggest dream accomplished. It made me feel that anything is possible.
Describe what it's like when you're onstage performing. Take us through a day on tour where you're prepping to perform. 
Every performance has provided a learning experience, and as we go, we keep fine-tuning the shows. If we decide to do a tour, we rehearse until we perfect. One thing that I do prior to every show is that we huddle the band and pray. We thank more than we ask. And I always place the right foot first when I step on stage. But prayer is primordial for me—it's how I capture my stillness.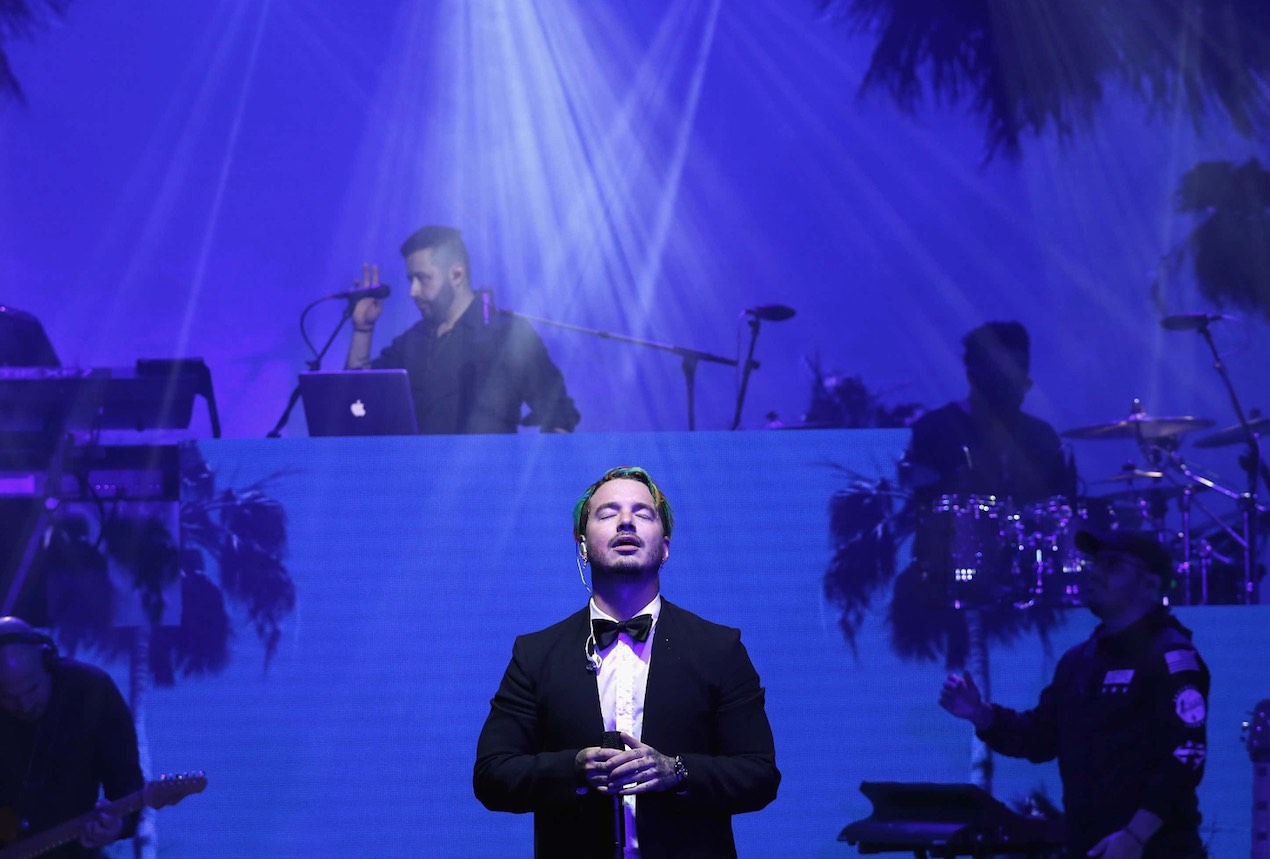 Photo Credit: Alexander Tamargo/Getty Images
Tell us about your love for Colombia. 
I live in Medellín [Colombia]. I haven't found the need to live anywhere else. I am very happy there and I feel like I maintain a closeness to my essence and my origins. Great music has originated in Colombia.
Reggaeton was born in Puerto Rico…
Yes, it was born in Puerto Rico, but its origins are from Panama ragga. It was in Panama that they began to translate Jamaican reggae into Spanish and it was Puerto Rico's reggaeton festival that gave this music its name. Puerto Rico gave reggaeton international acclaim, and now in Columbia we are also enriching the culture.
Tell me about your personal watch collection. What do you look for when choosing a timepiece?
I look for something that makes me happy—for me to look at it and feel happiness. Obviously, happiness is not the material. But with time, you are like: I feel comfortable, I feel like I deserve it so that I can enjoy it without remorse… that is the most important.
You seem like a very sensitive person
That's what they say. It's true
How did your partnership with TAG Heuer transpire? 
That happened in a very organic, natural manner. I had the opportunity to do an event with TAG Heuer in Bogota and I met Mr. [Jean-Claude] Biver. He was taken aback by the reaction of the people to my music, the affection. We had a conversation, and it turned out that we share the same vision and almost think, 100 percent, the same way—there was instant chemistry. Generally, these types of deals take years, but this only took months. I feel like this is the way success should be carried… with happiness, without ego, with sincerity, with gratitude, with smiles and the desire to learn something every single day instead of feeling like you know everything—and  of course, to be willing to learn. I'm learning so much.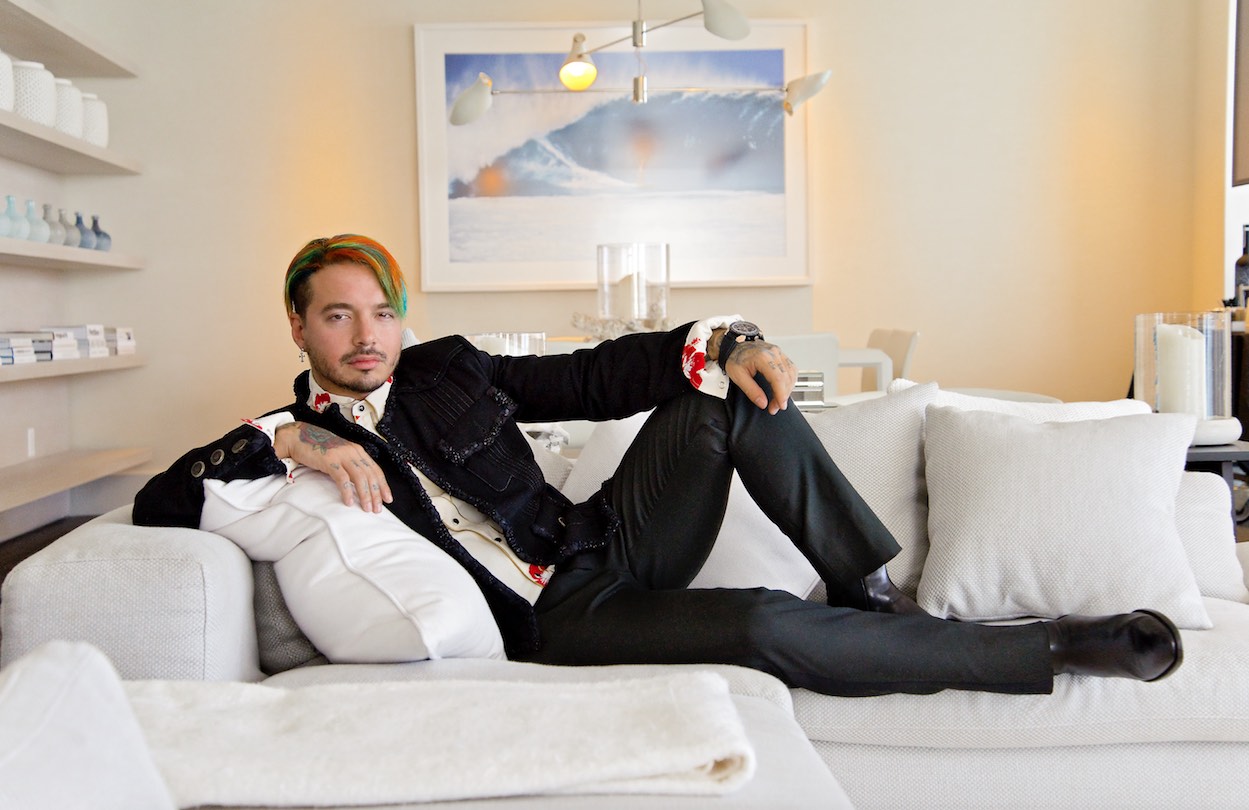 What do you have to look forward to as TAG Heuer's newest ambassador? 
A lot. First, I think it's a very interesting collaboration, as it is the first time that they have someone from Latin America working with the brand, so naturally it's history in the making and that's significant. For me, it's very important to arrive at places where no Latino has ever been, not because the doors were closed, but because it validates your dreams, because if you've dreamed about it, maybe you thought it wasn't possible. Many leave their dreams as thoughts and they never knock on the door. I want to demonstrate to the world and the youth and those who follow me that anything is possible. All you have to do is work with discipline, have a clear vision, and the world is at your hands. It's irrelevant in you are Latino, European or Asian—this world belongs to human beings, and we have a duty to represent that in the most positive way. We should transmit something to make the world better.
What will be the final product of this collaboration? 
A timeless piece; a watch that you don't only wear on a special occasion, but forever. Sometimes you fall into the current hype—it's normal in this marketplace. However, the more I learn about design, the more I come to the realization that what endures are the classics with a touch of modernism, produced with restraint.
What are your plans for the upcoming year? 
I'm working hard to multiply last year's success threefold in the music arena and doing a collaboration that has never been done before in Latin music.
What collaborations are you planning?
You will have to wait and see.
Describe Miami a few words. 
Great vibes, sun, party, good life.
What's your idea of the perfect day?
Every day is perfect if you are really grateful—it's important to enjoy every moment. Not every day can you be at the sea or at the beach in Miami. But to be grateful in the present moment is what makes every day perfect.