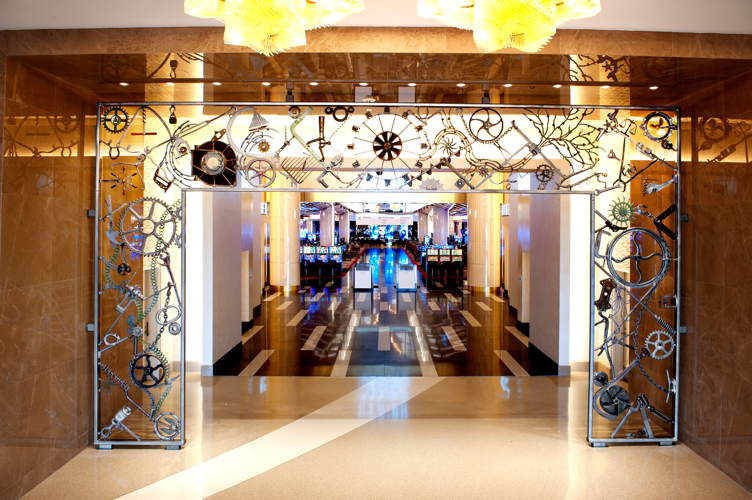 Photo Credit: Robb Scharetg
In years past, keen travelers would throw their bags down and hit the ground running to check out the museums, galleries and historical landmarks that made their destination unique. Oh, how things have changed! Now, thanks to increasing demand, culture bunnies need not even leave their hotels to see some of the best paintings, sculptures and photography in their city of choice. Whether it's the $30-million Jeff Koons sculpture in Las Vegas, Chuck Close's close-up of Kate Moss in New York City or Andy Warhol's 36-foot-long "Big Retrospective Painting" in Zurich, guests will feel like they're spending the night in a museum when they are at these sensational hotspots.
We'll start at home in the U.S. of A. heartland with Laura Lee Brown and Steve Wilson's 21c Museum Hotel, Louisville in Kentucky (700 W. Main St, Louisville, KY). This innovative brand has exceptional properties scattered throughout the Midwest, including Bentonville, Cincinnati and Oklahoma City, but its Louisville flagship remains its most iconic property. Here, you'll find special collections of 21st century art by both up-and-coming and established artists alike, including Andres Serrano, Bill Viola, Virgil Marti and Kara Walker, as well as distinctive cuisine and art-specific events, from poetry readings to artist talks. As one might expect, art and culture join forces in New York City and at two hotels in particular.
The tony Gramercy Park Hotel (2 Lexington Ave, New York, NY) has a rotating collection of 20th century artwork, such as masterpieces from Julian Schnabel, Andy Warhol, Jean-Michel Basquiat, Keith Haring and Damien Hirst. Except for the latter, the collection is weighted toward these contemporary American masters, whose hallmarks include bold palettes, oversized imagery, a mix of high and low culture, and unconventional materials. When you factor in Danny Meyer's acclaimed Italian eatery Maialino, 360-degree views to the city from the hotel's rooftop terrace and receiving a key to Gramercy Park, Manhattan's only private park, you may decide to never leave this haute art hotel.
On the Upper East Side, you'll find The Surrey (20 E 76th St, New York, NY) which has hosted an illustrious range of guests from JFK to Bette Davis. The hotel features an intimate collection of modern art—including two photographs, "You Are My Own" and "But the Myth of Love," by American conceptual artist Jenny Holzer. In a hidden niche between the lobby and bar, there's an interactive video piece by South African artist William Kentridge, while British artists Jimmie Karlsson and Martin Nihlman were commissioned to create custom-designed furnishings for the property.
But the biggest standout is a large-scale tapestry of fashion icon Kate Moss created by Chuck Close. Should you visit MGM National Harbor (101 MGM National Ave., Oxon Hill, MD), make sure to explore its Heritage Collection, which showcases commissioned and procured works by local and international sculptors, photographers and mixed-media artists, including Alice Aycock, Bob Dylan, Terry O'Neill, Margaret Boozer, Sam Gilliam and Ron Beverly. Not only does this hotel have the largest art collection in the region, but it also provides a canvas for local D.C./Maryland artists to create works on a grander scale than ever before. On the west coast, Las Vegas provides unbelievable access to some of the best art hotels in the world.
The Bellagio (3600 Las Vegas Fwy, Las Vegas, NV) in addition to its absolutely stunning Dale Chihuly work, "Fiori di Como" in the lobby, has its own gallery, The Bellagio Gallery of Fine Art, which presents intimate exhibitions from some of the most compelling artists. It has been organized with global museums and foundations, and features a rotating slew of exhibitions from Picasso: Creatures and Creativity; Fabergé Revealed; Painting Women: Works from the Museum of Fine Arts, Boston; Warhol Out West; Figuratively Speaking: A Survey of the Human Form; and Classic Contemporary: Lichtenstein, Warhol and Friends.The next exhibition, I Am the Greatest: Muhammad Ali,opens on March 31 and explores the boxer's incredible rise from humble beginnings in Kentucky to become the three-time heavyweight champion of the world.
The fine art collection at ARIA (3730 S Las Vegas Blvd, Las Vegas, NV) encompasses a multitude of styles and media, from sculptures and paintings to large-scale installations, including "Silver River," an 84-foot silver cast of the Colorado River by Maya Lin, Jenny Holzer's impactful LED "Vegas" sign, Tony Cragg's stainless steel "Bolt," "Bent of Mind" and "Untitled" sculptures, and Antony Gormley's "Feeling Material XXVIII," an 8-foot tall, 150-pound sculpture of mild steel bar.
At Steve Wynn's eponymous The Wynn (3131 S Las Vegas Blvd, Las Vegas, NV) wonderland, you'll find art everywhere, from floral designs to the $30-million Jeff Koons "Popeye" statue in the lobby to works by Charley Brown, Mark Evans, Stephan Weiss and Frank Owen.
If you head to San Francisco, you should explore the collection of local and international art at the St. Regis San Francisco (125 3rd St, San Francisco, CA) in the city's SoMa neighborhood, with photographs by Australian photographer David Stevenson and the two-panel "Love" and "War" murals by Canadian painter Andrew Morrow. Thirty percent of the collection is comprised of original works by Bay Area artists such as Doug Hall, Stephen De Staebler, Skip Steinworth, Eduardo Oropeza, Lori del Mar, Damon Hildreth, Doris Mitsch, Brad Durham and John Smiddy.
Then, rounding out North America is the spacious beach boutique hotel Casa Malca (Km 9.5 Carretera Tulum – Boca Paila, Tulum 77780, Mexico). Owner Lio Malca, a curator and collector that has presented a plethora of shows in New York, features art from his private collection, including works from Jean-Michel Basquiat, George Condo, Keith Haring, KAWS, Kenny Scharf and Andy Warhol, at this idyllic oceanfront getaway. And this continent isn't the only place you're free to see art during an overnight hotel stay.
Pit stop in St. Barths and stay at the storied Eden Rock (Baie de Saint Jean, Saint Barthélemy 97133, St. Barthélemy), which has collaborated with the world-renowned Gagosian Gallery in recent years to exhibit works by Harmony Korine, Urs Fisher, Richard Prince and Will Cotton, before jetting to London to stay at Egerton House (17-19 Egerton Terrace, Knightsbridge,  London SW3 2BX, UK), which feels like an extension of the nearby Victoria & Albert Museum. You'll find a private collection of 19th and 20th century works here, including Toulouse Lautrec lithographs in the lobby and major art in every bed room from masters like Renoir, Picasso, Matisse and Chagall.
The spectacular V&A suite even plays host to Picasso's "Au Pont des Arts" stamp. At The Beaumont (8 Balderton St, Brown Hart Gardens, Mayfair, London W1K 6TF, UK), expect to find original oils, mostly portraiture, featuring anonymous and significant figures from the era. Artists include Glyn Philpot, Harrington Mann, John Lavalle, Mario Grixoni, Georges Goursat, Julian Lamar, G. H. B. Holland, Paul Audfray, Walter I. Cox, Luke Fildes, Bruno Capacci, Robert Knight Ryland, Lawrence Wilbur, Ivan Lindhe, Eduard Ulreich, Georges Robert Cheyssial and Elizabeth Grandin, as well as small collections by Phyllis Bray, Marcel Vertès and Zelda Fitzgerald. Additionally, the hotel commissioned Antony Gormley to create "ROOM," a giant crouching figure on the façade of the hotel, as a piece of public art.
From London, it's a hop, skip and a jump to the Cote d'Azur, where you'll find the 25-room auberge, the Colombe D'Or (1 Place du Général de Gaulle, 06570 Saint Paul de Vence, France) with significant art history: the hotel's original owner, Paul Roux, was close and personal friends with masters including Pablo Picasso, Henri Matisse and Marc Chagall. Roux offered struggling artists room and board in exchange for their works—needless to say, the arrangement benefited both.
Among the artwork you'll find on the French property, which is now run by Roux's grandson, are paintings by Picasso, Matisse, Braques and Miro, as well as an Alexander Calder mobile hanging just above the cypress-lined swimming pool. Moving on to Zurich, the Dolder Grand (Kurhausstrasse 65, 8032 Zürich, Switzerland), doubles as a hotel and the best private art museum in the city. There are over 120 works by more than 90 artists, including the 36-foot-long Warhol "Big Retrospective Painting," four Pissaro "Quatres Saisons" paintings, Salvador Dalí's "Femmes Metamorphoses," sculptures by Keith Haring and Takashi Murakami, and original paintings by Sylvester Stallone and artworks by Joan Miro, Henry Moore and Damian Hirst onsite.
In Vienna, stay at the family-owned Altstadt (Kirchengasse 41, 1070 Wien, Austria) and experience a fabulous collection curated by Otto E. Wiesenthal, including works by Warhol, Leibovitz, Gironcoli and Kusama. There's also a focus on Austrian art, with exhibits by Prachensky, Hundertwasser, Helnwein, Mühl, Attersee, RC Andersen and emerging artists like Iris Kohlweiss, Torsten Ruehle, Peter Rühle, Clemens Wolf, Alfons Pressnitz, Alex Ruthner and Robert Muntean.
Head to the Mediterranean for a little art and culture at the New Hotel Athens (Filellinon 16, Athens 105 57, Greece), where owner Dakis Joannou—whom you might already know as the man who commissioned Jeff Koons to apply 'dazzle camouflage' to his 115-foot super yacht—gives guests a completely bespoke experience with creations and furniture courtesy of The Campana Brothers, and artwork including Jenny Holzer's "Selections of the Survival Series," Koons' "Art Magazine Ads," Laurie Anderson's "Numbers Runners" and Douglas Gordon's "Monument for X." Then, Florence's five-star Hotel Lungarno (Borgo S. Jacopo, 14, 50125 Firenze, Italy) reopens on June 1 after months of renovations, with over 400 pieces of 20th century fine art, including Picasso, Cocteau, Bueno, and many other Italian artists. Guests will experience new elements this spring, like an art shop, art tours offered throughout the public spaces, and painting classes on the terrace overlooking the Ponte Vecchio.
Last but not least is Mona Pavilions (655 Main Rd, Berriedale TAS 7011, Australia), an eight-suite boutique hotel adjacent to the country's largest private art museum, the Museum of Old and New Art, owned by billionaire David Walsh. The eight pavilions were each named after influential Australian artists and architects, and all include a work of art by its namesake. Onsite, you can also explore a cabinet of curiosities, an infinity lap pool, sauna and gym—if, in addition to being an art enthusiast, you happen to be fitness inclined.