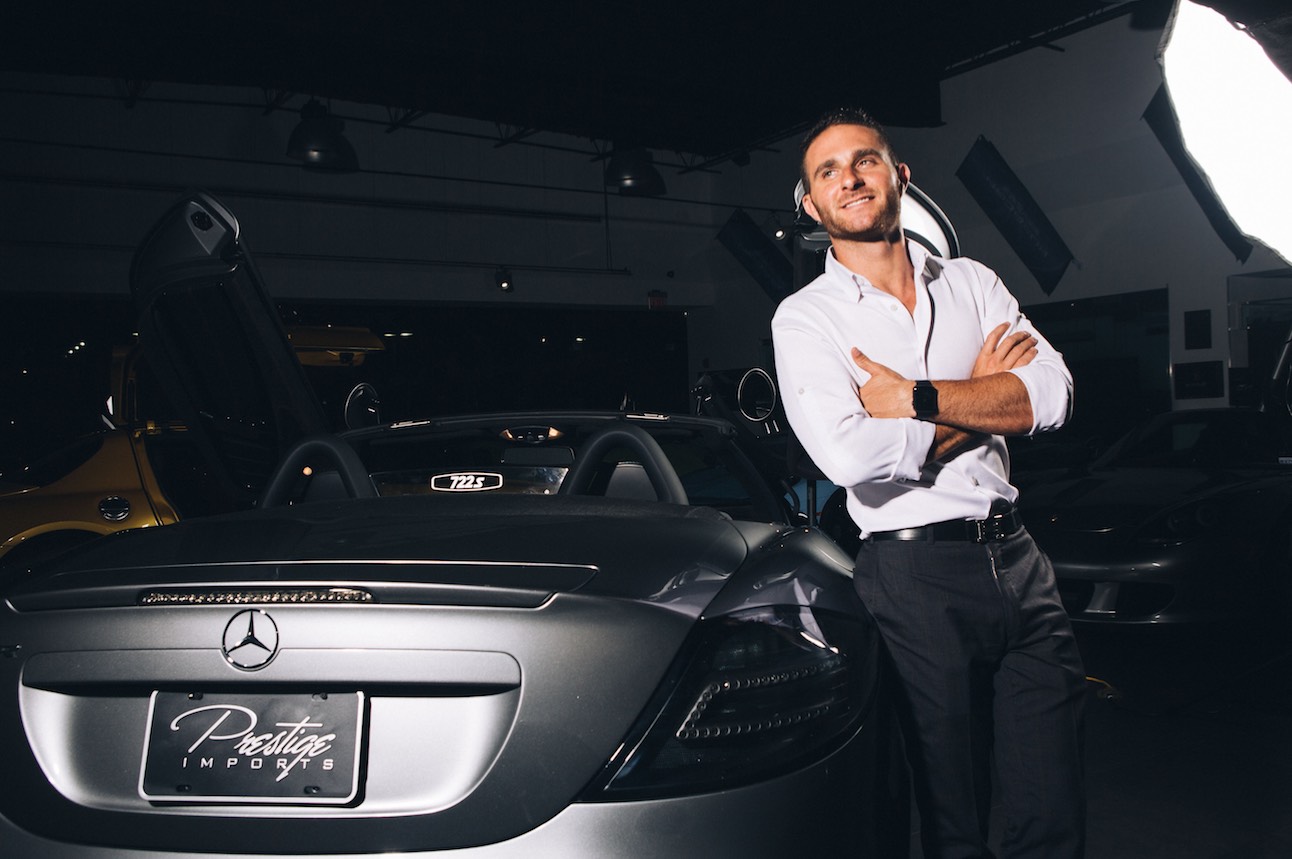 Photo Credit: Prestige Imports
Brett David is the mastermind behind Miami's Prestige Imports, the premier source for luxury automobiles that offers an exclusive selection of Lamborghinis as well as the luxury hybrid Karma and the coveted Pagani—David was in fact one of the first three dealers in the country to get his hands on the limited-edition, jaw-dropping beauty. The young entrepreneur took over the family business following his father's sudden passing about 10 years ago when he was only 19 years old and has amassed a multimillion dollar conglomerate, impressively putting Prestige on the map as the No. 1 luxury car dealership in Miami Beach. And he's not stopping there—David is a sharp and ambitious business mogul, setting his sights for all things luxury, far beyond the scope of just automobiles. David has accomplished in just 10 years what might take someone half of a lifetime. His secret? Adapting to the digital age, staying ahead of the game and utilizing social media and digital-marketing techniques to reach a massive-scale audience. Here, the luxury CEO shares some of his secrets to success in a one-on-one interview with Haute Living:
HL: How has the digital age impacted your business model?
BD: The digital age has impacted every business across many different sectors. This is just the beginning of the automotive revolution with digital media. Being a progressive digital dealer today gives customers an opportunity to know what they're going to buy before they even sit in a car. It gives them every piece of information they need at their fingertips. All of that packed together in the car world wasn't there 20 years ago. There was not much competition or technology for a consumer to make an educated purchase, and I think now it's going in a direction that can be beneficial for everybody. The ones that will succeed in this—and not simply exist—are the ones that are going to implement the personalized touch as we do at Prestige Imports when converting to a digital age in the car world.
HL: What is your approach to social media marketing? How do you make that personal connection with your audience?
BD: There's certain people and dealerships that don't have the mission statement that we have. They don't allow people to walk into a dealer and photograph the car, or sit in it and touch it. If someone has one positive experience in a dealership and is allowed to experience all sensory aspects of it, they'll share the scene of these mythical sports cars to social media for others to admire. Sharing these photos with location tags and hashtags allows your product to be seen by an endless amount of people across the globe. That's why we allow people to come in and photograph. All of this is a new brand era for social media. On a specific approach to social media, we come up with cool things that personalize Prestige with the consumer, so every day of the week we'll have a different post like "Tech Tuesday," where they meet the technician and understand what he's working on, or an interactive "Wheel Wednesday," where people have to guess a wheel that has been on a previous Lamborghini, maybe in the '70s or '80s era, and the winner will come in and get a hat. While that 14-year-old boy that wins the hat is not exactly the engagement of the guy that is going to come in and buy a Lamborghini, the conceptual idea is him exposing that to the father, the cousin, the uncle and aunts, etc., and this now spreads the social-media content all across the world. The best part about it is it's all happening organically. Some of our biggest clients that we've met have been through social media, and not a lot of businesses can say that.
HL: Which form of social media do you find most useful? 
BD: For us, it's Facebook and Instagram. Instagram primarily because of the analytics that are there for our user counts, and how much time the people spend on Instagram, you have a much better capture-rate of having that person's eyes on your content, resulting in likes and shares, so it's pretty impressive. It's simple, great, to the point and―we love it.
HL: In this highly evolving luxury market, how do you keep your brand relevant? 
BD: For us, brand alignment is extremely important. The luxury auto sector is similar to the luxury real estate market, travel, even fashion; all of these like-minded brand items go hand in hand to partner with, and events are a great way to do this. We come up with strategic-affiliated marketing; for example, if we want to focus on a demographic down south, we start aligning ourselves with luxury sectors like watches, real estate, jewelry and art that have a big presence in the area. That's one of the things that make us a progressive dealer—we like spending money to make sure our brand stays relevant. For social media, we love co-partnering with brands that people constantly see, and that's something Prestige Imports has pioneered.
HL: What is the most memorable lesson you've learned from taking over the business until now?
BD: I think one of the most memorable lessons is never judge a book by its cover, and I primarily state that because we are in a luxury segment No. 1, and No. 2, we are in South Florida, and when we combine both of those things it's very different than the buyers or clients you will meet in New York, and very different from the buyers or clients you'll meet in L.A. and other major cities. It's all about treating everybody the same and understanding these people's stories and how they got there. Some of the best clients that I've met are some of my greatest friends today, and we met by being organic and being real, and treating everybody the same with the upmost satisfaction and service that you would give anybody coming in and buying their dream car.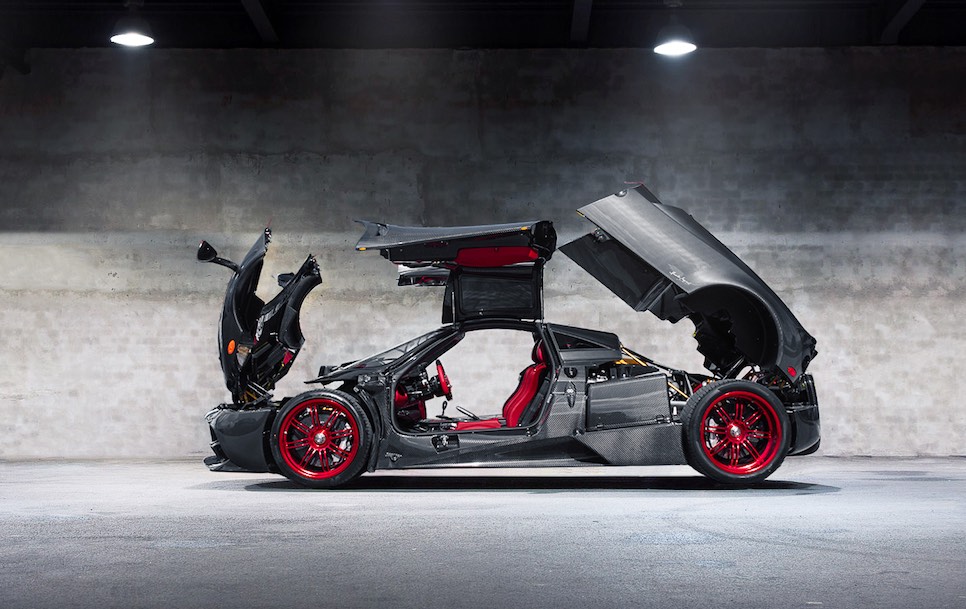 Photo Credit: Prestige Imports
HL: What key words would you associate with your brand?
BD: We try to put ourselves with passion, with performance, and of course with prestige. All three of these things together allow us to really diversify in luxury, where we are not only focused on exotic cars, but we're also focusing on boats, aviation, real estate—we focus on everything we possibly can to deliver exactly what a customer is looking for, or any dreamer imagination you have. So power, performance and prestige are probably the three most important things for us.
HL: What are your plans for the future? Are you trying to make Prestige more of an umbrella brand for multiple luxury brands? 
BD: Yes, we do want to go ahead and grow with the times. I feel like the concept of a car dealership is changing―in terms of the luxury sector of a dealership—if somebody just operates it solely as a dealership, then they're sleeping behind the wheel. Co-branding luxury items and partnering everybody together is my goal to make Prestige the parent company for all luxury services across the board. If you are able to win one consumer over with a great experience buying a several-million-dollar car, you will be able to share your mission statement and your belief across the board for everything. I can speak more to this a bit later, but right at this moment the dealership focus is being different than everyone else in the game and focusing on the unique caliber of units that we stock.
HL: Do you think that being in Miami gives you an advantage?
BD: I think Miami is an amazing advantage. If we were in Idaho, we would not have the sex appeal that we have, but I also think that I'm blessed to state that I'm not just grateful the dealership is located in Miami; I love the city that I live in. Because of how much information is readily available at our fingertips, I think you're seeing a brand-new, educated consumer come into the mix that likes Miami for the city we live in, and also loves the fact that Miami flaunts and respects wealth. In many other places in the country, I have customers call me and tell me that when they drive their Lamborghinis they get shunned upon, or talked down to, but in Miami the first thing we do is gather our iPhones to take pictures. It's fantastic.
HL: What's your favorite place for a luxury CEO power meeting?
BD: Sean Wolfington's office at 900 Biscayne overlooking the city of Miami. We sit at this long boardroom table, and something about that office is unbelievable; looking out of that floor-to-ceiling glass makes you realize and understand a different love and appreciation for what Miami is, and it makes me smile every single time that no matter what the meeting is about—good or bad—you just have this immediate burst of energy.
HL: What's your favorite meal in Miami?
BD: I'd have to say Nobu. I'm a sushi guy, and I love the valet situation over there and everything they're doing with the Nobu Hotel.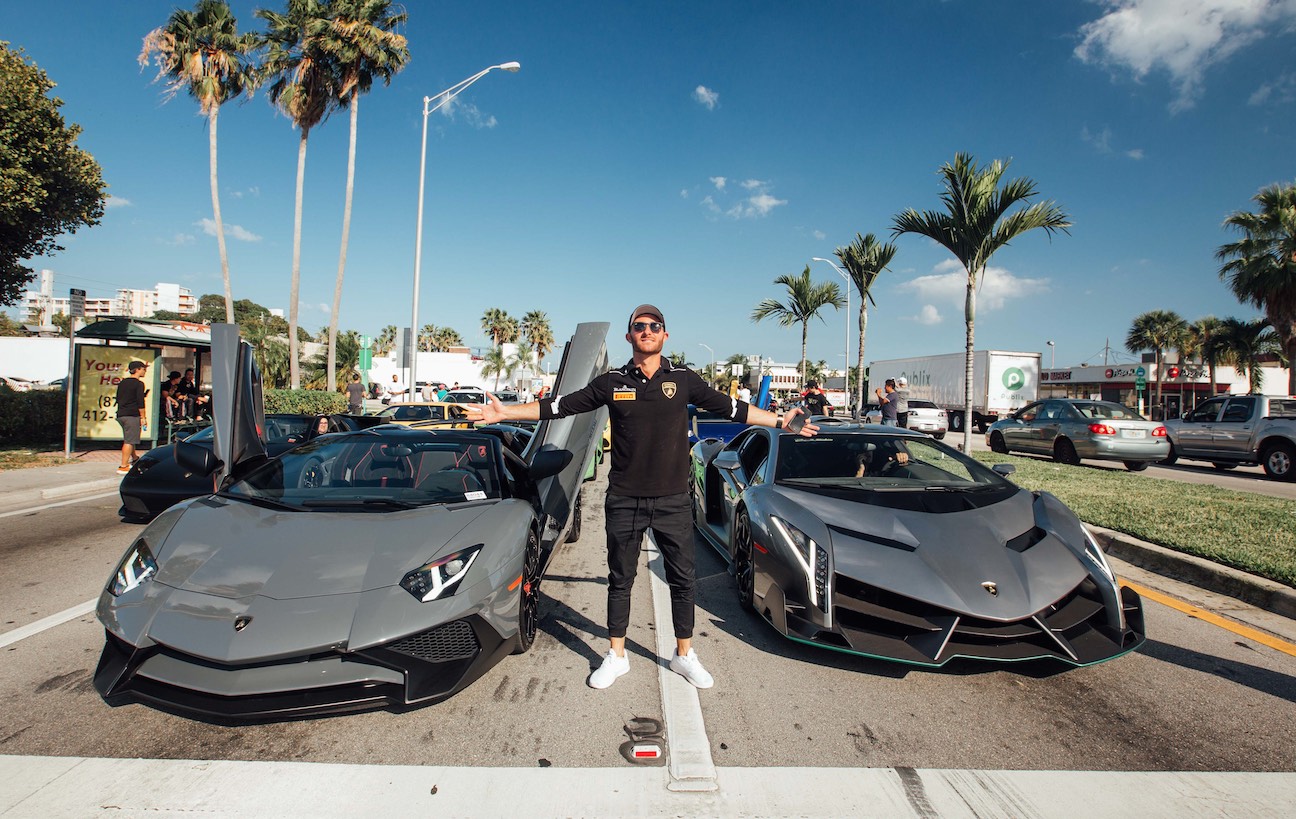 Photo Credit: Prestige Imports
Subscribe to discover the best kept secrets in your city