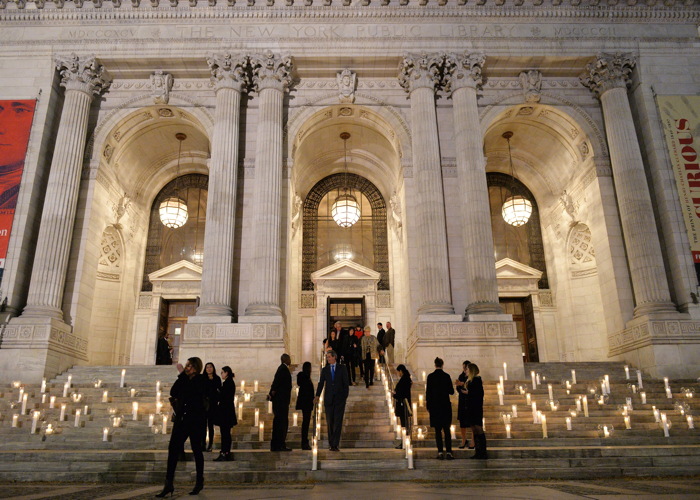 Nearly 600 guests celebrated David Monn, the go-to party planner for top-tier celebs and socials, on Monday night at a party for the publication of his first book, The Art of Celebrating. The lavish tome chronicles his career over the last 20 years creating exquisite weddings, anniversary fetes, State dinners at the White House and galas including the Met Ball. Among the crowd of friends and loyal fans at this glam cocktail party were Gayfryd Steinberg, Louise Grunwald, Nina Griscom, Linda Fargo, Pattie Harris, Caryn Zucker, Ray Kelly, Alex Papachristidis, Gayle King, Don Lemon, Martha Stewart, Rachel Hovnanian, Priscilla Ratazzi, Daryl Roth, Victoria Hagan, Carol Mack, Maria Bartiromo, Ellen and Bill Taubman, Robert Zimmerman, Michael Boodro, Jennifer Creel, Simon Doonan, Jamie Tisch, Josie and Ken Natori, Richard David Story, Cece Cord, Jamee and Peter Gregory,and many members of the Tisch family including Alice and Tom, Jamie, Meryl, Andrew, Ann and Lizzie.
Holding the event at the New York Public Library was a homecoming of sorts for Monn, as the first event he produced in New York also took place in its Astor Hall. After climbing the candlelit stairs, guests were welcomed by gospel singers from the Abyssinian Cathedral Choir lining the grand staircase and serenaded by Lisa Fisher and Cyrus Chestnut's sonorous vocals.
Inspired by a nighttime view of Monet's "River Seine," Monn designed a décor with 16 towering potted trees sparkling with millions of tiny lights, hand-painted murals and 40-foot high topiaries. Catered by Sonnier and Castle, Monn's favorite pigs-in-a-blanket were served as guests wandered through the vast hall, stopping to sample delectables at numerous food stations. At the end of the party warm waffles were on offer from a Wafles & Dinges cart. Some in the size-0 crowd even indulged in a few.