Photo Credit: Craig Mulcah
From Oct. 12-20 this year, the Hollywood elite descended upon New Orleans to attend The 27th Annual New Orleans Film Festival (NOFF). The fest opened with the U.S. premiere of Rob Reiner's LBJ, which was attended by stars including Woody Harrelson, James Marsden and Richard Schiff. Actress, producer and entrepreneur Jessica Biel was joined by her husband Justin Timberlake for the Spotlight Screening of The Book of Love. Celebrating its world premiere at the festival was Commanding The Table, a documentary with an inside look at Ella Brennan's New Orleans restaurant empire, The Commander's Table.The New Orleans Film Festival concluded with a special 25th Anniversary screening of Daughters of the Dust, where director Julie Dash received a career achievement award. Alas, the film fest is over—but there's always next year, right? Which is where we come in. We've curated a guide to the hautest places in New Orleans, so that your stay, like the city's nickname, will be The Big Easy.
STAY
There's no hotel that's more beloved by the Hollywood set—or, quite frankly, as luxurious—as the Windsor Court Hotel. It is not only the preferred stay of the stars attending the NOFF, but it's also a shooting location for several others and an Oprah Winfrey-preferred place to stay…and whose word carries more weigh that the Queen of All Media's? In 2012, this glamorous, 23-story hotel completed a $22 million restoration to its 316 guest rooms and suites as well as its Club Level lounge; reimagined its Le Salon; refreshed its signature restaurant, Grill Room; and added the Cocktail Bar and the Spa at Windsor Court. Guests will experience an awe-inspiring hotel that seamlessly blends traditional English décor with French Vogue, the hallmark of New Orleans. There are European antiques and period reproductions from the 17th and 18th century, high ceilings, intricate moldings, rich woods, beautiful marble and woven floor coverings. Essentially, it's stunning—and, as with all of our personal favorite hotel—you'll feel like you've stepped back in time.
LOCATION
You really couldn't ask for a better location. Windsor Court is located far enough from the crazy revelry of Bourbon Street and the trolleys of Canal Street in the Central Business District, though both are an easy Uber ride or a quick walk away. From many of the rooms, you'll see the Mississippi River;  west of the hotel is the emerging Arts District, followed by the antebellum architecture of the Garden District. The New Orleans Ernest M. Morial Convention Center, Audubon Aquarium of the Americas, Audubon Insectarium, National World War II Museum, The Ogden Museum of Southern Art, the Mercedes-Benz Superdome (home to the beloved NFL New Orleans Saints) and the docks for the legendary paddle wheeler tours are all within a 15 to 20-minute walk away as well.
THE ROOMS
If you fancy an old-fashioned stay—timeless, we'd call it—that still offers every possible modern amenity you can think of, Windsor Court is the place for you. The views from your private balcony or bay window are epic—especially the balcony rooms that overlook the Mississippi. If you're an early riser, you're in luck: the sunrises from these particular rooms are majestic. All rooms are decorated in a soft palette of colors that enhance the elegantly appointed furniture. Those who stay in a suite will find a spacious living room separated from the bedroom by French doors, a wet bar stocked with a European mini-bar, a dressing room adjoining the bedroom, a flat-screen television in both the bedroom and living room, and an Italian marble bath.  The rooms and suites also offer upgraded amenities, such as Frette linens; Spa at Windsor Court green tea lemongrass bath products; personalized evening turndown service; Keurig coffee makers; plush terry robes and slippers; and state-of-the-art electronics, including iHome docking stations, flat screen HD TVs and jack pack connections that allow guests to seamlessly connect their personal technology to the TV. The hotel also features a spacious Presidential Suite on the 22nd floor that has been home to A-List celebrities and dignitaries alike. At 2,700 square feet, the two-bedroom, two-and-a-half-bath James J. Colemen Presidential Suite features beautiful furnishings, original artwork, two private landscaped terraces and a baby grand piano played by the likes of Billy Joel. The Presidential Suite features all the needs of a home away from home including a library, dining room, two living rooms, a Butler's pantry and a full entertainment center. Those who stay on floors 19-22  also have access to the newly renovated Club Level Lounge, a gorgeous and elevated experience where guests can enjoy extended continental breakfast, traditional English afternoon tea, and evening cocktails, hors d'oeuvres, desserts and cordials while gazing out at the peaceful Mississippi.
DINING
There's a quintessential elegance to a meal at The Grill Room, which offers fabulous fare in a quietly elevated environment. Again, this isn't the New Orleans you've heard about: it's a timeless eatery where men wear suit jackets and women balk at the idea of denim at dinner. The restaurant seamlessly blends New American cuisine with flavors of the Gulf and New Orleans. Stand-out items that manage to appeal to both include the Louisiana Sweet Potato Bisque, a decadent delight of crawfish, mascarpone and crisp sweet potato skins; seared foie gras with pistachio financier, strawberries, pickled watermelon rind and black currant caramel; hijiki spiced grouper served with swiss chard, sweet potatoes, roasted tomatoes and sauce piquant; and lamb rack with couscous, oven-dried tomatoes, scallions and lamb brodo. The restaurant also offers an award-winning, 600-bottle deep wine list. The Coravin 1000 System allows the restaurant to access, pour and serve wine without removing the cork; it is one of the only restaurants in the city to provide the service. Here, you'll also find, as with the best of New Orleans, live music nightly by the city's hottest musicians. A Sunday jazz brunch can't be missed.
Elsewhere on the property, make sure to check out  the Polo Club Lounge, which is reminiscent of a private English club, decorated with dark woods, deep-red carpets, drapes and sofas, intimate lighting and overstuffed,
decadent leather furnishings; Cocktail Bar, where master mixologist Kent Westmoreland will whip you up an original craft cocktail grounded in pre-prohibition themes; and Le Salon, where you'll be able to experience a whimsical afternoon tea thanks specialty themed teas, from Etiquette and Mad Hatter to Prohibition and Halloween.
RELAXATION AND WELLNESS
The 4,500-square-foot Spa at Windsor Court is exquisite. There are eight treatment rooms, including two wet rooms and one couple's treatment room, and facilities for salon services such as hair, nails and waxing.
It's decor is traditional English manor meets modern-day muse, with Swarovski crystals lining the ceiling and mother-of-pearl tiles to lend some extra glamour. and additional warm accents.  Even better, the treatments are royalty themed! Our favorite indulgences include the Regal Retreat—a detoxifying treatment that begins with dry brushing of the body to release toxins, followed by an invigorating full body scrub and steam shower to slough all the unwanted dead skin from your body; the transformational effect finishes with a stimulating ginger oil massage and spine revitalizing mask—which is just perfect for those who've had a big night out after celebrating the film festival. Similarly, the Refined Heir oxygen facial will have your skin looking revitalized and refreshed.
In addition to a pool with skyline views and fitness center, Windsor Court now offers, as of this year, the services of Sweat Social, the first and only fitness service company designed for "fitsetters" – jetsetters who care about their health and fitness goals while on the road. There are two different bespoke experiences to choose from: running tours and fitness events. The running tours lead participants on a stride through time and history, taking a breather at historical points of interest and incorporating authentic tour guides ready to captivate their audience with memorable insights into the famous history and people of New Orleans. Designed by The Sweat Social exclusively for Windsor Court, the fitness events include Pilates, strength, yoga, cardio and core in a relaxed, yet fun environment, and the workouts are rounded out with a refreshing custom cocktail.
ART
Upon first arrival, you'll see John W. Mills' sculpture of the dragon-slayer St. George, the medieval symbol of chivalry and valor, which is the precursor for one of the best art collections anywhere in the city. Here you'll find a museum quality collection of paintings, sculptures, tapestries and furnishings dating from the 17th to late 20th centuries, with pieces displayed throughout the property, with an estimated value of more than $8 million. In addition to works by Reynolds, Gainsborough and Huysman, guests can experience firsthand "King Charles II's Last Sunday," a painting by William Powell Frith, that hangs in the lobby near the front desk. On the second floor adjacent to the Polo Club Lounge, guests can view works of art such as Sir Joshua Reynolds' Portrait of Captain William Saltern-Wylett, RN and Viscount Linley's (nephew of Elizabeth II) Marquetry Scene, which is a view of the Queen's private rose garden at Windsor. And, inside the Polo Club Lounge sits the George V Cup, a trophy presented to the 1910 winner of Ascot. Also on the second floor along Nash Hall are 25 hand-finished chromolithographs of Windsor Castle's private and State apartments by Sir Joseph Nash as commissioned by Queen Victoria in the mid-nineteenth century. Gracing the walls are also two notable depictions of Windsor Castle, including a fine 1885 painting by W.R. Stone, and Windsor Castle from the Thames, painted by Thomas Gainsborough, RA. In the Palm Court, guests can view Sir Anthony Van Dyck's Queen Henrietta Maria (consort to Charles I).
AND THERE'S MORE
Even your pooches are pampered at Windsor Court: your four-legged friends are provided with a plush dog bed, placemat with a food and water bowl, and area walking map. We also absolutely need to mention the most decadent of desserts, that was offered here this year in celebration of the Queen's 90th birthday to the tune of $90,000 (yes, you read that right). Pastry Chef Shun Li created an edible 24k gold-encrusted dark chocolate fondant cake with a raspberry and passion fruit sauce, which was made with Cristal champagne and topped with gold chocolate, gold covered strawberries and  a gold-and-chocolate crunch.The topper, of course, is what made the price tag so high: a 3.95-carat oval ruby ring surrounded by 1.95 carats of diamonds, set in 18k white gold.
DINE
Although it might be hard to venture away from such a picture-perfect hotel, New Orleans is known for having some of the best food in the world—so get going! The perennial, long-standing favorites are Commander's Palace (which, as you might remember above, was even a subject of this year's film festival) and Emeril's, the first and favored eatery of world-famous chef Emeril Lagasse. Lagasse's famed flagship restaurant is housed in a renovated pharmacy warehouse in New Orleans' Warehouse District and serves up pure, New Orleans-style cuisine with chef de cuisine David Slater at its helm. Signature items include Emeril's New Orleans barbecued shrimp, served with a petite rosemary biscuit; cast-iron baked escargots; an adouille-crusted drum served with glazed pecans and Creole meunière. VIPs can dine at the Chef's Table, an intimate set-up for four, completely hidden from the prying eyes of the dining room guests. Those who love Lagasse are in luck: in addition to his plethora of NOLA eateries, he also just opened Meril, his first NOLA eatery in 18 years, inspired by his international travels .Elsewhere, make sure to try the Ace Hotel's weird but wonderful Josephine Estelle, an Italian and Southern-inspired fusion eatery; Josh Besh's takeover of iconic locale The Caribbean Room; and Peche, a coastal seafood haunt with a unique, modern approach to old world cooking methods from award-winning Chef Donald Link. Although it's touristy, Cafe du Monde's coffee and beignets still hold a special place in our hearts—and stomachs.
PLAY
Photo Credit: GNOTCC, Ron Calamia and NewOrleansOnline.com
Anyone who has even heard of New Orleans likely has heard that the city is famous for three things: Bourbon Street, Magazine Street and live music. While there's so much more to the city than that, you wouldn't be wrong. Festival-goers from Hollywood will want to stay away from Bourbon (it's much easier to get noticed) but you might want to explore the hidden enclaves or Frenchman Street, where anyone can wander into a plethora of nightclubs and find world-class big-band music, jazz and brass brand affairs every single night…and no one will care who you are, they'll be far too into the music to notice. For shopping, head to Magazine Street in the Garden District, where you'll be able to shop 'til you drop for antiques or at tiny yet adorable fashion boutiques. To get into the spirit of things (especially given that the film festival is close to Halloween-time), we suggest taking a nighttime ghost tour and checking out, as many of you did during the fourth season of American Horror Story, the real-life horror house of Delphine LaLaurie, as well as the tomb of voodoo priestess Marie Laveau in St. Louis Cemetery No. 1.
New Orleans 1
Justin Timberlake and Jessica Biel at the New Orleans Film Festival
Photo Credit: Craig Mulcah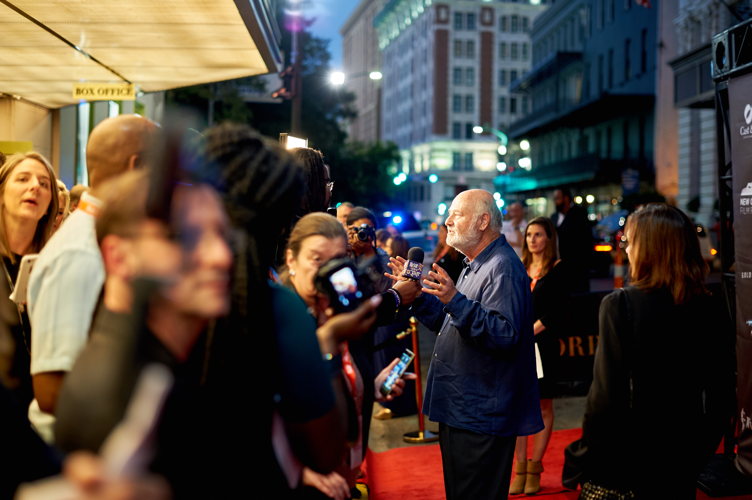 New Orleans 2
Rob Reiner attends the New Orleans Film Festival
Photo Credit: Craig Mulcah
New Orleans 3
The Grill Room at the Windsor Court Hotel
New Orleans 2
A suite at the Windsor Court Hotel
New Orleans 5
Windsor Court Spa
New Orleans 6
Polo Club Lounge at the Windsor Court Hotel
New Orleans 1
Windsor Court Hotel lobby
New Orleans 23
Royal Street New Orleans
Photo Credit: NOTMC
New Orleans 9
The private dining room at Commanders Palace
New Orleans 11
Commanders Palace
New Orleans 18
Cafe du Monde beignets
New Orleans 17
Cafe du Monde exterior
New Orleans 19
Shopping on Magazine Street
New Orleans 15
Live music is a big part of the New Orleans culture
New Orleans 16
Canal Street trolley
New Orleans 20
St. Louis Cemetery No. 1
New Orleans 21
The St. Charles Street streetcar
New Orleans 22
Jackson Square