Born in Kenya, Julius Mutava started showing his culinary inclination at a tender age, working closely with his mother who he has noted has been "my greatest Inspiration." At the age of seventeen, Julius knew that his future lay in the culinary arts and decided to pursue his passion for good food.
After graduating from Top Chefs Culinary Arts Institute in Kenya (an affiliate of the Hotel & Tourism Management Institute of Switzerland), Julius began his Lustrous career at Nairobi Serena under Chef Roy Kinyua and Serena Beach Resort and Spa in Mombasa. In 2008 he went to join the kitchen brigade at Garden Court East London and rose steadily through the ranks.
Julius then decided to move back to Africa and embraced his roots, joining the prestigious Tsogo Sun Group in Johannesburg, South Africa, to open up the Southern Sun Hyde Park in Sandton as Breakfast Chef. During that time, he trained under Chef David Van Staden the Group Executive Chef of Southern Sun, Chef Billy Gallagher the SACA President and Renowned London Chef Simone Zanoni. Julius was also involved in the opening of Southern Sun Ikoyi in Lagos, and the Southern Sun Dareesalam, Tanzania.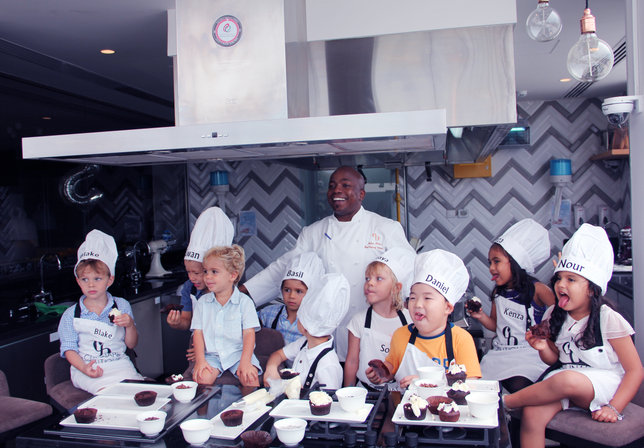 In 2010 Julius joined Prime Catering, a high end Canadian-based catering company, where he developed an appreciation for the country's vibrant culture. He would later on move to California and was involved in the revamping and opening of a fine dining restaurant.
In 2012, Julius decided to take on a new challenge and moved to Dubai where he worked as an instructor in a local cooking school, sharing his joy and passion for cooking with others. At this point he would train with Chef Cristobal Ruiz, formerly of Noma Copenhagen, and gain immense experience. During his tenure Julius was part of the team that won the Two Hat Restaurant Award in 2013.
In 2015, Julius took the up the position of Head Culinary Instructor at Culinary Boutique Dubai which is a Gourmet Café, Cooking School and events venue which he says, "Oozes with finesse."
Julius's outstanding career highlights so far include:
– Certificate for Outstanding Service at the Chaine de Rotisseurs, Kenya
– Kenchic Cooking Competition
– Recognized for Outstanding Catering Services by the Tsogo Sun Board of Directors
– Head Moderator for Rational Group at 2014 AND 2016 Gulfood
– Judging & Moderating a team of 130 cooks at Daimler's Culinary Extravaganza 2014
– Sony TV's 'Flavors of Ramadan' Season 2, 2014
Tell us about your personal experience of being a Culinary Instructor here in the Middle East.
Wow…It's quite challenging and fulfilling at the same time, I moved to Dubai a few years back and I had to adapt and learn very quickly as this was a different ball game, it's been worth each and every learning curve.
Why did you decide to work here in the Middle East?
The Hospitality industry in the UAE as a whole has been growing and still is at a very fast rate so when an opportunity presented itself I took a leap of faith and Seized it, enjoying every single bit; I'm still learning and garnering immense experience in the Culinary Industry.
For those not familiar with Culinary Boutique, what region is your culinary style/teaching methods modeled after?
Our Gourmet Café serves Mediterranean Cuisine with a touch of Asian twist and flair…. In regards to the Classes, we offer not just a class but an experience. We have over 148 clusters of classes ranging from (just to name but a few) Essential knife skills, Steak Master, Authentic Emirati, Peruvian Classics, Mexican Flair and A Night of Paleo……the list is endless and we've got everyone Covered. The main Cooking Class (Ace Kitchen) is a State of the Art Modeled kitchen where each individual work station is provided enabling you to be able to replicate the recipes taught by your instructor. When it comes to teaching at Culinary Boutique we take a whole different approach in the sense that we like to see our Budding Culinarians get to grow and as we delve deeper into recipes we make them understand (be it home cooks, be it mums, dads or kids) and see Culinary Arts as we see it, the reasoning as to being compulsive about the consistency of every trace of sauce on a plate, every clove of garlic, every slice of fruit or potato to every fresh sprig of herb.
What has been your impression of the local food scene over the years here in the Middle East?
Was wondering when we would get to this…….The local food Scene has grown immensely, you have to agree that every turn you take it doesn't matter where you are there has to be an eatery-whether it's a shawarma joint, A boutique café or high end restaurant you'll never miss a place to grab a bite. The addition into the Food Scenery of restaurants and high end food concepts in UAE being run by critically acclaimed Chefs has catapulted the culinary scenery to a whole new level from Chef Jason Atherton, Chef Richard Sandoval, Chef Pierre Gagnaire, Chef Yannick Alleno to Chef Gary Rhodes they've just upped the game to a whole new level….Hopefully Someday will See Chef Gaston Acurio (La-Mar in Miami) Chef Daniel Humm (Eleven Maddison Park in New York) and maybe even Chef Thomas Keller (Per Se in New York and the Bouchon chain in America) will descend to Dubai.
When you manage to find a little time to step away from The Culinary Boutique, what are some of your favorite spots to dine or socialize?
My ultimate chill out will be Kiza in DIFC_ the African themed and inspired Lounge is totally soothing and the 101 dining Lounge and bar-the view is totally on point.
What is your favorite restaurant, besides the one you work at?
Without a doubt Gardens at The JW Marriott Marquis Peruvian and more of it.
If you had not pursued a Chef career or the life of a Culinary Instructor, what do you think you would have been?
I believe I would have forged a Career in Journalism.
What three ingredients you MUST have in your kitchen?
Sea Salt, Garlic and Honey.
Are you launching any new projects in the near future that you'd like to share with us?
Yes we are…..Not disclosing Much you need to look forward to the New Cooking Classes that are about to be added onto our Schedule and dining at Culinary Boutique.