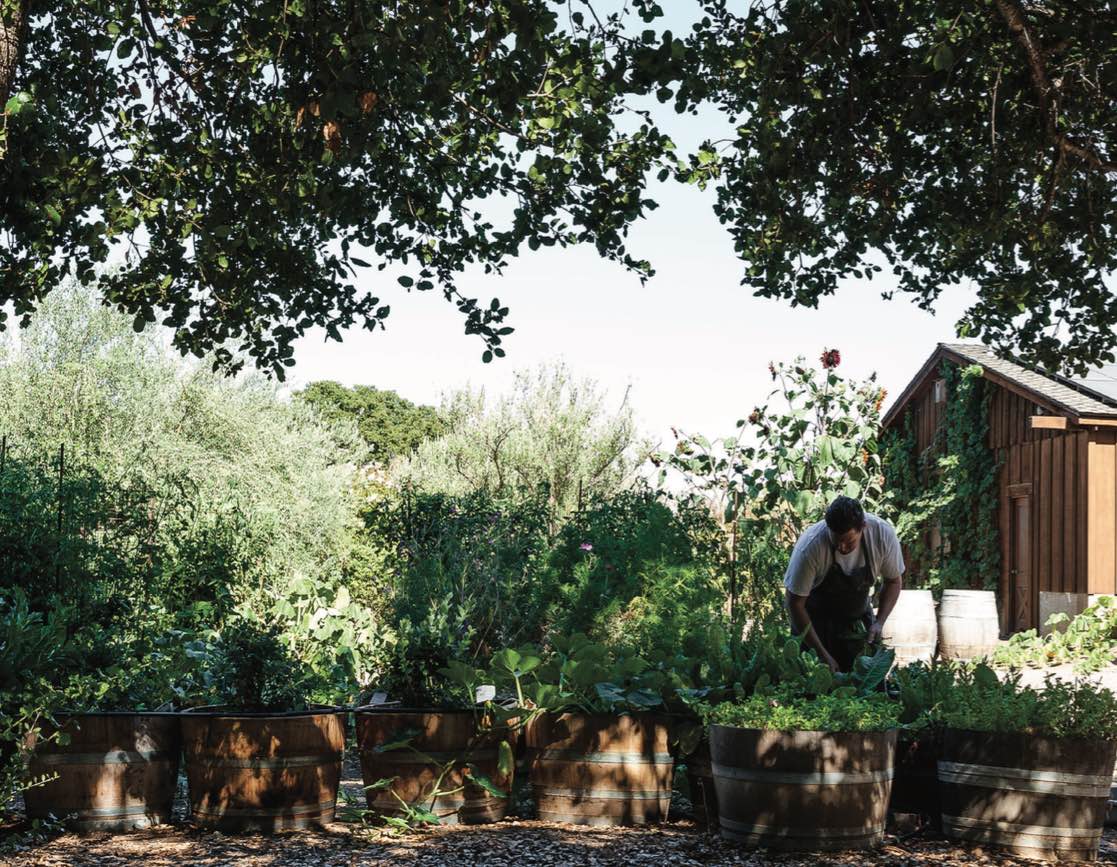 Photography by: Kristian Melom
The Michelin-starred restaurant Plumed Horse may seem out of place in a quiet suburban town like Saratoga, California, with its happening 60-seat lounge; a massive bar and fireplace; a beautifully inventive 80-seat dining room; and a nearby garden with fresh herbs, vegetables, flowers and fruit that find their way into the restaurant every day. Yet the Plumed Horse has been around since 1952, and for the past nine years—under the expert helm of chef Peter Armellino—it has flourished as a fine dining destination, winning a Michelin star every year from 2008 to 2016.
A self-described "fat kid who loved to eat," Armellino, now a slimmed-down sophisticate, refined that appetite through a lifetime of cooking and an impressive résumé that shows stints at New York's Gotham Bar & Grill and Gramercy Tavern and at San Francisco culinary touchstones Jardiniere, Aqua, and Campton Place. In 2007, Armellino and renowned San Francisco designer Walid Mando turned the local restaurant into a sleek and sexy Silicon Valley haute spot.
Former Oracle CEO Larry Ellison is rumored to host a regular wine club at the Plumed Horse and no wonder: Armellino won the Wine Spectator 2015 Grand Award, which the venerable magazine bestows, it says, on "restaurants that show an uncompromising, passionate devotion to the quality of their wine program." And in 2016, Wine Enthusiast magazine named it one of America's Best 100 Wine Restaurants. The Plumed Horse keeps 16,000-plus bottles of recherché wine in a beautiful three-story glass cellar to accompany Armellino's wildly delicious contemporary California cuisine built with innovation and precise technique. Think caviar in crispy cones, roasted oysters with bone marrow, Parmesan soufflé with uni fondue, and abalone with stinging nettle risotto. The chef cooks with only the most luxurious menu items and sources the ingredients—among them, Hudson Valley foie gras, Maine scallops, New Zealand king salmon, and Coachella Valley corn—from all over the world. As the Plumed Horse inches toward its 10th anniversary on the eve of the South Bay's most illustrious event, the Pebble Beach Concours d'Elegance, we sat down with Armellino to learn how the acclaimed chef manages to keep so many balls in the air.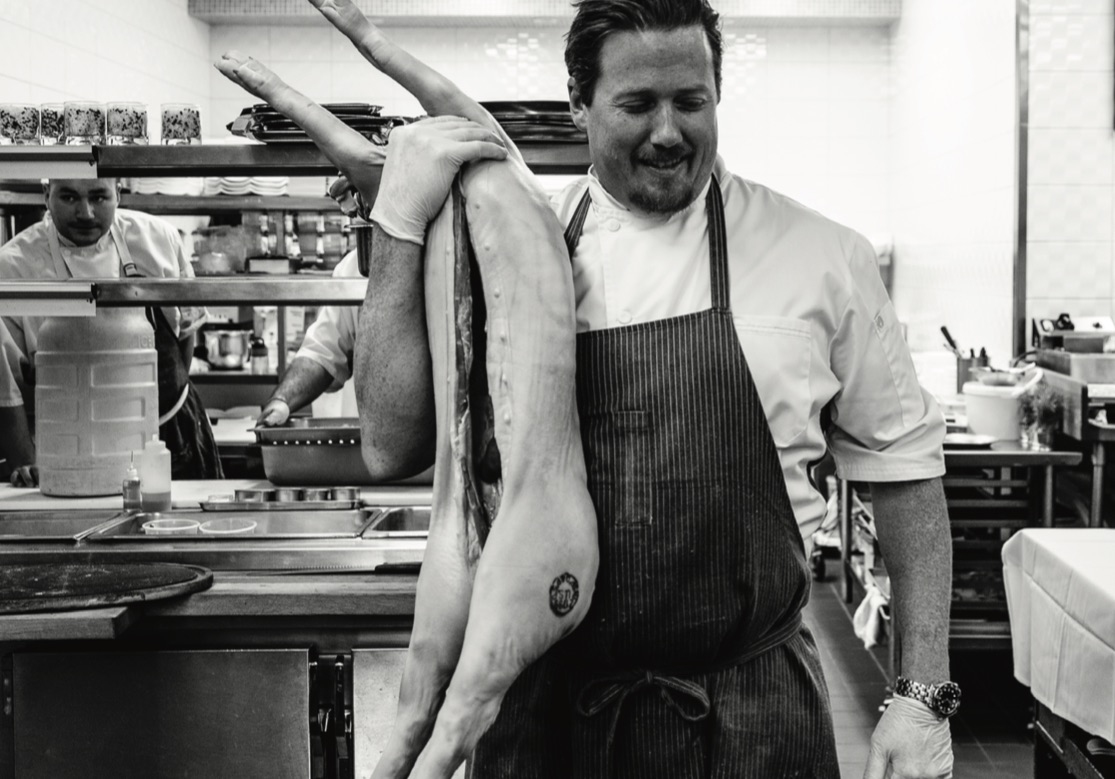 You've worked at some pretty impressive restaurants. How did this résumé prepare you to stand alone at the Plumed Horse? Who did you learn the most from?
I started working in professional kitchens at the age of 15. I have been a student of the restaurant business most of my life. What has helped me most in regards to the Plumed Horse are the chefs who took the time to expose me to new ingredients and techniques and shared their passion for cooking and excitement for food. To list one chef and say that person was responsible would be a lie. But to everyone I've been lucky to work with, I am truly grateful.
You've been running the kitchen at Plumed Horse for nine years. How do you keep things fresh?
I push myself to go outside of my comfort zone and try new combinations and ingredients. I find inspiration from some of my regulars who dine with me so often that I must create new experiences for them.
What are some of the things you have learned over the years?
Patience and allowing people to make mistakes and being able to help them learn from the mistakes. Trying to be a mentor and a supporter rather than only pointing out flaws or missteps. I always say, "a happy kitchen makes better food."
What inspires you? How do you create your tasting menus?
The usual stuff: walking in the garden, traveling, memories, music. For the tasting menu, first I list what's in season and what I want to work with. Then I try combinations that I haven't used. Next, I sit down with my staff and go around the table and get everyone's opinion before making my decisions.
You have one of the most extensive wine lists in the United States. How often do you work with the wine team (Wine Director Jeffrey Perisho and Sommelier Joseph Karakas) to make food that will pair with a special bottle? How does this process work?
Jeffrey has done an amazing job of curating one of the greatest wine lists in the world. He and I work very closely together on the wines for the tasting menu pairings as well as for wines by the glass so that any of my dishes can be paired with something we offer by the glass. I also take the time to tweak a dish as needed—such as adding acidity or savoriness to pair with a particular wine.
What is the one dish you'll never take off the menu at Plumed Horse?
The Parmesan and black pepper soufflé with Dungeness crab and sea urchin. We took it off the menu for two weeks in 2008 and almost had a revolt.
Were any dishes complete disasters?
Yes, a doughnut dish called jalapeño poppers, which had some doughnuts filled with jalapeño jelly and others cream cheese. It just didn't work.
Who has been your most surprising customer?
The Plumed Horse has been a restaurant for over 60 years. It was a restaurant that was loved by the locals and regulars. When we took over in 2007 and completely remodeled, updated, and reconceptualized the menu to be contemporary Californian, I was convinced that we had alienated our base. However, they embraced the change and appreciated the fact that we took the restaurant to new heights and have never looked back.
Why is it important to you to participate in charity events?
Restaurants carry a large portion of the burden of making the events for these charities successful. I am often asked by other chefs and community leaders to support their passion projects. We certainly like to support other chefs and the people that support us.
What is the difference between cooking in San Francisco and cooking in the South Bay?
San Francisco is still one of my favorite cities in the world, but nothing is better than having a farm less than a mile from the restaurant that I can visit every day and grab vegetables and find inspiration and ideas from based on what's coming into bloom and what's ripe. I also feel very connected to local markets and artisanal farms that surround Silicon Valley.
Where do you like to eat in San Francisco and the South Bay?
I have so many favorites—mainly every place I ever worked, such as Village Pub and Jardinière. I do miss Aqua [which closed in 2010]! I'm also a freak for pizza, so I always go to Tony's in North Beach and Delfina in the South Bay.
What's next for you? Do you hope to get another Michelin star?
I'm pretty happy with my restaurant being what it is, but I will continue to challenge myself, my staff, and our guests. Yes, a second star would be euphoric, but I won't let it define me as a chef or us as a restaurant.