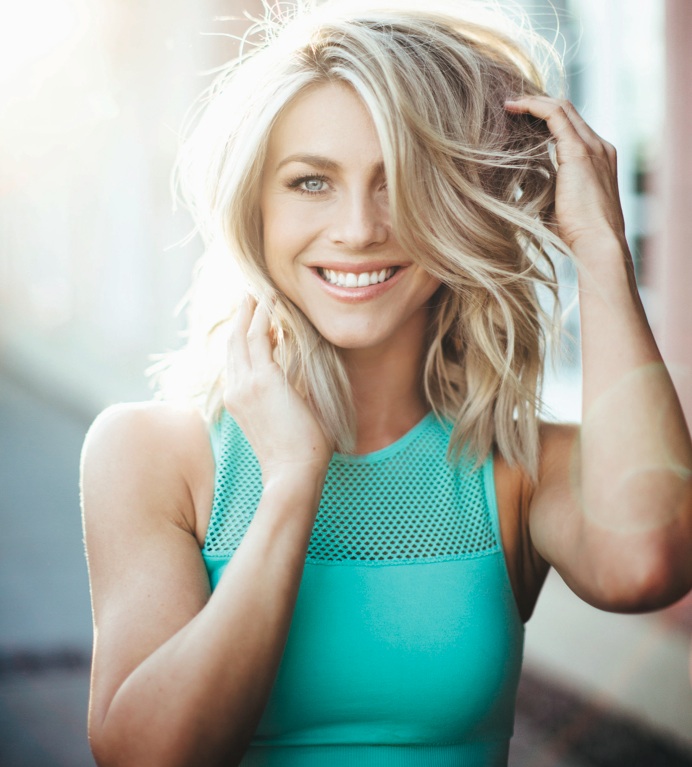 Photo Credit: MPG Sport
It's 1 P.M. on a Tuesday and Julianne Hough has already made her fiancé, NHL player Brooks Laich, do two workouts. Not that he can't handle it. In fact, the hard-bodied Toronto Maple Leafs player seems to welcome the double duty, given that he has not one but two opportunities to see his lady love in the sexy workout clothing she helped to design.
For their morning SoulCycle session, the Dancing with the Stars alum donned high-waisted mesh leggings and a sexy racerback crop top from her fashion-infused, yoga and dance-inspired collaboration with MPG Sport. For afternoon power yoga, the leggings were replaced with much scantier booty shorts.
But which, pray tell, did Laich prefer? "Babe!" she calls to her fiancé, "Which outfit did you like best, SoulCycle or yoga?" This one is kind of a no-brainer. "Yoga!" he yells back. "It's skimpier." Skimpy as that one might be, the designs are all completely authentic to Hough's lifestyle. "I get up in the morning and work out, and then want to run errands quickly or have a meeting and then [do] a dance class. A lot of times, especially living in L.A., getting back to your car and going home and doing all of that stuff is so time-consuming," she explains. "I wanted to be able to create and collaborate with somebody who had that type of 'athleisure' wear that you can mix and match with performance gear. I wanted it to be really cute, too," she adds with a laugh. "I think it's a huge confidence-builder, looking good while you're working out. You want to feel good going into it."
Hough has completely achieved her goals here. The collection of leggings, bras, tops and light outerwear isn't just sultry and eye-catching, it's also functional: the pieces place emphasis on four-way stretch, moisture-wicking, breathability and quick-dry mesh ventilation to enhance ultimate comfort and maximum workout execution.
Even better, the line does triple duty by playing into another one of Hough's strengths: philanthropy. Her designs benefit the Mondetta Charity Foundation, which performs great work for Ugandan and Kenyan children—in partnership with the Kamwokya Primary School in Kampala and New Life Home Trust in Madogo—to provide education, nutrition and health initiatives.
Hough, who also works with Kind Campaign, a non-profit organization that brings awareness and healing to girl-on-girl bullying, describes herself as "hands-on" in all of her projects. She also applies that same level of dedication when it comes to her workouts. "I think the 'process' is just as fun as the outcome," she says, adding, "I've always loved the work that it takes to get to your goal."
That said, the 27-year-old doesn't have any particular goals when it comes to personal preparation for her impending nuptials. "I don't think I'll go on any special diet or workout regime before my wedding because I don't want to look so different and then have great pictures and be like, 'Oh, that's what I used to look like for a week,'" she says. Instead, Hough plans on continuing to exercise like she always has. "I work out at least five times a week—sometimes six times if I'm feeling courageous. Even on weekends, I try to be active, whether it's going on a hike with my girls or Brooks."
Exercise is an essential part of her life, for sure—not only keeping her in shape, but keeping her sane. "[Working out] is definitely as much for my mind as it is for my body. I feel like a completely different person if I don't work out," Hough maintains. "We're going through this thing with our dog right now. She's whining and not her normal self—I think because she hasn't been very active. That's how I get. If I haven't been out of the house or done something active, I get depressed and I'm like, 'What's wrong with me?' The minute I go to a class or workout, I'm back."
So it's (workout) business as usual—minus dieting—for the TBD wedding date. Why set herself a weight-loss goal when her only true wedding objective is unbridled fun? "We're going to just have a big ol' dance party. We're both like, 'Yeah, no beaches, nothing too formal.' We will, for real, have the best dance party ever."
In fact, a month after announcing their engagement last August, the two threw a party to celebrate it over Labor Day weekend that Hough describes as "the most fun night ever." She continues, "They were hauling the furniture out of the place— because it was rented—at 3 o'clock in the morning [while] we were still dancing."
As for the wedding itself, she admits that they haven't decided on much—aside from the location, that is. "I changed my mind like 10,000 times. We really haven't started anything else yet— just the idea and the concept of what we want. We're still really far off." She adds with a fond laugh, "Brooks said [to me], 'I think it's going to fall into place, babe.' Yeah, it will—with a lot of planning from me!"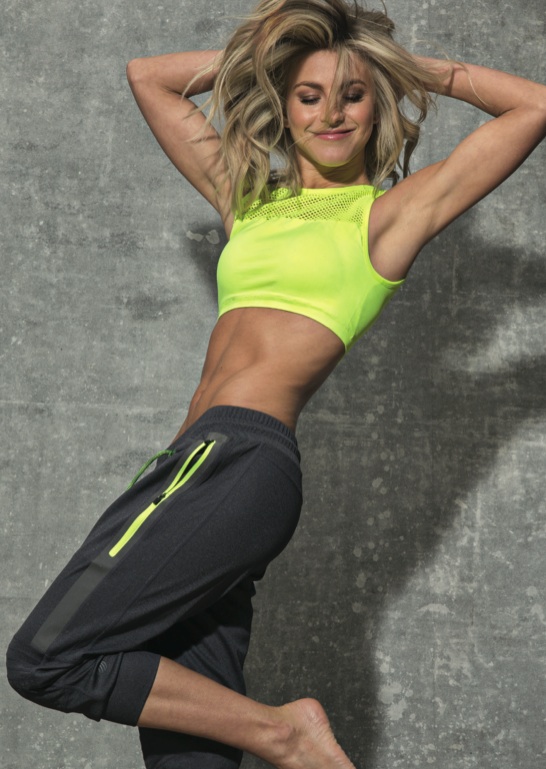 Photo Credit: MPG Sport
WORKING IT OUT
Hough first rose to fame in 2006 as a dancer and choreographer on ABC's popular reality show, Dancing with the Stars, appearing for five seasons—and winning two—before branching out to acting and singing. She signed with Universal Music Group Nashville's Mercury Nashville division and starred in a series of films, including 2011's Footloose reboot, the Hollywood adaptation of the Broadway hit Rock of Ages, alongside Tom Cruise and Mary J. Blige, and Nicholas Sparks' romantic tearjerker Safe Haven, opposite Josh Duhamel. That same year, she returned to her roots, guest judging DWTS in place of Len Goodman, and became one of the show's permanent judges in the year following. She recently announced she would not be returning for the 22nd season.
While going back would be the most natural move, and the easiest, Hough isn't seeking easy—she's looking to challenge herself and move in a different direction. "I'm definitely focusing on film and television, trying to think about the next part of my career and where I'm going," she says. "Not to say that [a return to DWTS] might not ever happen, but it's definitely not a priority right now. They're my family and I'll always be a part of it somehow, at some point. [But] I'm really focused on the next chapter of my career and life and building a brand."
In addition to entertaining, which is—let's face it—in her blood, Hough is also focused on developing projects for herself.
"Growing up, being a dancer and choreographer, that was [a big] part of my life—creating something out of nothing," she states. "There's so much joy and fulfillment when you get to see an end result and an end product. [I'm] trying to be innovative and create my own path, rather than just do what somebody else did."
Hough, who recently starred in Dirty Grandpa alongside Zac Efron and Robert De Niro, as well as Fox's live presentation of Grease this past January, is looking to take control of her career in a way she hasn't before. "When I was younger, [I thought], 'What's next?' I mean, I definitely tried to strategize, but I was not as wise."
She's adamant about one thing regarding her future path: "I don't want to settle for anything else," she says firmly, noting, "I'll have been in L.A. ten years in August. It's hard coming here. When you're a kid, you're like, 'Yeah, I'll take any risks and I'll just go for it.' L.A. and Hollywood and the career I've chosen, it kind of wears on your childlike dreaming a little bit and so you get complacent. Now I've got to be able to pay rent."
What Hough wants most of all is to return to the point of being fearless about her future. "I'm kind of realizing that I need to find that child again and just go for things, take risks and be adventurous. My 18-year-old self had $2,000 when I moved out here. I just always thought I'd figure it out, and I did. I have to have that same mentality now as I'm getting older so that I don't just play things safe, so that I do things that really excite me."
As she sets out on an entirely new journey—a smart career path, marriage and potential motherhood—she acknowledges that life is pretty good. "I think now I'm in a place where I really only want to do things that are fun and make me happy. That could be a dramatic role and something serious, but it has to be something that I'm passionate about."
These words make sense coming from a woman who clearly plays as hard as she works—and works out.