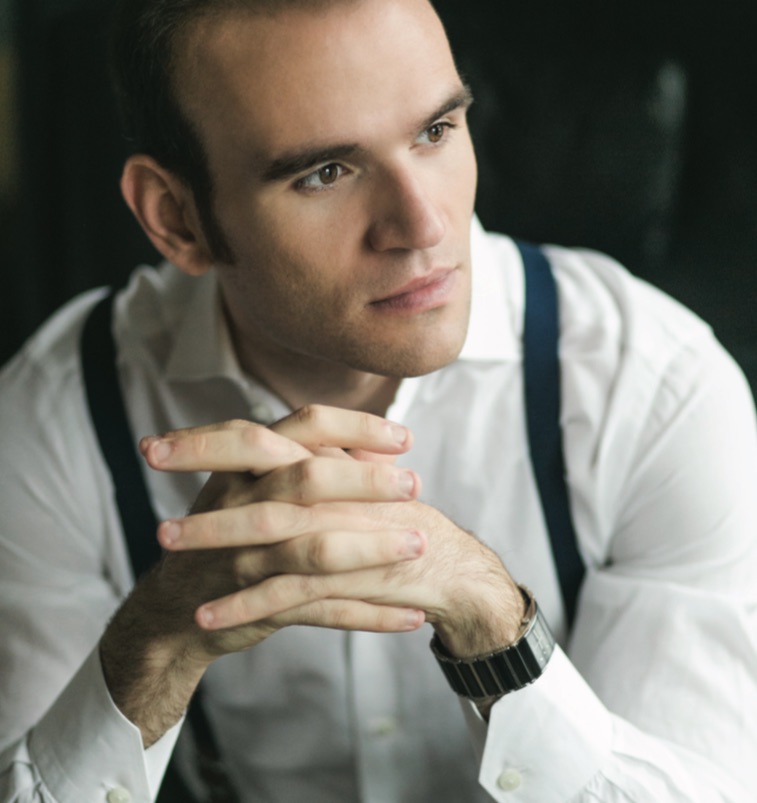 Photography by: Arielle Donelson
Michael Fabiano might not be a household name, but if the brilliant young tenor has anything to do with it, that will all change in the next 10 years. Now 32 and already considered one of the greatest tenors in the world, the headliner believes that opera can become more mainstream and he's determined to make it so, one performance at a time. In town performing Don Carlo with the San Francisco Opera in late June, he told us one recent warm day in the city that "when we watch major films or television shows, we hear classical music. Classical music is much more in our lives than people realize. We need to show why it's relevant and make it more popular—and I intend to do that in the next couple of years."
If there is anyone who could somehow entice the world to listen to more classical music, it's the handsome singer from New Jersey. The San Francisco Chronicle calls him "the hardest working opera singer in show business," a singer "with a muscular and mellifluous tenor voice." Of his performance in I Lombardi, the New York Times said that what everyone seemed to be thinking when the ovations and shouts subsided "might have been summarized in a Twitter post: 'Michael Fabiano OMG.' " Not only is everyone raving about his moving performances, but in 2014 Fabiano was the first person ever to win the Richard Tucker Award and the Beverly Sills Artist Award in the same year.
Serious, focused, eloquent, and driven, Fabiano spent four years preparing for his debut role as Don Carlo. After the show's run, he's jetting to Madrid to perform in I Due Foscari at the Teatro Real, but the Bay Area will hear the passionate singer again this summer at Festival Napa Valley's Opera Gala. Fabiano is the headliner there, on July 24, at the Lincoln Theater, where he and American mezzo-soprano Isabel Leonard will perform a series of solos and duets. Although he has little time for talk—last year Fabiano traveled 315 days for work—we had the rare opportunity to engage him in a spirited conversation. Here is what he had to say about opera, baseball, and more.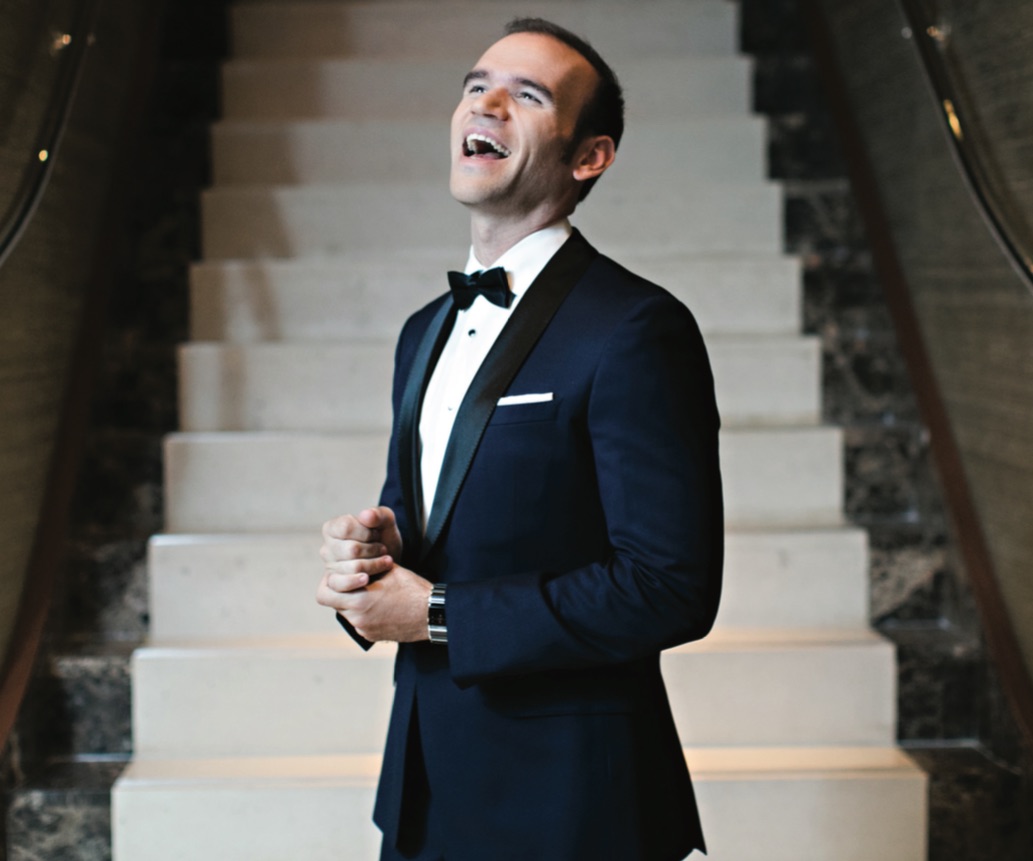 You travel all over the world to perform. How do you have time to prepare for a role?
Wherever I am, I do my best to get a piano inside my house. I have my assistant, who is with me a large part of my time, who works on music with me and does the clerical work that I don't have time to do. I'm studying multiple hours of the day. I'm always keeping busy but have people around me to support what I do. When I first get a role, I take a score, I open it up, and I sit at the piano. I read the libretto, the text, and any relevant literature to get a grip on the characters. There is history that tells you about the actor and players in a certain work, and I like to study it. If I just based my work solely on the music and the opera, I'm not so sure I would have a full understanding of the opera. I spend a lot of time reading. It's crucial to completely understanding the text. The syntax is very important—it's something forgotten by a lot of musicians, but not me. With Verdi, Mozart, and classical composers, there can be a series of words in an odd order. I have to decipher the order to see what is being said. I have these pages and notes around the house. I reorganize the pattern of the words. In order to understand the actual syntax, I figure out the phrase, then think about it in English, then sing it as it was intended to be sung, but with the proper meaning.
We understand that you love performing in San Francisco. Why is that?
You know, what is so great about SF is that it's a laid-back city. It's one of the pinnacles of creativity and tech in the world, which makes it a great synthesis of good ideas. When I'm in San Francisco, I'm around interesting people. They are not in a hurry in the same way that people in New York, the East Coast, and Boston are in a hurry. It's nice because I can slow my pace down while I'm here.
How does it feel to be a part of the final season of David Gockley [the 72-year-old general director of the San Francisco Opera who is retiring]?
David gave me one of my first major breaks as an artist, and I am very grateful and indebted to him. He believed in me when other people were still suspect about my talent. Believing in a young singer is kind of like going to a casino and throwing odds or evens on the roulette table: Sometimes the bet does not pay and sometimes it does. David put a big bet on me and I delivered for him; I have delivered consistently for him since that first gamble.
What is your favorite role to sing?
Right now it is Don Carlo. I've been studying it for four years. I've been kind of waiting, not anxiously, but excitedly, and it's such an honor to be playing this role here in San Francisco. It's an honor to be such a part of the production, and it gives me great inspiration.
What is one role that you've never sung, but want to?
Un Ballo in Maschera (A Masked Ball) by Verdi is another great opera that I've always wanted to play in.
If you were to perform at only one opera hall for the rest of your life, which one would it be?
Well, do I have to choose just one? It's actually a close call between the San Francisco Opera and the Metropolitan Opera. Both are generous to singers, have wonderful orchestras and wonderful theaters. They both have generous patrons and an adoring public, with both new and traditional audiences. It's tough to say. I don't want to say one and then hurt the other theater, when I love them both.
Where do you like to go when you are in San Francisco?
The Presidio. I like to go to the beach. If I get the opportunity, I fly to Monterey or Sonoma or Napa. I like to see the water—that's what is most important to me.
Most performers and even professional athletes are superstitious when it comes to performing or competing. What are your pre-show rituals?
I try to pray. I always say a prayer before I go onstage. It's more of a meditative thing. I usually do it somewhere quietly right before the show starts. That's about it.
It's been an exciting year for you. How do you stay grounded?
Um, well, I don't think about it. I don't need to try and become grounded because I am grounded. People have asked me: 'You're having lots of success; what does it feel like?' I don't think about it. I simply am. The minute I start thinking about things like that, then I will get lost in the weeds and will not be able to see the whole big picture.
How do you celebrate your accomplishments?
I am lucky to have some wonderful family members that share some wonderful moments with me. Accomplishments are important, but I am more focused on the wellness and happiness of the audience that I serve. It's not a self-aggrandizing thing. It's an act of duty to serve others. The audience comes to escape daily life and to witness something that they can't do and if they do do it, they enjoy [the experience] thoroughly. I understand the financial burden to have this type of experience, which is why it's my important responsibility to fulfill this catharsis. Music, culture, dance, art—they reward society and they keep it round. It is my burden and my duty to provide the audience with relief.
You're also a baseball umpire and pilot. Fitness is important to you, too. Tell us about your life outside of opera.
I'm a private pilot—that is one of my biggest hobbies. It reminds me of being a musician because it is really freeing. Being up in the air, when I'm flying, all I can think of is flying. I can't think of anything else and that is very freeing, like singing. It's free-spirited, free-minded, freedom with an open heart. I get really intense joy out of flying because there is definitely that freeing aspect. Baseball umpiring was something that I did when I was younger. I like rules, the law, and the laws of baseball. I developed a real penchant for calling baseball. It prepared me for the career of being an opera singer. There would be drunk parents I would have to deal with, or players would threaten me if I called them out. I had to learn very quickly how to [defuse] the situation and be cool. This has helped me handle hostile audiences, difficult directors with bad concepts, difficult conductors, and the whole gamut of the opera world.
What advice do you have for a young singer?
Be yourself and go your own route. Don't go by a route that someone prescribes to you. In the opera world, there are a lot of know-it-alls who think there is only one way to pursue an operatic career, through immense levels of precaution, safety, and by doing what everyone else does. I followed a combination of my own instincts and a strategic plan that I created. Listening to both the head and your gut instincts is hugely important. You need to learn to know your own way. I don't conform and I don't agree. I am my own man. I say what I mean and mean what I say. We think with such a pack mentality because of the technological nature of our world. When one person makes a posting about something and someone has a minor critique, people react negatively. People are afraid of the repercussions of thinking differently, so they just go along with the pack. Musicians are unique because they have the opportunity to take people out of monotony, take them out of being stuck behind a screen and make them realize they can have interpersonal relationships, even if their friends might not agree with them. I spin it always back to music. Music demonstrates interpersonal relationships and communication. It's my responsibility to demonstrate through music that being human and having opinions that are divergent is OK.
What other musicians reflect this sort of independent thinking through their music?
In the classical musical world right now, I don't think there are many. We are in a changing era at the moment. The old guard is leaving and a new guard is coming in. The old guard was tethered to the record industry and most of them are retiring, and a lot of them should be lauded for their work. One person who is brilliant is Renée Fleming. She has done a lot for our art form and will continue to do a lot. She's a wonderful lady and I have a lot of respect for her. But I think that we are in a period of change and what I do is try to converse with the next generation. Yesterday I spoke to two music camps over Skype. I get in contact with as many young people as I can. To those who have been given much, much is required to give back. I'm starting to do that now.
Subscribe to discover the best kept secrets in your city