Leyla Marchetto, a co-founder of Montauk celeb magnet Navy Beach, has been going to the Hamptons as long as she can remember. Her first visits were with her father, famed restaurateur, Silvano Marchetto, who created that ultimate bold-facer hangout, Da Silvano, in SoHo.  Here Marchetto, now a year-round East End resident, shares her Montauk and Hamptons secrets.
When you opened Navy Beach, Montauk wasn't the happening place it is now. Why did you decide on Montauk?
Our partners Frank and Kristina Davis had been coming to Montauk for years, taking their daughters on fishing trips and to the beach. They heard about an opportunity at a beachfront location (then the Sunset Saloon), and asked us if we were interested. We spent a weekend with them in Montauk, and fell in love. Even before we finalized the lease for the restaurant my husband and I signed a year-round lease on Old Montauk Highway–we were determined to make it happen! We knew the location had amazing potential and decided (in August 2009) to take the leap . We were lucky to have timed it right, and have happily become year-round Montauk residents since then.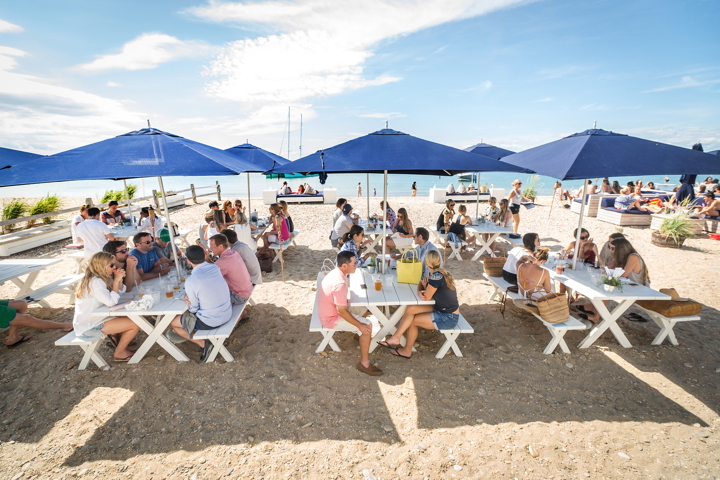 Favorite Hampton and why:
Montauk! It's the least dressy/fancy/stuffy place in the Hamptons. Don't get me wrong, I love massive houses with pruned hedges and carriage houses and sculptures on the lawn and all of that, but it's not me. We're casual people. We can see the ocean from our house and we can walk to the beach with our son and our dog in less than five minutes. There are so many options to dine out (now) and so many outdoor activities from paddle boarding to hiking to mountain biking and rock-skiping, its a great laid-back lifestyle. My high heels and black dresses are packed away in the garage. That part of my life is over!
Best time of day in the Hamptons:
It's a tie between sunrise and sunset. Watching the sunrise over the ocean with a cup of coffee and catching the sunset over the bay with a glass of rosé are both magical moments.
Favorite fashion boutiques:
In Montauk I love Joelle Klein's boutique Share With. Joelle has amazing taste and a unique collection, it's hard to go there and not walk out with a large shopping bag! NIBI MTK at the Atlantic Terrance and Kailani also have fun, summery selections. If you're looking for one- of-a-kind jewelry and great gifts, my friend Bella's FIN (a pop-up at the Memory Motel) has her hand-made shark tooth collection—they're to die for! In East Hampton you can't go wrong at J. Crew, RRL or MILLY. And for basic comfy and affordable everyday pieces I like Flashbacks in Sag Harbor.
Favorite spots in Montauk besides Navy Beach:
Our go-to spots are Left Hand for coffee, The Montauk Beach House for wine and nibbles by the pool, Inlet for sushi with the family, and Crow's Nest for drinks at the beach bar. We used to go to Dave's Grill for a special treat or celebration, and now that Dave and Julie have moved over to East Lake Drive we're looking forward to checking out Dave's Gone Fishing!
Best farmers markets:
Montauk on Thursdays is great, since I don't have to drive far. If I'm headed towards Bridge or East Hampton I love Bhumi Farms, Balsam Farms, and Round Swamp Farm.
Best ice cream:
I'm more of a frozen yogurt person, so I always go to Buddhaberry.
Secret for beating traffic on the way out to Montauk:
Stay away from 27! Don't leave NYC after 12pm Wednesday throughSaturday, and if you're splurging, fly Blade! On Fridays in the summer Blade Aqua has a seaplane flight from NYC to Navy Beach, where you can land in the bay just in time for dinner. You can't beat that.
Favorite Italian restaurant:
Eek! This one is tough. I don't eat Italian out a lot because it's hard for me not to compare the food to my dad's (at Da Silvano). But once in a while we'll go to Tutto il Giorno (now Dopo la Spiaggia) or Nick & Toni's, or we'll get a take-out order of the veal Bolognese pasta from Harvest.
Favorite French:
Pierre's!
Best dessert you've eaten in the Hamptons:
Crow's Nest used to have an Olive Oil cake that was delicious. The chocolate bag at Dave's Grill was awesome. I hope that have that at Dave's Gone Fishing!!
Best bar:
I have to go with Navy Beach. I love the vibe and the fact that you can step right out onto the beach after getting your drink. For a more upscale city-like bar experience I would say Topping Rose House or The Maidstone.
Best Sunday brunch:
We're not big brunch people, but I have been meaning to try the brunch at Nick & Toni's for years. One day I'll get there!
Night-on-the-town favorites:
I am not a night-on-the-town kind of person anymore, but if I make it up past 9 PM, you would probably find me at the bar at Navy Beach or the Surf Lodge.
For out-of-town guests, which hotel would you recommend?
The Montauk Beach House, Crow's Nest, or Gurney's Inn.
Best gym/workout spot:
I love Yoga Lila in Montauk, Flywheel in Sag Harbor, and boxing conditioning classes anywhere with Antoine Waldo (Studio 59, MuvStrong).
Favorite charity:
The Navy SEAL Foundation. We have worked with the organization since 2013, raising funds at the restaurant and have gotten to know the group very well. The foundation's mission is to provide immediate and ongoing support and assistance to the Naval Special Warfare (NSW) community, their families, and the families of the fallen, wounded and also transitioning NSW veterans. It's a wonderful organization with such nice people.
Favorite galleries or local museums:
I would like to say that I go to galleries and museums but I don't go enough. My son and I do love CMEE (the Children's Museum of the East End) in Bridgehampton.
What is the secret to your success?
Working with a great team of people as well as an awesome staff. Each of the partners at Navy Beach has his or her own strengths and we come together to make a great team. Our staff – most have been coming back for years – are very hard working and committed. Without them, we would not get through the kind of stress that is involved with a seasonal business. It's a tough season for all, but at the same time we try to have fun at Navy Beach. Over the years many of our staff have become our friends and feel like family to us. It's really nice.