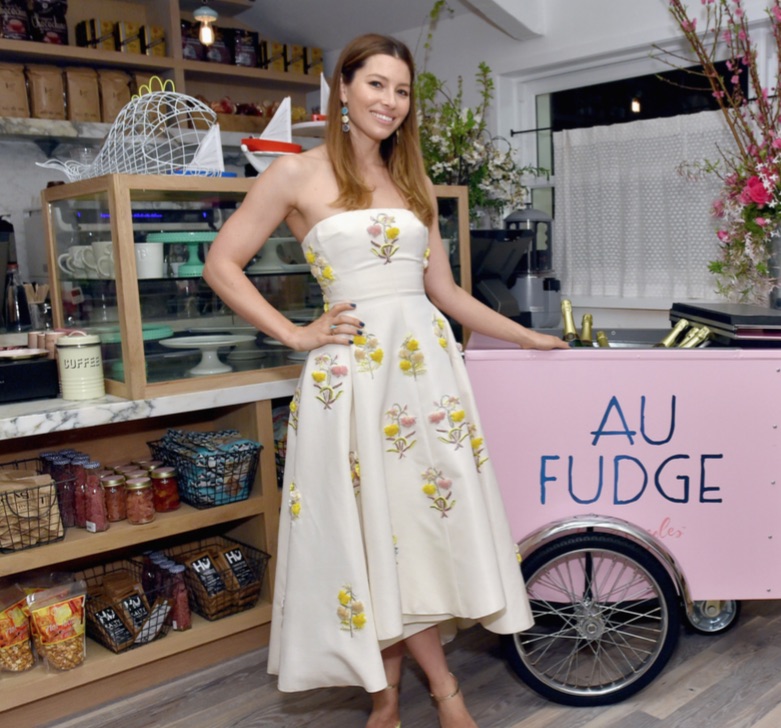 Photo Credit: Mike Windle
Au Fudge is bringing in the fun (and the funk) back to fine dining. This whimsical eatery from actress Jessica Biel, stylist and designer Estee Stanley, author and producer Kimberly Muller, Barry's Bootcamp CEO Joey Gonzalez, philanthropist Monica Saunders-Weinberg and Greenleaf Gourmet Chopshop CEO Jonathan Rollo is a fun and festive restaurant for kids and adults alike.
The West Hollywood Design District eatery, helmed by former Sunset Tower Hotel chef James King, is reminiscent of Alice's Wonderland thanks to fanciful touches such as secret doors, hidden nooks and crannies, an outrageously cool treehouse and a Seussian dessert menu chock-full of Instagram-worthy items like s'mores bread pudding, monkey bread and churro sliders.
Adults will clamor for the champagne-heavy libations list, stunning interiors dotted with vintage and antique accent pieces, as well as luxurious fabrics from St. Frank. The thoughtful founders also offer professional on-site au pairs to take care of the kiddos while mom and dad sit back and relax.
Even better, Au Fudge gives back: Not only has this sustainable, organic and natural eatery been recognized as the Environmental Media Association's first Green Seal restaurant, but the founders will be donating a portion of proceeds to several local and national charities.
Here, The Devil and the Deep Blue Sea star, Biel, 34, discusses the restaurant, how she balances being a restaurateur, actress, wife (her husband is musician and actor Justin Timberlake) and mother to one-year-old son, Silas, and why—most of all—she's just a girl who wants to kick back, relax and drink Campari with her BFFs.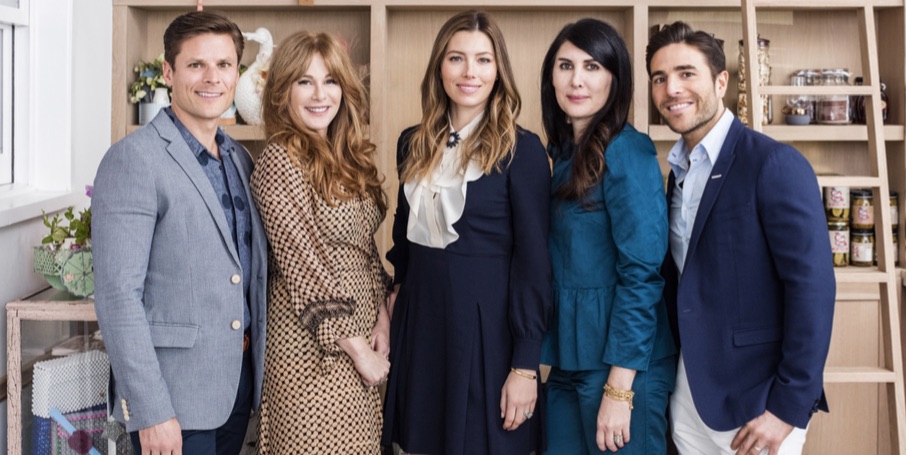 Photo Credit: Justin Coit
How exactly did Au Fudge come to be? Whose idea was it?
Initially, it was my two partners, Estee and Kimberly. They had kids before the rest of us did and they were really tired of going to all these kids' places where there was no good food available and there were no options. The kids were happy, but the parents were miserable. That's kind of where it stems from. It was hard to spend time with [everyone] because there was no middle ground, no place where we could all go and have fun and enjoy ourselves and eat well. That's how the initial idea was birthed.
How did you fit all your personalities into the restaurant? Is there a specific part of each person in it or is it a collaborative effort?
It's collaborative, but we all know how to stay in our lane. Estee is the design genius. She, Kimberly, Monica and I—all the women— we look at the creative space. Kimberly really curates the marketplace and finds things from all over the world. John and Joey are the masterminds behind the operation and food because John is a chef himself. We really look to him for food and operational guidance. They're people we could not have done this without. They help us understand how to run a business like this. Estee drives the train, but we're all on the train. We all get along and we've been friends for a while. There can be a lot of voices at the same time, but somehow—thank goodness—it's just worked out and we're able to hear each other and be collaborative and really create what we've all seen in our minds.
We've read that you're a baker. That said, was opening a restaurant always a dream of yours?
No—that's the short answer. I have this aspiration of being a great baker. I'm not a baker. I'm not a good baker. I'm like a sad, struggling, wannabe baker. That more accurate, I would say.
Au Fudge has been described as a Soho House for kids. What do you think of that statement?
Aesthetically speaking, they could be in line. We tried really hard to create something fun, charming and whimsical. It's quite different than Soho House. We want to be thought of on that level though, as a place that adults would want to go. We made this for us. This is for the parents, grandparents, friends and family who want to eat well and be comfortable. We want you to feel like you've walked in our living room and sat down at our kitchen table.
What do you hope a guest will take away from their experience?
I hope that a guest who comes in with kids will have a rare, relaxing dining experience. There's so much anxiety when you go to a restaurant with kids. Are they going to be comfortable, will they sit at the table, will they annoy another diner? We want you to come in, for your kids to disappear into the creative space, and you sit and have a private, quiet, delicious meal, have a cocktail and take a deep breath. Everyone's life is really hectic. If you come in without kids, we want you to come in and feel welcome, as well. The underlying factor is that we want the kid in everyone to feel like they can come out and play, have fun, be silly and not take themselves so seriously.
How hands-on were you with creating the menu?
I'm very hands-on. My partners and I sat down and tasted everything that's on the menu, and there were a lot of things that we decided against having. We worked with our chef to make it our own and put our distinctive flair in. Whatever he wanted to do with our chicken soup or our grilled cheese, altogether, we really curated the menu. We told our mixologist what we were looking for and tasted a million different things. One of the most fun experiences I've had in this process was sitting down with one of my partners and making up the fun names for all the drinks.
Given the name, is Jessica's Rabbit Rabbit your special drink?
It's not my special drink, but I like it a lot. Jessica Rabbit, the character [a seductive 'toon from the 1988 film Who Framed Roger Rabbit], is quite a siren and it's a spicy drink, so we thought that was appropriate.
What would be your drink?
I really like First Base, which is really refreshing and light. The Confession is our Campari drink and I love Campari.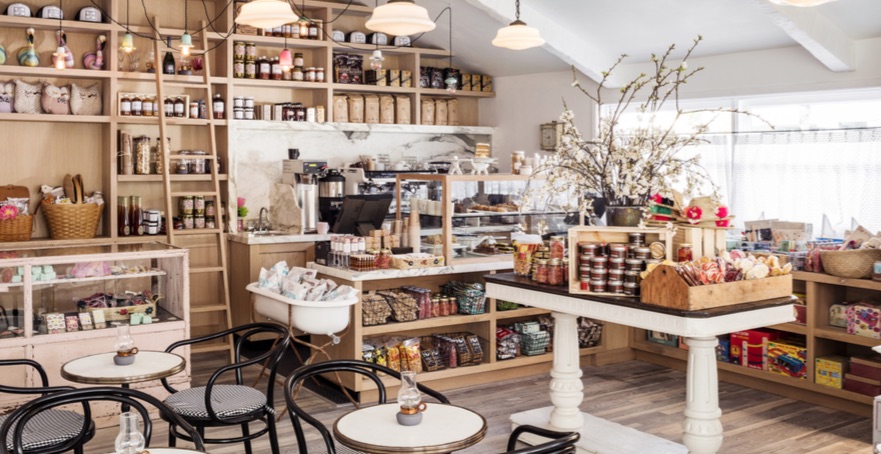 Photo Credit: Mike Windle
What are the most requested items from your family and friends?
Our vegan Caesar salad is one of our most requested items, it's pretty delicious. Our turkey burger is really high up there, as well as our chocolate and vanilla birthday cake. And we actually make really delicious chicken nuggets.
All of your food is natural, dye-free and organic. Was it important to you to have menu items that you would be comfortable serving your son?
That's the whole idea, really. We spend most of our time and effort sourcing the ingredients that we feel comfortable feeding our family and want you to feel comfortable feeding your family. We're thorough and thoughtful about what we have at the restaurant. Everything stems from that.
Was becoming a mom part of the reason you decided to start this venture? Has it affected other career decisions?
We've been working on [the restaurant] for about four years now so [my son] wasn't even around. Now that he's here, yes, of course, it changes everything. How you think about your day-to-day changes, let alone thinking about how you want to work and travel now and how you are away from the family. It's all a big balancing act. I think having him in my life makes it more obvious that we have a responsibility to ourselves, our community and our planet to be thoughtful about the things that we're doing and how we're teaching our kids and showing them by example.
Did anyone give you particularly great pieces of advice when you were starting your business?
Most of the advice people gave us as a group was, "Don't do this, it's a crazy idea—are you insane?" We all kind of went, "It's not so hard. We'll be fine. We're going to make it!" We were ignorant to the reality of how challenging this type of business is. Truly, the best advice is that you have to know it doesn't become successful for a really long time, so it has to be a passion project. Stick with it day by day, nurture it, make it perfect, fix all the issues and hopefully it will become successful. Keep the expectation level realistic and take it slowly, one step at a time. Get it right before you try to move on and [expand to] other locations or get too ahead of yourself and try to do too many things.
Your husband has been a successful restaurateur. Surely, he wasn't telling you not to do it?
Justin always supports me in whatever I do, no matter if it's a crazy idea or not. As artists, we all understand that the craziest ideas are the most fulfilling and you just have to go for it.
What are the secrets to successfully being a mother, wife, actress and business owner?
That's a very good question. I'm still trying to understand how that all works. I haven't gone back to work 100 percent yet. The best thing that I keep hearing is 'quality over quantity' so, if you're working and have a million different things going on, if you can spend 30 minutes to an hour of quality time with your family, it's better than spending all day long and giving 50 percent to your kids. That helps me to feel less guilty when I need to go to work or leave for a night. Mom guilt is real. It's a real thing and I'm still trying to work it out. It's a process that takes a long time and it's different for everybody. I need a little bit more time trying to figure it out.
Subscribe to discover the best kept secrets in your city