Photo Credit: Alex J. Berliner/AB Images
All eyes were on Kate Hudson in the center of the ring (just like a circus, to quote Britney Spears) as she glittered in presenting sponsor Harry Winston on Saturday night at the 2016 Mattel UCLA Children's Hospital Kaleidoscope Ball, where she accepted the Kaleidoscope Award for her contributions to children's health, including her involvement with Operation Smile and similar organizations.
The 37-year-old stunner wore Winston's 11.82 carat Traffic Diamond necklace, 4.59 carats Cushion-Cut Diamond Drop Earrings, a 7.49 carats Carpet Diamond Ring and an additional 3.07 carats diamond ring to the event, which was held at 3Labs in Culver City. The ice paired perfectly with her rippling purple Amanda Wakeley dress and Giuseppe Zanotti shoes.
She was presented with her achievement by longtime friends Erin and Sara Foster of VH1's Barely Famous. 
Photo Credit: Alex J. Berliner/AB Images
The fourth annual event was themed The Cirque pour la Recherche or "Circus for Research," and featured a variety of circus-like performances, a circus-like environment (complete with high-end food carts from some of L.A.'s best restaurants, such as Crossroads Kitchen), as well as a cocktail reception and gourmet dinner by Wolfgang Puck Catering.
After a live auction and a performance by singer Shawn Hook, guests settled down to a dinner of deconstructed chicken pot pie. Awards were then handed out to Hudson, The Giving Pledge members Lori and Michael Milken, who received the hospital's highest honor, The Philanthropic Leadership Award, and fifteen year-old Jake Schuster, who received the Extraordinary Children's Award, presented by WWE Superstar Eva Marie.
After the awards ceremony, the philanthropic crowd enjoyed performances from acclaimed child singer Angelina Jordan, as well as Orianthi, Richie Sambora and Randy Jackson.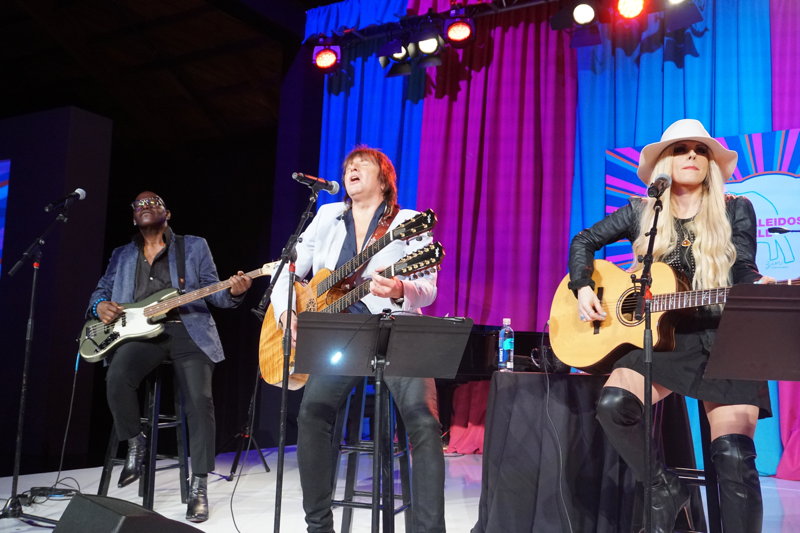 The House of Harry Winston also made a pledge to the UCLA Children's Discovery and Innovation Institute to establish the Harry Winston Fellowships program. 
The evening was co-chaired by Bari Milken Bernstein, Beth Friedman and Hillary Milken.
Attendees included Tony Pritzker, Nicolas Berggruen, Gene Simmons and Steven Mnuchin. 
4th Annual Kaleidoscope Ball 1
Kevin Reilly and Tony Pritzker
Photo Credit: Alex J. Berliner/AB Images
4th Annual Kaleidoscope Ball 2
Nicolas Berggruen
Photo Credit: Alex J. Berliner/AB Images
4th Annual Kaleidoscope Ball 3
Erin Foster
Photo Credit: Alex J. Berliner/AB Images
4th Annual Kaleidoscope Ball 4
Steven Mnuchin and Louise Linton
Photo Credit: Alex J. Berliner/AB Images
4th Annual Kaleidoscope Ball 5
Gene Simmons
Photo Credit: Alex J. Berliner/AB Images
4th Annual Kaleidoscope Ball 6
A performer
Photo Credit: Alex J. Berliner/AB Images
4th Annual Kaleidoscope Ball 7
Cirque gals
Photo Credit: Alex J. Berliner/AB Images
4th Annual Kaleidoscope Ball 8
Hey bartender
Photo Credit: Alex J. Berliner/AB Images
4th Annual Kaleidoscope Ball 9
A view of the Mattel UCLA Children's Hospital 2016 Kaleidoscope Ball
Photo Credit: Alex J. Berliner/AB Images