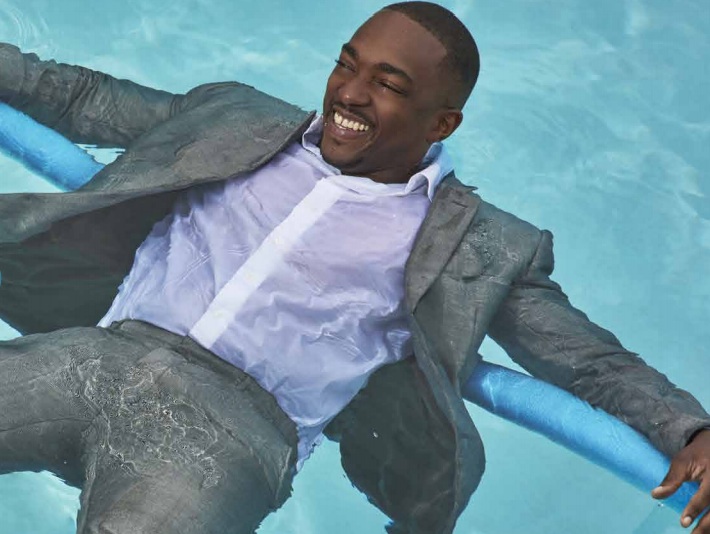 Photography by: Mark Squires
Grooming: Erin Moffett
Styling: Chloe Takayanagi
Anthony Mackie is drowning. Not in sorrow, not in work, but in the shallow end of the Viceroy L'Ermitage Beverly Hills' rooftop pool. OK, he's not actually drowning per se, but, for the impressive amount of flailing around he's doing, he sure looks like he could be. The star of Marvel's upcoming Captain America: Civil War never properly learned to swim (despite having a full-length pool at his New Orleans home). Even so, Mackie easily went all in, at our request, with a beaming smile on his face and a lot of boisterous laughter. Both were quickly submerged until he found a few floaties, but still. This is a guy who's up for anything. Mackie refers to his actions as "so dumb," but with a cheeky and sly expression on his face that makes you realize this phrase, in fact, means the opposite. After speaking to him for even five minutes, you'll know that he's proud of the word "dumb" and that he equates it with adventurousness. Somewhere in your mind, you'll also muse that, for a guy who barely knows how to doggy paddle, he's had more than his fair share of oceanic mishaps.
While filming 2012's Academy Award-winning drama, The Hurt Locker, in Egypt alongside co-stars Jeremy Renner and Brian Geraghty, Mackie "swam" (if you could call it swimming) with sharks. He calls this "the dumbest thing I have ever done." Similarly, he had a crafty way of earning his scuba certification while shooting the 2004 thriller, Haven, with Zoe Saldana and Orlando Bloom in the Cayman Islands: "I struck up a deal with these people at the diving school and they said, 'If you can get Orlando Bloom to take a photo in front of our store, we'll certify you for free and take you diving all summer.'"
Mackie didn't miss a beat. "I hit up Orlando and said, 'Hey, what are you doing?' He says, 'Nothing.' So I say, 'Meet me down here.' He comes over, I get my dude across the street [to take the photo], Orlando leaves and I get certified to dive." Two months later, he found himself in an inexplicable, yet exhilarating, situation: bitten by miniature sharks who decided his mesh suit looked like a tantalizing meal.
At the age of 37, Mackie has been skydiving four times, bungee jumping twice and has done his version of—yes, yet again—swimming with great whites in South Africa. "There was a point where my family would say, 'You're going to get yourself killed doing something black people don't do,'" he says with a laugh. He adds, "In my twenties, I had crazy experiences. When I turned 30, everything slowed down. I was like, 'I ain't risking my life no more.'" The actor has thrown his thrill-seeking into the roles he plays, including his third silver screen incarnation as The Falcon/Sam Wilson, a superhero who uses mechanical wings to fly and has limited telepathic and empathic control over birds, when Captain America: Civil War hits theaters on May 6. In the second film dedicated solely to Captain America (played by Chris Evans), political interference in the Avengers' activities causes a rift between the Captain and his former ally, Iron Man (played by Robert Downey Jr.).
This time around, fans are in for a treat. "[The Falcon will be getting up to] a lot of weird shit!" Mackie exclaims. "You get to see his relationship with Cap grow and his identity as an individual grow. You also get to see how, in a civil war, everyone's point is verbalized and respected. So many times in a movie, you'll have the two main characters' points made, and everyone else falls by the wayside. Marvel's done a really good job showing everyone's opinion, everyone's side, and why we're having this ultimate battle."
Mackie was initially drawn to playing The Falcon because of their dissimilarities. "I feel like there's something really cool about this character because he never questions himself or what he's doing. He knows everything he's doing is for the right reason. He has an inability to be shaken. Being someone who questions every minute of every day, it's kind of cool to play the opposite of that." The comedian hits a seldom-seen serious note, saying, "Being an actor and someone in the public eye, everything you do is so questioned, scrutinized and judged that it puts you in a position where being a normal person who does normal stuff is always a challenge. You even challenge yourself, 'Should I be doing this? Is that something I'm safe to do?'"
Questions, superhero powers and swimming skills aside, he and his onscreen persona share many likenesses too. He could be describing himself when he says, "[I like] his level of pride, his intensity, his unrelenting acceptance of not failing. I feel like there's something really cool about him, how focused he is on succeeding, making everything better, not just for himself, but for the betterment of man. I admire his ability to be straightforward with himself."
Like The Falcon, Mackie is also an incredibly good friend. The bond he shares with Evans, Sebastian Stan (who portrays Bucky Barnes/Winter Soldier) and Frank Grillo (who portrays Brock Rumlow/Crossbones) absolutely echoes their cinematic friendship. Insert squad goals.
"We're pretty tight," he admits. "We talk a lot. Sebastian lives in New York, Chris and Frank live in L.A. and I live in New Orleans. Even so, we're [there for each other]. It's not just, 'Hey, let's go hang out and Tweet pictures of ourselves,' it's more like we check in with one another and make sure we're all doing OK. We stay in touch and have actual conversations, as opposed to B.S. conversations.
"I feel like you can often find yourself in a position where you never really talk about anything of substance; you never find out what people are afraid of, what their insecurities are," he adds. "We're lucky…we look out for one another and can talk to one another about projects, as well as go on vacation together. We have the ability to be actual friends, rather than colleagues. It's cool to see that the four of us have been able to forge that friendship where we look out for one another."
The distinction is an important one to Mackie, especially in the notoriously fickle world of Hollywood. "This business can be like summer camp: You spend every minute of every day with somebody for three months and, literally on the 91st day, they change their number and you never talk to them again. He continues, "It's the most painstaking thing about this business. You think you've made a friend, but you haven't."
In Hollywood, Anthony Mackie has earned quite a reputation for himself—in the best way possible. He's all fun and games, a jokester, the guy in your high school who was probably dubbed Class Clown, the first person on your invite list because you just know he's going to spice up your party. That said, it's easy to forget that the Obie winner and two-time Independent Spirit Award nominee is a Julliardtrained actor with 50 films under his belt, including parts in 8 Mile, Million Dollar Baby, Avengers: Age of Ultron and Pain & Gain, and has appeared as the late Tupac Shakur in Notorious and Nathaniel "Nat" Turner in Ascension Day.
He'll tackle yet another biographical role and set out to show his serious side in HBO's All the Way, a project executive produced by Steven Spielberg and directed by Jay Roach, based on an adaptation of the Tony-winning Robert Schenkkan play of the same name. The film follows Lyndon B. Johnson, played by recent Oscar nominee Bryan Cranston, reprising the stage role that earned him a Tony, as he becomes President following the assassination of John F. Kennedy.
In particular, the movie focuses on the 36th president's work passing the Civil Rights Act, which is where Mackie comes in. He'll be stepping into some rather big shoes, playing one of the most iconic figures in American history: human rights leader and Nobel Laureate, Martin Luther King, Jr.
Understandably, he was nervous. "You have to allow yourself to accept the fear of being bad," he says. "When you play an iconic figure, you have to realize you won't get that right to everyone. There are different levels of icon: Tupac Shakur, Bob Marley, Jimi Hendrix. Those are infamous icons, and they live in different realities—of print, what people say about them, the reality of relationships, how people have personal contact with them, and in the reality of the art they create. Wherever you know them [from is how] you'll judge that performance."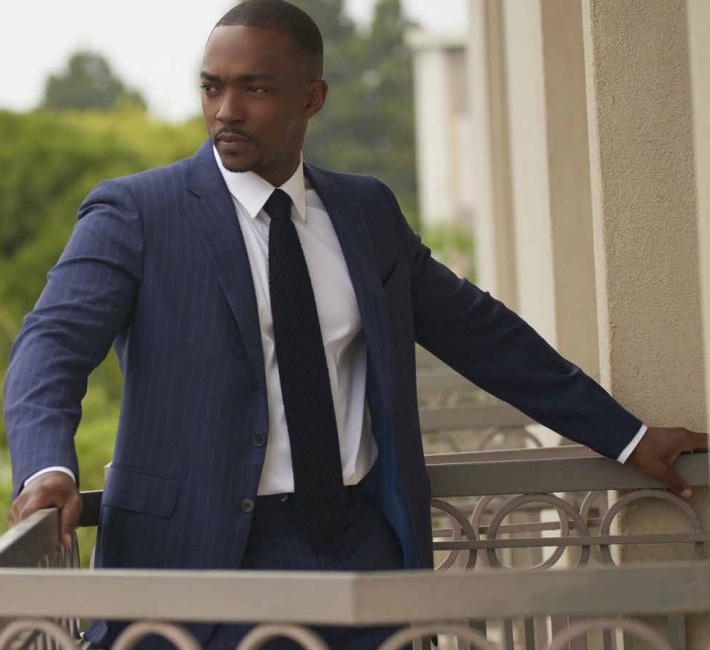 There are glaring differences with which historical purists might take issue, as well. For starters, Martin Luther King, Jr. was 5'7" to Mackie's 5'11". They have little in common, other than their religion—Christianity—and that they were born in the south. They certainly don't physically resemble one another, a fact of which the actor is all too aware. He knows there will be naysayers who will rip his performance apart based on technicalities, but also believes that, in the end, most will applaud how he's played the part because he believes he managed to capture the essence of Dr. King.
"I'm very happy with [my performance]," he admits. "I've been thinking about this role for a long time—even before I got the script." He looked to actor Paul Winfield, who played the human rights activist in the 1978 mini – series, King, for inspiration, noting that he had been offered the role in the past, but shied away from it partially because Winfield's characterization was so spot-on. "He was able to give Martin Luther King the dignity that I don't think anyone else has been able to capture. That was something I was going after in my portrayal, in a different way," he says.
There was another very simple, very powerful reason for foregoing previ – ous offers to play him: "I always passed because [the parts had him] react – ing. For me, Martin Luther King is the activist; he's not the reactor, he's the initiator. Growing up, during Black History Month or on Martin Luther King Day, my dad would always say, 'Martin Luther King is a bad motherf***er.'
That's how he described him. When I read the script, I was like, 'That's a bad motherf***er.' I didn't want that passive, soft, introspective King. I wanted the King that made the movement happen."
Given that the lack of racial diversity has been such a recurring topic in Hollywood for the last few years—the complete absence of African American actors and actresses in the four major acting categories at the 88th Academy Awards alone spawned an international outcry and the hashtag, #OscarsSoWhite—it's a particularly important time to play the role. Mackie agrees, but not for the reasons you might think.
"I think that conversation is different now," he states. "I don't think it's a black/white conversation. I think that conversation is a multi-faceted, multiplatform conversation. I think you need to look at it from every perspective. There has to be mutual respect across the board."
That conversation, in Mackie's opinion, should be less about civil rights and more about women's equality. It is a topic that Jennifer Lawrence and Lena Dunham have spoken about at length, and with which Jessica Chastain, Freida Pinto, Queen Latifah, Juliette Binoche, Catherine Hardwicke and Ziyi Zhang— the women on the advisory board of the nonprofit organization, We Do It Together, created to finance and produce films and other forms of media dedicated to the empowerment of women— would certainly agree.
This is also certainly a hot-button topic in Hollywood given that, last year, the federal Equal Employment Opportunity Commission interviewed female directors regarding the discrimination they face in Hollywood; in 2015, less than five percent of women directed major movie releases, while only 16 percent directed TV shows. In 88 years, only one woman—Kathryn Bigelow, who directed Mackie in The Hurt Locker—has ever won the Academy Award for Best Director. "Some of the best experiences I've had have been with female directors—white female directors, black female directors," he says, adding, "Women can do anything men can do, mentally and spiritually. That's where we are as a country now. We're in the day and age of the woman, and that's exciting to see."
The conversation shouldn't solely be about black or white, man or woman, right or wrong, though—with his typically sunny disposition, Mackie chooses to view his platform as one of positivity: growth instead of stagnation. "What's going on in Hollywood is its own thing," he declares. "Right now, we're at the precipice of evolution. The two democratic presidential candidates are a Jewish dude and a white lady. That's crazy and amazing to think that a Jewish dude or a white woman will be President. It shows evolution. To play [the role of Martin Luther King, Jr.] and re-spark those feelings of moving forward and coming together as a community and looking at someone for what they've achieved, as opposed to what they look like or their background, I'm very proud of that."
"I think it's so important to do this story now," he continues. "We're at a time now as a country where we're leaving the dinosaurs behind. There's always going to be dinosaurs [but…] when you look at the populace, the level of ignorance that was there before is in no way, shape, or form where it was 20 or 25 years ago."
For a guy who's seen as a consummate joker, his light-hearted attitude may just be the saving grace Hollywood—and America—needs. To Mackie, the world has become too serious a place and, personally, he doesn't play that way. "As a society, we've taken a step back," he notes. "There was a show called All in the Family about an old, racist, white dude who sat on his couch and talked shit about black people and Hispanic people all day. Everyone was like, 'Archie Bunker is so funny, he's so racist.' Then, there was a show called The Jeffersons, which was about an old, racist, black dude who just talked about how white people upset him. If you put that on TV now, people will complain. We've reached this point where we have to know that the entertainment that we're receiving isn't coming from a place of hatred; it's coming from a place of entertainment. Now, everything in the form of being P.C., people will take it from a place of hatred. I don't live my reality like that."
That said, instead of "I have a dream," Mackie is giving Dr. King and the topic of modern-day injustice a whole new, Creed-like spin: "If you're in a fight," he says, "you better make sure you throw more punches."
When he isn't rolling into Hollywood to shoot or promote a movie, Anthony Mackie lives a pretty simple life. Most days, you'll find him at his home in New Orleans in the gazebo he built by hand, rocking back and forth in a hammock, reading scripts with a glass of whiskey in hand, listening to music played by his next-door neighbor's seven-piece jazz band or spending time with his wife of two years, Sheletta Capital, and their three "knuckleheads" (a.k.a. children) or his childhood friends. You won't find him trying to become a member of pal and The Night Before co-star Seth Rogen's media-dubbed 'frat pack.' "I tried to become a member of the frat pack, but I'm just old," he laughs. "Those dudes are young and they hang out together—I'm more of a couch potato. My thing is sports; none of them like sports. I like everything: baseball, football, basketball, everything but soccer and cricket. I like being outdoors, doing construction, fishing, hunting and working on cars. There's no one who could be worse at outdoor stuff than Seth and his entire crew. I love anything that's competitive; they're probably the least competitive people in the world. We couldn't be more polar opposites, and I think that's why we find each other so funny."
Mackie can visit the 'Holly-weird' world and fit in there just fine, but he's a homegrown family boy with New Orleans in his heart. "There's nothing in the world that will ever be able to compete with my love for New Orleans— it's part of me now," he declares, noting that homesickness drove him back down south after making a go of it in Manhattan for years.
"I found myself flying home every other weekend and just sitting on the porch," he recalls. "It's such a magical city. People always say about me, 'Anthony doesn't take anything seriously, Anthony jokes too much.' Well, that's just New Orleans oozing out of me. I think when you go to New Orleans and see that sense of pride and joy and enthusiasm about life, then you get it. Everybody's like that."
Maybe, but somehow we think Mackie has the New Orleans spirit more than most. After all, he was literally named the King of Mardi Gras this year when he reigned over the Fat Tuesday celebrations as Bacchus XLVIII.
A good crown and scepter holds no weight with his friends and family, though. "When I go home, I'm still the same kid I was when I grew up in New Orleans. When I hang out with my brothers, they still treat me like I'm seven years old. When I hang out with my sisters, they still cook for me and make sure I'm taking care of myself. I will always be that person. There are certain people I grew up with that made fun of me and bullied me. Now, 50 movies under my belt, I hang out with them, they make fun of me and bully me. That's just what it is."
Most of all, he says, "My friends and family have a perception of who I am, what I do, the way I did it and the way I got to where I am. I never want that to be changed or tarnished or questioned. I never want to let them down."
If he stays on this path of success, that's doubtful. Next up, Mackie will add 'producer' to his list of rapidly growing accolades, to tell a story he's been passionate about since he was a kid—about African American track and field star, Jesse Owens, a four-time Olympic gold medalist who has been credited with destroying Hitler's myth of white supremacy. He'd also love to try something new and star in a good, old-fashioned rom-com. "I love romantic comedies," he says. "I feel like every girl wants to be Julia Roberts from Pretty Woman and every dude wants to be Larenz Tate from Love Jones—just cool, smoking cigarettes and writing poetry. Me and Reese Witherspoon or me and Kerry Washington remaking Sweet Home Alabama."
Alas, writing a screenplay isn't in his future. He tried that once and, 120 pages later, he had nothing to show for it except some really well-developed characters. Which, when he comes to think about it, is a more valiant effort than he made during his college years at the University of North Carolina School of the Arts.
"I had a poetry class in college and they were like, 'We'll give you an A— just don't come back!'" he jokes. "My haiku was slamming! Then I figured out that I could just write song lyrics and people were like, 'That's a great poem.' I would just listen to a Smokey Robinson song and write down all the words. That's how I passed poetry. Smokey Robinson got me through it." This is the Anthony Mackie we have come to know, so we aren't surprised when he says, "I don't take myself that seriously. I guess I should, but I don't."
What is surprising is his serious reason for that mindset: "After September 11, I really decided to enjoy my life. It changed my view of the world. I always tell people, 'Don't f**k up my good time. If you want to argue about something or you're having a bad day, do it over there, because this is a good time over here.' That's my whole thing. Don't take yourself too seriously. It's not that deep. I was living in New York City during September 11 and everything was so oppressive, so serious, so intense. That completely changed my perspective on life. Now my friends [and I], all of us who I was in New York with at that time, we just live our lives from a place of enjoyment."
Unsurprisingly, living a life of non-stop fun isn't that much of a challenge for the upbeat star. "I thought it would be extremely difficult, but it's not. I have my down moments but, for the most part, I'm a pretty positive person. I just enjoy it. Enjoying don't mean spending money or doing all that dumb shit, it just means having a laugh. There are people who are doing amazing things in the world, feeding poor kids, taking care of orphans, a billion people teaching our kids at school right now. Those people matter. I put on a costume and f**k around for a few hours every day."
One thing is clear: Anthony Mackie isn't just the life of the party, he's the king. And he may not swim, but who cares? He can fly. And for this rising star, like the superhero he plays, the sky is the limit.
Subscribe to discover the best kept secrets in your city