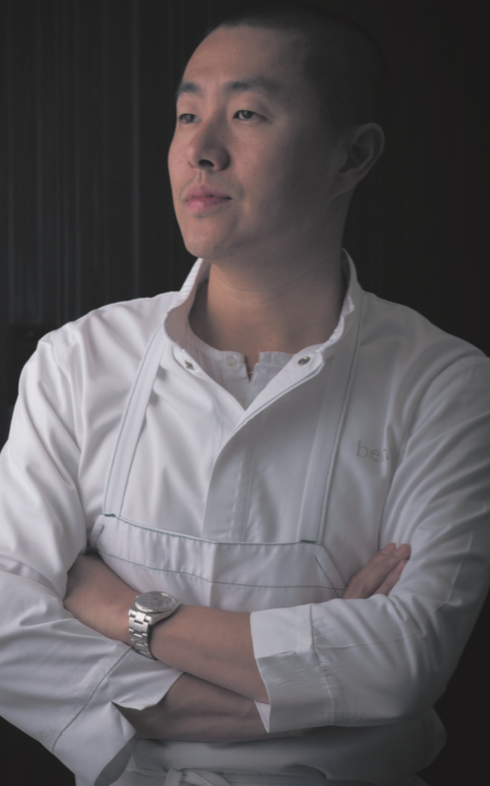 When he was a mere 8 years old, Corey Lee showed he was destined to be a culinary rock star when he whipped up his first meal, baked ziti, for his family's first Thanksgiving in the United States. That was 30 years ago. Now, the chef and owner of three Michelin-starred Benu and bistro Monsieur Benjamin in San Francisco, the Korean-born kitchen master has moved on up to much more sophisticated dishes after working at some of the most heralded restaurants in the world. The former head chef at Thomas Keller's The French Laundry and sous chef at Per Se is now prepping for his most unique order—recreating the dishes of scores of haute chefs around the globe who have provided the recipes—for his upcoming restaurant, In Situ. The eagerly anticipated eatery will open inside the San Francisco Museum of Modern Art this spring; the cultural structure reopens in May after a three-year expansion. We sat down with Lee at Benu, in SoMa, before he jetted off again to meet with another colleague in a far-flung location.
What's it been like getting ready for In Situ with all of the travel?
I'm still going everywhere. In two weeks, I go to Japan and the week after that I go to Berlin, Wolfsburg, Brussels and northern Italy in five days. It's intense, but it's amazing. I don't think of it as we're opening another restaurant; I think of it as we're participating in this great movement in the city where this institution is re-opening.
How varied will the food be at In Situ?
There will be a wide range of chefs that represent very different styles of cooking. We're going to have a dish from Roy Choi, who made his name with the Kogi taco truck—a Korean-Mexican hybrid. We're also going to have restaurants like [two Michelin-star] Bon Bon in Brussels. The food and cuisine will be so varied. A lot of the people who visit the museum—maybe they're not foodies—don't travel for food but are interested in art and culture. To be able to engage in something involving food while they're having this art experience, I think, is a huge benefit to our industry.
How often will In Situ's menu change?
It will change all the time because some dishes are only available for a very short window. For example, Matt Orlando at Amass in Copenhagen, he's doing a dish with the tips of conifers like spruce and pine. It's just the shoots, and those shoots are only available for a couple weeks. That's when we'll do his dish.
What does having three Michelin stars mean to you?
It's just a great honor, especially for chefs of my generation or earlier. We came up in an industry where there was no Michelin in North America. I started cooking in the mid '90s and at the time Michelin was only in Europe. Everyone forgets that it was only about 10 years ago that Michelin came to the U.S. and other countries. It was always this thing that was out of reach for American chefs. We traveled to Europe to experience what that Michelin star restaurant culture was about. Seeing Michelin now come to the U.S., and those accolades being attainable for us professionally, is still a little bit surreal.
What did you learn most from Thomas Keller when you worked at The French Laundry?
Thomas has just been an enormously influential person in my life. I really learned what it means to continue to evolve once you become the chef and a restaurateur. I think a lot of young chefs, if you ask them "What do you want to do one day?" I guarantee you, 95% of them will say, "I want to own my own restaurant." But what happens after that? Once you've achieved the goal of being the chef of a restaurant and owning a restaurant, what do you do then? How do you make that restaurant better? How do you grow your business? How do you take care of the people that have been loyal to you? Those are the things that Thomas does really well and thinks about a lot, and I've learned a lot of that from him.
Are you still going to do a Korean casual restaurant?
Yeah, I'm going to do that. I'm not really in a rush. I want to do that right; I want to develop that concept thoroughly and that takes time. I originally thought that would be the next restaurant we opened after here, but the space for Monsieur Benjamin came up and it was just the right space for that kind of bistro. Then MOMA leapfrogged over the Korean concept. I think that will be next, but who knows? We don't have any deadlines.