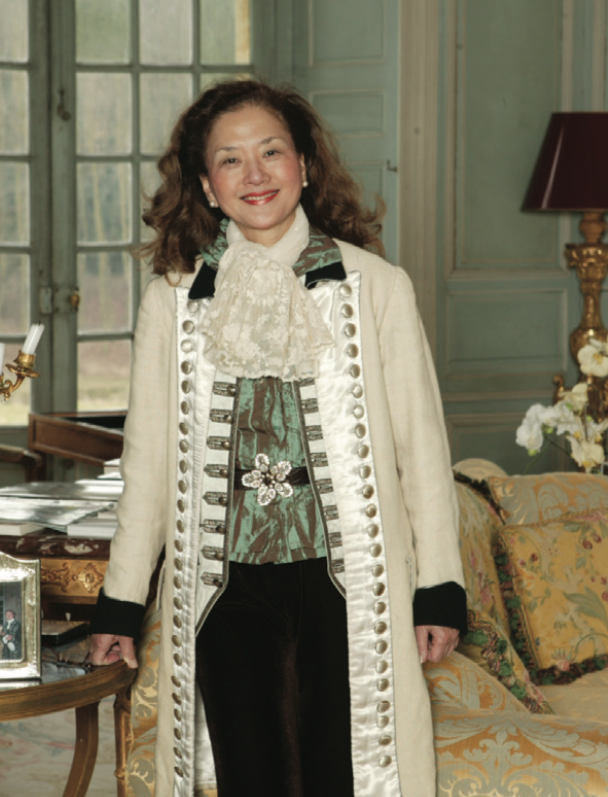 Over the years, I've had the honor of working with some of the industry leaders on this year's Haute Living Haute 100 list. They are great inspirations who changed my life. They've made me humbled, charitable and energized.
Marc Benioff: I met Marc when I showed him and his wife, Lynne, the 2006 San Francisco Decorator Showcase. In 2013, he called me to sell his Napa Valley home, and we worked closely during the entire transaction. The biggest inspirations from Marc are his generosity and his attention to details—and he is super communicative. We exchanged hundreds of emails. He inspired me to be a proud supporter of UCSF Benioff Children's Hospitals and donate 10% of my income to a list of charities.
Ron Conway: Being a billionaire and the "godfather" of the angel venture capital world, Ron and his wife, Gayle, are extremely kind, down-to-earth and frugal—which I admire. Gayle prefers to drive her Mini Cooper and wears no luxury brands. It took me 14 months to convince them to buy their new home. They said, "It's too large, too fancy; we just don't live like that." Ron helped me try to sell the home to his billionaire friends like Sean Parker. Finally, the Conways bought it. The home is truly functioning well for their large family and the fundraising events they host. The philanthropists have generously donated the home to UCSF Medical Center.
Jack Dorsey: When I received a short email from Jack about viewing a home in 2011, I thought someone was playing a joke on me. I asked him to give me information about himself. He replied, "Just Google me!" I realized this was the real Jack Dorsey, the genius behind Twitter. Jack knew precisely this was the home he wanted and made an offer the day I showed the property to him. I worked with the notoriously difficult seller nicknamed by realtors as "Seller from Hell." The story of how I got this deal done is a book on it's own. The home has a breathtaking view of the Golden Gate Bridge, which, as we all know, is Jack's definition of beauty and technology harmoniously combined. I moved him into the new home and helped him remodel and settle in. He simply didn't have any time. He took the bus to work at 6 a.m. and returned home at late night. There have always been questions about how Jack could run two major tech companies, but he is totally devoted to both companies—and I saw it first hand. That devotion to his work at Twitter and Square has inspired me more than anyone else.
Arturo Keller: Arturo came to me to buy a home in Tiburon in 1979. Extremely low profile, I had no idea he was one of the wealthiest industrialists in Mexico City until later on when he showed me some of his magnificent vintage car collection. Arturo ended up purchasing 11 properties from me, including the ranch where the Keller Estate Winery stands today. Starting with nothing, Arturo built the biggest automotive interior manufacturing company in Mexico. He often worked without sleep for days and his late wife would bring clothes for him to change in the factory. A hard-working, humble and kind man, Arturo inspired me during my early years. I have him to thank for my success.
Tom Perkins: Tom is known as a pioneering Silicon Valley venture capitalist. But, he is not at all a geeky, high-tech VC. Tom does everything world class—his art and antiques, his vintage cars (I was told at one point he had 11 Bugattis and rare Mercedes SSKs), his beautiful homes in Belvedere, Napa Valley and London and his sailing yachts from the classic 1915 schooner Mariette to Perini Nave's Andromeda La Dia to the highly innovative Maltese Falcon. I was selling Tom's home when he and Danielle Steel were married and living elsewhere. The marriage didn't last long enough for the home to sell. Most people see Tom as a serious guy with brilliant investment eyes, but what I enjoyed was his great sense of humor. He once told jokes for hours during a sailing trip and was hilarious. For years, I retold the jokes he told me!
Peter Thiel: Intense, brilliant and no-nonsense was my impression of Peter when he came to see an off-market San Francisco home I was selling. Then, I went to the launch of his book, "Zero to One," and heard his wisdom on start-ups and building the future by creating new things. The book draws on everything he learned as a co-founder of PayPal and Palantir, and as an investor in hundreds of start-up companies including Facebook. Peter inspired me the most with his diverse entrepreneurship and out-of-box wisdom despite his Stanford Law School mainstream education—from his first start-up, PayPal, to his global hedge fund, Clarium Capital and Palantir Technologies, to his investment in Facebook, Space X, AirBnB and various FinTech companies.
Amy Tan: Amy is like a sister to me. We share the same birthday, a Chinese background and a love for Paris. Amy bought and sold several homes with me, and we became close friends. Her books are intriguing, from "The Joy Luck Club" to "Bonesetter's Daughter" to "Saving Fish from Drowning" to the recent "The Valley of Amazement." I took up writing for Haute Living after being totally inspired by Amy.