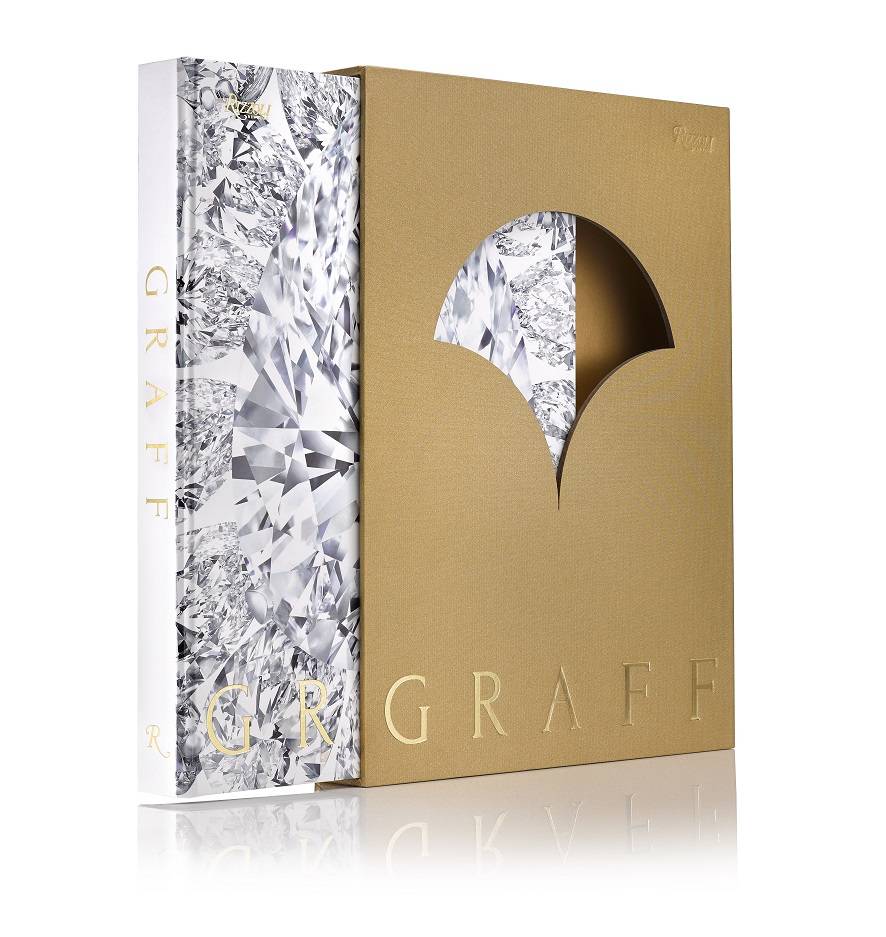 Photo Credit: © GRAFF, Rizzoli New York, 2015
You know Graff as a purveyor of legendary jewels of unparalleled perfection and breathtaking scale, but that's only part of the dazzling story of the House of Graff. To learn more about Graff Diamonds, you'll definitely want to buy a copy of the just-released coffee table book, GRAFF (Rizzoli New York, $95). What's really haute is that all of Graff's proceeds from the sale of the book will be donated to its charitable foundation, FACET, which supports the education, health and well-being of the people of sub-Saharan Africa from where Graff sources many of its beautiful stones.
This gorgeous book, a must for any jewelry lover and the perfect stocking stuffer, recounts the fascinating history of Laurence Graff, a completely self-taught gemologist whose attraction to diamonds started as a boy who apprenticed himself in Hatton Garden—the London diamond district—much like New York City's 47th Street—and flowered when he founded his eponymous house in 1960 at just twenty-two.
By all accounts Laurence Graff possessed from the start an uncanny sixth sense about diamonds, as well as decisive nerves of steel, and it is fascinating to read how he used these gifts to create a house known internationally as the luxury purveyor of one-of-a-kind statement pieces, and the most famous diamonds in the world.
"The sky's the limit" quickly became the motto of a man whose confidence and skilled eye combined to create unprecedented displays like the iconic "Hair and Jewel" coiffure, a 1970 advertisement of a model with a million dollars worth of gems woven throughout her elaborate hairdo, which was revisited in a 2013 update featuring five hundred million dollars of gems to commemorate his 60 years in business.
Lavishly illustrated with exquisite photographs of the jewelry for which Graff is renowned, as well as the compelling advertisements which secured the house's place in the public imagination. The book spotlights famed stones such as the 603-carat Lesotho Promise, which Graff famously cut into a necklace of 26 perfect stones; the largest square Fancy Vivid Yellow diamond in the world, the 118.08-carat Delaire Sunrise; and the largest D Flawless round diamond in the world, the Graff Constellation, at 102.79 carats. Also included are early archival photos from Laurence Graff's personal archives, which show his family's beginnings in London, as well as Francois Graff, his son, and now Chief Executive Officer of Graff.
GRAFF showcases the best of the House of Graff—the most dramatic, the most mesmerizing, and the most exceptional jewels in the world, and the book is a must for anyone with an appreciation for high jewelry as well as a great story of a man whose life and passion are one and the same.
Photo Credit: © GRAFF, Rizzoli New York, 2015
The 292-page book features 193 color and black and white photos, a foreword by Suzy Menkes, interview with Laurence Graff and essays by Vivienne Becker, Maria Doulton, Nina Hald, Joanna Hardy, Nicholas Foulkes and Joanne Harris. Here's an excerpt for Hald's chapter entitled "Craft":
Nature determines the size and clarity of gemstones, but it is the gathering of these stones into a magnificent piece of jewellery that requires human creativity and knowhow. This is the speciality of the design team at Graff, as they envision how those stones might be teamed together to form a unique piece of jewellery. It is then the task of the highly-skilled artisans working in Graff's workshop to turn those ideas – first of all sketched, then painted into a gouache – into a reality. And for the team who spend their days producing the astounding jewellery for which Graff is so justly celebrated, this often feels like a real labour of love. In the words of Raymond Graff, Laurence's brother and for many years the manufacturing director at Graff, "We fall in love with every piece we make, since, after all, the beauty in this family-run workshop is in the craftsmanship." Most of the passers-by walking along a street close to London's Bond Street would be astonished to know that they are just a few steps away from this workshop-cum-treasure house. For it is here in the midst of some of London's most valuable real estate, surrounded by grand hotels, art galleries and luxury boutiques, that the workshop is to be found – a hive of activity, representing both centuries-old goldsmith traditions and hi-tech innovation.
GRAFF is available to buy online, in good bookshops and at graffdiamonds.com.
Photo Credit: © GRAFF, Rizzoli New York, 2015
Subscribe to discover the best kept secrets in your city