Norah Weinstein is slowly but surely making sure that every child is provided for through her work with Baby2Baby, a non-profit organization that provides low-income children ages 0-12 with diapers, clothing and all basic necessities. Since assuming the leadership role at Baby2Baby just four years ago, Weinstein, along with her partner Kelly Sawyer Patricof, has transformed the charity from a grass roots organization into a nationally recognized non-profit that is serving over 100,000 children in 2015.  Weinstein, an attorney, previously practiced law at Skadden Arps Slate Meager & Flom and worked for the Clinton Administration in the Oval Office of the White House. She and her husband Brian reside in Los Angeles with their two children, Sloane and Graham. Now, it's time to take a look at where this philanthropy power player starts to make change—at her desk.
NORAH WEINSTEIN'S DESKTOP ESSENTIALS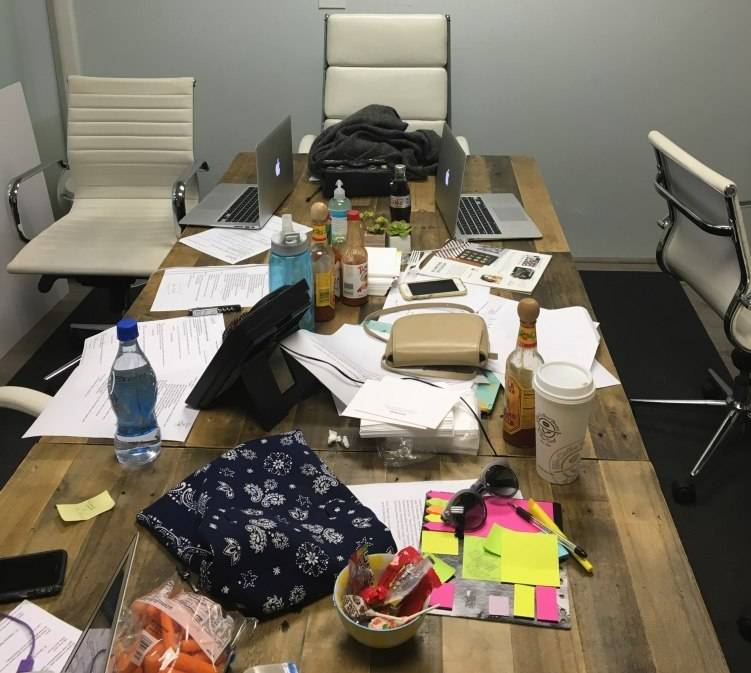 I share my desk with my co-president, Kelly Sawyer Patricof. And our staff rotates sitting with us and going through their agendas. It is messy! We work on it, eat at it and sometimes use it as a buffet table when the kids we serve come for lunch!
Diet coke & candy: Two of my vices! I feel like I'm the only person in LA who still drinks diet coke. I stopped drinking it at home but at work, it's allowed!
Tabasco Sauce: Kelly puts tabasco on EVERYTHING and so it lives in our desk. Multiple bottles.
Tiny Prints Catalogue: We just did a collection of holiday cards with Tiny Prints (Jessica Alba for Tiny Prints) and I'm ordering mine now. A portion of each card sold goes to Baby2Baby!
Blankets: I am always freezing and so I have a collection of blankets that I use. It doesn't matter if we're in sunny California–it is cold in our office!
My iPhone with a screen saver of my kids, Sloane (8) and Graham (5). They are just learning to text and try to send me notes with lots of emojis.