Nancy Oakes, Owner and Executive Chef of San Francisco's über-popular Boulevard, is a major thread in the fabric of the Bay Area's culinary community. Oakes had a much-heralded, decade-long run as executive chef at Pat O'Shea's before the 1988 opening of her first restaurant, L'Avenue. Nevertheless, it's easy to forget that this former restaurant hostess and self-taught chef who once cooked at a commune on Van Ness Avenue is from Massachusetts. Yet, she is a product of her environment, which is why she points to growing up in Northern California as igniting her philanthropic switch. Despite the long hours this pioneer of haute American cuisine spends juggling her celebrated Boulevard—which she opened with Pat Kuleto in 1993, and is known for its flavor-driven fare—and her more contemporary eatery Prospect, which followed in 2010, she gives a heaping portion of her time to various charities. Not only does Oakes sit on the Board of Directors for Meals on Wheels of San Francisco, but she's gearing up her for 13th consecutive year as Gala Chair of the organization's annual fundraiser, which last spring brought in a record-tying $2.63 million for homebound seniors in the city. Other organizations to benefit from the kitchen whiz's benevolence: Share Our Strength, The San Francisco Food Bank, The Center for Urban Education about Sustainable Agriculture, Make-a-Wish Foundation, Auction Napa Valley, Alex's Lemonade and Maitri Compassionate Care. It's not always easy getting a seat at Boulevard, which has won Oakes numerous awards, including the James Beard Foundation Award for Best Chef in California 2001 and Outstanding Restaurant in the United States 2012. However, we nabbed a table and sat down with Oakes during the perpetually-bustling lunch hour.
Where does your philanthropic spirit come from?
I think it's from the '60s in San Francisco—volunteerism, the idea of sharing, generosity and tolerance. Those were all the things that we were all about in those early '60s, before it went somewhere else. That was a really formative time. Also, my parents were always volunteering. They were old FDR democrats. They lived through the [Depression and learned] the lessons of not having and being aware of that for other people. I think some people now know that the 'don't have' is out there, but they don't feel it.
Are you going to chair Meals on Wheels for the rest of your life?
I think it would be good for another chef to chair it. I think it's a really good experience. It makes you develop and keep relationships in the community of chefs, because when you're asking people for stuff all the time, it means you've got to do, also. Tomorrow I'm doing Tyler Florence's event for the San Francisco Food Bank. The Meals on Wheels group is so supportive. They really treat me like a princess; I have to say. I don't have to do much other than ask. I still don't like to ask; it's still hard for me. I look in awe at some of the people who work and raise a lot of money for charities, how much asking they have to do. You're always waiting for people to change to the other side of the street so they can avoid you.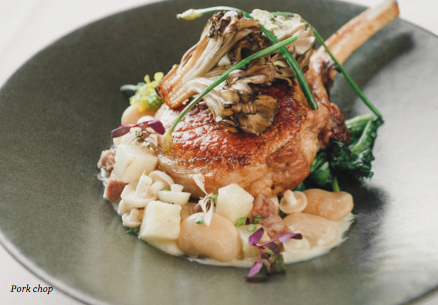 What do you attribute Boulevard's staying power to when so many restaurants come and go?
People go. I'm a little unusual that I'm still here. [It] changes when you take the primary out of the picture and the person that's most attached to it. When you think back to the restaurants that did [stay], say Ernie's in the old days, the ownership of those restaurants stayed attached to those restaurants and they were always there. They kind of phased themselves out with a change in style of eating—when eating became less stuffy and more casual. People wanted important food, or creative food, but they didn't really want to sit in that environment anymore. That was a big change. They missed out on that transition, but they had tremendous staying power. Now, you see chefs start restaurants; they have little groups. I even have a hard time between [two]. I'm only three blocks from Prospect, and it's really hard for me. You're involved; it's not like you can just go to the other restaurant and bring this restaurant down there. You have to get your head in a different place also, so it's [essentially] longer than three blocks.
Does that mean you won't be opening a third restaurant any time soon?
I still have some fun ideas for simpler food. People keep getting more casual. It would be like a window with three stools or something. People always say there was L'Avenue and then Boulevard. The next one should be Freeway. No, the next one will be Dusty Road—five counter seats. That's it!
Which dish is always on the menu at Boulevard?
The pork chop. I always think protein is just the little black dress. The accessories are the fun part. The pork chop seems to always stay, because I think it's a very good pork chop and the wood oven does a very nice job on it. We buy the very, very best.
How much has it helped your career that you began as a hostess?
I think it really helped. Sometimes there's a lot of animosity—and I fight it all of the time—between the cooks in the front of the house. It's very unhealthy the way it's set up. It's the 'I've got to haves,' the 'I need this' and the 'I've got to gives,' which is unhealthy in any relationship, whether it's a personal, business or any kind of relationship. You have to really explain the message that we're all here for the guests. You learn that [message] in the front of the house. I would encourage everyone who wants to cook to learn from the front of the house so that they understand. It's not easy; the 'I needs' are not pleasant.
Who has been your most surprising customer?
Keanu Reeves came here a lot when he was [filming Sweet November]. He entertained and had guests. He usually brought a party of six. He always made his own reservation, and he always was the first to arrive. The most fun was Oprah. Oh my god! That woman can light up a room. She was so gracious. The most awkward was Dick Cheney. They were very nice. It's such a big deal for those guys [with Secret Service] to go anywhere. I guess his wife just really [wanted to come]. They never bring anybody here because of all of the windows. My favorite is Robert Redford. He's just so chill. You almost never see the women out, because I don't think they eat.
Subscribe to discover the best kept secrets in your city