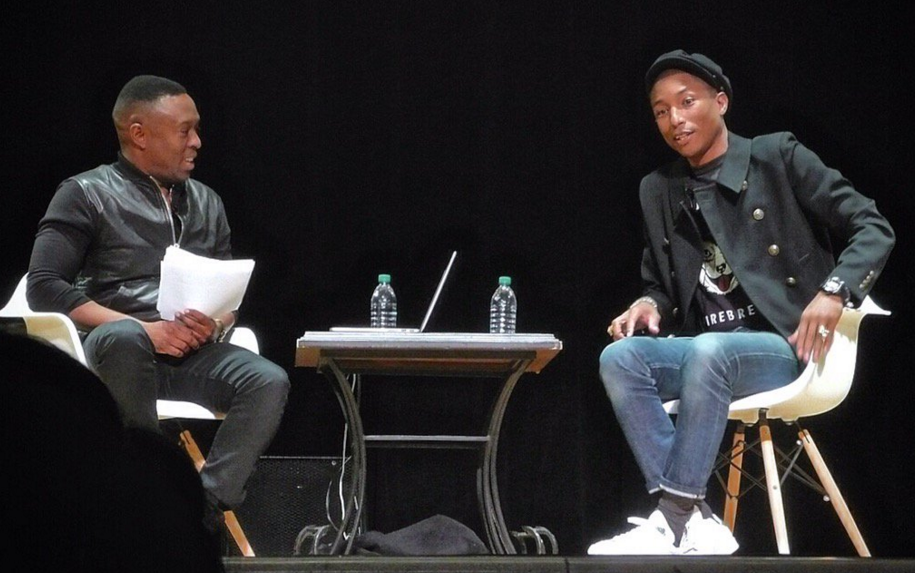 Last night, Pharrell Williams sat down for an in-depth career retrospective discussion with Jason King, professor at the NYU Tisch School of the Arts Clive Davis Institute of Recorded Music and host of NPR Music's R&B initiative "I'll Take You There." At the event, which was hosted by NPR, Pharrell reflected on a number of pivotal moments in his career.
The Q&A commenced at 7:30 p.m. with a screening of his latest music video "Freedom", which was released in June and currently has more than 25 million (25, 371, 348 and counting) views on YouTube. Following an introduction by from the Dean of Tisch Allyson Green and King, Pharrell and King settled into their seats.
While there were a number of highlights at the Q&A, we were quite taken aback to learn Pharrell, whose song "Happy" topped the charts for weeks, only recently started to considering himself an artist. The Virginia native thought he was lucky to be the producer that had the opportunity to sing on his songs. "I'm still considering myself as this producer guy who is getting opportunities," he said.
We also learned his 2003 song "Frontin," which featured fellow Haute 100 lister Jay-Z was originally meant for Grammy award-wining artist Prince. Pharrell also shared insight on the Kelis song "Milkshake," Snoop Dogg's "Drop It Like Its Hot," penning his verse for the 90s classic "Rump Shaker" and more.
Later into the event, students, who had reserved seats in the first few rows thanks to the institute, had the opportunity to ask the multitalented musician a few questions. One student, of course, inquired, "What is the secret to success?" Pharrell responded, "I would not advise trying to sound like you're in the Hot 100. It'll sound like that. If it's hot to 100 of your friends…Have fun in your difference. Pumice your difference as much as you can to make it shine," he said.
In addition, Pharrell was also recently named the 2015 Artist-in-Residence at the institute.
"We are thrilled to welcome Pharrell Williams as our artist in residence for the 50th anniversary year of the Tisch School of the Arts. Pharrell is just the kind of artist and entrepreneur that many of our students aspire to become. He is remarkably gifted, and he graciously uses his talent for the good of others," Green said. "Our students and faculty will have the unique opportunity to be in conversation with an artist whose work is an inspiration and widespread. Pharrell has demonstrated a commitment to education in communities across the country. He's dedicated to raising awareness to climate change, and he has taken 'happiness' from the stage and screen to people around the world through his work with the United Nations."
Featured photo via Twitter
Subscribe to discover the best kept secrets in your city