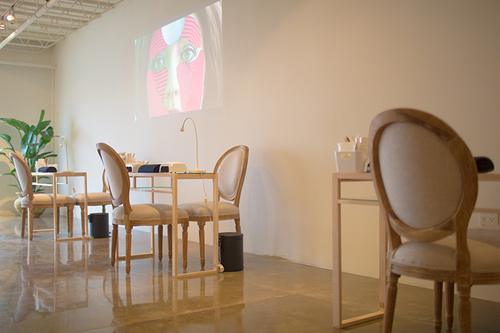 You've been seeing over-the-top nail-art manicures on the trendy set for a while now. Jellybeans, pearls, sprinkles, and recognizable iconography (we've even spotted Chanel's interlocking C's), have all graced the fingers of "It Girls" around town. What was once the domain of the ghetto-fabulous and the very young has gone high-fashion with the arrival of New York's Vanity Projects in Miami.
Conceived by Rita de Alencar Pinto to integrate video art and nail art, Vanity Projects has been a celebrity secret turned runaway success in New York. Now it has landed in an unlikely spot for the fashion set to flock: Little Haiti's Little River district. The boutique is a sparse, gallery-like space, with shiny concrete floors and bare white walls projecting soothing video art. Nail techs sit on raw wood and canvas Louis XVI chairs spaced well apart to feel airy.  Lacquers line the walls by luxury brands like Trust Fund Beauty, a line known for non-toxic, rich colors free of seven most harmful chemicals found in common polishes.
Most of the nail art is done with gel polish by nail techs that are true artists in their own right. No kidding, these gals are the best in the biz, and have lots of celebrity stories to keep you entertained during your sesh.  Bring them a design and more often than not, they can do it. These aren't decals either— art is done freehand and the customers imagination is the limit. This is where it becomes addictive—thinking of the world of possibilities that simply didn't exist and never would have come to mind before.
Indeed the advent of gel polish makes real nail art worthwhile as it can last up to four weeks instead of one, making it slightly less ephemeral. Still, it's amazing the amount of effort that goes into these amazing designs. Still, to a newbie, it seems kind of ridiculous if not downright sadistic to sit down in a chair and demand a nail tech to paint miniature zebras on your nails, but they can do it. (To put them to the test, I came in with a concept inspired by Marc Jacobs luggage for Louis Vuitton featured in the movie Darjeeling Limited—they passed with flying colors and recreated the pattern so perfectly, it's shocking.) So it's official—ladies who want the best nail art in Miami might have to head to the wrong side of town to get the right manicure.
Vanity Projects is located at 7338 Northwest Miami Court, Miami, FL 33150
Subscribe to discover the best kept secrets in your city