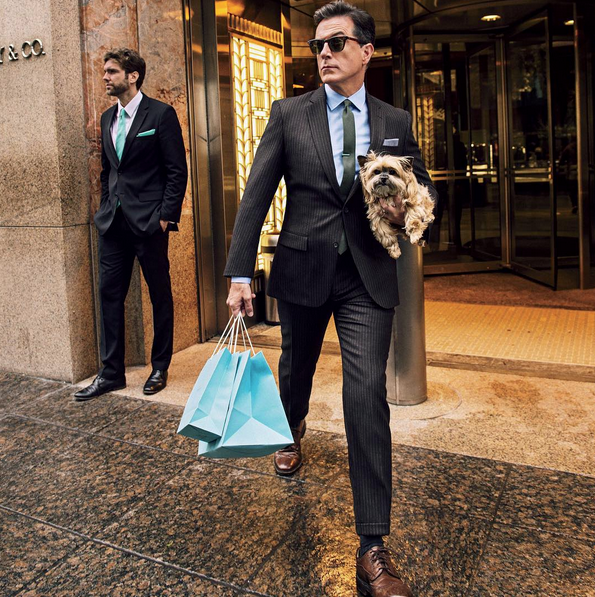 Since retiring his show The Colbert Report on Comedy Central, Stephen Colbert will succeed David Letterman on The Late Show. With his highly anticipated debut, Colbert has decided to give his fans a little dose of what to expect. In an extensive interview with GQ magazine, the 51-year-old shared what his new approach will be like and much more.
"I just want to do things that scratch an itch for me. That itch is often something that feels wrong," Colbert explained. "It's wrong because it breaks convention or is unexpected or at times uncomfortable. I like that feeling."
The comedian dished why he decided to end The Colbert Report, which ran for roughly nine years. He said, "I no longer felt that that model served to address the national mood. Ten years ago, the country was palpably more afraid and angry. We're in a different place now. We can stop freaking out that the guy's middle name is Hussein. What else? Our response to the horror in South Carolina is to take the flag down. That is something I didn't think was ever going to happen."
When Colbert discussed hosting The Late Show, he compared his gig to his favorite cooking show Chopped, which airs on Food Network. He said, "[The Late Show] is Chopped. Late-night shows are Chopped. Who are your guests tonight? Your guests tonight are veal tongue, coffee grounds, and gummy bears. There, make a show.… Make an appetizer that appeals to millions of people. That's what I like. How could you possibly do it? Oh, you bring in your own flavors. Your own house band is another flavor. You have your own flavor. The audience itself is a base dish, like a rice pilaf or something. And then together it's 'Oh shit, that's an actual meal.' And that's what every day is like at one of these shows. Something is one thing in the morning, and then by the end of the day it's a totally different thing. It's all process."
In preparation for The Late Show, Colbert has been secretly hosting Only in Monroe, a local public-access program in Monroe, Michigan. His guests included Detroit native Eminem, Michelle Bowman and Kaye Lani Rae Rafko Wilson, winner of the 1988 Miss America pageant.
Colbert not only opens up to GQ, but also graces the cover of the September issue. The interview features Colbert in a variety of scenes. You can see Colbert leaving Tiffany's & Co. with a cute little pooch. There's an image of the host dressed in a navy blue suit, diagonal from the Fifth Avenue Apple Store cruising on a Citi Bike. There's another image sipping on a stiff cocktail, while riding a New York City bus.
The Late Show is slated to debut Sept. 8th.
Read the entire interview here.
(Photos via Instagram)
Subscribe to discover the best kept secrets in your city