Photo Credit: Drew Altizer Photography
Oscar de la Renta himself may not have been in Lake Tahoe on August 1, but his presence was most certainly felt when Saks Fifth Avenue and the League to Save Lake Tahoe beautifully presented Fashion on the Lake, featuring the stunning Oscar de la Renta Resort 2016 Collection, at the gorgeous Schumacher Family home in Incline Village on the North Shore. Fashionistas from near and far wore lovely creations by the late designer, whose name was spoken with reverence throughout the day just as praise was equally heaped on new creative director Peter Copping, handpicked by de la Renta before his passing last October.
Known as "the Oscar show," the spectacular fashion show/luncheon has been the highlight of Tahoe's summer season for years. It all began in 1969 when Bill Blass began showing his collection to a few loyal clients and friends in Lake Tahoe. It's blossomed into a much-anticipated fundraiser for the League to Save Lake Tahoe, also known by the slogan "Keep Tahoe Blue" and Tahoe's oldest and largest nonprofit environmental advocacy organization. De la Renta, who was adored by Bay Area women in particular, showed for 15 years, helping raise $7.5 million along the way. The courtier often said that the lake was "a gift from God."
"I would agree to that," League president Ash Daggs said on stage, "but I would add to that that Oscar was a gift from God for the League and for the lake. This year, one chapter closes and another opens. The undeniable absence of Oscar de la Renta is felt by all of us. At the same time we are thrilled to start a new tradition with Peter Copping."
Alex Bolen, CEO of Oscar de la Renta, said, "It's been an emotional year for us. It's been a year of some sadness with Oscar's departure and I'd be lying if (I said) it weren't difficult to stand up here without Oscar. At the same time, it's been an exciting year for us. Peter has joined us. He's done such fabulous work but perhaps more importantly to Eliza (Bolen, the label's executive vice president) and me, he's done a fabulous job becoming a member of our family. Oscar would be thrilled with everything that Peter has done."
Copping's first collection for Oscar de la Renta was the Fall 2015 line. He had never been to Lake Tahoe until now, nor had he ever done a fashion show outside.
"This is the first fashion show that I have ever done where people have arrived on paddle boats, canoes—and I even saw some geese there," he joked to the guests. "It's a new audience for a fashion show. The show does have some competition and the competition is a lake. When I arrived here, I was absolutely blown away by the beauty of the lake. There's nothing better than Mother Nature. One has to really remember the reason that we're here; If the fashion show can help raise money to keep the lake blue, well, that's a good thing by me."
Co-chairs Barbara Brown, Edith Tobin, Jessica Hickingbotham, Dr. Heidi Cary and Hillary Marble greeted the approximately 600 stylish attendees, many of whom donned fancy hats or carried parasols to ward off the sun, which thankfully wasn't nearly as strong as last year's when everyone practically wilted. Among those on hand: event host Kern Schumacher, Boaz Mazor, Dede Wilsey, Komal Shah, Marissa Mayer, Lora du Bain, Todd Traina, Katie Traina, Marybeth Shimmon, Marybeth La Motte, Jane Mudge, Karen Kubin, Jean Larette, Dr. Carolyn Chang, Belinda Berry, Tanya Powell, Stanlee Gatti, Libby Leffler, Ann Girard, Miss Nevada Paris Regan and a mother-daughter duo from Chicago.
The day began at 11 a.m. with an elegant cocktail reception hosted by Oliver Luxury Real Estate and silent auction. Guests mingled on the lawn, enjoyed live music and sipped cocktails. We caught up with Hickingbotham to get her thoughts on the occasion sans de la Renta. "We're obviously heartbroken about his passing but we feel so fortunate that he truly handpicked Peter and gave him his blessing. Peter has been so respectful of Oscar's designs. We saw a little bit of it in the last collection. He still respects Oscar completely but brings a little edge. It's fun to have that fresh look on a very classy brand."
Following the hour-long reception, guests sat down at tables in the sand for the show and lunch under a weaved tent that allowed for light and air to come through and created by J. Riccardo Benavides of Ideas in San Francisco. A two-part live auction was sandwiched around the show itself, which featured 64 looks that included halter dresses, skirt suits, coats, wedding, children, and, of course, gowns. The first round of applause came when a model, the eighth one out, pranced down the catwalk in a marine blue fern lace long-sleeve dress. Other crowd pleasers included a platine multi garden guipure long-sleeve gown, a marigold pleated chiffon long-sleeve dress, a marine blue abstract watercolor print cotton embroidered caftan, a marigold ribbon tweed embroidered crop jacket and pencil skirt suit, a cardinal embroidered silk faille dress, a magenta and vermilion suede and leather coat, a white multi-embroidered four-play silk halter gown and a showstopping black patchwork embroidered lace and taffeta gown with a deep V-back. There were feathers, short and flirty frocks, magenta gowns, teal dresses and plenty of marigold.
Photo Credit: Drew Altizer Photography
After the show, Robert Arnold-Kraft, VP/GM of Saks Fifth Avenue San Francisco, cooed, "I thought it was beautiful and amazing. This event obviously means a lot to us after 46 years. I thought this collection was stunning. I loved the colors. You felt Oscar but you could also feel Peter Copping and his influence in the collection. It felt young and it felt fresh; it's very exciting."
During the live auction, the top lot was an opportunity for exclusive access to Fashion Week in New York with Copping as he shows his Fall 2016 Collection in February 2016. The lot was split with each going for $52,000. Also bringing in big bucks: a four-night stay at the Hotel Ritz in Paris and a tour of the city's most important museums, galleries and royal palaces [$40,000], a stay for six people at Tortuga Bay in the Dominican Republic [$35,000] and a custom tour of the United Kingdom [$35,000].
The memorable day concluded with a backstage shopping experience, which also allowed Oscar de la Renta fans to view the Resort 2016 Collection up close.
The collection is available for viewing at Saks Fifth Avenue in Union Square from Monday, Aug. 3 through Wednesday, Aug. 5.
Photo Credit: Kelly E. Carter
Hickingbotham and Wilsey wore identical Oscar de la Renta dreses but didn't mind. "If I had to share with someone I am honored to share with Dede," Hickingbotham said. "She has done so much for San Francisco and the greater Bay Area. It's good company to be in."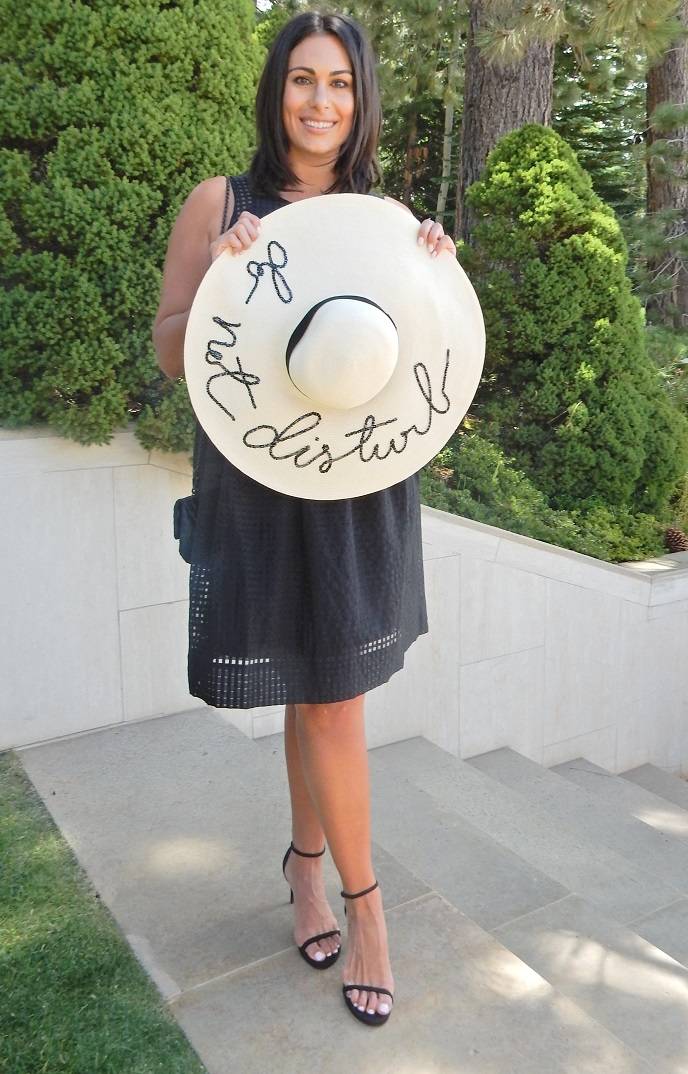 Photo Credit: Kelly E. Carter
Leffler, formerly of Facebook and now a MBA candidate at Harvard Business School, sends a message with her hat.
Photo Credit: Kelly E. Carter
Arnold-Kraft of Saks rocked a Thom Brown ensemble that was perfect for summer.
Photo Credit: Kelly E. Carter
Hats off to Berry and Powell.
Karen Kubin, Jane Mudge, Barbara Brown and Ann Girard
Marybeth Shimmon and Robert Arnold-Kraft
Stanlee Gatti and Peter Copping
Tanya Powell's shoes by London architect Julian Hakes
"I literally saw them on the Internet," Powell exclaimed.
Todd Traina and Katie Traina
Bulgari models
Atmosphere
Saks Fifth Avenue and The League to Save Lake Tahoe Present Fashion on the Lake
Komal Shah, Peter Copping
Lora Dubain, Carolyn Chang, Cheryl Baxter, Mary Beth Shimmon
Lora DuBain, Carolyn Chang, Cheryl Baxter, Mary Beth Shimmon
Saks Fifth Avenue and The League to Save Lake Tahoe Present Fashion on the Lake
Libby Leffler
Atmosphere
Saks Fifth Avenue and The League to Save Lake Tahoe Present Fashion on the Lake
Eliza Bolen, Alex Bolen
Eliza Bolen, Peter Copping, Dede Wilsey
Lynn Poole, Edward Poole
Jane Mudge, Robert Arnold-Kraft, Karen Kubin
Heather Henri, Alyssa Rapp, Marissa Mayer, Shirin Oskooi, Jamie Cross
Boaz Mazor
Barbara Brown, Peter Copping
Robert Arnold-Kraft, Peter Copping
Saks Fifth Avenue and The League to Save Lake Tahoe Present Fashion on the Lake
Fashion Show
Saks Fifth Avenue and The League to Save Lake Tahoe Present Fashion on the Lake
Fashion Show
Saks Fifth Avenue and The League to Save Lake Tahoe Present Fashion on the Lake
Fashion Show
Saks Fifth Avenue and The League to Save Lake Tahoe Present Fashion on the Lake
Fashion Show
Saks Fifth Avenue and The League to Save Lake Tahoe Present Fashion on the Lake
Fashion Show
Saks Fifth Avenue and The League to Save Lake Tahoe Present Fashion on the Lake
Fashion Show
Saks Fifth Avenue and The League to Save Lake Tahoe Present Fashion on the Lake
Fashion Show
Saks Fifth Avenue and The League to Save Lake Tahoe Present Fashion on the Lake
Fashion Show
Saks Fifth Avenue and The League to Save Lake Tahoe Present Fashion on the Lake
Fashion Show
Saks Fifth Avenue and The League to Save Lake Tahoe Present Fashion on the Lake
Fashion Show
Saks Fifth Avenue and The League to Save Lake Tahoe Present Fashion on the Lake
Fashion Show
Saks Fifth Avenue and The League to Save Lake Tahoe Present Fashion on the Lake
Fashion Show
Saks Fifth Avenue and The League to Save Lake Tahoe Present Fashion on the Lake
Fashion Show
Saks Fifth Avenue and The League to Save Lake Tahoe Present Fashion on the Lake
Fashion Show
Saks Fifth Avenue and The League to Save Lake Tahoe Present Fashion on the Lake
Fashion Show
Saks Fifth Avenue and The League to Save Lake Tahoe Present Fashion on the Lake
Fashion Show
Saks Fifth Avenue and The League to Save Lake Tahoe Present Fashion on the Lake
Fashion Show
Saks Fifth Avenue and The League to Save Lake Tahoe Present Fashion on the Lake
Fashion Show
Saks Fifth Avenue and The League to Save Lake Tahoe Present Fashion on the Lake
Fashion Show
Saks Fifth Avenue and The League to Save Lake Tahoe Present Fashion on the Lake
Fashion Show
Saks Fifth Avenue and The League to Save Lake Tahoe Present Fashion on the Lake
Gallery photos by Drew Altizer Photography and Kelly E. Carter
Subscribe to discover the best kept secrets in your city