Hublot CEO Ricardo Guadalupe certainly knows how TO make an entrance. Having golfer extraordinaire and brand ambassador Justin Rose arrive in a red Ferrari FF to help him cut the ribbon on the luxury Swiss watchmaker's first San Francisco boutique on April 28—then putt a ball through the store's entrance while standing on a small green outside the door—wasn't enough of a debut. The next day, Guadalupe followed up this tough-to-beat act up by bringing fellow brand ambassador and NBA legend Kobe Bryant to an exclusive private winery in Napa Valley to unveil Hublot's latest timepiece, the Big Bang UNICO Chronograph Retrograde Kobe "Vino" Bryant. It's this kind of flashy opening that Guadalupe credits for the growth of the 35-year-old brand. We sat down with the CEO to talk about his new, two-level Union Square boutique at 174 Geary Street, techies and luxe timepieces and, of course, Bryant and that haute "Big Bang Vino"—the world's first mechanical watch designed to time basketball.

What's unique about the San Francisco boutique?
The concept is our new [one] that we are now implementing all over the world. There is nothing really specific from the interior design aspects of the boutique except, of course, the location. It's in Union Square—the best place here in San Francisco. We are very proud of the results of the boutique.
How important is the San Francisco market to Hublot?
That's a challenge, of course. This is our 12th boutique [in the U.S.]. Our strategy in retail has been very successful in the U.S. because, thanks to these opening of boutiques, we have been able to grow in a very significant way that we wouldn't have been able to if we would have stayed in our multi-brand stores. [A] boutique like Las Vegas is huge; Beverly Hills is fantastic; Bal Harbour is fantastic [as is] New York—[but] there are other challenging cities. We have opened in Dallas, Houston and Atlanta,  [which are] more challenging. In San Francisco we believe that there is a potential to sell a certain amount of watches, but it's not at the same level as those big boutiques like Beverly Hills. With the right location, the right size, we believe that we can touch a base customer from the tech business, but also tourists that are coming here to San Francisco. Let's see. It's going to be a challenge but we believe we can be successful.
How will you get the wealthy techies who aren't known for spending money on flashy watches to buy a watch?
They don't have the education of buying watches on our level. Those guys become rich from one day to another almost. To get to this kind of maturity is not easy. I believe that there are a bunch of them that are not known like Mark Zuckerberg. Mark Zuckerberg is not the right example in a way for our products because he's very simple. He doesn't care about [timepieces], but there are others who are interested in having a nice watch on their wrists. I think we can have success with them. We are a trendy brand—sophisticated, different and innovative—so I think we will correspond quite well to the values of those guys.
What's special about Kobe's Vino Edition?
We did the first edition that was the Black Mamba, because of course he's known as being the Black Mamba in the basketball world. On the second, he said, "You know, now I want to be called Vino. My new philosophy is getting older; I'm getting better like the wine." The [thinking] was, "Let's do something linked to the wine."  We worked on the color—the watch is dark burgundy like the color of wine; on the case back we put green sapphire glass like the bottle; it's going to come in a box like a case of wine. There are some [other] touches linked to the wine world. I think that's interesting because Kobe also likes wine. He's passionate about wine. The wine philosophy is similar to watches as well. There are the same values of making wine and making watches. It's very interesting. The inspiration was [also] linked, of course, to basketball. We did a chronograph with a retro minutes and seconds so you can calculate basketball time—48 minutes; 4×12 minutes. The display of the chronograph is quite different. It never existed before in the watch industry.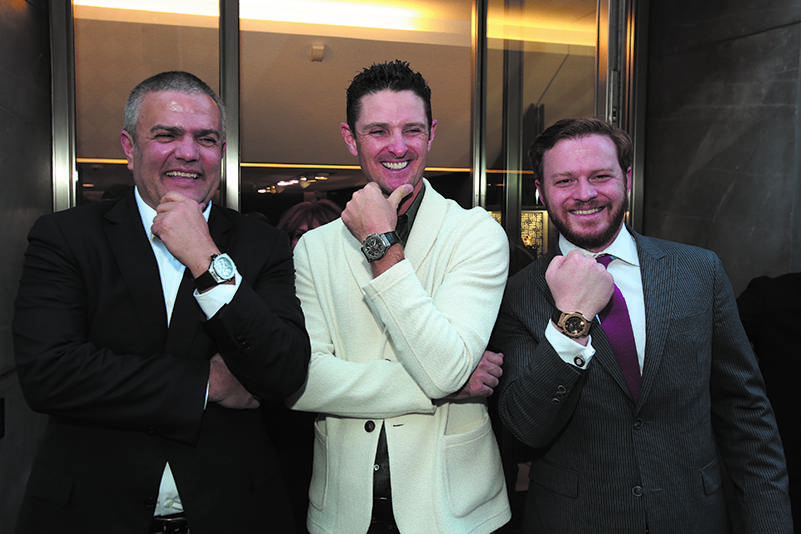 How did you decide to do the Vino event at this particular private winery?
I went there last summer. Kamal [Hotchandani, Haute Living publisher] introduced me to the place, and I said "Wow." We wanted something very intimate. I said to myself, "That's the right place to do this event linked between Kobe, Vino watches and the wine." 
What makes Kobe right for Hublot?
I think Kobe is really already a legend—he's already iconic. Even though he didn't have a good season this year, people still love him because he has already done so much. Whatever he does now it will not really matter. Of course, he's known also in China. For us, China is quite important. I wanted somebody who can have a good impact there. He is one of the greatest, and we want to work with these kinds of people.