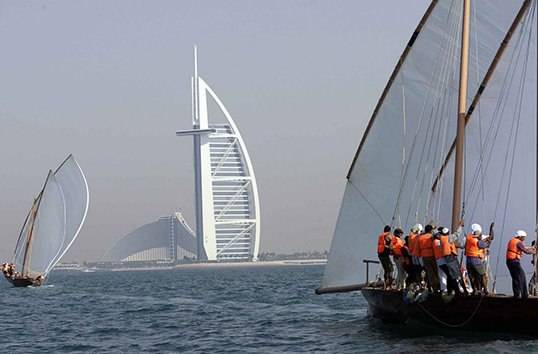 The annual Al Gaffal Dhow Race, scheduled for May 23 this year, brings not only sporting competition, but also a sea of beautiful watercraft sailing across the Mina Seyahi. It's easy to see why the translation of this harbor's name is "pleasure harbor", as the dhow race and the many other water races that take place there bring genuine joy to water enthusiasts around Dubai.
The Al Gaffal Dhow race commemorates the lives and efforts of pearl divers in the Dubai area. The name "Al Ghaffal" refers to the return of the divers and the boats following the eight-hour race in the hot heat of the day, according to Guide 2 Dubai. This year marks the 25th annual Al Gaffal race, and approximately 100 dhows will be competing for the honor of being crowned the champion.
Photo Credit: http://avaxnews.net/
Perhaps the best way to watch the Al Gaffal race is from the Dubai Ferry. The Khaleej Times reports that the Public Transport Agency's Roads and Transport Authority is selling tickets for those who want to take in the spectacle from a front row seat on the ferry. The dhows shove off from Sir Bu Nuair Island and sail the 51 nautical miles of the course furiously toward the finish line at Moon Island. This year marks the third year the RTA is selling tickets to watch the Al Gaffal dhow race.
Mother Nature plays a key role in the dhow race, as the boats have no engines, and each crew of at least 12 people must work hard to battle the elements and prevail. In some cases, there has been no wind, which makes it difficult to cross the finish line. Other times a storm is brewing, and the race is canceled. The Al Gaffal Dhow Race is truly an international affair, as last year honorary teams from France and Germany competed.
"The race is intended to showcase sailing boats measuring less than 60 feet in length used in fishing and transporting goods," said RTA Public Transport Agency CEO Dr. Yousef Al Ali in a statement, according to the Khaleej Times. "It depicts the history of the UAE and how the life of its people was linked to the sea, which offered them a safe refuge and a source earnings their living."
Dubai Deputy Ruler and Minister of Finance Sheikh Hamdan bin Rashid Al Maktoum supports the Al Ghaffal race.