Photo Credit: Denise Truscello
"Duck Commander Musical" celebrated its world premiere on Wednesday, April 15, at the Rio. Based on the Robertson's rags-to-riches story made famous by the A&E reality series "Duck Dynasty," "Duck Commander Musical" transports the Louisiana bayou to the Vegas stage in a 90-minute performance.
The Robertson family celebrated the debut in true backwoods fashion with an appearance on the camouflage carpet alongside country music star Jason Aldean, television stars Candace Cameron Bure, Michael Emerson, Carrie Preston, chef Guy Fieri, entertainment executive Tommy Mottola and others. Following the performance, guests enjoyed a southern-inspired reception featuring a menu curated by Miss Kay herself.
The cast on stage includes Mimi Bessette as Miss Kay, Jesse Lenat as Uncle Si, Ginna Claire Mason as Korie, Ben Thompson as Willie, Tad Wilson as Phil, Russell Arden Koplin as Missy, Mary Little as Jessica, Tommy McDowell as Jase, Matt Stokes as Alan, Haley Swindal as Lisa, and Josh Tolle as Jep.
"Duck Commander Musical" features an original score inspired by the family and their pursuit of the American dream, including songs such as "Faith Food and Family," "Camouflage," "Like the River Flows" and others performed in conjunction with a multimedia set that delivers backwoods authenticity.
"The Duck Commander Musical" features music and lyrics by Robert Morris, Steven Morris and Joe Shane, with a book by Asa Somers, and is directed and choreographed by Jeff Calhoun.
The production is designed by Tobin Ost with lighting design by Michael Gilliam, sound design by John Trace, wig and hair design by Charles G. LaPointe, musical supervision by Jesse Vargas, orchestration by Steve Margoshes and casting by Stewart/Whitley. It is produced by Tommy Mottola and the Dodgers, with Ollawood Productions.
Patrons can watch the story spring to life onstage at the Crown Theater Sunday through Tuesday and Friday at 7 p.m., with two shows Thursday and Saturday at 7 p.m. and 10 p.m.; no performance on Wednesday.
Like Haute Living Las Vegas? Join our Facebook page or follow us on Twitter. Want Haute Living Las Vegas delivered to your in box once a week? Sign up for our newsletter.
Adam LaRoche and Family at World Premiere of DUCK COMMANDER MUSICAL 4.15.15_Credit Denise Truscello
Adam LaRoche, Willie Robertson and Jason Aldean at World Premiere of DUCK COMMANDER MUSICAL 4.15.15_Credit Denise Truscello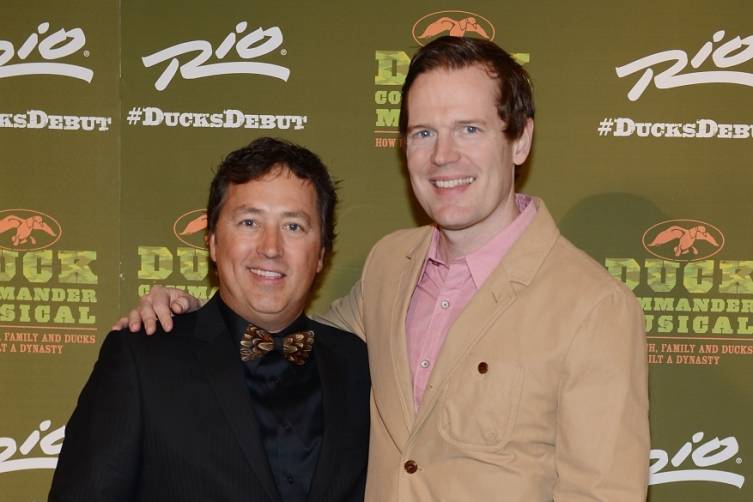 Alan Robertson and Matt Stokes at World Premiere of DUCK COMMANDER MUSICAL 4.15.15_Credit Denise Truscello
Ben Thompson and Ginna Claire Mason at World Premiere of DUCK COMMANDER MUSICAL 4.15.15_Credit Denise Truscello
Ben Thompson at World Premiere of DUCK COMMANDER MUSICAL 4.15.15_Credit Denise Truscello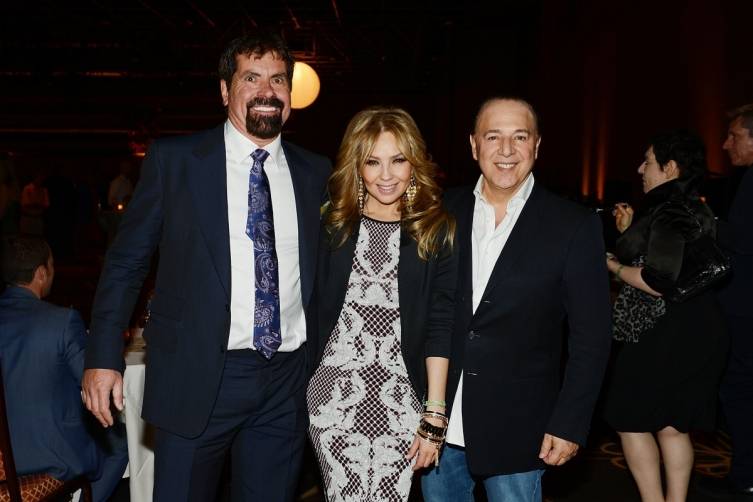 Bill Busbice, Thalia and Tommy Mottola at World Premiere of DUCK COMMANDER MUSICAL 4.15.15_Credit Denise Truscello
Bob and Maria Goff at World Premiere of DUCK COMMANDER MUSICAL_Credit Denise Truscello
Candace Cameron Bure at World Premiere of DUCK COMMANDER MUSICAL 4.15.15_Credit Denise Truscello
Carrie Preston and Michael Emerson at World Premiere of DUCK COMMANDER MUSICAL 4.15.15_Credit Denise Truscello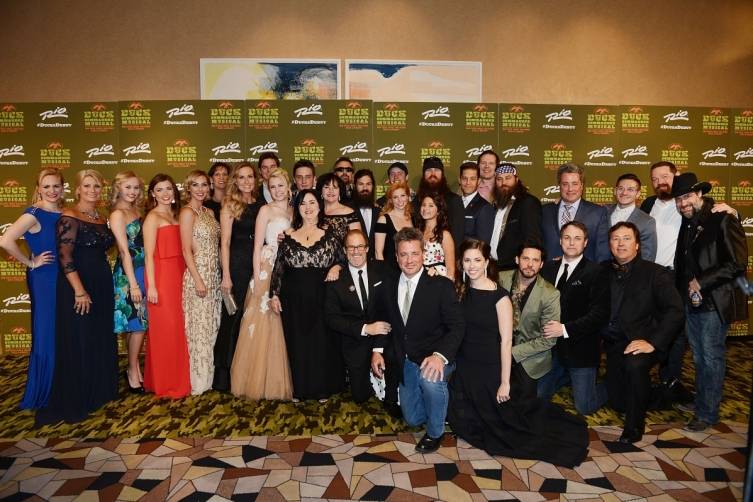 Cast and Creative team of DUCK COMMANDER MUSICAL with Robertson Family at World Premiere of DUCK COMMANDER MUSICAL 4.15.15_Credit Denise Truscello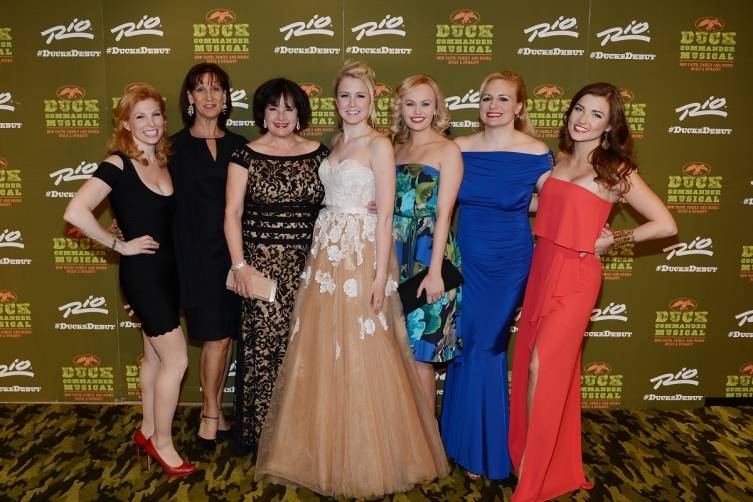 Cast Members at World Premiere of DUCK COMMANDER MUSICAL 4.15.15_Credit Denise Truscello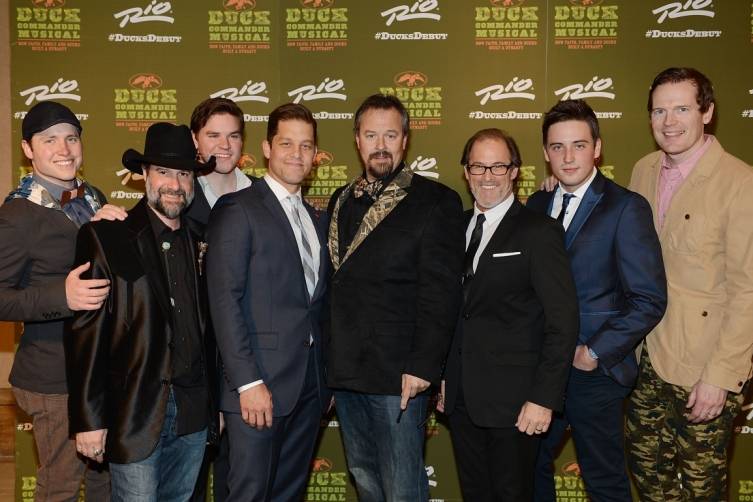 Cast Members of DUCK COMMANDER MUSICAL at World Premiere 4.15.15_Credit Denise Truscello 2
Cast of DUCK COMMANDER MUSICAL at World Premiere 4.15.15_Credit Denise Truscello
Cole, Jase and Reed Robertson at World Premiere of DUCK COMMANDER MUSICAL 4.15.15_Credit Denise Truscello
Guy Fieri at World Premiere of DUCK COMMANDER MUSICAL 4.15.15_Credit Denise Truscello
Jase Robertson at World Premiere of DUCK COMMANDER MUSICAL 4.15.15_Credit Denise Truscello
Jason Aldean and Brittany Kerr at World Premiere of DUCK COMMANDER MUSICAL 4.15.15_Credit Denise Truscello
Jason Aldean at World Premiere of DUCK COMMANDER MUSICAL 4.15.15_Credit Denise Truscello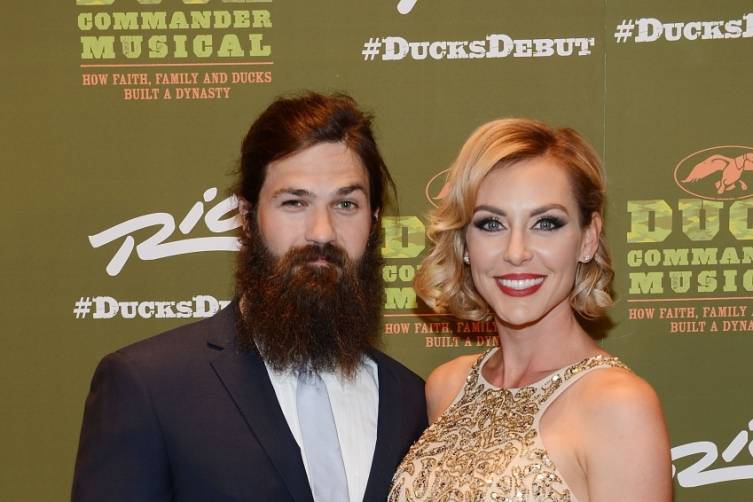 Jep and Jessica Robertson at World Premiere of DUCK COMMANDER MUSICAL 4.15.15_Credit Denise Truscello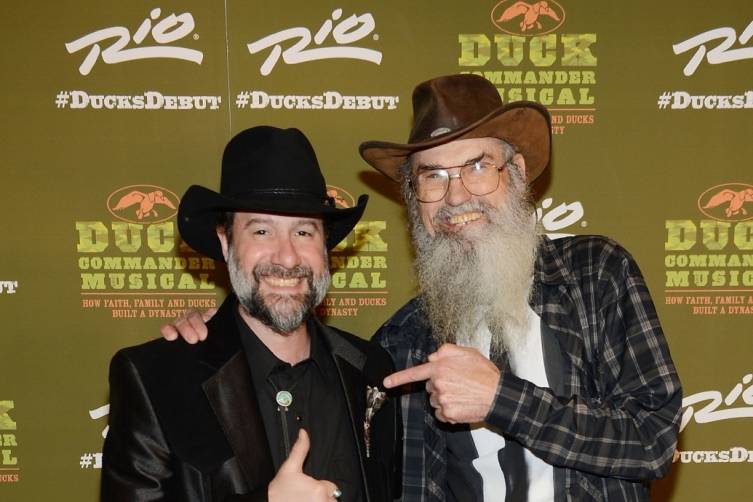 Jesse Lenat and Uncle Si at World Premiere of DUCK COMMANDER MUSICAL 4.15.15_Credit Denise Truscello
Jesse Lenat at World Premiere of DUCK COMMANDER MUSICAL 4.15.15_Credit Denise Truscello
Jessica Robertson at World Premiere of DUCK COMMANDER MUSICAL 4.15.15_Credit Denise Truscello
Josh Tolle at World Premiere of DUCK COMMANDER MUSICAL 4.15.15_Credit Denise Truscello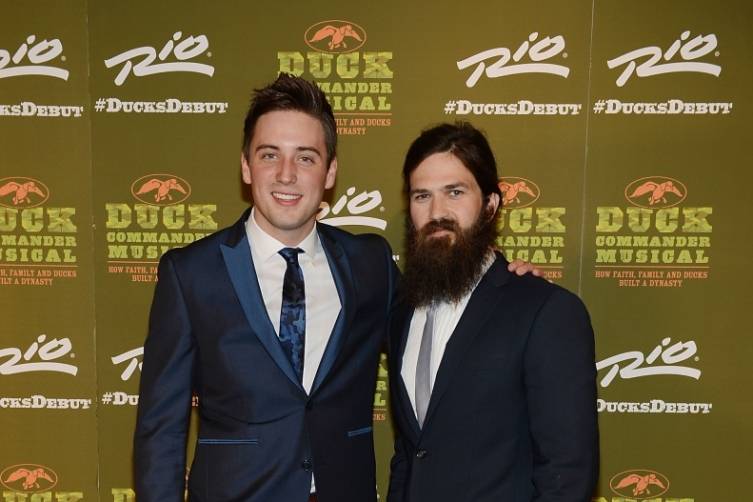 Josh Tolle with Jep Robertson at World Premiere of DUCK COMMANDER MUSICAL 4.15.15_Credit Denise Truscello
Julie Ann Emery at World Premiere of DUCK COMMANDER MUSICAL 4.15.15_Credit Denise Truscello
Korie Robertson and Ginna Claire Mason at World Premiere of DUCK COMMANDER MUSICAL 4.15.15_Credit Denise Truscello
Korie Robertson at World Premiere of DUCK COMMANDER MUSICAL 4.15.15_Credit Denise Truscello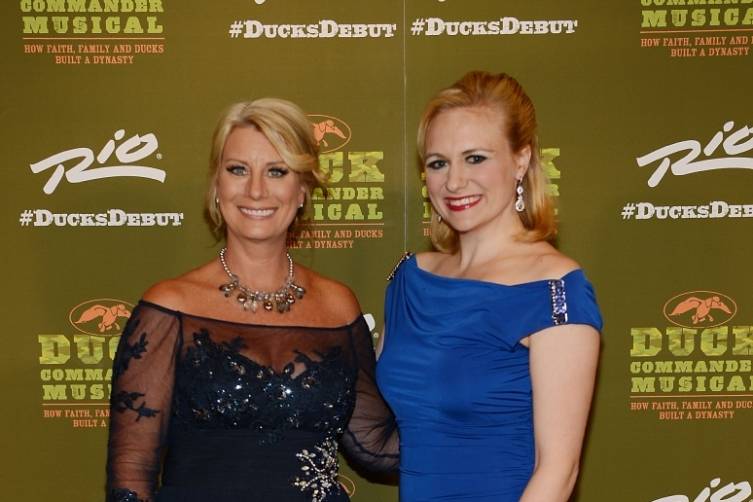 Lisa Robertson and Haley Swindal at World Premiere of DUCK COMMANDER MUSICAL 4.15.15_Credit Denise Truscello
Marcus Luttrell at World Premiere of DUCK COMMANDER MUSICAL 4.15.15_Credit Denise Truscello
Mary Little and Jessica Robertson at World Premiere of DUCK COMMANDER MUSICAL 4.15.15_Credit Denise Truscello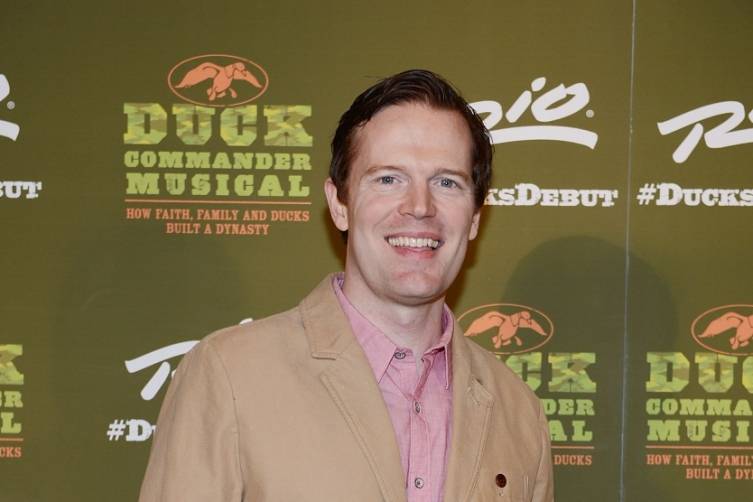 Matt Stokes at World Premiere of DUCK COMMANDER MUSICAL 4.15.15_Credit Denise Truscello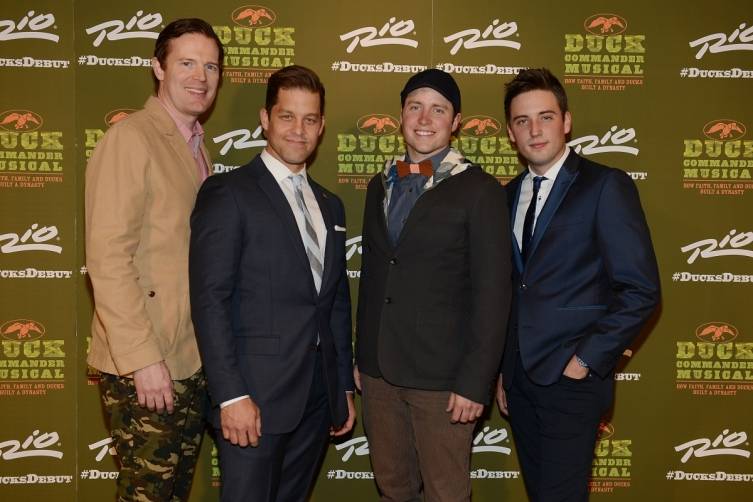 Matt Stokes, Ben Thompson, Tommy McDowell and Josh Tolle at World Premiere of DUCK COMMANDER MUSICAL 4.15.15_Credit Denise Truscello
Michael Emerson at World Premiere of DUCK COMMANDER MUSICAL 4.15.15_Credit Denise Truscello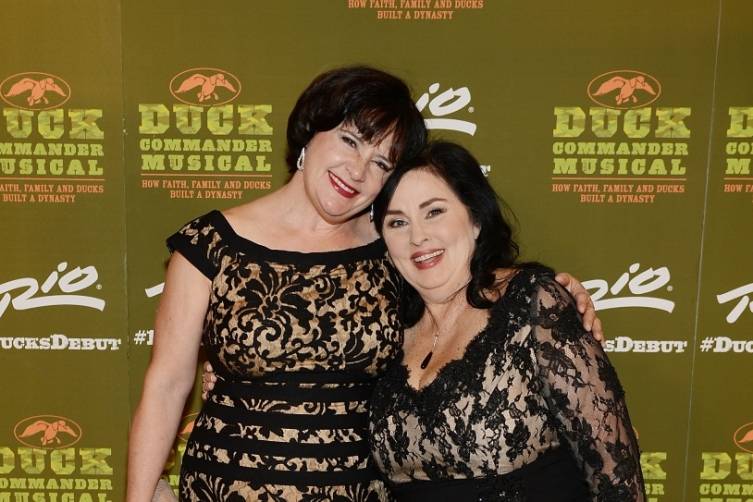 Mimi Bessette and Miss Kay at World Premiere of DUCK COMMANDER MUSICAL 4.15.15_Credit Denise Truscello
Robert Morris, Joe Shane, Asa Somers and Steven Morris at World Premiere of DUCK COMMANDER MUSICAL 4.15.15_Credit Denise Truscello
Russell Arden Koplin and Tommy McDowell at World Premiere of DUCK COMMANDER MUSICAL 4.15.15_Credit Denise Truscello
Sadie Robertson at World Premiere of DUCK COMMANDER MUSICAL 4.15.15_Credit Denise Truscello
Scott Shriner and Jillian Lauren at World Premiere of DUCK COMMANDER MUSICAL 4.15.15_Credit Denise Truscello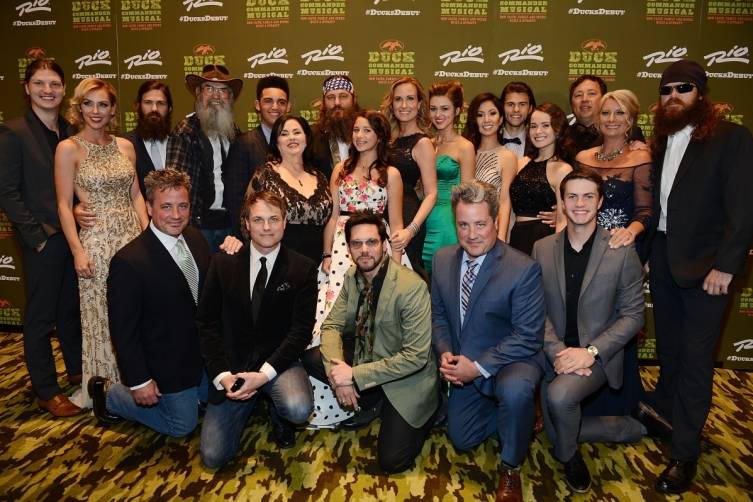 Steven Morris, Asa Somers, Joe Shane and Robert Morris with Robertson Family at World Premiere of DUCK COMMANDER MUSICAL 4.15.15_Credit Denise Truscello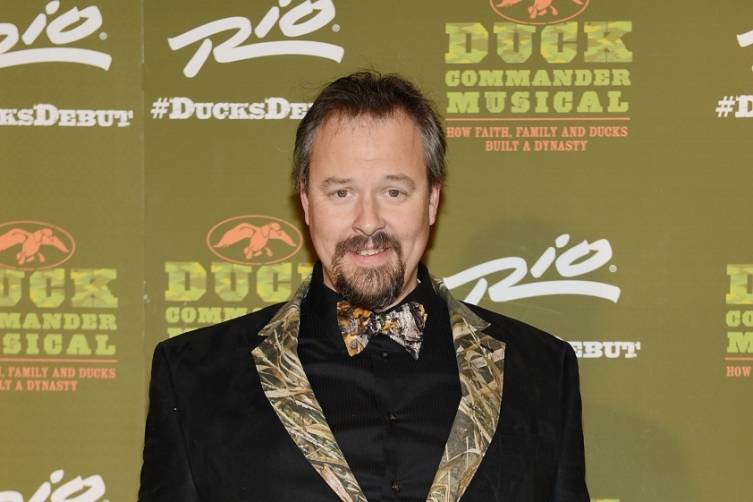 Tad Wilson at World Premiere of DUCK COMMANDER MUSICAL 4.15.15_Credit Denise Truscello
Tommy McDowell and Jase Robertson at World Premiere of DUCK COMMANDER MUSICAL 4.15.15_Credit Denise Truscello
Tommy McDowell at World Premiere of DUCK COMMANDER MUSICAL 4.15.15_Credit Denise Truscello
Tommy Mottola with Korie and Willie Robertson at World Premiere of DUCK COMMANDER MUSICAL 4.15.15_ Credit Denise Truscello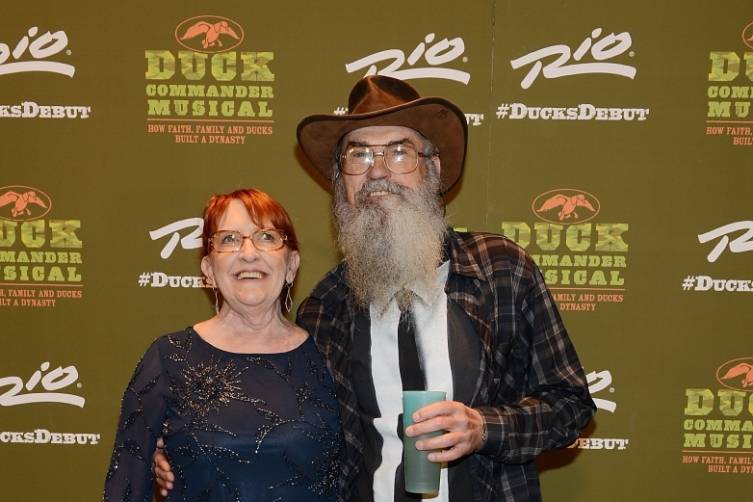 Uncle Si and Christine Robertson at World Premiere of DUCK COMMANDER MUSICAL 4.15.15_Credit Denise Truscello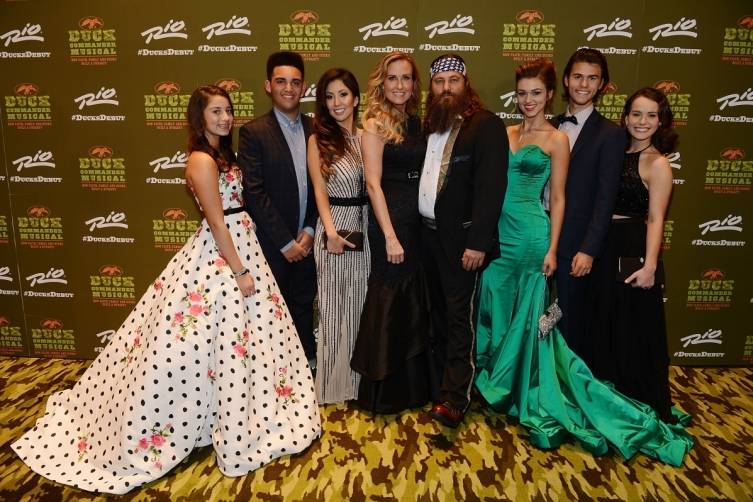 Willie and Korie Robertson and family at World Premiere of DUCK COMMANDER MUSICAL 4.15.15_Credit Denise Truscello
Willie and Korie Robertson at World Premiere of DUCK COMMANDER MUSICAL 4.15.15_Credit Denise Truscello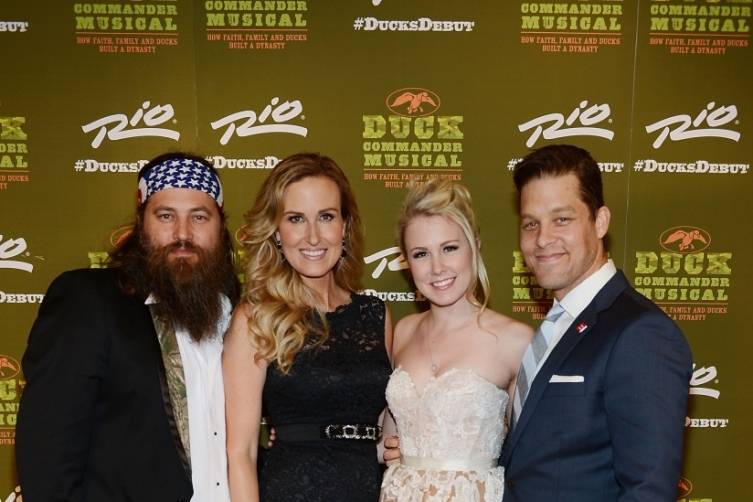 Willie and Korie Robertson with Ginna Claire Mason and Ben Thompson at World Premiere of DUCK COMMANDER MUSICAL 4.15.15_Credit Denise Truscello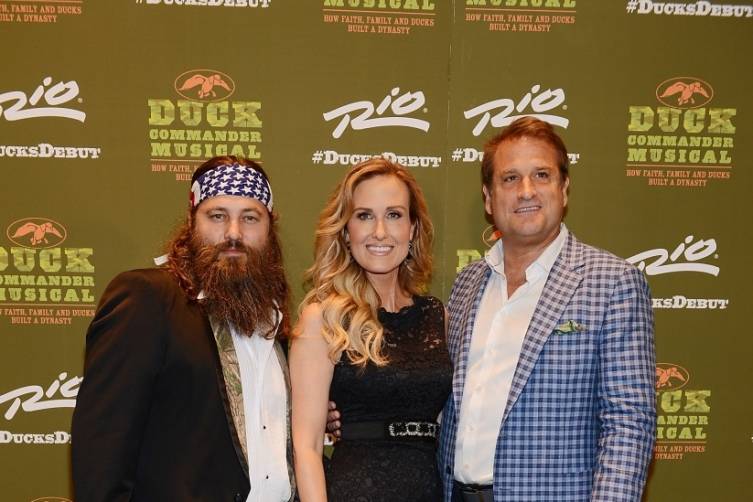 Willie and Korie Robertson with Jeff Calhoun at World Premiere of DUCK COMMANDER MUSICAL 4.15.15_Credit Denise Truscello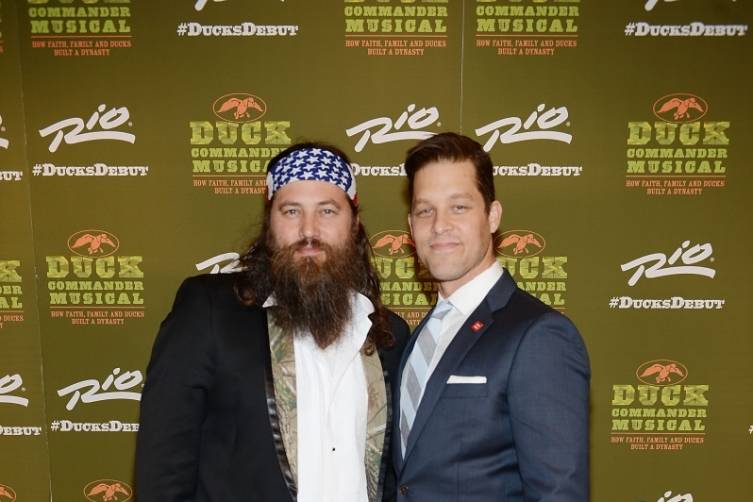 Willie Robertson and Ben Thompson at World Premiere of DUCK COMMANDER MUSICAL 4.15.15_Credit Denise Truscello
Willie Robertson and Jason Aldean at World Premiere of DUCK COMMANDER MUSICAL 4.15.15_Credit Densie Truscello
Willie Robertson at World Premiere of DUCK COMMANDER MUSICAL_Credit Denise Truscello