I'm speaking with Maria Sharapova from her hotel in Australia, less than 24 hours after she has won her 34th career title at the Brisbane International. "It's always nice to start off the year with a win," she says casually, recognizing that this is the first of many tournaments she must win this year to maintain her number one position.
Beneath the calm façade is the heart of an intense player, whom John McEnroe called "tennis' toughest competitor." Behind the net she transforms herself from mild-mannered California blonde to a ferocious player, launching rocket-like serves to opponents, high-pitched screams, and the intensity of a puma fixed on its prey.
Her voice is as cool as the blue sea, as she prepares for the Australian Open that will once again pit the tennis star against her longtime rival, Serena Williams. Ultimately, after our conversation, Maria would lose the title to Serena in a close match that had the world on edge. At 33, Williams is six years older than the 27-year old Sharapova. The two have been neck and neck, with Williams often getting the edge. "Even though she's 33 years old, she's still very strong and powerful and has so much experience—that shows when she plays on court," she states.
After more than a decade in pro tennis, 34 titles, including five Grand Slams, and three shoulder injuries, the younger Sharapova may not have yet reached her peak.

"Last year I had a full year—I didn't miss a tournament and I still have a lot of motivation to get better. I think that's a good sign for me that there's no slowing down at this point," she says.   
Their rivalry is the story of two fierce competitors and of members of the two groups who have dominated women's tennis for the last 15 years: Russians and the Williams sisters. If you look beneath the surface, however, the rivalries are more about individuals pushing the edge of their personal bests than any ill will towards one another. One thing is for sure, tennis fans will be hoping for another exciting rematch at the Miami Open on Key Biscayne this March.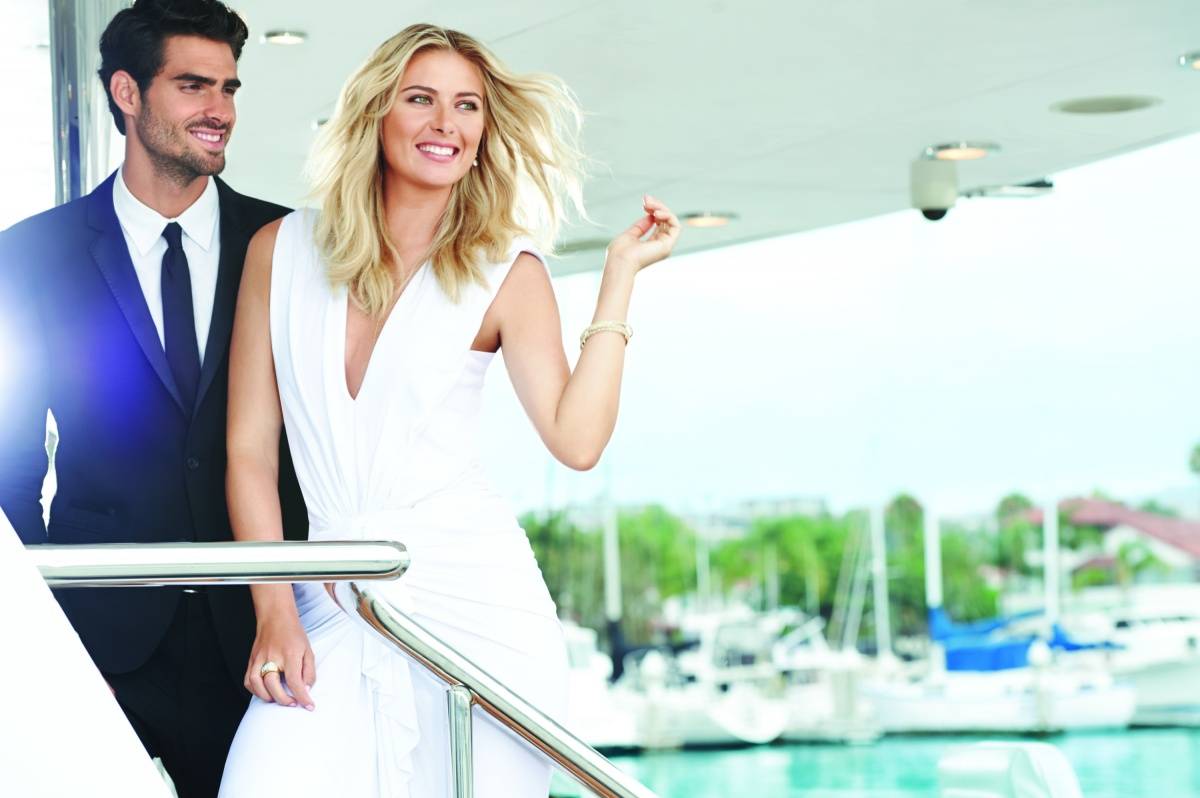 "You always need the motivation that 'Yes, I can perform and, yes, I can be physically better,'" says Sharapova. "You have to wake up and believe you will be winning titles when you're back on the court." People who know sports know the mental aspect of the game is nearly as important as the physical one, and it seems Sharapova has the kind of laser focus it takes to be a true champion. In fact, she has managed to do something few females have accomplished: winning titles each year since she entered the majors.
Sharapova has a second career that is every bit as lucrative as tennis: leveraging her titles and leggy blonde good looks for serious endorsements. These deals have given her one title she's maintained for 10 years running: the worlds highest paid female athlete with $29 million in earnings, $23 million of which come from endorsements. She has so many it can be difficult to keep track. Canon tapped her for its PowerShot advertisements. She is the brand ambassador for Porsche and the face of Avon's fragrance "Luck" and "La Vie." There have been special edition products at TAG Heuer and Tiffany that have born her name, and she has produced clothing collections with Nike and Cole Haan.
Sharapova has even taken some of the branding knowledge she's gathered over the years to launch her own brand,  Sugarpova, an upscale, gummy-centric candy brand that appeals to young and old alike. While it may seem counterintuitive for an athlete to hawk candy, it does make sense given that Sharapova has such a sweet tooth, that her parents often rewarded her efforts on the court with a piece of candy as a young girl.
Gummy candies were also a novelty for her when she came to the United States. "I noticed that gummies had never been a premium or luxury item," she notes. So, instead of producing a 99-cent store variety, she decided to do something of higher quality that was more engaging, teaming up with a veteran of the candy industry, Jeff Rubin.
"I wanted it to be an experience, I wanted the packaging to be unique, and the logo to be fun. I think that's why it took two years to create the whole thing."
A lot of the knowledge that went into her brand came from sitting in on product meetings at companies such as Nike. "That was a huge learning process for me," she says of working with the athletic wear giant. For years she worked with Nike to create original outfits for tournaments, often creating as many as seven for any one tournament. "One year we used the Tiffany pearl on my dress for the French Open to evoke the classic story of Paris," she says, citing one of her favorite examples.
But when it came to designing her own line, it was a wake-up call to realize she couldn't do the same kinds of things or use the same kind of fabrics as she did for her tennis outfits. "You change your thinking. It's a process to figure out how to create the type of dress and quality you want and still be able to mass produce it," she says. She also found it challenging to figure out how to appeal to the two biggest tennis-geared customer bases with the same product: 14-year-olds and women in adult leagues.
She was also involved in the creation of Avon's Luck. "Working with Avon has been really rewarding," says Sharapova. "Scents are so personal, and developing "Luck" and the messaging around the brand has been a great experience for me. Avon and I share a lot of the same passions for empowering and protecting women."
It's these kinds of lessons, as well as an innate head for business, that have helped her to be a bigger success than she ever set out to be. Sugarpova, which she originally intended to start slowly and to grow into a bigger business after she retired, has taken on a larger life of its own. Sugarpova is now sold in more than 30 countries, selling millions of bags a year, inking deals with Pinkberry to sell it as a topping and branded pop-up shops at tournaments.
Her triumph with Sugarpova has given Sharapova the confidence to do more.  So after a chance meeting with Holly Thaggard, the creator of her favorite sunscreen, Supergoop, she invested in the company. "I was like, 'Oh my goodness that's the sunscreen that I use!'" The tennis star had been using the product ever since she had stumbled upon it at Sephora and fallen in love with it. "It's lightweight, non-greasy and I can reapply it in the middle of practice when I'm sweating and it doesn't hurt my eyes," she says. Needless to say, their meeting was serendipitous.
The tennis champ loved the brand—and its cause. Thaggard began the line eight years ago, when a young friend developed melanoma. Her intent with Supergoop was to make a UV-focused skin care line whose philosophy is that sun protection should be the year-round foundation of everyone's routine.
It's not a surprising passion for someone who has had to wear sunscreen every day of her life, fighting off the sun from a young age growing up in Florida, California and sunny spots around the world. "My mom always made sure I protected my skin, but it was always such a chore," admits Sharapova, noting, "Supergoop is [easy] to put on." As a daily user of sunscreen she sees the products potential. 
She spends so much time in the sun, you probably won't see her with the top down when she's driving her 2012 Porsche Carrera 911 up the California coast that she won fair and square at the Porsche Grand Prix in Stuttgart three years ago. (She also won another 911 in 2014.) That means that the Panamera that she received with her brand ambassadorship deal usually sits in the garage. She plans to drive more when she has little ones, something she has hinted at more than a few times. Don't expect to see little Sharapovas just yet though, as having children is not something she says she'll do until she retires from tennis. After all,  it's not something that can be squeezed in between seasons. "I'd love to have a family, obviously. [But it needs to be] when I'm no longer playing and I can really dedicate time."
This brings us to the subject of her often-followed love life, a subject about which she chooses to remain relatively mum. Her main squeeze for the past few years is a tall, handsome 23-year-old rising Bulgarian tennis star named Grigor Dimitrov. "It's just nice to have each other, and even though we have our respective careers and we train [separately]; to have the other's support is always nice," she says. Cheering him on at matches isn't always easy for her though, as she says it's less stressful to play a tough match herself than watch helplessly from the sidelines.
The globe-trotting couple, who have been spotted vacationing in Los Cabos, kissing in Madrid, holding hands in Venice, California and most recently, in Australia, clearly are in the same competition, even if she's seeded quite a bit higher up the list.
Even though they have tennis careers in common and the understanding of the level of commitment to training the other needs to have in their line of work, their relationship is not just all about tennis. "I have a tremendous amount of respect for [Grigor] as a person and it's just nice to share each other's company every day and forget about what we do, have other interests," she says.
Additional interests were something of a novelty for Sharapova, who had to exclusively focus on tennis when she was growing up. It was after all, the entire reason that her family moved to the U.S. That was after their move to Sochi, Russia, in 1989, an attempt to distance the family from the regional effects of the 1986 Chernobyl nuclear meltdown near their hometown of Gomel.
In Sochi, her father gave a young Maria her first racquet at age four, and got her practicing every day in the park. It was there she caught the eye of Yuri Yutkin, a veteran Russian tennis coach who was instantly impressed by her "exceptional eye-hand coordination." He urged Sharapova's father to get her to Florida. He borrowed funds and moved the family, none of whom spoke English at the time, to Bradenton, Florida, the heart of professional tennis training. When she arrived at age 7, Sharapova trained with Rick Macci while her father took odd jobs to support them. It would be two years before her mother was able to join the family in the states, and until she was offered a $35,000 scholarship to IMG, a serious sports school known for cultivating professional athletes.
"When I came to the United States and I had friends and girls that were around my age, I found it interesting how they had other things that they were doing. One day they'd play tennis, another day they'd do art, another day they'd be dancing, another day they'd be doing ballet, another day they'd be playing soccer," says Sharapova.  While she admits to being intrigued by other extra-curricular activities, she knew that her purpose was to take her game as far as she could. "At some point you have to commit yourself to one thing, especially if it's something that you want to develop," she notes.
It seems as if now Sharapova is making up for lost time, trying to squeeze in as many activities as possible when she's not on the court. In addition to developing brands, endless photo shoots (that have included Sports Illustrated's Swimsuit Issue) and appearances for brands, she has a few less conventional hobbies. "I occasionally spoil myself with contemporary art," confesses Sharapova, who can be found checking out hip galleries when she's on the road. She has pieces by friend and California artist Chris Gwaltney as well as Ed Moses. "Bold and beautiful colors make me happy," she says.
She also has a few hobbies too, which include the much maligned karaoke. "I [actually] have a pretty good singing voice." For someone with so many talents, it's not that surprising to discover she has one more. What is surprising? Her choice of artist to cover is Cher.  We're guessing "You Haven't Seen the Last of Me" is probably on regular rotation right about now.
Subscribe to discover the best kept secrets in your city