A perennial Easter staple just received a seriously haute upgrade.
For spring, VeryFirstTo, an online store specializing in extravagant products, is selling a life-sized luxury chocolate bunny fitted with real diamond eyes. Weighing in at 11 pounds and standing at over a foot tall, the chocolatey creation was crafted by world-renown chocolatier and former chef decor of Harrods department store, Martin Chiffers.
The luxury chocolate bunny was hand-carved by Chef Chiffers out of a solid piece of 72 percent origin chocolate from Tanzania, and the entire edible sculpture took a whole two days to create. The bunny is depicted as standing on its hind legs on a patch of grass while three gold leaf decorated easter eggs lay by its feet. The most striking feature of the bunny, it's sparkling eyes, are actually two 1.7 carat solitaire diamonds sourced by British jeweler 77 Diamonds and valued at more than $37,000 for the pair. Given the work and extravagant materials involved in creating the surprisingly life-like bunny, It's not hard to see why the product comes with such a hefty price tag, retailing at $49,000.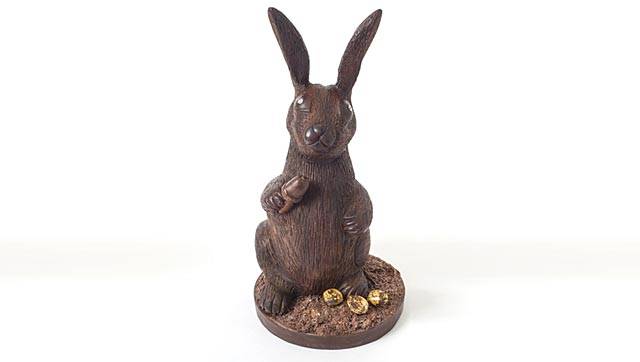 "VeryFirstTo regularly curates remarkable luxury never done before experiences and products," said Marcel Knobil, founder of VeryFirstTo, London. "We wanted to create something truly exceptional for Easter."
While some perspective buyers might balk at such a high price for a chocolate sculpture, VeryFirstTo is committed to offering specialty products for adventurous luxury consumers that aren't afraid of leading a hot new trend. "VeryFirstTo is focused upon a high-net-worth audience of luxury embracers, and what really distinguishes most of our audience is that they are 'early adopters'. We cater to those who are intent on being the very first to have newly launched luxury products and experiences," said Knobil.
Buying the haute treat will do wonders for your sweet tooth, but it will also do good for some of Britain's most vulnerable young people. When purchased, around $1,484 will be donated to The Prince's Trust. Founded in 1976 by Charles, Prince of Wales, the organization provides mentoring support and financial grants for disadvantaged young people.
For deliveries on Easter, orders must be placed by March 28 within the UK. Orders outside of the UK will be accepted with additional delivery costs. Finally, dieters may want to steer clear of this easter treat. The entire 11 pound chocolate behemoth is 584,000 calories.