Just when everyone was getting a little tired of working out in garages, Anatomy at 1220 comes along and offers a luxurious gym that looks more like a posh hotel. Leave it to SoBe nightlife vet Chris Paciello to dream up this over-the-top experience that is a pampered muscle man's dream come true. To create the atmosphere, Paciello turned to designer Francois Frossard, who fashioned a fanciful feeling inside the space with chandeliers, marble, art, and even contemporary art-style mantras spray painted on the walls.
The gym is in Miami Beach's Sunset Harbour neighborhood and is 13,000 square feet with unique features like a roof deck where patrons can do classes or work out with trainers on the turf to avoid the sunny day gym blues. On the day we visited, television star Gabrielle Anwar was giving an open-air class titled Gangsta Yoga. Unique programming and intensively personalized training also set the gym apart from the pack.  Features include FITTLab elite medical testing, high end gym equipment, infrared saunas, medical stretches and massages, and an IV therapy lounge by Vita Squad.
There's even a chic boutique selling hip must-have accessories like Miansai bracelets and Del Toro items, as well as colorful buddhas and other fun things you probably won't find anywhere else.
Anatomy has partnered up with the MIAMI Institute for Age Management and Intervention to offer tests like bone density scans, EKG, stress tests, VO2 max testing, and other biomarkers. This adds an extra layer of service to this already opulent members-only club. Memberships start at $185 a month.
Anatomy
Front desk at Anatomy
Mantra
Rope at Anatomy
Rope on the Gym Floor
Trainer at Anatomy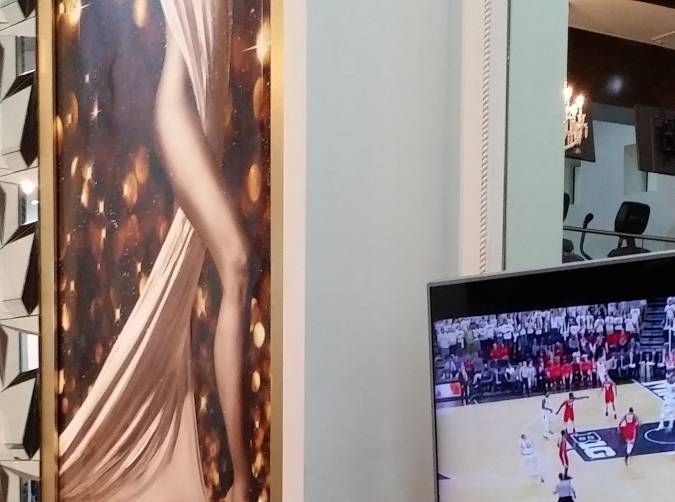 Watch the game while you work out
Kettle Bells
Class by Gabriella Anwar at Anatomy
Gangsta Yoga
Lots of Fresh towels at Anatomy
Ladie's Locker door at Anatomy
Ladie's Locker Room
Locker room at Anatomy
Treatment room
Vita Squad
Buddhas at the Boutique
Subscribe to discover the best kept secrets in your city